McManus Kitchen and Bath provides a single place where you can work with interior design and construction professionals who can help you create a happy, healthy home. We start each project with a Design and Budget Consult. It will help you clarify your design ideas, understand the remodeling process and create a Good Better Best Budget for your project. Click Here to Schedule a Consult
Getting ready to remodel a bathroom? Set a budget as early in the process as you can. It may change as you learn more about the options and your project goals but having a budget helps guide the entire process.
We get anywhere from 4 to 10 calls a week from people interested in remodeling a bathroom. One of the first questions we ask is "Do you have an idea of your budget?" We ask that question for several reasons:
1) To make sure the budget is realistic.
We do get calls from people who want to fully renovate their master bath, have a budget of $5000 and want us to start next week. Asking the budget question up front helps us to properly set expectations.
2) To help with design and product selection.
An hall bathroom remodel costs anywhere from $21,000 – $35,000. One of the challenges of estimating a project is knowing which products you would like to install. Some people are OK with budget options while others prefer high end luxury products.
Knowing your budget up front helps us guide the design and product selection process so we don't waste time designing something that is outside of your budget range.
---
Determining Your Initial Bathroom Budget
Ideally you would determine your rough budget many months before you plan to remodel, so you could make sure you have money set aside. The closer you get to a start date, the more accurate you want your budget to be.
Few people have an idea of what their budget should be for a bathroom remodel, and that is understandable. The bathroom is one of the more complex rooms in the house. You have to deal with electric, plumbing, and HVAC, in addition to the design and layout. There's a lot of moving parts.
If you give us a call we can give you a rough idea of the cost of your project over the phone. If you schedule a showroom visit we can walk you though our Good, Better, Best budget system and give you a more exact idea.
Until then these average costs may help:
Average Bathroom Remodeling Costs
In our bathroom remodeling cost guide, we listed some common remodeling costs for bathrooms in Tallahassee.
Hall Bathroom
A typical hall bathroom renovation will cost between $21,000 and $35,000
Master Bathroom
A typical Master Bath Renovation will cost between $55,000 and $75,000.
Admittedly the list of costs on our website only give a broad idea of the costs. It's meant to serve as a starting point. A bathroom remodeling is complex and we need a lot more information about the scope of work to be more accurate. But it gives you an idea of the budget you should consider.
Another Option: View Costs of Our Past Bathroom Remodels
We've been remodeling bathrooms in Tallahassee for over a decade, so we've got quite a few projects under our belt. At the end of every project we create a blog post that lists the scope of work, pictures of the project and what the project costs.
If you browse our project gallery, you might just find a project very similar to yours and get a better sense of your budget that way.
---
A Better Approach: The Good, Better, Best Bathroom Budget
Bathroom remodeling costs can vary a lot depending on the materials you choose. Our Good, Better, Best estimate helps you compare all the options on one easy to read sheet.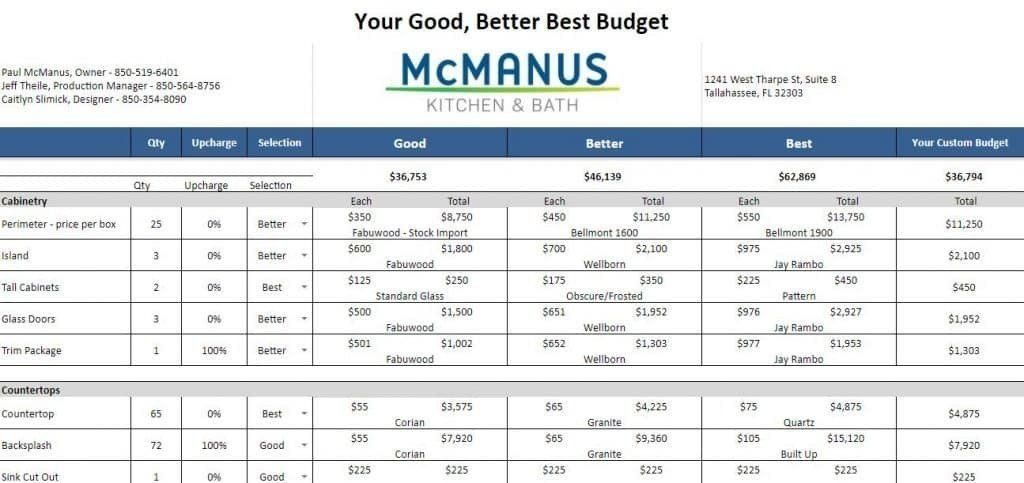 Everyone says get 3 quotes. Good advice in principal but comparing those 3 quotes is not as easy as you might think. Every contractor and showroom has a different method for creating a quote and it's hard to know if they are quoting the same things.
Our Good, Better, Best estimates give you 3 quotes and outline the quality of materials included in each option.
Schedule a showroom visit and Complete a GBB Estimate and You Get:
A quote for your project using budget material (the good option), another using mid grade materials (the better option) and one using higher end materials (the best option)
A custom quote made up of your personal selections (you might chose a "good" faucet but prefer the "best" tile for example.
A rough design for your bathroom project
The GBB process takes about an hour and, when complete, you will have 3 quotes for your project as well as a rough idea of your design and product selections.
Thank you for reading! We'd love to be a part of your next remodel. Check out our design services page