McManus Kitchen and Bath provides a single place where you can work with interior design and construction professionals who can help you create a happy, healthy home. We start each project with a Design and Budget Consult. It will help you clarify your design ideas, understand the remodeling process and create a Good Better Best Budget for your project. Click Here to Schedule a Consult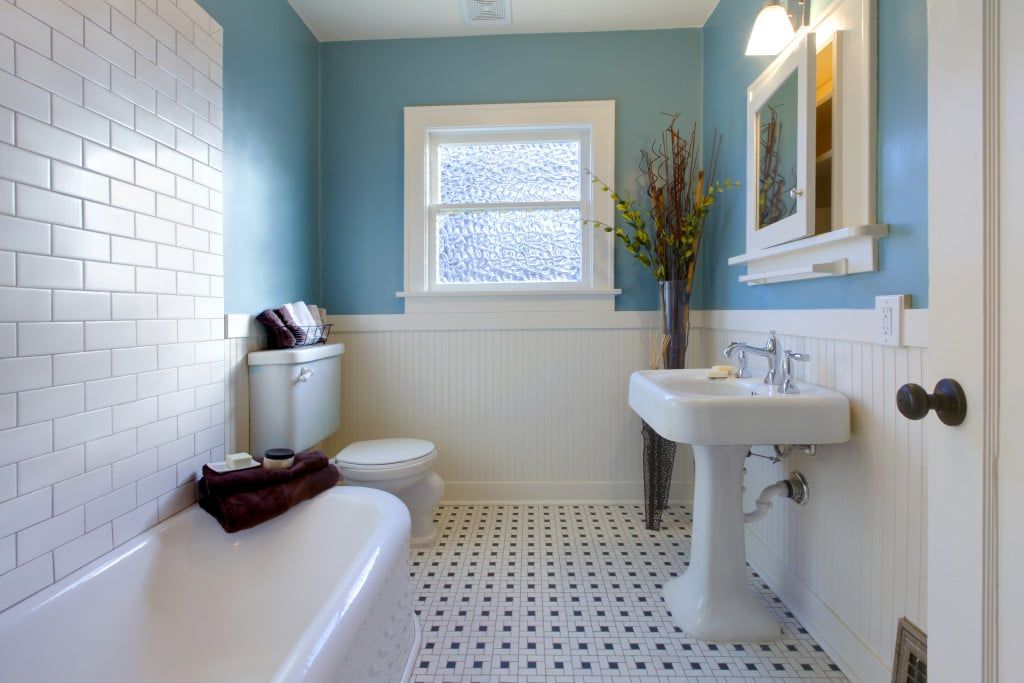 Finding the right bathroom tile for your next
bathroom remodel
is a mix of finding the tile size, shape and color/pattern you like as well as finding a tile that has the right performance characteristics for your application. Tile manufacturers do not make it easy to choose. Tile ratings and descriptions are confusing and vague and few people, including many tile professionals understand them.
We've created this guide to help you choose the correct tile for each application in your home. We'll do a brief overview on the types of tile and then tell you how to read the tile label so you can choose the right tile for your project.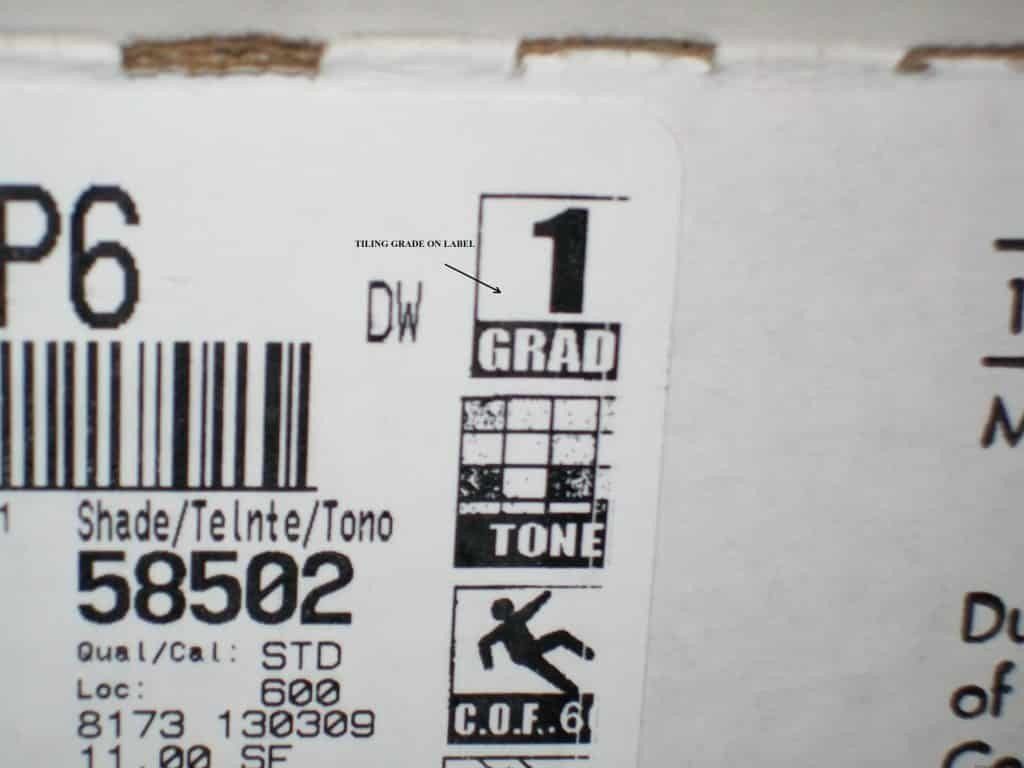 Bathroom tile is shipped in cartons with labels containing icons or symbols with important information about the tiles. Always take time to read and understand the label. If the tile does not have a label and you can't get the information from the retailer then do not choose that tile.
Tile Grade:
Tiles are graded on a scale of 1-3, the lower the number the better the tile. Use Grade 1 or 2 tile for bathroom tile or kitchen floors. Grade 3 tiles are suitable only for walls.
Porcelain Enamel Institute (PEI) Wear Rating:
Rated I-IV. The higher the number the more resistant to wear. Choose a floor tile  with a PEI wear rating of III, IV or IV.
The Porcelain Enamel Institute hardness ratings are:
Class I – No foot traffic. These tiles are for wall-only applications.
Class II – Light traffic. Interior residential and commercial wall applications. These are for areas where little abrasion occurs, such as bathrooms.
Class III – Light to moderate traffic. Good in residential settings with normal foot traffic or for countertops and walls.
Class IV – Moderate to heavy traffic. These tiles are acceptable for all home use in addition to medium commercial or light institutional use.
Class V – Heavy to extra heavy traffic. Approved tile for all residential applications, heavy commercial work and institutional foot traffic.
Coefficient of friction rating (C.O.F.)
Floor tiles should have a C.OF. that provide good traction (COF greater than or equal to 0.60).
Water Absorption (W.A.) – Very Important for Bathroom Tile
Most important for bathroom tile is the water absorption. As a general rule Ceramic tiles absorb more water than porcelain tiles but both can be used in wet areas. For bathroom tile make sure the absorption rating is less than 3% (aka Vitreous or Impervious tiles). Another term for Impervious tile is Porcelain tile.
Water absorption can also be judged by the name of the tile:
Nonvitreous: High absorption (more than 7% water absorbed). Not suitable for outdoor use or for rooms with a lot of moisture, such as bathrooms.
Semivitreous: Moderate absorption (3% – 7% water absorbed). Not suitable for outdoor use or for wet rooms, such as bathrooms.
Vitreous: Low absorption (0.5% – 3% water absorbed). Suitable for outdoor use and for wet rooms, such as bathrooms.
Impervious (aka porcelain): Lowest absorption (less than 0.5% water absorbed). Suitable for all interior and exterior uses.
Only vitreous and impervious tiles should be used outdoors or for bathroom tile. In general, the more resistant a tile is to water, the more it will cost. Impervious and vitreous tiles tend to be more expensive than semivitreous and nonvitreous tiles.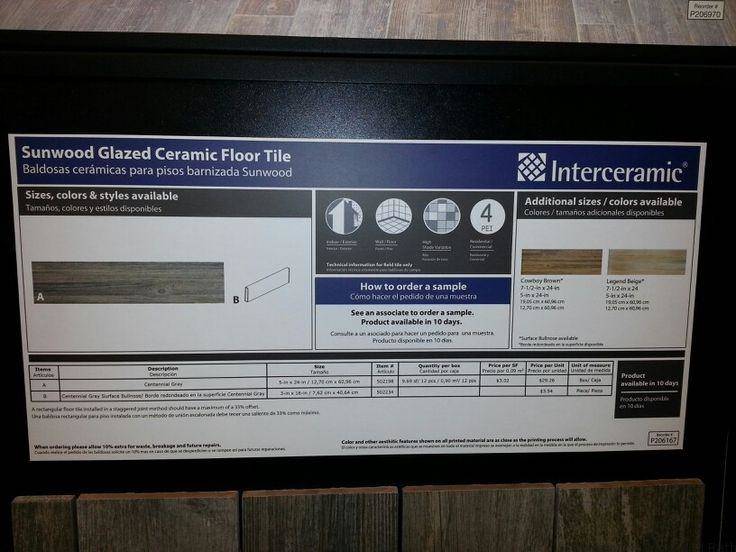 ---
Types of Tile 
Ceramic Tile
Ceramic tile is economical and has been used for decades in the bathroom. There are several types of ceramic tile:
Glazed Ceramic Tile
Unglazed Ceramic or Quarry Tile
Porcelain tile
Best Used for: Varies depending on the rating of the tile. Ceramic tile varies the most in quality. So read the label carefully to see if the tile is appropriate for your needs. See our label guide below.
Price: $2 to $7 per square foot
---
Porcelain (A type of Ceramic Tile)
Porcelain tile is a type of ceramic tile that is fired at a higher temperature than standard ceramic, making it denser and less porous. Porcelain is also call impervious tile and usually has the same color throughout which means chips will show less. Porcelain tile is a ceramic tile that has a water absorption rating of less than .5%.
Read the Label: Some manufacturers will call their tiles porcelain even though they do not meet that standard so be sure and read the label carefully.
Best for: Use stain and impact resistant porcelain tiles on floors, walls, and backsplashes. It's easy to clean and comes in a wide variety of styles.
Price: $3 to $10 per square foot
---
Glass Tile
Thin pieces of glass sold individually or as a mosaic, sometimes with other types of tile, on a mesh backing.
Best for: Colorful, reflective, easy-to-clean glass tile is best for accent walls and backsplashes. Some glass tile is rated for use on floors but it can scratch easily. The wide range of colors gives glass tile great "wow" factor. The con? It can be expensive and difficult to install. Because the tiles are transparent, the adhesive is visible through the tile. Unless you're highly skilled, getting professional-looking results is difficult for a DIYer.
Price: $7 to $30 and more per square foot
---
Cement Tiles (Encaustic Tiles)
Handmade tiles usually with intricate patterns popular in places like Morocco and the Middle East.  Also known as Encaustic or Cuban Tiles in the US. They're pricey and not as common as other tiles, so your installer may not be used to working with them. Also, cement tiles are prone to etching by acid or harsh detergents and must be sealed on installation and resealed periodically.
Best for: Resilient and beautiful, cement tiles are appropriate for floors, backsplashes and walls.

Price: $9 to $17 per square foot
---
Natural Stone Tile
Granite, slate, travertine, marble, onyx, sandstone, are all examples of natural stone that can be cut into tiles. Stone tile has a rich, one-of-a-kind look. Stone tile can be damaged by exposure to water, pigment, or acid, so its not recommended for the bathroom or kitchen unless you are committed to regular maintenance.
Best for: Use stone on walls, backsplashes, or floors. Get the look of a granite countertop for less by using granite tiles instead of a slab.
Price: $6 to $20 per square foot
---
Our Advice: Get Help from A Professional Tile Showroom or Contractor
The representatives in a tile showroom are trained in the many different types of tile and are very knowledgeable about the products in their store. We personally like Sellars Tile Showroom as they have the largest selection in town but Florida Tile and Sea Tile are also great options.
You can bring pictures of your favorite bathrooms to the showroom and tell them the project you are considering and they will help you find the perfect tile for each application.
Tile hardness ratings help you determine if the tile is suitable for the area where you plan to install it. Entryways need a hard, abrasion-resistant, moisture-proof tile. Baths require a moisture-proof, nonslip material (slip-resistant tile is treated with an abrasive material for safety). Some tiles are rated for indoor or outdoor use only; others can be used in either application. If your home includes ramps for universal design and you plan on tiling a ramp to keep the flooring consistent with the rest of your home, carefully explore slip-resistant tiles.
Some types of tile are harder than others, so tile is rated by a series of standardized tests. These tests evaluate a tile's relative hardness (the Mohs scale), its ability to stand up to wear and the percentage of water absorbed.
---
Porosity
Porosity ratings are important. Porosity is the ratio of voids (or air holes) to solids in a tile, which affects the percentage of water absorbed into a tile. The denser the tile the less water it absorbs, because it has less air holes to fill with water.
A tile's porosity is critical – especially when choosing tile for kitchens and baths, since these areas need moisture-proof flooring. Porous tile shouldn't be used outdoors where cold weather produces freeze / thaw cycles. The classifications for the porosity of tile are:impervious (least absorbent), vitreous, semi-vitreous and non-vitreous (most absorbent).
---
Firing
The firing process affects the hardness of tile. Usually, the longer and hotter the firing, the harder the tile will be. The raw tile material, called bisque, is either single-fired or double-fired.
For single-fired tiles, the glaze is applied to the raw material and baked once in a kiln.
Double-fired tiles are thicker. The tile is baked a second time after additional color or decoration is added.
---
A more "in depth" explanation of Tile Types
Its no surprise many homeowners struggle with choosing a bathroom tile. There are dozens if not hundreds of choices and its hard to judge the quality of a tile just from looking at it.
In this post I want to review the different types of tile and their cost and give you some tips for choosing the right tile for your bathroom renovation.
What are the different types of tile?
What's the difference between porcelain and ceramic tile?
How do I know the quality of a tile?
Best tile for different applications
Tile Texture – try using neutral colors but varying the texures
Tile Design tips
What's new in tile these days?
Different Types of Tile
Ceramic Tile, Including Porcelain Tile.
Many people don't realize that porcelain tile is not really made of porcelain, its just a type of ceramic tile.
Ceramic tile is manufactured from clay materials that are quarried, prepared, and then formed into a mold. Common forming methods for ceramic tile include dry press, extruded, and slush mold.
The dry press forming method involves a mixture of dry material being pressed into a mold under extreme pressure.
Extruded ceramic tile is formed when a mixture of slightly wet material is extruded into a mold.
Slush mold is a forming method in which a mixture of very wet material is poured into a mold and then hardened in a kiln at an extremely high temperature.
Porcelain Ceramic Tile vs Non Porcelain Ceramic
Ceramic tile can best be characterized as either porcelain or non-porcelain. Traditional ceramic tile is non-porcelain and is made from white, red, and/or brown clay and other minerals. Porcelain ceramic tile is made from clay and minerals as well, but it also contains 50% of a white dust or sand called feldspar. Feldspar is a type of crystal found in rock that acts as a "flux" during the kiln-drying process, melting into a glass-like material and bonding all of the molded ingredients together. Minor modifications to the ingredients of ceramic tile or the kiln-drying process (i.e., to the temperature and type of kiln) create enormous variety in the appearance and characteristics of manufactured ceramic tile flooring products.
Porcelain and non-porcelain ceramic tile can be either unglazed or glazed. Glazed tile has a matte, semi-gloss, or high-gloss finish applied to the surface during the manufacturing process. In the past, glazed tile was kiln-fired twice, once to harden the tile mold and a second time to harden the glaze. Today, in addition to double-fired ceramic tiles, an automated single-fired manufacturing process called Monocuttura hardens a glazed mold in one step. Glazed tiles have increased stain resistance, scratch resistance, and traction, as well as decreased water absorption, in comparison to an unglazed tile.
Non-porcelain, ceramic tile is among the most economical types of tile flooring. Porcelain ceramic flooring is more expensive than non-porcelain and can be harder to work with. However, it offers greater durability, natural stain resistance, minimal water absorption, and through-bodied color. Many types of tile are manufactured in a similar fashion to ceramic tile, but they are less common. These include brick, cement, glass, encaustic, saltillo, and terracotta tile. The varying materials and manufacturing processes create distinctive product characteristics.
Natural Stone Tile
Natural stone tile is produced from natural materials that are quarried, slabbed, finished, and cut to size. Common types of stone used as flooring tile include granite, marble, limestone (including travertine), and slate. Among these types of natural stone are thousands of varieties with characteristics that depend on where and when the stone was quarried.
Granite is a type of igneous rock that is very dense and hard. Its distinctive appearance is due to speckled minerals found within the rock, its unique veining, and the thousands of available colors. Granite is nearly impervious and, once it is polished, resists scratching. It is an excellent choice for flooring in kitchens and high-traffic areas.
Marble is a type of metamorphic rock that has rich veining and is available in a variety of colors. Marble is more porous than granite and is not recommended for kitchen flooring unless honed and then sealed on a regular basis.
Limestone is a type of sedimentary rock that offers an earthy appearance in both light and dark shades. The surface can be textured or polished smooth. Limestone is less dense than granite and marble. It can be easily stained and is also prone to scratching. It is not recommended for kitchen or high-traffic flooring applications.
Travertine is a type of limestone that offers an unusual crystallized appearance with an earthy tone. Travertine is a soft, porous stone with a natural surface that has pitting or divots. A honed or polished surface can be achieved after filling the surface voids. Travertine is not recommended for kitchen floors, as it can be easily scratched and stained. Special care and surface sealing is required to maintain travertine.
Slate is a type of metamorphic rock that is extremely dense and very durable. Slate is available in darker earthy tones. The surface of slate is naturally textured unless a smooth, honed finish is achieved. Slate is an excellent choice for kitchen and high-traffic area flooring.
---
Tile Thickness
Floor tile is usually 1/2 inch to 3/4 inch thick, manufactured in squares measuring 4 inches by 4 inches up to 24 inches by 24 inches. Other shapes are available such as rectangular "subway tile," octagonal and hexagonal shapes.
Wall tile is thinner and comes in squares from 3 inches by 3 inches up to 6 inches by 6 inches.
Mosaic tiles are 2 inches square or smaller and can be installed individually. However, mosaic tiles that are pre-mounted on mesh sheets are easier to install for the DIYer.
Thanks for reading! We'd love to be a part of your next remodel. Check out our design services page.