Closet Organizers and Storage
Are you tired of having a messy closet? Think about what it's costing you?
Every day it's the same thing. Go to your closet, hunt for the item you want, push clothes to and fro, and what do you end up with? I'll tell you, a wrinkled mess!
Who needs that kind of hassle? Ditch that wrinkled mess you call a closet for something more organized. It will save you time and look gorgeous.
Thinking about options for closet organizers or even closet storage? Stick around. We're going over the best options for your money in Tallahassee, Florida.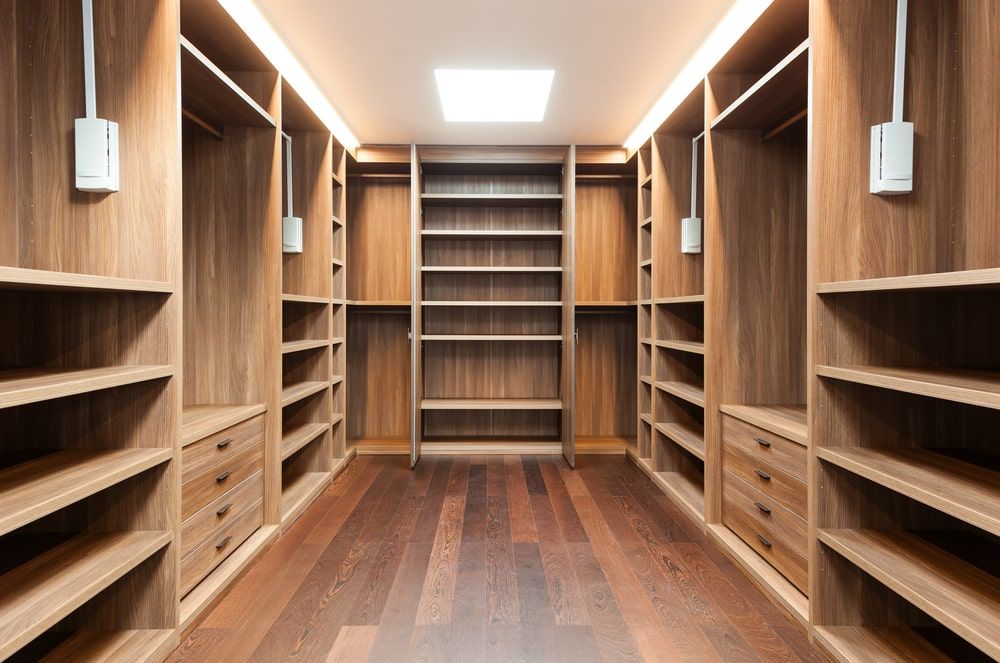 How Closet Storage and Closet Organizers Save You Time
If that closet of yours could talk, what would it say? 
Would it tell ghost stories about long-forgotten garments—never to return? Would it talk about that one time you shoved your whole body inside to part the sea of clothes hanging on the rod? 
Whatever it would say, it isn't good. Otherwise, you wouldn't be reading this article. Am I right? If your closet organization is only ho-hum, it could be wasting you hours, if not days, every year. I mean it!  
Having a disorganized closet is the ultimate time-waster. Think of it this way.  Let's say you spend only five minutes a day looking for items in your closet. Let's be honest. It may be longer than that, especially when you factor in ironing. 
At the end of the year, that equals 30 hours. That's a whole day!
If you're tired of losing your favorite garments to the back of your closet—end the closet war today! With a bit of ingenuity, you could install new closet organizers or closet storage in a day. 
Heck, with the time you save, you could take up a new hobby!
How Closet Storage and Closet Organizers Save You Space
Remember that time no one could find your kid after a game of hide-and-seek? Where did you find that little bugger? Sitting deep in the corner of your closet, that's where!
You swore it was the oldest trick in the book, but everyone hollered, "We checked there. Honest!" One of your smart-aleck relatives chimed in, "It's amazing you can find anything in there."
Well, I guess that pretty much says it all, doesn't it? Closets are a great way to store your favorite garments, but how does it help if they're packed like sardines?
At first glance, you might think, I have too many clothes. That may be true. But one thing is certain. If you're relying on a single rod to keep your best garments organized, that's like driving around on square wheels. You might as well be in the stone age!
The right closet storage or closet organizers can take all those clothes and save you space. Scout's honor! Here's an example: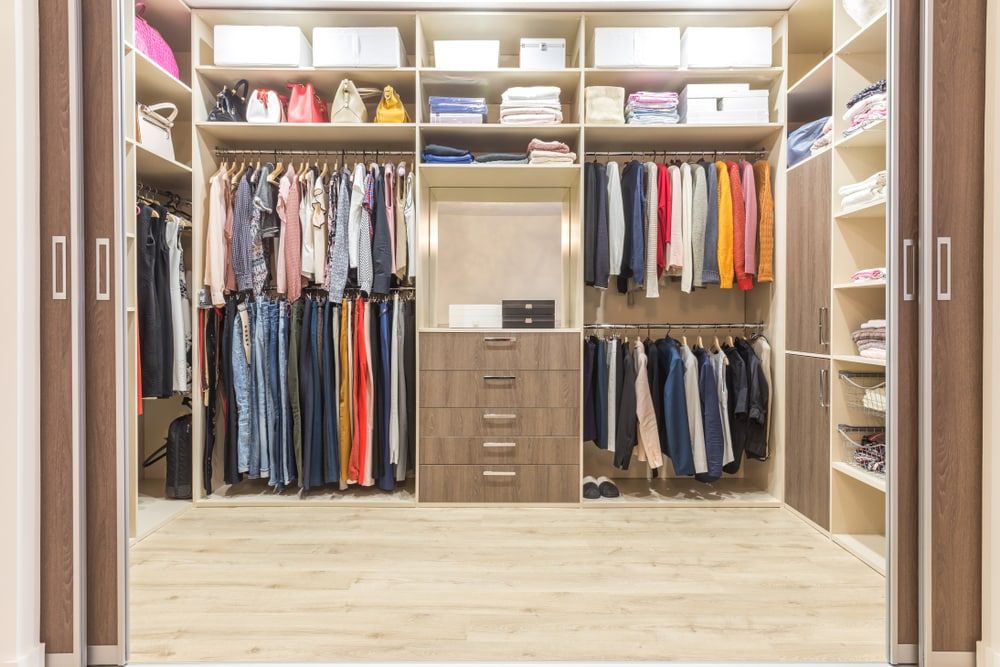 Would you look at that? It's a thing of beauty, I tell you! Now, imagine all that stuff in your closet with your one tiny rod? You get the point. The proper closet makeover could turn your closet from drab to fab in no time!
If your closet is ready to step into the present, check out these two products we carry in our showroom:
Closet Storage and Organization With WoodTrac!
By now, we hope we've got your attention. No one needs to lose their pipsqueaks or favorite garments ever again. Our service can help you design, install, and have your new closet ready to go in as little as a day! 
It's all possible thanks to the design and functionality of WoodTrac™. 
WoodTrac™ makes closet furniture that's meant to save you time, space and look beautiful. You can choose between four distinct styles: 
Each one comes in a variety of different colors to make your closet stand out.  WireTrac™ look as good in your closet as they do in your pantry or garage. It's the ultimate storage solution for your home. 
Have a small pocket closet? SpaceTrac™ comes to the rescue with its adjustable shelving options. Create the small closet of your dreams! 
Need storage and organization for a standard closet? The SolidTrac™ makes a great choice! Small enough to fit but large enough to organize, it's the perfect solution. 
Want to make a stunning walk-in closet? CabinetTrac™ is the perfect solution! It has enough elegance and sophistication for any closet. 
Closet Storage and Organization With EasyClosets!
Still dreaming about your new closet? Good, because with EasyClosets, you're only limited by your imagination. 
Make sure to watch the video to see how easy it is to set up your very own custom closet furniture. Not handy? No problem! You can have your closets installed by a professional. 
You'll have as many styles as you do options when it comes to EasyClosets. Take a look at their gallery for some inspiration. 
EasyClosets comes in nine different colors to choose from: 
White

Ivory

Lava

Desert

Sierra

Espresso

Natural

Stone Grey

Coastal Grey
EasyClosets has tons of options for: 
Hardware colors 

Doors & drawer styles 

Knobs & handles 
You're sure to find the right style that suits your needs. Unlike WoodTrac™, EasyClosets are 100% customizable. You can even have a professional design your closet space! Here's a look at one sample from their gallery: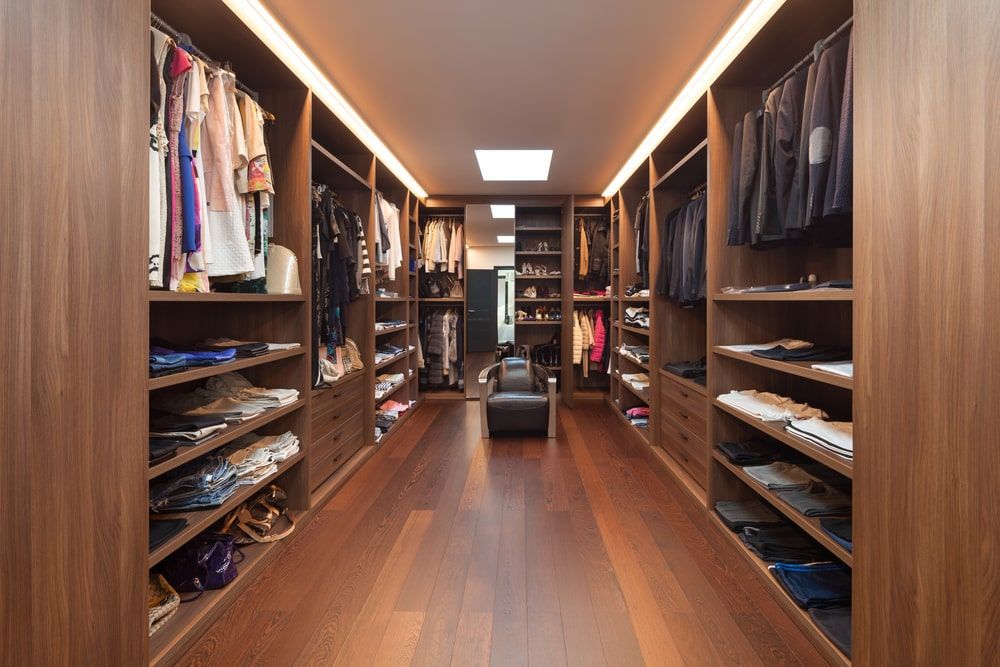 EasyClosets are elegant and match any style. Use them for other areas of the home, including pantries, kitchens, and other storage areas.
No More Messy Closets! 
You never have to worry about messy closets again! Thanks to advancements in closet storage and closet organizers. You'll save time, space and never lose those kids during hide-and-seek. 
Need more information about how we can transform your closets? Please contact us online. Together, we can make your dream closet designs come true.