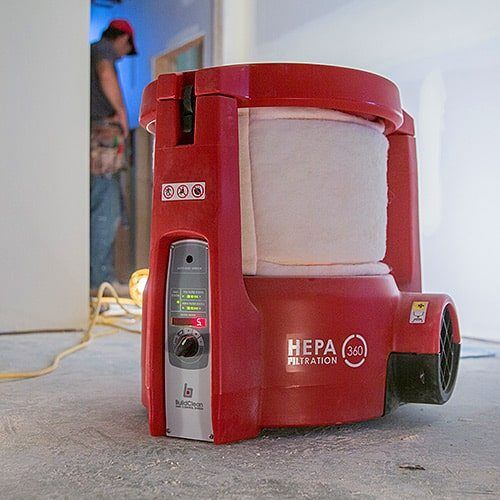 Job Site Dust Control
During your remodeling project, dust can get everywhere. On floors, furniture, glassware, dishes, even your toothbrush. Studies have shown that homes being remodeled have five to eight times the amount of particles in the air than homes that are not being remodeled.
Remodeling dust is not only aggravating to clean up but it can be unhealthy for you and your family.
Historically we've protected the home from dust by: 
using ZipWall plastic barriers and drops cloths to seal of the work area
Covering A/C vents during demo so dust is not carrier throughout the house by the HVAC system
Bag all debris before carrying it out of the work area to minimize dust outside the plastic barriers
Placing exhaust fans in windows to create negative pressure in the room.
Use HEPA filters on shop vacs for cleaning
Now there is a new tool in our quiver to help combat job site dust. It's called the BuildClean Air filter and its awesome.
The BuildClean Air Cleaner
The BuildClean Dust Control System is a self-contained, portable unit that provides continuous air filtration. It traps dust within the job work area using two filters, a pre filter and a HEPA-certified second-stage filter.
BuildClean dramatically reduces airborne job site dust by drawing in air, passing it through a series of filters and returning the "scrubbed" air back into the space. It can also be attached to an exhaust hose to create negative pressure in a room.
BuildClean Demo Video
Watch the BuildClean filter clean a 6000 cubic foot room (that's a big room): https://vimeo.com/117951602 scroll to the 1:00 minute mark to see the room clearing.
ITW BuildClean: Air Scrubber Promotional Video from CBD Marketing on Vimeo.
Our Dust Control system now includes the BuildClean system on every job site during demo and other dusty parts of the project like drywall finishing.