McManus Kitchen and Bath provides a single place where you can work with interior design and construction professionals who can help you create a happy, healthy home. We start each project with a Design and Budget Consult. It will help you clarify your design ideas, understand the remodeling process and create a Good Better Best Budget for your project. Click Here to Schedule a Consult
Kitchen Remodeling Ideas – The Galley Sink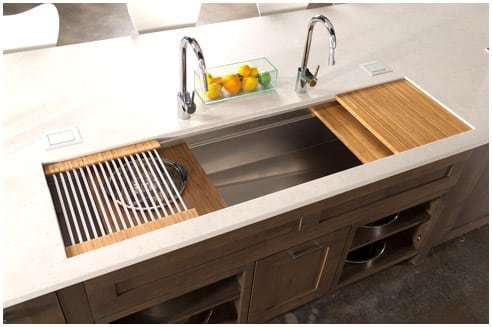 Our inspiration for the sink was the picture on the left. We wanted a large sink with integrated drain board and cutting boards. It also looks cool, which is important 🙂 and the accessories, like colanders and washing bowls looked useful.
We contacted a supplier and discovered the sinks price was $2500, a bit over our budget of $300. Luckily though we are kick ass remodeling contractors and we could create our own sink with all the characteristics we loved at at fraction of the cost!
Adapting the Design
We identified the characteristics of the sink we liked:
an integrated drain board for drying dishes or defrosting meat or just to place something when working in the sink
small compartment for the disposal, for Ice when entertaining or to use with an integrated bowl
ability to under mount the sink: makes clean up easier and looks super cool
accommodate an integrated cutting board to save counter space and for easier clean up
The End Result:
We found an Ikea sink for $200 that had a drainboard built in. It also had a nice lip all around the inside where a properly sized cutting board could fit and slide around easily. We cut down a bamboo board to fit and also created a bowl and colander board by cutting a resin cutting bard to fit the sink and cutting a hole in the board to fit a bowl or colander.
We're pretty happy with the way things came out. The sink works great and the accessories are easy to make using resin cutting boards. We may make a sliding drain board in the future for drying large things like our slow cooker bowl.
Pictures of the final sink:
Those counter tops, by the way, are made from 60 year old rail car flooring. It took a lot of work to get them sanded down and fitted but boy are they gorgeous and they're like 2″ thick! They are a real pleasure to prep food on every day.
Lessons Learned
Its easy to get a little crazy searching inspiration images on the internet especially when sites like Pinterest and Houzz make it so easy. It can be discouraging when we discover that our favorite design or products are prices well above our budget or won't fit in our space.
What's important is to identify the characteristics of the inspiration photo you like. List the functional and aesthetic things you like about it and save that list along with the photo.
Discuss those characteristics with your designer, contractor or showroom representative and let them help you create a design or find products that meet those characteristics and fit you space and your budget. Check out our design services page for more information!
Thanks for reading!