Kitchen Remodeling and Design
Make common tasks more efficient
Eliminate clutter and hard to clean surfaces
Enjoy hosting and family time more
Schedule A Consult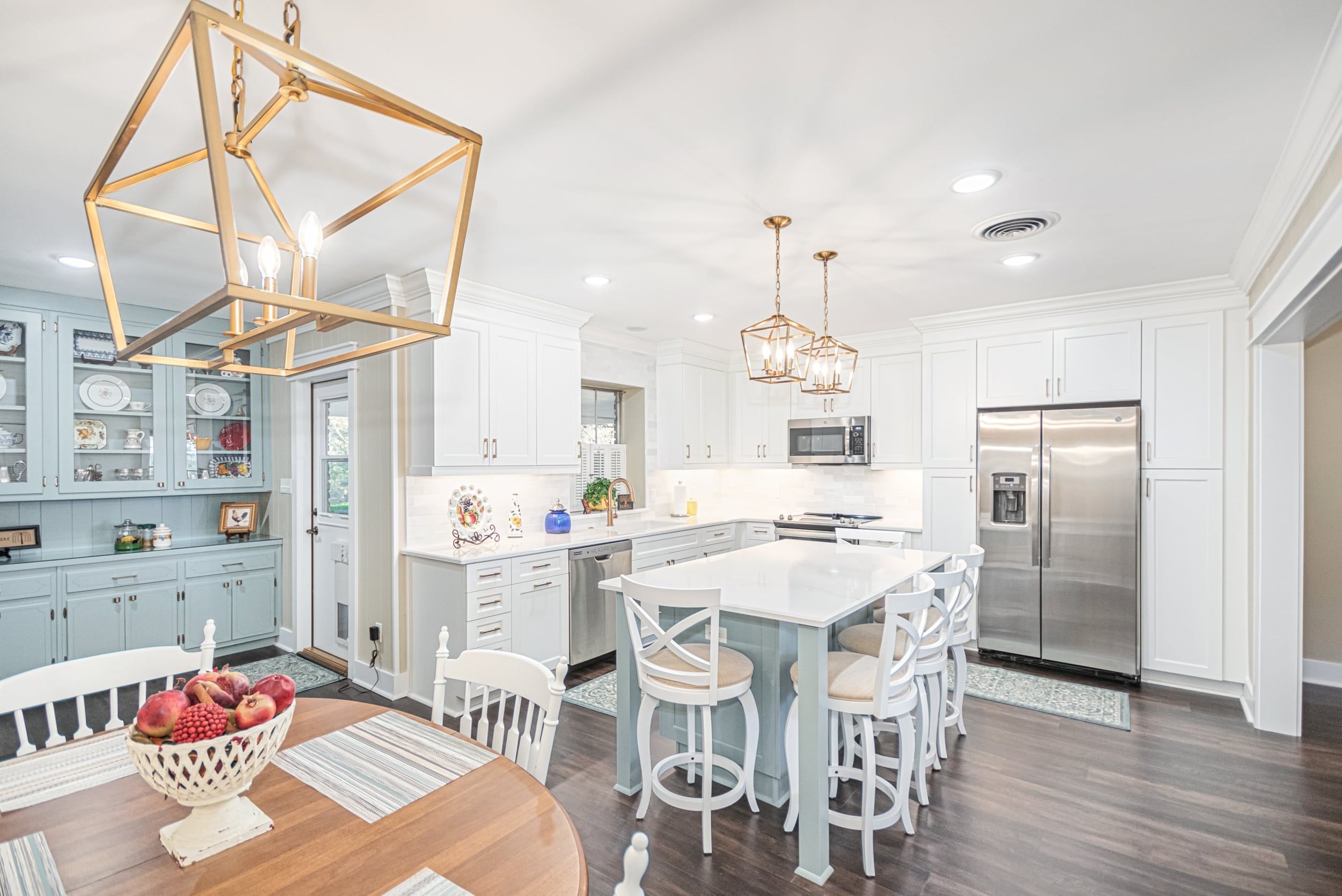 A Kitchen Designed for the Way You Live
A well designed kitchen makes cooking and cleaning easier, serves multiple functions and gives you a sense of pride in your home. Unfortunately most people are not working in kitchens that were designed for the way they live today. We're here to help change that.
McManus Kitchen and Bath makes kitchen remodeling easier by providing a full service showroom where you can meet with interior designers and construction experts to help you create a beautiful and functional kitchen.
Kitchen Remodeling 101: Our Process
We start with a discovery call to learn more about your project and tell you a little about us and how we work. If we decide we are a good fit for each other we will schedule a design and budget consult (read more about that here).
After your consult you'll have a detailed budget and 3D concept for your kitchen remodel. The next step is to approve your budget so we can move into the design process.
Spending Time in Design
Kitchen remodeling is complex a big mistake many contractors make is not spending enough time in design to get the details right. Your home is a very personal place and the design process needs to be personal too.
Its natural to want to jump right into picking colors, doors styles and fixtures but before we do that we want to talk about how you use you kitchen, how others use it and decide on the best layout and workflow. This becomes the "bones' of the design and we layer fixtures, colors and patterns on top of that. A kitchen with 'good bones' is timeless and will serve you well for decades, even as trends come and go.
No Allowances, No Unexpected Delays
Another common mistake is using allowances instead of choosing all materials up front. Starting the project without all materials selected inevitably leads to delays and increased costs.
There are enough unknowns in kitchen remodeling without introducing more. We make all material selections in design, down to the last light switch. We then order everything and store it in our warehouse until the project starts. That way there are no delays due to backorders, shipping damages or mistakes.
Keeping You In The Loop
Once design is done there is waiting period until the project starts. It can take 12-20 weeks to get cabinets and other fixtures. During this period we will send you regular updates to let you know that things are on track, what materials have arrived and what we are still waiting for.
About Three weeks before your kitchen remodeling project starts your project manager will schedule a Pre-Construction meeting with you at your home to discuss site prep, the project calendar and what to expect during the first week of the project.
Managing the project
Your project calendar, created during design,  will outline what to expect every day of the project. Your project manager also sends you updates each day using daily logs in our project portal.  These daily logs are sent at least three times a day:
at 8 am to let you know who to expect on site that day and what will be done.
Mid day when your project manager is on site they will do a daily log with progress pictures
At the end of the day they will update you on what got done and the plan for the following day or days.
Want Some Inspiration In Your Inbox? 
The Frameless Advantage
We specialize in frameless cabinets. Most cabinets used by builders and remodelers are framed… they have a 1.5″ to 2″ frame around the opening. The frame strengthens the cabinet and allows for thinner materials to be used in the cabinet box construction.
Frameless cabinets eliminate the frame. The biggest advantage to this is more storage. The cabient frame takes up a lot of space and makes your drawers and door openings smaller. Frameless cabinets allow for full access to the cabient.
4 Reasons To Choose Frameless Cabinets For Your Kitchen
Using Frameless Cabinets can add up to 10% more storage to your kitchen.
Wider and Deeper Drawers
Custom sizes at no additonal cost
More door style options
More style options
We specialize in Frameless cabinets and will review your options at your Design and Budget Consult.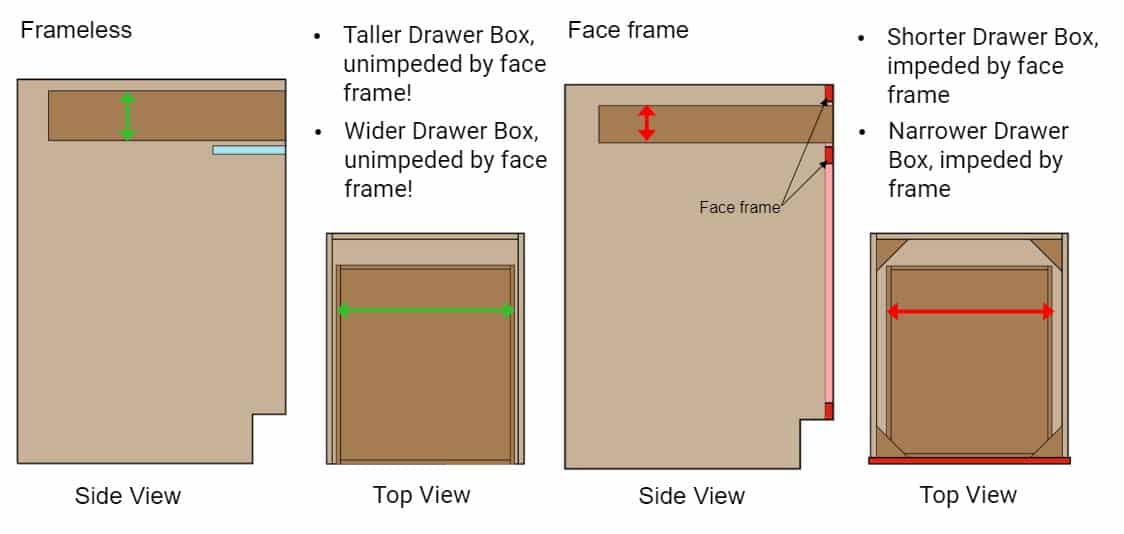 There are several ways we can help you update your kitchen:
1. A 'Pull and Replace Remodel' ($55,000 – $70,000+)
The layout remains mostly the same but we update the look and function of your kitchen with new cabinets, countertops and fixtures.
2. A Full Custom Remodel ($75,000 – $145,000+)
You dream it and we build it ! Custom remodels are where layout changes are made like moving walls or relocating plumbing and electric.
3. Cabinet Refacing ($18,000 – $30,000)
Update the look and function of your kitchen whille keeping your cabinets and countertops in place.
You can see detailed cost info in our project gallery where you can explore recent projects and their cost.
Our Showroom
In 2015 we decided to open our own showroom with the goal of simplifying the kitchen remodeling process. It was a lot of work and we learned a lot of hard lessons in those first few years but the end result has been fantastic.
The design build approach has allowed us to create better designs and bring a much higher level of service to our clients.
Having A Showroom Changed Everything
Saves time and elimiates unecessary project delays
Avoids mistakes when buying materials and fixtures
Provides a great environment to meet, collaborate and enjoy the process!
We have access to everything you might need for remodel in our showroom. But if we don't have exactly what you want we also work with other showrooms and vendors in town.
Kitchen Cabinetry
All of our cabinets are made in the USA from quality materials and meet strict KCMA standards for durability.
We do offer cabinets at different price points and will outline your options when we review the Good Better Best budget for your project.
We carry cabinets from Bellmont, Kith, Jay Rambo, and Holiday Kitchens.
Kitchen Countertops
We carry laminate, wood, corian and stone countertops. Quartz countertops are the most popular option for kitchens and Corian the most popular for bathrooms.
Ceramic and Porcelain Tile
We carry tile from Emser, SomerTile, Dal Tile and Crossville Tile. Backsplash tile, shower wall tile, floor tile… No matter what your tile needs are, we've got you covered.
Kitchen Flooring
If tile flooring is not for you, we also carry engineered wood and luxury vinyl plank (aka LVP). LVP flooring is fast becoming one of the most popular options thanks to its durability and beauty.
Plumbing Fixtures and Lighting
We carry some of the more popular options in our showroom but we'll also help you explore other options online and with our local partners.
Recent Kitchen Remodeling Projects
Kitchen Remodeling: Improve All 5 Steps of Cooking
Kitchen design is about more than just new cabinets and countertops. The goal is to create a kitchen that revolves around your movements.
1. Storage
Storage is about more than just hiding things or packing as much as possible into a space.
Well thought out storage makes a kitchen work better, makes shopping easier and ensures food is stored safely and hygienically.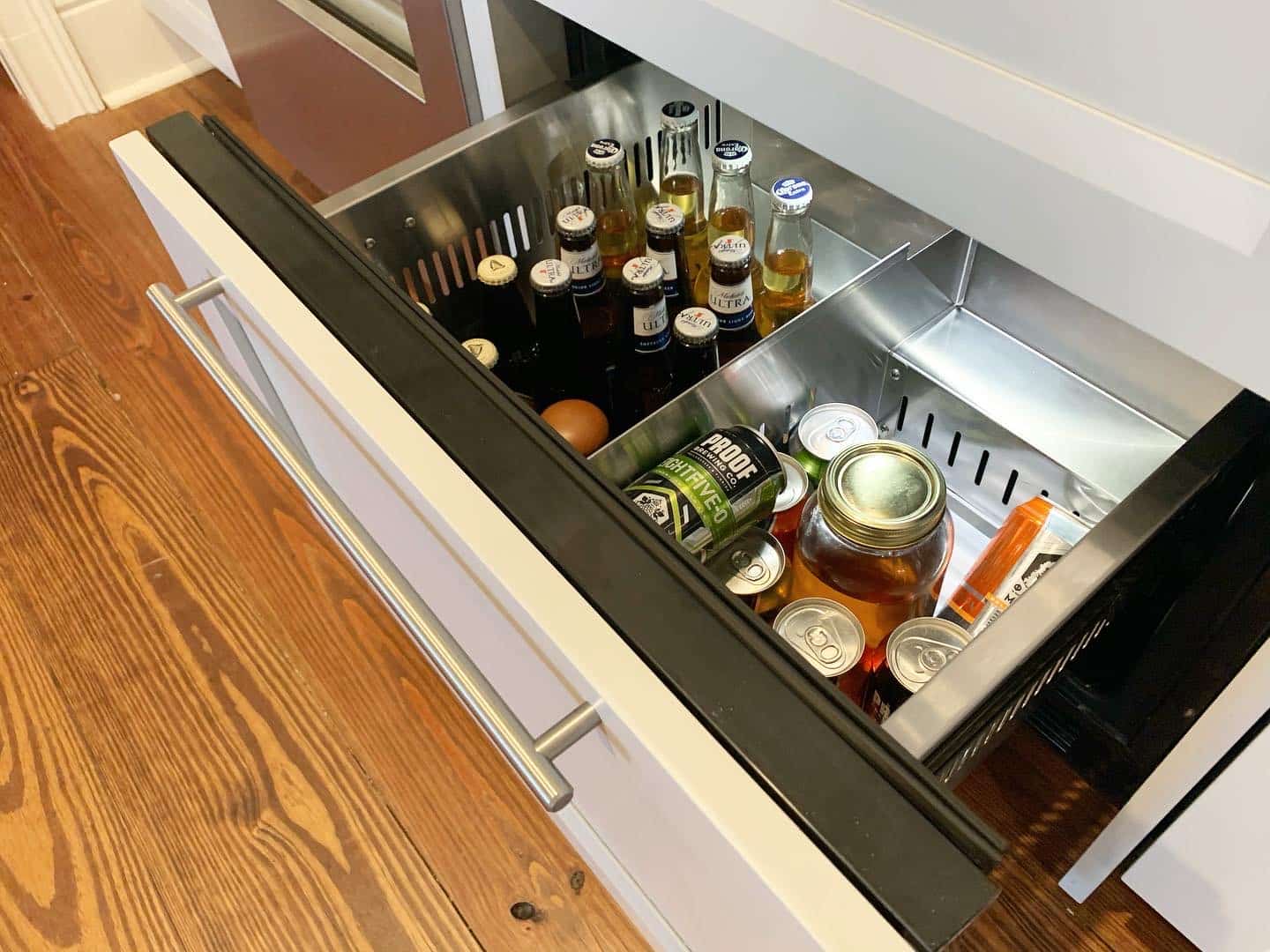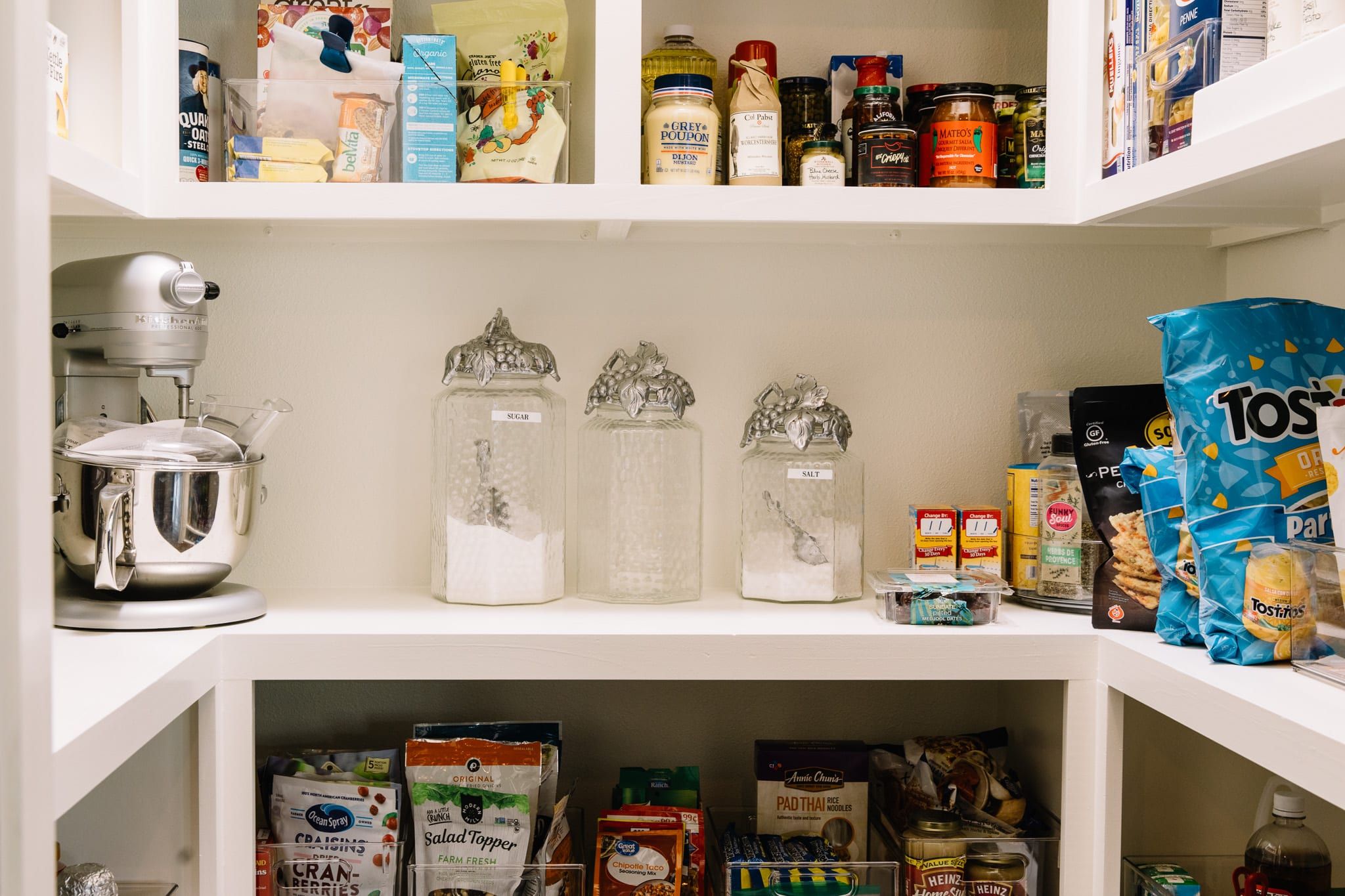 2. Preparation
Easy food prep is all about having everything within reach when you need it.
You also want to design your kitchen so that people can help with food prep or use other parts of the kitchen without getting in the way. 
3. Cooking
These days a good cooking layout also allows the cook to stay involved with other things going on in the home.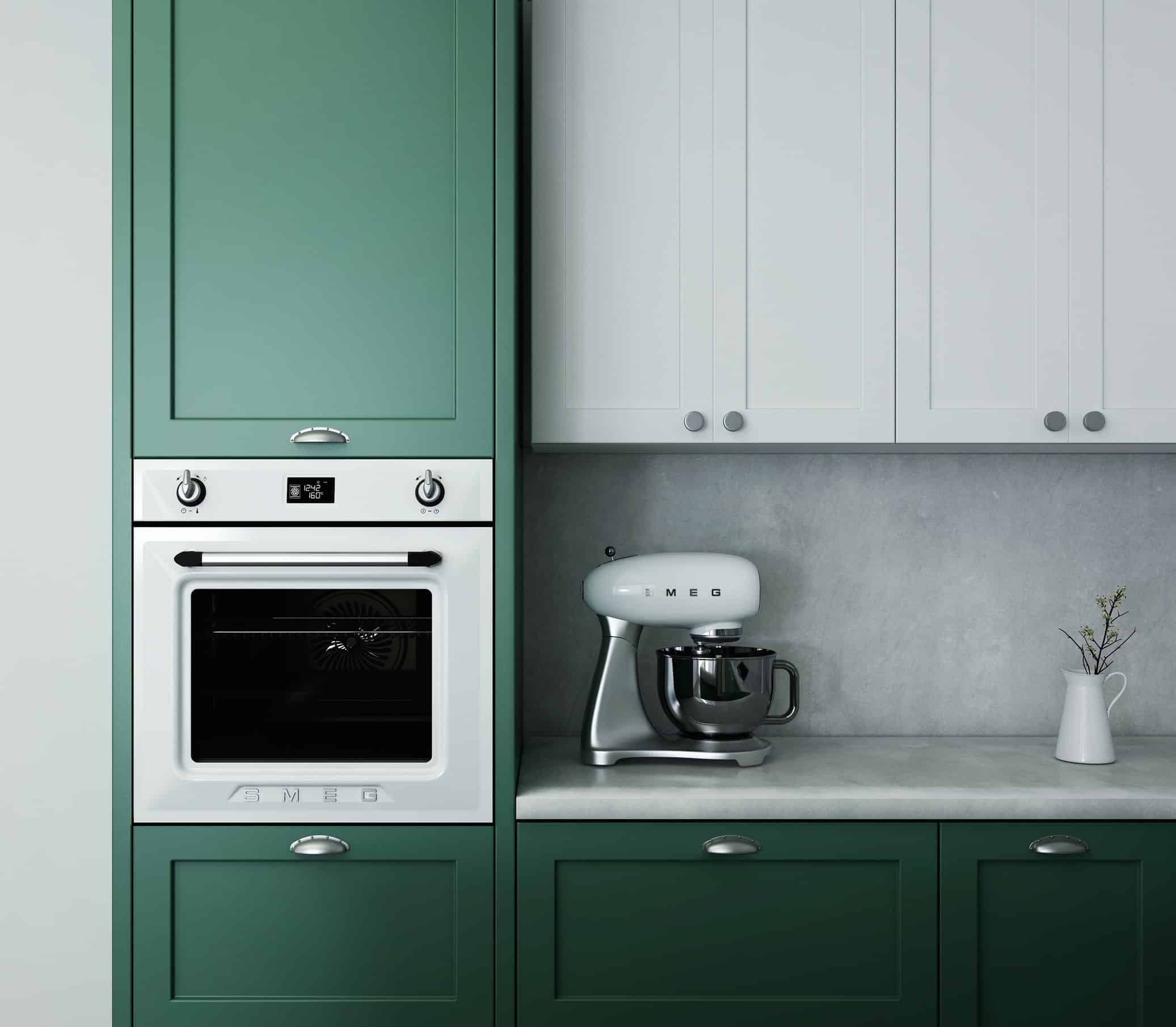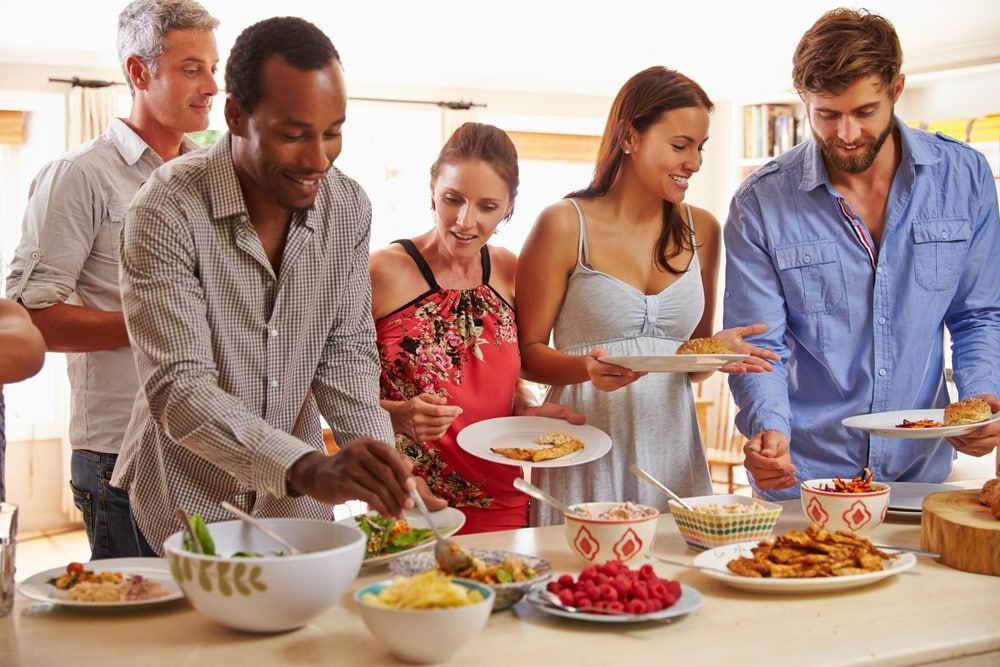 4. Serving
Whether you're servicing 2 or 20, a well organized kitchen allows you to set the table and plate meals without unnecessary disruption of the cooking or clean up process.
5. Washing Up
Surfaces that are durable and easy to clean. The layout of your kitchen should make clean up and putting away of dishes easy.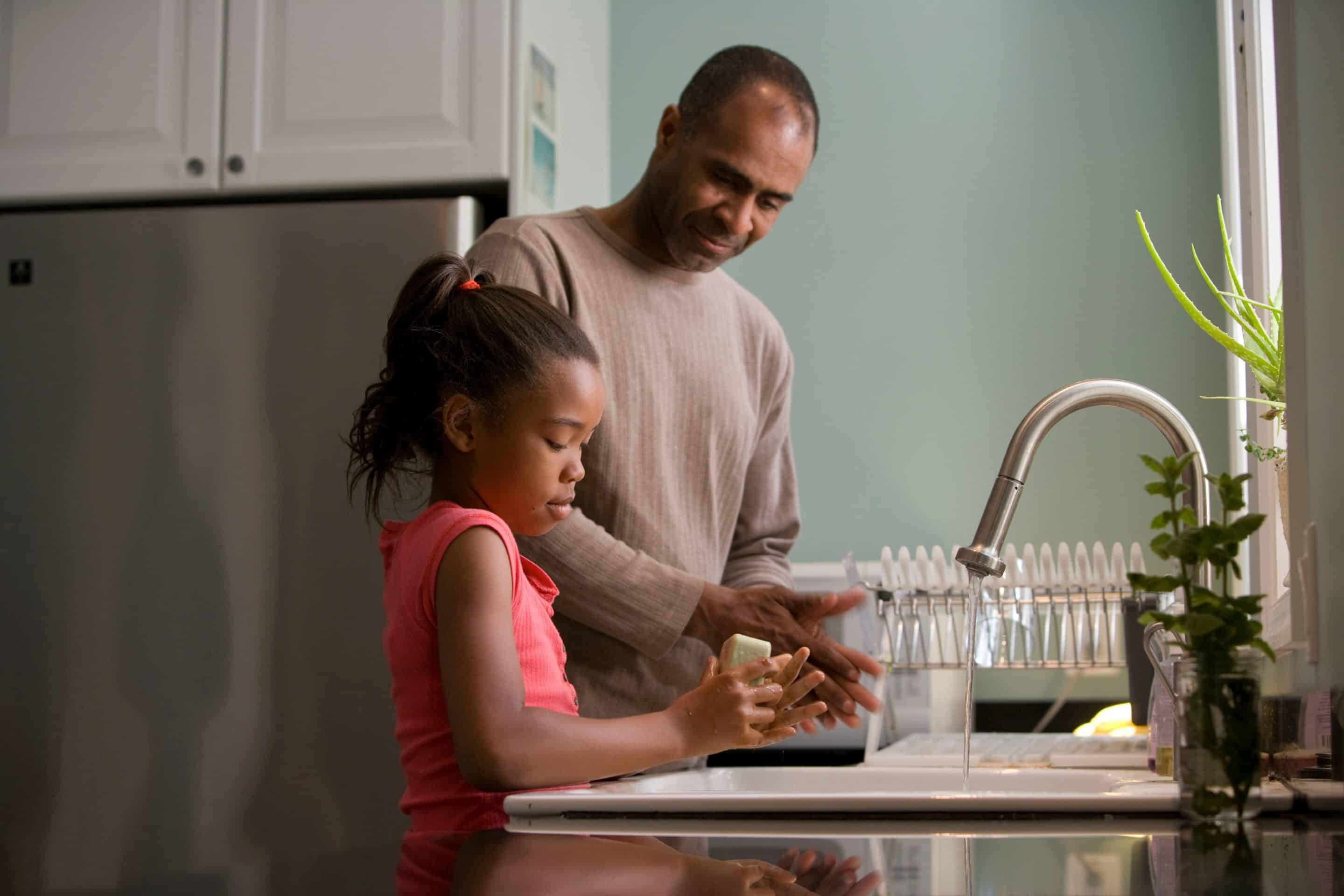 Ready to Explore Your Project?
Schedule a Design and Budget Consult
We'll help you clarify your design ideas, understand the remodeling process and create a Good Better Best budget for your kitchen project.
At McManus Kitchen and Bath, we know people are happier when they have a kitchen that is organized and easy to care for. The problem is most kitchens were not orginially designed with efficiency or ease of maintenance in mind. In order to correct that, a kitchen remodel is necessary. 
A lot of people put off updating their kitchen because they're not sure where to start and the process can be overwhelming. That's why we've created a single place where you can meet with construction and design professionals to get the help and advice you need.
We start each project with a Design and Budget Consult so you can clarify your design ideas and get a Good Better Best budget for your project.
To get started just contact us to schedule a consult. In the meantime join us for Webinar Wednesday where we chat with a different designer each week and answer your questions in real time.