McManus Kitchen and Bath provides a single place where you can work with interior design and construction professionals who can help you create a happy, healthy home. We start each project with a Design and Budget Consult. It will help you clarify your design ideas, understand the remodeling process and create a Good Better Best Budget for your project. Click Here to Schedule a Consult
Deciding to remodel is an exciting time, especially when you start looking at master bathroom remodeling ideas.
There are lots of decisions to make and remodeling is all about compromise. You're limited by the decisions of whoever built your home, by budget constraints, and by the need to balance personalizing your home with resale value. A typical master bath remodel in Tallahassee can cost $25,000 – $35,000 or more, and research shows that it will add about 75% of that cost to the value of your home.  
It is a serious undertaking. You're probably spending as much on a bathroom as you might on a new car, but you can't "trade in" your bathroom the way you can your BMW. Most homeowners will remodel a master bath once every 15 to 20 years, so decisions made today will be with you for quite a while

---
Master Bathroom Remodel Ideas: 
3 Key Principles to Consider 
Universal Design (aka Barrier Free Design or Aging In Place)

Focal points, choose 2 – delight and surprise

Wants and Needs (who's using it?)
---
Universal Design
Universal design, barrier free design, aging in place design… what's the difference?
Barrier free design (also called Aging in Place) is about accommodating people with disabilities. It is governed by building code and ADA standards. 
Universal design includes barrier free design but also encompasses ideas that are not outlined in building code. It's not specifically meant for people with disabilities though its does incorporate similar principles. Universal design does consider people with limited mobility, whether it be temporary like from an accident or surgery, or more permanent. 
We prefer the term universal design as it is more encompassing of all people and all stages of life and it does not have the stigma of just being for "old people".
Universal Design definition:  

"Designing all products and the built environment to be aesthetic and usable to the greatest extent possible by everyone, regardless of their age, ability, or status in life."

-Architect Richard Mace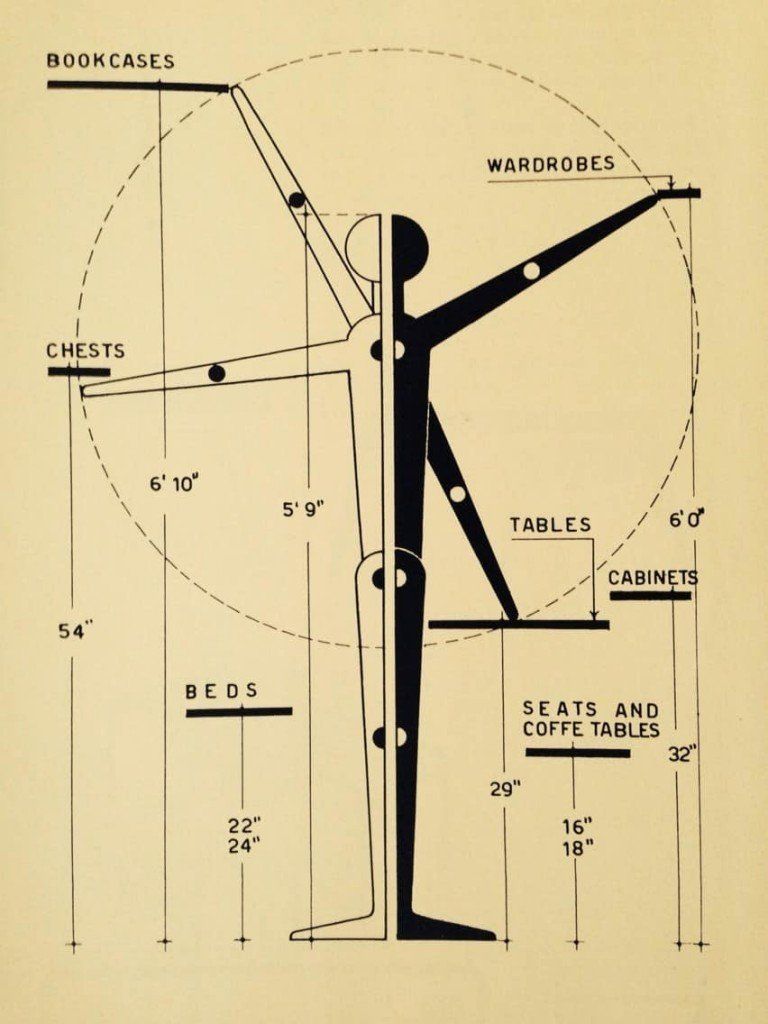 Some common examples of universal design in the bathroom include:
Larger, barrier free showers, aka a curbless shower – 

 by removing the barrier at the entrance means less of a tripping hazard.

Large, barrier free showers are wheelchair accessible

They can accommodate more than one user at a time (pets and people)
48″ x 48″ is a great shower size for one person. 60″ x 60″ is better
Wide Spaces and doorways

60″ turning radius is recommended to accommodate wheelchairs
34 inches wide doorways are the recommended minimum, though 30 inches wide will do.
Multiple shower heads.

Multiple shower heads are flexible and multi-use, which can come in handy for accommodating children or pets. 

Hand Held shower heads are great for washing legs, pets or if you need to be seated while showering
Body Sprays can provide a great spa like experience
Many people find rain head showers soothing
Consider a shower panel, that incorporates several shower heads into one fixture like these Pulse Shower Spas we have in the showroom.
Grab Bars

You may not need them now, but we suggest you place blocking in the walls during your bath remodel so it is easier to add them later.

Try a grab bar that doubles as a shelf or shower rail, that way your bathroom doesn't look too "hospital-y"
A grab bar/TP holder combo is great right next to the toilet
Comfort height toilets

Taller toilets are easier to use for many people. It is often referred to as chair height, and getting up from a seated position is easier. 

Consider incorporating a Bidet seat as well
Tilting mirrors

A mirror that tilts can be easily used by people of different heights.
---
Don't Be Overwhelmed by Ideas: Use Focal Points
HGTV, Houzz, Pinterest and other resources have made choosing colors and materials for a Tallahassee bathroom remodel overwhelming.
Bathrooms are generally small spaces, so it's important to chose one or two focal points and make those interesting and bold. The rest of the design should be a neutral backdrop to the focal points.
Focal Point and Design Ideas
Tile

Accent Rugs, waterfall designs or accent strips 

Interesting tile patterns like herringbone or pinwheel
An accent rug is a square accent
an accent strip can be run vertically or horizontally
Large format tile and mosaic tiles 

Large format tiles are tiles that are 18×18 or more

tiles can now be as large as 60 x 120 inches! (5 feet x 10 feet)

They need to be installed appropriately, you need an installer who knows how to do it

Woods and trims

Teak is a great accent wood in a shower
Metal trims create a contemporary look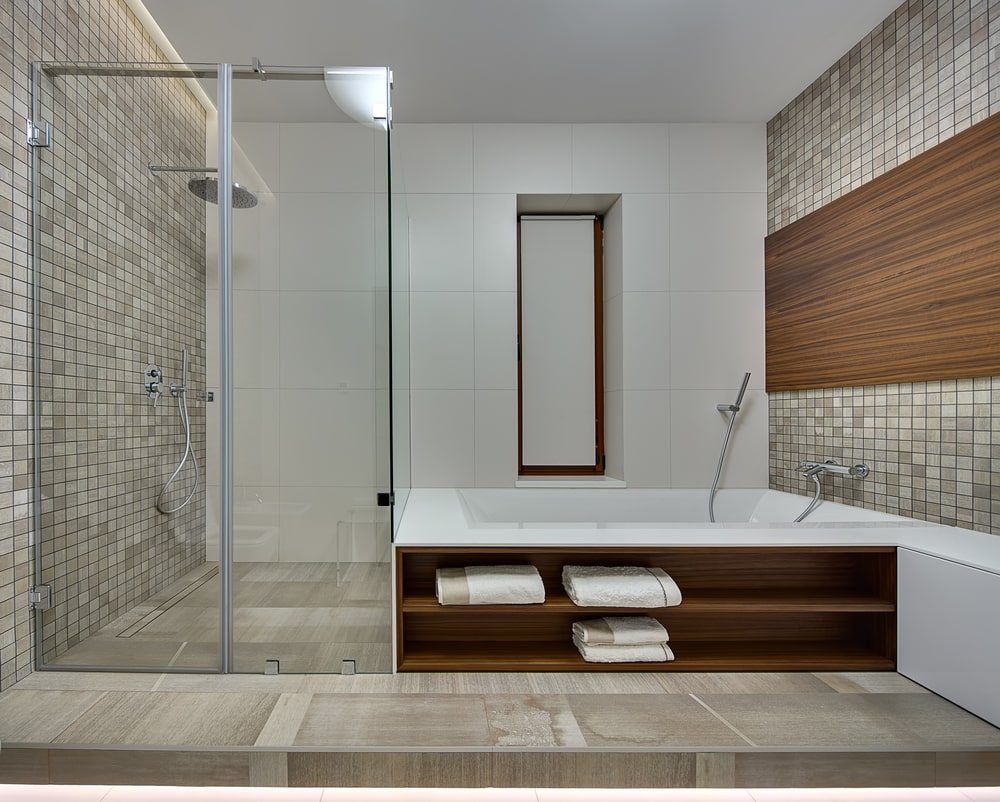 Frameless glass enclosures

Add a frosted accent to your shower glass
Add decorative Mullions
Add patterned glass
Fixtures

Vessel Sinks (our favorite is the trough sink pictures below)
Faucets and shower heads
Towel warmers
light fixtures
Recessed niches

Horizontal or vertical
make sure they are waterproofed well
Vanities and storage

Floating Vanities
Tall Linen cabinets
Storage towers
Pictures and draperies can also be a great focal point
When you walk into a master bathroom, the first thing you'll notice is the focal point. This is often the shower or vanity. In the bathroom above, we used an accent rug to add an interesting focal point to distract from the fact that the toilet is one of the first things you see when entering this bath. The rest of the bath floor, shower floor, and shower walls are covered in the same marble-look porcelain.
With master bathroom remodeling ideas, keep in mind that an accent rug is a great budget saving element. The plan was to originally do the whole floor in a marble flower mosaic, but at $45 a square foot, this wasn't a viable option. The 24×24 marble-look porcelain tiles are much more cost effective (about $4 a square foot) and still look great.
The bathroom shown above uses many of the design ideas we mentioned, including a storage tower, mosaic tile, a barrier free shower, frameless glass enclosure, and dual shower heads.
---
Who's using the master bath?
Unlike the hall bath or guest bath, the master bathroom is a more intimate space typically only used by a few people so you can really personalize the space.
Here are key consideration for your master bath remodel:
Time of use

Do you use the bath at the same time as another person when getting ready ?

Morning use vs evening use
Privacy – some couples want privacy in the bath, others are comfortable leaving the door open
Power

Do you need extra outlets or plugs inside a cabinet to store hair dryers, shavers, electric toothbrushes, and other accessories?

Consider a plug inside your vanity drawer so items can stay plugged in but also out of the way and hidden.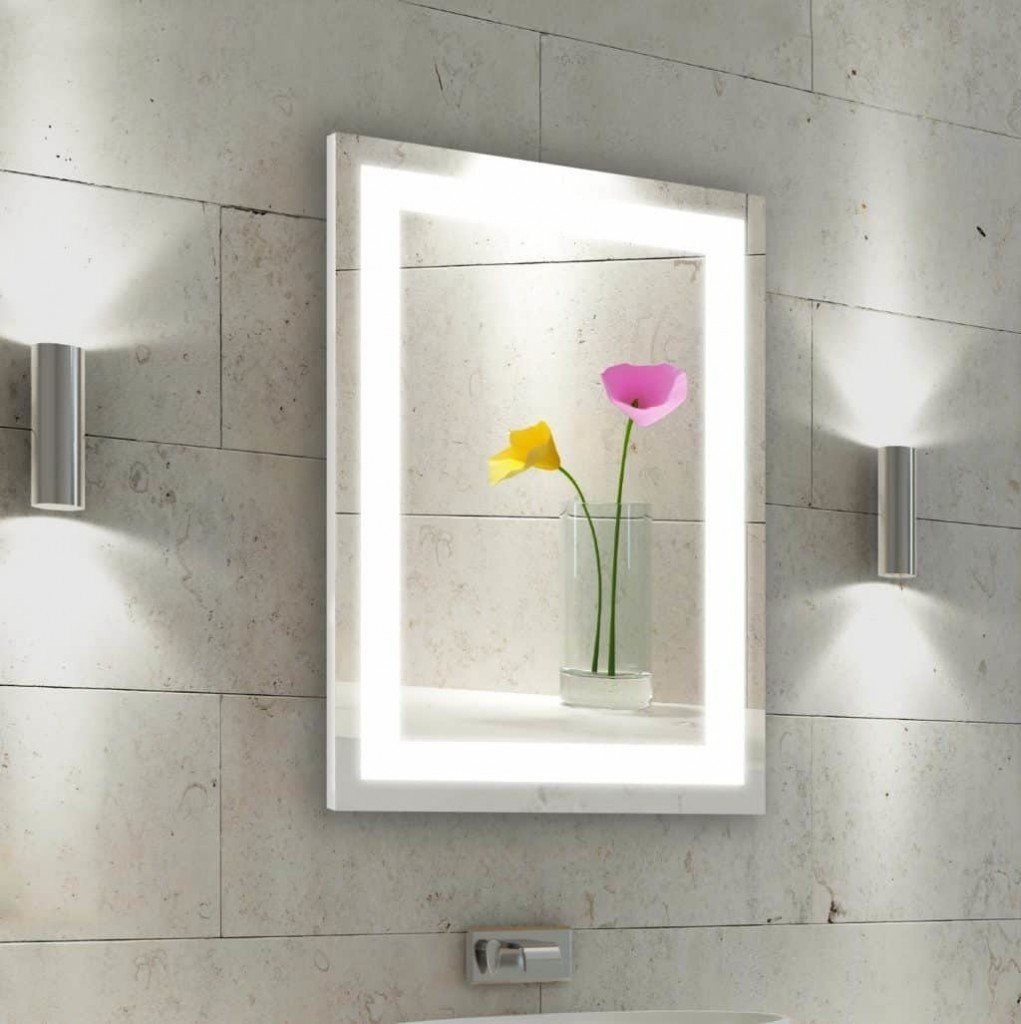 Lighting

Sconce lighting is great for applying makeup, but takes up a lot of space.

LED Mirrors are a great alternative to sconce lights

Try to include 3 kinds of lighting: general lighting, task lighting and mood lighting/accent lighting.
Blue nightlights are great because they don't ruin your night vision.
Towel Hooks or Towel Bars

A trend we see in Tallahassee is that men typically prefer towel hooks because they are easier to hang a towel on. 

Towel bars take a little more effort but towels dry faster.

Also consider a towel warmer – faster drying and warm towels in the morning!
Cabinet height

36" is the standard height,

some people may prefer 30" or a vanity with varying counter height.

Seated vanities (aka makeup vanities) are typically 30 inches tall
One sink or two?

You need at least a 60 inch vanity to accommodate two sinks. Two sinks means less storage and less counter top spaces. 

If you don't use the bathroom at the same time as your spouse or need different sink heights, then one sink might be a better choice.
If you feel like you need two sinks but don't have a large enough vanity or don't want to sacrifice storage space, consider a wide trough sink. They are wide enough to allow two people to use them at the same time but take up less counter top space than two sinks.
Storage

What are you storing? Tall cabinets are great for linens and towels, and a center storage tower is great for make ups and medicines.  Consider installing a plug inside a drawer so you can keep you hair dryer or electric shaver plugged in and out of the way.
When you're thinking of master bathroom remodeling ideas, as you can see, there's a lot to consider. At McManus Kitchen & Bath, we pride ourselves in not only giving you your dream master bath, but helping you through the design process.
Thank you for reading! We'd love to be a part of your next remodel. Check out our design services page