About Us: Design Build Residential Contractors
Serving Tallahassee for more than 20 Years
Award Winning Designs
Professional Project Management
A Turn Key Approach To Updating Your Home
Schedule a Consult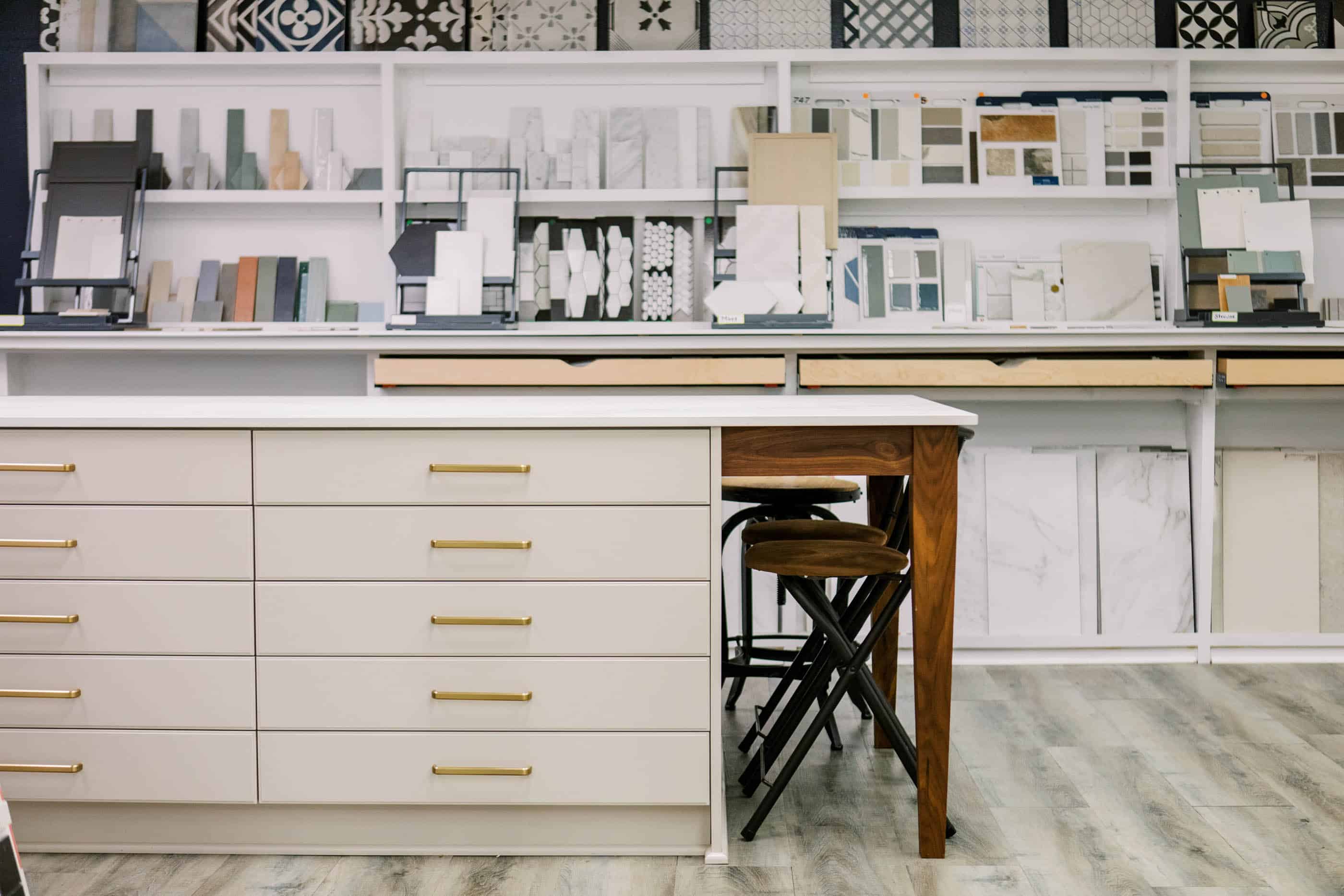 Our Services
We're design build residential contractors (license # CRC1331326) who specialize in gut renovations of kitchens, bathrooms and whole homes. We're the only residential contractor in Tallahassee with a full service showroom and in house design team.
We provide all the design, product selection and construction services you need all in one place so you can remodel your home without the stress and hassle associated with the traditional approach to remodeling.
Kitchen Remodeling
Improve the layout, add storage and free up counterspace with low maintenace, beautiful design.
Bathroom Remodeling
Personalize your bath to make you daily routines easier and create a space to relax and recharge when you need it. 
Whole Home & Additions
Remodel your whole home all at once or create a long term plan and then do it in stages.
What We Don't Do
We Generally Don't Work on Rentals, investment properties or on updating homes to sell quickly. 
Those kinds of projects are best suited to contractors who are less focused on design and a turn key experience.
More Than Surface Level Changes
Bad home design is sneaky. When we live in a home long enough we learn to adapt to it and often don't realize the daily stress and frustration design issues are causing us until one day someone comes along and helps us change it. 
Creating an attractive kitchen or bath is not enough. These are spaces that are central to a high functioning home. We'll work with you to improve every aspect of the design including the ligthing, storage, layout, ergonomics and workflow.  We follow well known NKBA and universal deisgn standards and provide expert advice on material and fixture selection. 
Great Design Is Not Enough, The Process Needs To be Enjoyable. 
Remodeling has a reputation of being being messy, frustrating and exhausting. We're here to change that. 
Our remodels are planned in detail, everything is ordered in advance and stored in our warehosue before any on site work begins. Your designer will help you clarify your ideas and help you choose the right materials. During construction your project manager is on site every day making sure things are built to plan and your home is kept clean and safe. 
Many people only have the opportunity to tailor their home for themselves and their loved ones once or twice in their lifetime. We want you to enjoy the experience as much as the final result. 
Stay in Touch With Regular Updates

Our Team
Without our dedicated staff we would could never provide the exceptional experience, thoughtful designs and quality installations that we do. They are what make us stand apart. 
Paul studied architecture at the University of Florida.  One of the key takeaways from that study was how the design of a space could change the way you feel, and even the way you live. This business and our clients are very important to me but I also enjoy travel and have visited more than 38 countries across the globe, many of them more than once. Travel has helped shaped my worldview and my design aesthetic.
Stephanie is originally from New Jersey and is a graduate of NJIT with a B.A. in Interior Design. After graduating in 2018, she worked at design/architecture firms in the tri-state area. She recently moved to Tallahassee in order to join the McManus team. She loves helping people create beautiful, comfortable and functional spaces where memories can be made.
Mike is from Tallahassee and has been in the industry for over 20 years. As Project Manager at McManus Kitchen and Bath, he loves having the opportunity to combine 2 things that he is passionate about: people and craftsmanship.
Caitlyn started out working in a home improvement store while going to Florida State University to earn a degree in applied math and computer programming.  After specializing in appliances, cabinets, and flooring, she began to apprentice under the store's kitchen and bath specialist. This quickly turned into a passion as the individual pieces began to join together to create the whole picture. Caitlyn joined McManus Kitchen and Bath in November of 2017.
Kristi was raised in Peachtree City, GA. She is a graduate of Florida State University. As an outdoor enthusiast, Kristi is extremely down to earth and pleasant to work with. With 12 years in the customer service industry and 3 years as a McManus Kitchen & Bath designer, she has a unique ability to relate to our clients. Helping people create a space that brings them happiness every time they walk through the door is her main objective. 
Henry is from Thomasville, Georgia and when he's not at work, enjoys fishing and spending time with his family. Henry joined the McManus Kitchen & Bath team in June 2021.
Elliot is a Florida State graduate and long time Tallahassee native with a passion for helping others and creating solutions that make a difference. He has several years experience in the construction industry, and is thrilled to pair innovation and integrity as part of the McManus team. When not at work, Elliot enjoys time with his mini pitbull Nayla, woodworking and spending time in the gym.
Our Residential Contractors License
One of the first things people tell you to ask for when looking for a residential contractor is their license and insurance. You can always make sure a license is up to date by visiting the Department of Professional Regulation's Website. We've made it easy for you by inlcuding our license and insurance certificates on this page.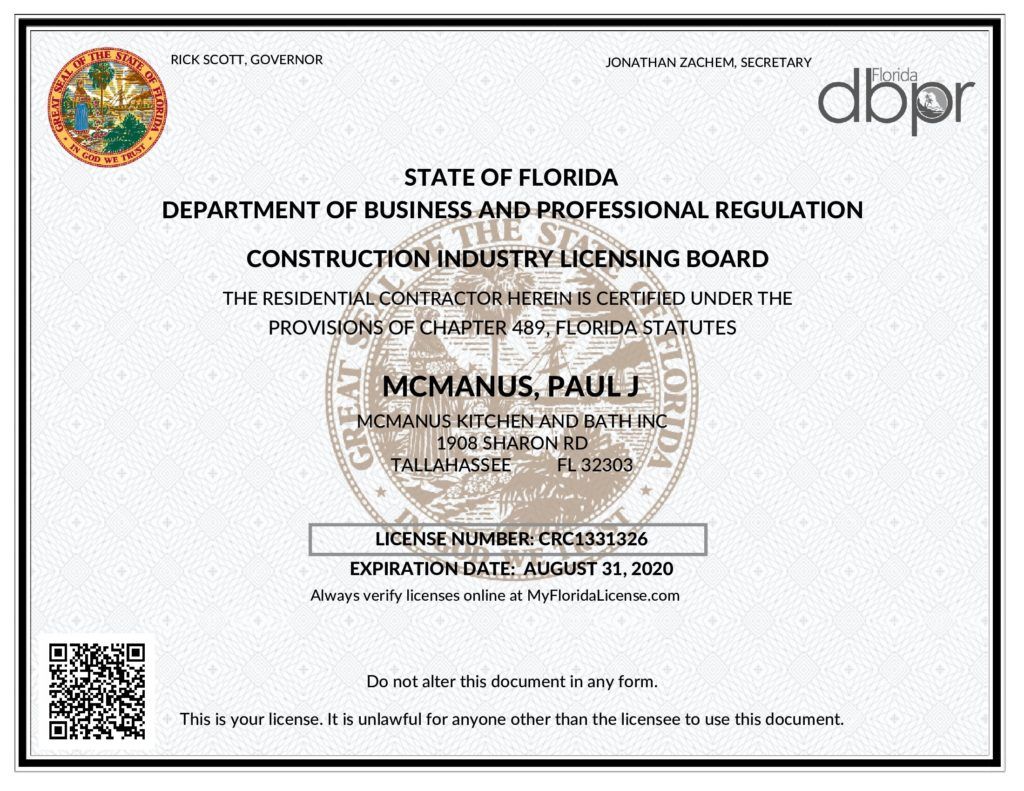 Our Certificate of Insurance
We carry 3 types of insurance: General Liability, Commercial Auto and Workers Compensation Insurance.
Out General Liability Limits are $1,000,000 per incident and $2,000,000 total.

The majority of our clients choose all their materials and fixtures from a curated selection of options put together by our designers. However if we don't have access to what you want we are happy to work with other showrooms in town or order what you need.
The Benefits of Having Our Own Showroom
More Accurate Initial Estimates
When we review your initial budget together in our showroom we will look at actual fixture and material costs. This is one reason why our budgets are typcially within 5% of actual project costs.
Reduce Delays and Errors
Because we are in control of all the selections and ordering process we make sure everything for your project is ordered in advance and stored in our warehouse before your project starts. We inspect every box that arrives to make sure it is the the correct color, size and is undamaged.
Better Commuication and Service
Instead of running all over town to visit different designers and showrooms you can relax and enjoy the deisgn process all in one place. Not only is this more convenient for you but it simplifies the process and reduces miscommuncations and mistakes.
Collaboration
Your designer and project manager work as a team and collaborate together with you to design and build your project. This client – designer – project manager feeback loop that enhances the design process and makes construction run smoother.
Continuous Improvement
Cross training between designers and project managers, feeback from the field and team training means every part of the process gets improved with every project.
Company History:
The MKB origin story starts in the early 90's when the owner, Paul McManus, was at the University of Florida studying Architecture. To help pay for school he went to work for a painting contractor in the summer. By the end of the summer he was a foreman for the company and the next summer he started his own painting company, PJM Student Painting.
After graduating UF in 1996 he moved to Tallahassee and continued to run the painting company, which evolved into a handyman business and eventually a remodeling company. Paul got his residential contractors license in 2006. In 2014, after 4 years of travelling the world as a bicycle tour guide, Paul returned home and to his work as a residential contractor.
In 2015,  frustrated with mediocre designs, limited product selections and common issues like poor communication and delays from working with outside designers and vendors he decided to open his own showroom, hire a full time designer and started providing services as a design build remodeling contractor.
The Future of McManus Kitchen and Bath
We're focused on continuing to grow and improve to serve our clients better.
The pandemic threw a wrench in our plans. Fortunately busines has been good but the unpredictable nature of  manufacturring and shipping has made us wary of expanding too fast.
As things begin to get back to normal we intend to build a new, larger, showroom where we can include trade partners and an expanded show floor so we can offer an even better experience to our clients.
In the mean time we will continue to invest in the training and development of our staff and provide the best remodeling experience possible to every homeowner we work with.
Our Mission: We Exist to Make Lives Better
We know people are happier when they have a home that is easy to care for and that makes their daily routine more enjoyable. Our mission is to improve peoples lives by providing an enjoyabe way to create a beauctiful and efficient to live. 
Core Values
Our team share a few important core values. These three tenants inform our decision making when it comes to how we treat each other and serve our clients.
Trust.
Even in the smallest interactions we earn with each other and our clients. From the first phone call to the final walk through we promise to do what say we will and being honest and transparent in the way we do things.
Pursuit of Excellence.
Through a combination of conferences, in house and self directed training we are constantly working to improve and become more expert in our roles. 
Commitment to a Remarkable Customer Experience
The experience of the remodel is just as important as the end result. Great communication and planning are cornerstones of our process.