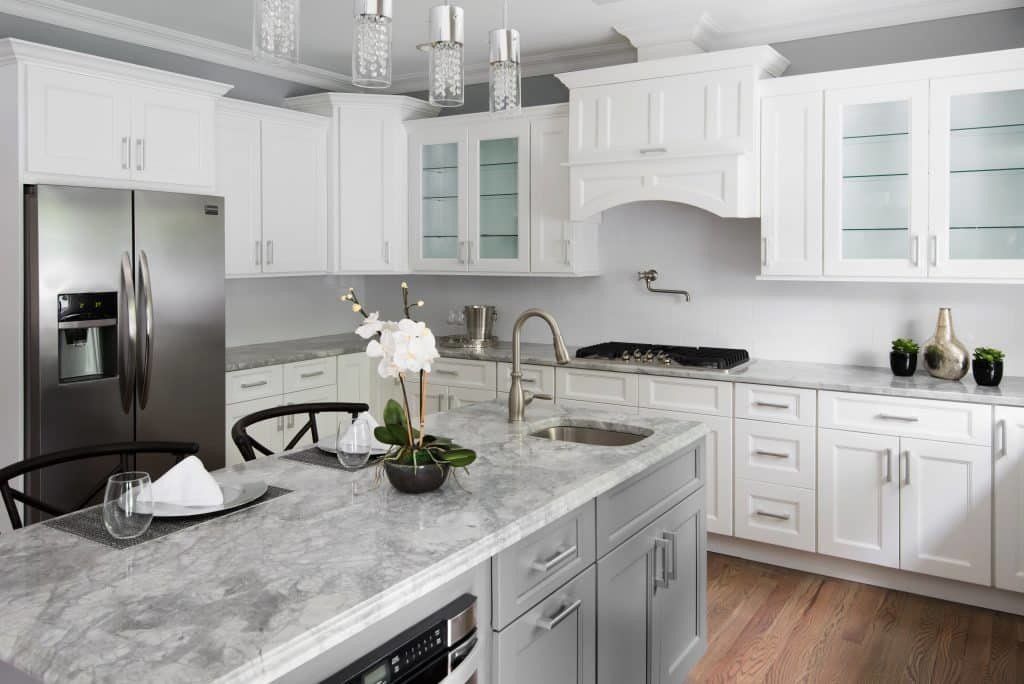 Fabuwood is an RTA Cabinet Brand that many contractors and countertop showrooms have access to. They are made oversees but assembled in New Jersey. The color and style choices are limited but in keeping with current trends. Quality is better than most import cabinets but there are some limitations. 
Should You Use Online Cabinet Brands For Your Project?
For the most part I would say stay away from them if you are looking for a quality, long lasting cabinet. But they may work for certain situations and they can be very budget friendly. 
The big caveat is the vast majority of people who sell these cabinets are doing it because they are cheap and easy to get. They usually lack experience in cabinet design which could lead to some regrets. 
Let's talk about what online cabient brands are offering compared to higher quality semi custom brands and why you might want to choose one over the other.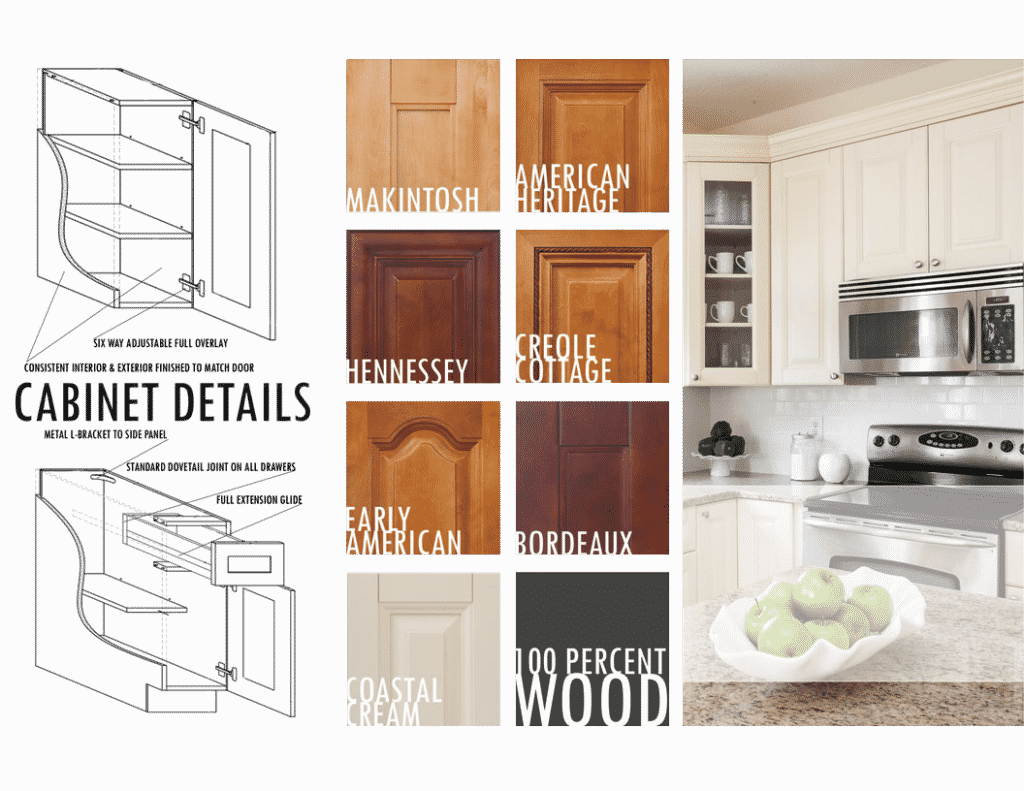 Online cabinet brands like to promote they they are made from "100 percent wood" but they use cheap softwoods that are low quality. They also offer limited color and door style options. 
Who Can Sell Cabinets?
Semi Custom Brands Can only be sold by reputable dealers
Most semi custom cabinet companies have minimum requirements for a business before they will allow them to sell their cabinets. They want to make sure whoever is selling them has a good knowledge of cabinet design and will represent their brand well.
Online Brands Can Be Sold By Anyone
But online cabinet brands don't have those requirements. They will sell to anyone without any qualifying or preconditions. That is great for small contractors who want to add cabinets to their services but it has also lead to a flood of people trying to design and install cabinets without the proper experience or training.
What Type of Cabinets Are They Selling?
These online cabinet brands are selling RTA cabinets, which stands for Ready to Assemble. They are imported from oversees unassembled in a box with all the fasteners and hardware.
Some companies, like Fabuwood, import RTA cabinets then assemble them here in the US and sell them as as a preassembled cabinet. These are mass manufactured cabinets and come with limited options and in 3″ increments.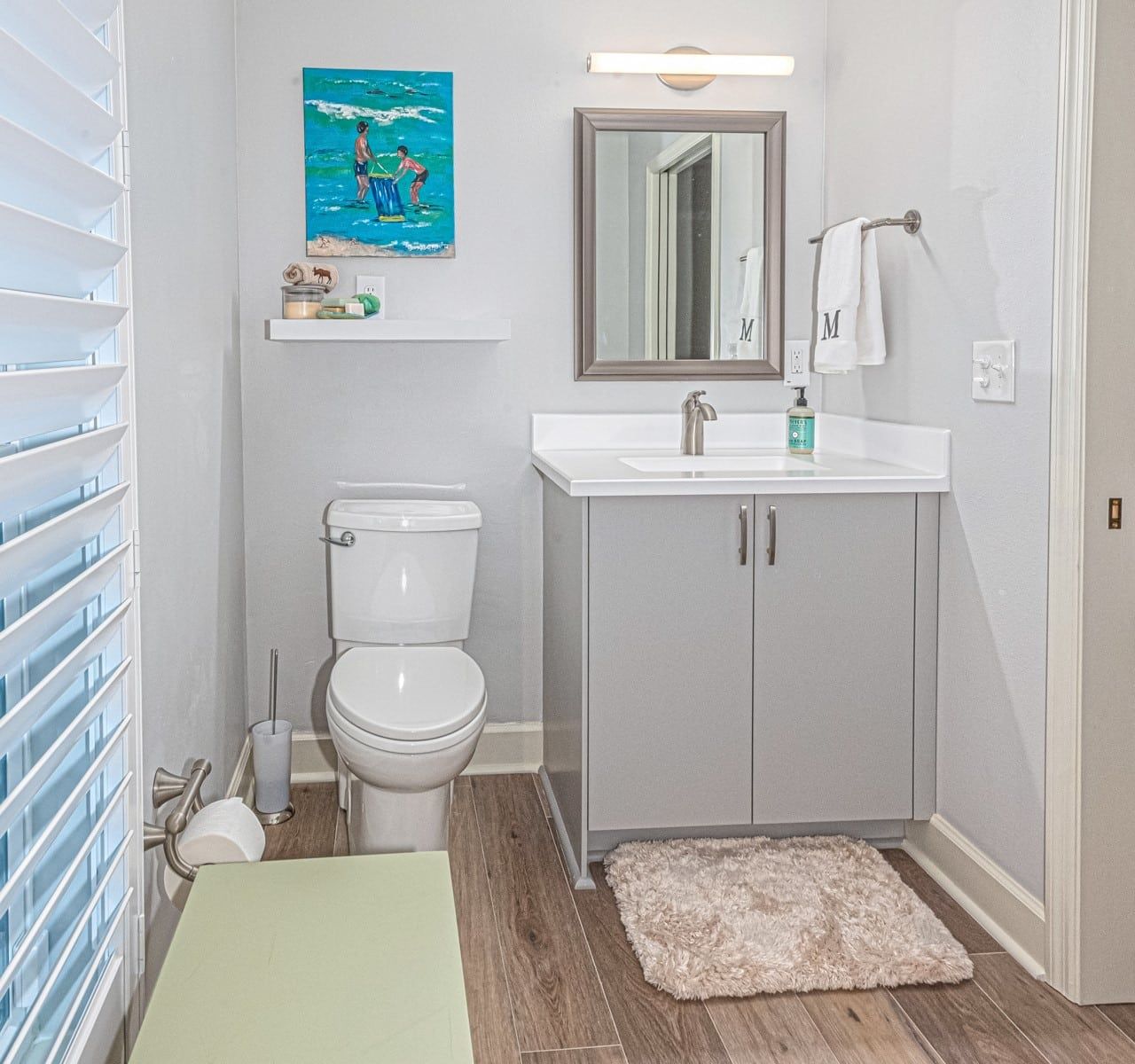 RTA cabinets lines like JSI can be great for small projects like bathroom vanities but they have limitations for larger projects like kitchens. 
Comparing Online Cabinet Brands to Semi Custom Brands
For our remodeling projects in Tallahassee we can design better kitchens and bathrooms with semi custom cabinets than we can with RTA online cabinet brands. The RTA cabinets come with some real limitations in cabinet size, organizer options and other features. They also only come is a few colors and door styles. 
So for projects with lots of cabinets like kitchens or larger bathrooms we prefer to use one of our semi custom cabinet lines. For rooms with fewer cabinets like powder rooms or laundry rooms however use RTA cabinets can be a good way to save money and still get a nice result. 
Online, RTA Cabinets
Online cabinet brands cost less.
They come in 3″ increments.
They have limited color and door style options
Most are of poor quality but there are exceptions
Semi Custom Cabinets
Cost more
Come in 1/8 inch increments
Have hundreds of color options and dozens of door styles.
Most are good quality, some are exceptional quality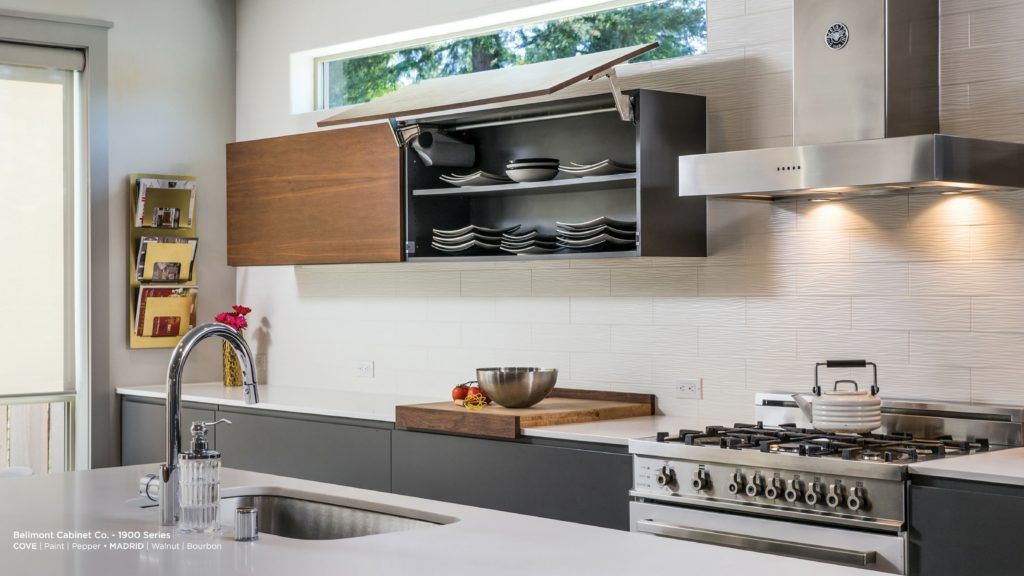 RTA Cabinet Lines come in limited colors and styles. Some companies focus on more tradtional styles like Shaker Doors and white or grey cabinets. Other focus on modern styles. If you go with an RTA cabinet you need to choose a company that carries the style you like. Semi-custom cabinets on the other hand can have a wide variety of colors and styles. 
When to Use Online Cabinet Brands
Online cabinet brands can be convenient and cost effective in some situation. For our remodeling projects in Tallahassee we use them powder room vanities, in laundry rooms and utility rooms. We generall don't use them in kitchens but we have use them in kitchens on projects where the budget was very tight. They certainly can be used in kitchens but the design will be limited by the limitations of the RTA cabinets.
RTA Cabinets Are Often Sold By Inexperienced People
The real danger in my opinion with online cabinet brands is that anyone can buy them. Some contractors, designers and even countertop showrooms will tell you they can do your kitchen design because they have access to these online brands. But in reality they lack the experience and training to properly design a good kitchen, let only receive and install cabinets.
I've seen a lot of bad kitchen designs done with RTA cabinets because of the inexperience of the person selling them.
 When to use them
For small jobs that require only 1-3 cabinets
To save money when quality is not as important
When you don't need design help
If you don't care as much about color or door style options
When Not To Use Them
If you're going to go with an RTA cabinet I recommend still working with an experienced and well trained kitchen and bath designer. They can make sure your kitchen will look great and function well regardless of the cabinet line you choose.
Stay away from countertop showrooms and contractors who don't offer in house design. Their lack of experience can lead to regrets after the project is complete.
I would not use RTA cabinets on larger kitchen or anytime quality is really important to you. For example, we don't use RTA cabinets on projects stone countertops are being installed.
If you are spending $5000 – $8000 on quartz countertops I would not recommend installing them on top of lower quality RTA cabinets, the cabinets will not outlast the tops.
I would also not use RTA cabinets if you are looking to customize your space as much as possible.  They only have a few sizes, few organizer options and limited cabinet styles. Most RTA cabinets are also framed cabinets. Anyone who knows us know we much prefer frameless cabinets for several reasons.
 When Not To Use RTA Online Cabinet Brands
When quality is important
When you want more color and door style options
When you want to work with a design professional
When you want to personalize your space
Need Help Deciding? 
Choosing the right cabinets for your project is challenging. You don't know what you don't know and there is a lot of misleading information out there. If you're looking for some good advice give us a call and schedule a Design and Budget Consult.
We carry both RTA and Semi Custom lines in our showroom and we can walk you through the pro's and cons of each.