10 Pro Tips for Styling Your Open Kitchen Shelves
Styling your kitchen is a fun way to personalize it to best suit your preferences and tastes. Kitchens are often the most difficult rooms to style and decorate as they require practical solutions and loads of storage space. To find a balance between style and practicality, one can opt to open shelving.
Open shelving offers the benefit of showing off your favorite kitchen items rather than hiding all items behind closed cupboard doors. Open kitchen shelves are great for small and large kitchens and create an airy and open environment in your kitchen. Kitchen styling through open shelves can add extra personality and extra color to any kitchen décor.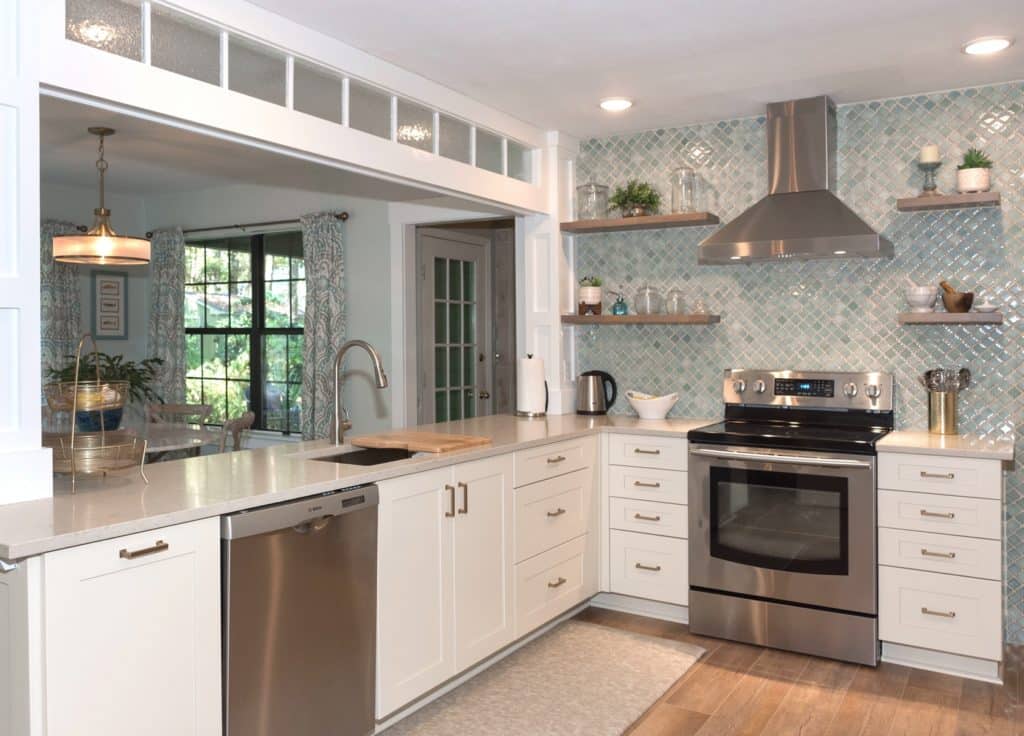 Tricks for styling your open shelving
Always choose shelves wisely.
If you don't have open shelves already set up in your kitchen, then your shelves' overall setup and size is an important item to consider. You will need to evaluate the space available in your kitchen and consider what items you will be putting on a display to know what looks best and what you have room for. One can put shelves directly on your kitchen wall or use a standup unit with readymade display units.
Choose a kitchen styling theme.
Since the items you place on the shelves will always be on display for everyone to see, they must all look great together. You can coordinate this by picking a color scheme or theme and including only the items that fit. It means you can choose dishes with similar colors, colorful spoons, antique items, and generally anything that will look good when placed together.
Always keep the shelves stocked
An important aspect that people fail to consider when using the open shelf system is that you need to ensure that all your shelves can remain stocked at all times. This means you should not have empty shelves as you wait for the dishwasher to complete washing them. The issue is resolved by choosing some items that you do not often use than others or ensuring there are more than enough pieces on the shelves to facilitate some shifting when some pieces are missing.
Mix and match different types of items.
Open shelving does not mean that all the items you place on your shelves have to be the same for them to look good. A little diversity both in style and color can add playfulness. If you want to display your prized collection of colorful plates, you can choose other items from the kitchen or even from the rest of the house that goes with those specific colors to add interest and variation to your shelves.
Do not overstuff a small kitchen.
Open shelving can be regarded as quite advantageous in a small kitchen space as it makes the room appear significantly much larger than its actual square footage. It is very tempting to shove all the shelves full, but overstuffed shelves tend to defeat the shelving's space-enhancing benefits. In a small space, one must be vigilant while adding items to the shelves, and scale back to only essential items.
Place the items on shelves according to their use.
When you consider placing items on your open shelves, it is important to consider the ease of access. For example, dishware used frequently should be placed on the lower shelves so as to easily reach them. Top shelves should be reserved for the lesser-used items such as fancy glassware, artwork, or accessories that are for display only. It is also important to make sure dishes are not arranged precariously or stacked too high in order to avoid a potential avalanche.
You can accessorize the area under the shelves.
When kitchen styling with shelves, the open space underneath the floating kitchen shelves is often forgotten. One can use this countertop area to ground the entire arrangement of the shelves and complete the look. Simply lean some wood cutting boards against the kitchen wall to create a bit of warmth and texture, or easily place a fruit bowl or some potted herbs to provide a unique freshness and a pop of color.
Place items on the shelves in varying size and shape
Using items that are of varying shapes and sizes create an arrangement that is more visually interesting. Start with your largest objects, such as tall vases and wood cutting boards, and spread them across the shelves. The next step is to fill in the gaps left with medium-sized items spaced out, always being aware of color, shapes, and patterns to create a balanced look.
Add metal accents and greenery.
You should add metallic accents when styling open shelves, and it does not have to be over the top. A simple touch here and there will make your shelves sparkle depending on the look, either gold, silver, or even brass. When decorating any space, it is always a good idea to add any plant. Plants will add a particular texture, color, and interest while creating a more fulfilled look.
Include cookbooks and accessories.
The kitchen is typically a functional space and can be managed based on its user's needs. One can dedicate an open shelf to organized cooking books so as to never lack your cooking inspiration. These books will add variety and color to the kitchen and will also be within reach when needed. Artful accessories can be placed on the shelves behind the dishes to complement the entire look.
Bottom line
Overall, choosing open shelving as your kitchen styling method is a great way to add some storage and style to your kitchen, although it does require some extra planning and a little caution to make it work. A comfortably styled kitchen is often a welcoming place to be, and with open shelving, the airy feel is very appealing.