McManus Kitchen and Bath provides a single place where you can work with interior design and construction professionals who can help you create a happy, healthy home. We start each project with a Design and Budget Consult. It will help you clarify your design ideas, understand the remodeling process and create a Good Better Best Budget for your project. Click Here to Schedule a Consult
__________________________________________________________________________________________________________________________
Popular Kitchen Organizers and Some Advice to Increase Your Kitchen Storage Space
---
We install a lot of kitchen organizers. Its a discussion we have with every customer during our initial consult. We've learned a lot over the last 15 years of remodeling kitchens and have seen some good ideas and many bad ones.
Today there are dozens of kitchen organizers on the market that can help capture unused space and make more efficient use of the space you do have. In the Houzz.com post embedded below you will see 15 of the most popular organizers viewed on Houzz.
The Best Option: Walk In Pantry
The absolute best thing any kitchen can have is a pantry, preferable a walk in pantry. A walk in pantry requires a least a 5 foot x 5 foot space to be effective and not all homeowners have that space available.
---
Second Best: A Reach in Pantry
A reach in pantry is another good option and only needs to be 18 inches deep, though 24 inches might be better.
---
A Great Alternative: Pantry Cabinets
Pantry cabinets are the next best thing to a walk in pantry. Just two 18″ wide Tall Pantry Cabinets with organizers have a much storage space as 6 feet of regular cabinets!
Many people have a small broom closet in their kitchen or linen closet in their bath. These closets are hard to organize, dark and waste a lot of space. Removing them and replacing them with tall pantry cabinets will gain you a lot more useful storage space and it looks terrific.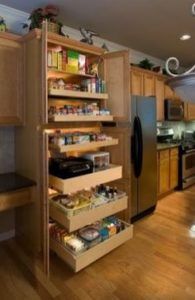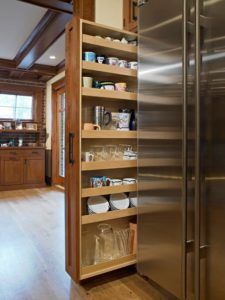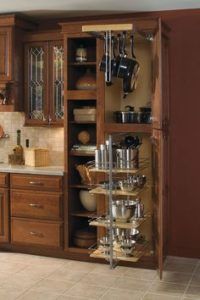 ---
Drawer Conversion
A popular modification when we do cabinet refacing is called a drawer conversion. We remove the doors from one of your base cabinets and install a back of drawers in its place. Its an econmical way to add more useful storage to your existing kitchen.
---
Kitchen Organizers for Existing Cabinets
There are also a lot of organizers that you can insert into your existing cabinets and increase your storage space and organization. A few examples:
Trash pullout
Under sink Drawer
Cookie Sheet Drawer
Appliance Garage
Pull out spice rack
Blind corner pullout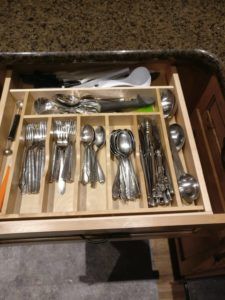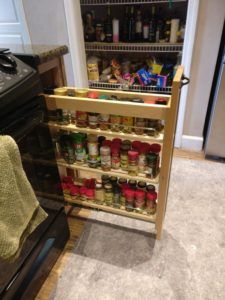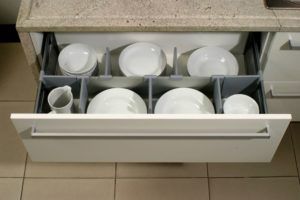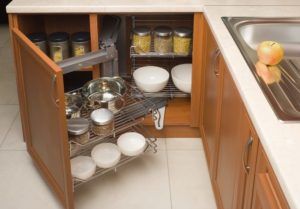 Thank you for reading! If you think refacing cabinets is the best route for you check out our process
Paul McManus
Certified Residential Contractor, CRC1331326