McManus Kitchen and Bath provides a single place where you can work with interior design and construction professionals who can help you create a happy, healthy home. We start each project with a Design and Budget Consult. It will help you clarify your design ideas, understand the remodeling process and create a Good Better Best Budget for your project. Click Here to Schedule a Consult
__________________________________________________________________________________________________________________________
Before and After: Bathroom Vanity Refacing, Tallahassee – $2500
Why Choose Bathroom Vanity Refacing?
This couple wanted a new vanity but had spent much of their budget for the remodel on the (quite amazing) walk in shower. There old vanity was worn out with a peeling finish and noisy drawer slides and hinges. The size and position of the vanity was going to remain the same however, which made cabinet refacing a viable option.
We discussed cabinet refacing as an option and crunched the numbers.
A new 72 inch vanity would cost close to $4000.
A bathroom vanity refacing would cost $2500 and also save the cost of removing the old vanity and repairing any damage that might cause.
The refacing would include new drawer boxes, soft close slides and soft close door hinges.  We also decided to remove the center stile from each cabinet and install butt doors instead of the overlay doors the current vanity had.
After showing them some sample doors and the quality of the Cabinet Cures finishes they decided refacing was the best option. Ultimately I think the refacing gave them a higher quality vanity then they might have gotten even if they ordered a new one!
The Bathroom Vanity Refacing Process
Refacing is pretty straightforward but it does require careful measuring and attention to detail. First we measures the door and drawer openings as well as the side panel and toe kick. These measurements were sent to the Brentwood factory in Oregon. Brentwood is a leading manufacturer of cabinet doors and makes doors for some of the best quality cabinet companies in the US.
Once the doors and drawer fronts left Brentwood they were sent to Cabinet Cures for hand finishing. There the carbon stain was applied. All our stains are water based low VOC stains that are safe for you and the environment. With these particular doors a hand rubbed glaze was also applied.
While the doors and drawer fronts were being finished we ordered new drawer boxes, soft close hinges and soft close drawer slides from our friends at Hardware Resources. Once the new doors and drawer fronts arrived we installed them along with the rest of the refacing materials. The entire installation process took less than a day.
Here is the vanity before
 
The old vanity was a cheap, builder grade vanity made with MDF doors covers in white plastic thermofoil. The thermofoil veneer was peeling and the door hinges and drawer slides were worn out and sloppy.
---
And Here's the Vanity After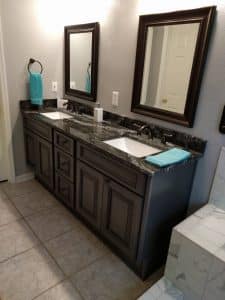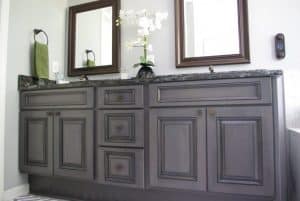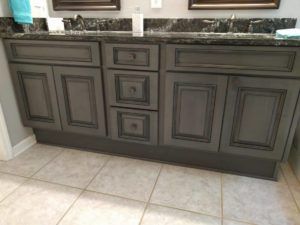 Thank you for reading! If you think refacing cabinets is the best route for you check out our process
Paul McManus
Certified Residential Contractor, CRC1331326