Budget Friendly Kitchen Update – $18,000
McManus Kitchen and Bath provides a single place where you can work with interior design and construction professionals who can help you create a happy, healthy home. We start each project with a Design and Budget Consult. It will help you clarify your design ideas, understand the remodeling process and create a Good Better Best Budget for your project. Click Here to Schedule a Consult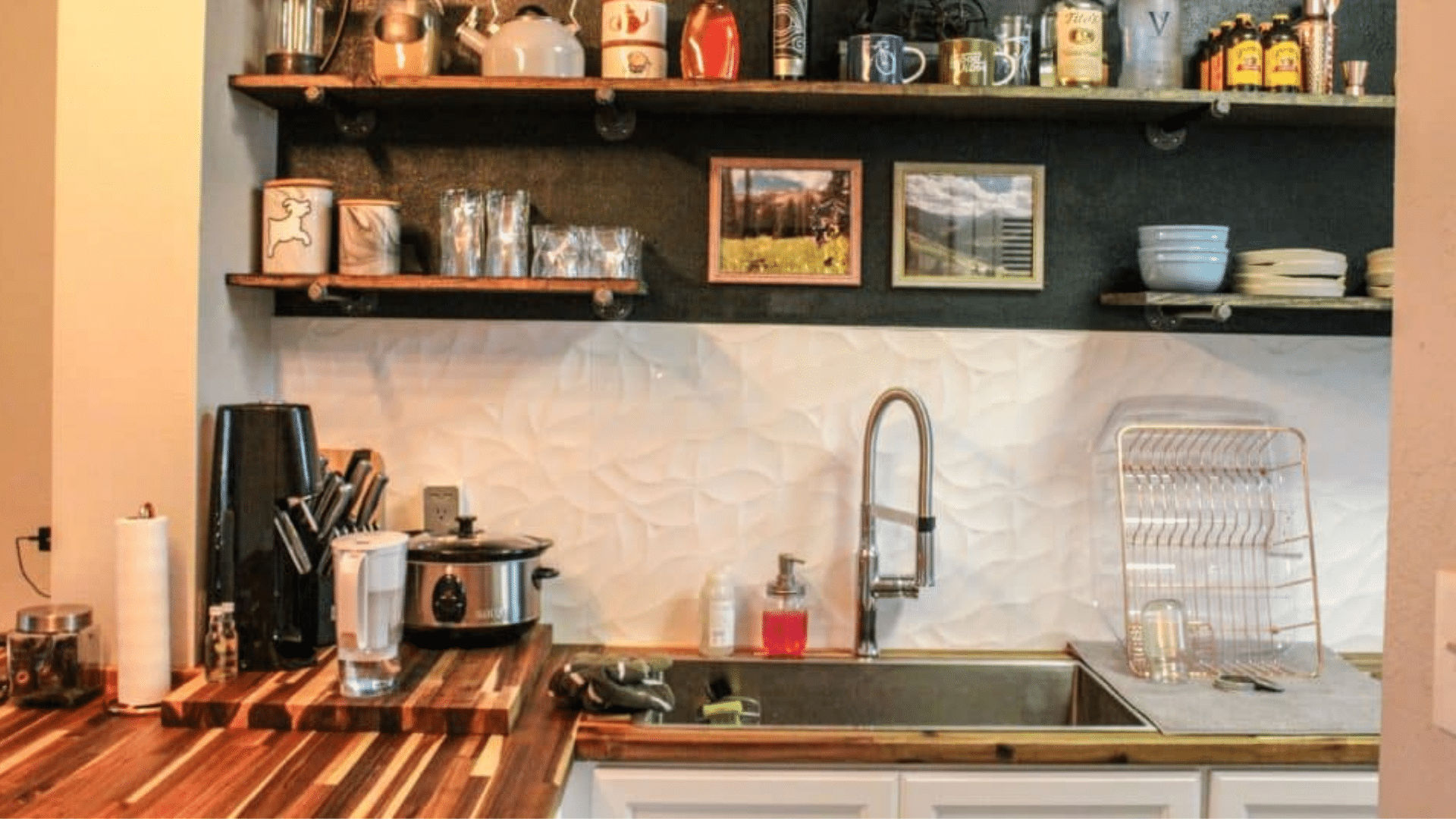 Designing a budget friendly kitchen is all about smart choices and compromises.
In this case material choices like butcher block countertops along with a little DIY painting kept the budget for this condo kitchen remodel under $20K. And what a transformation!
Space was at a premium in this small kitchen so the owner decided to forgo a dishwasher to get more cabinet space. She also chose floating shelves instead of upper cabinets to give the kitchen a more open feel (smart move).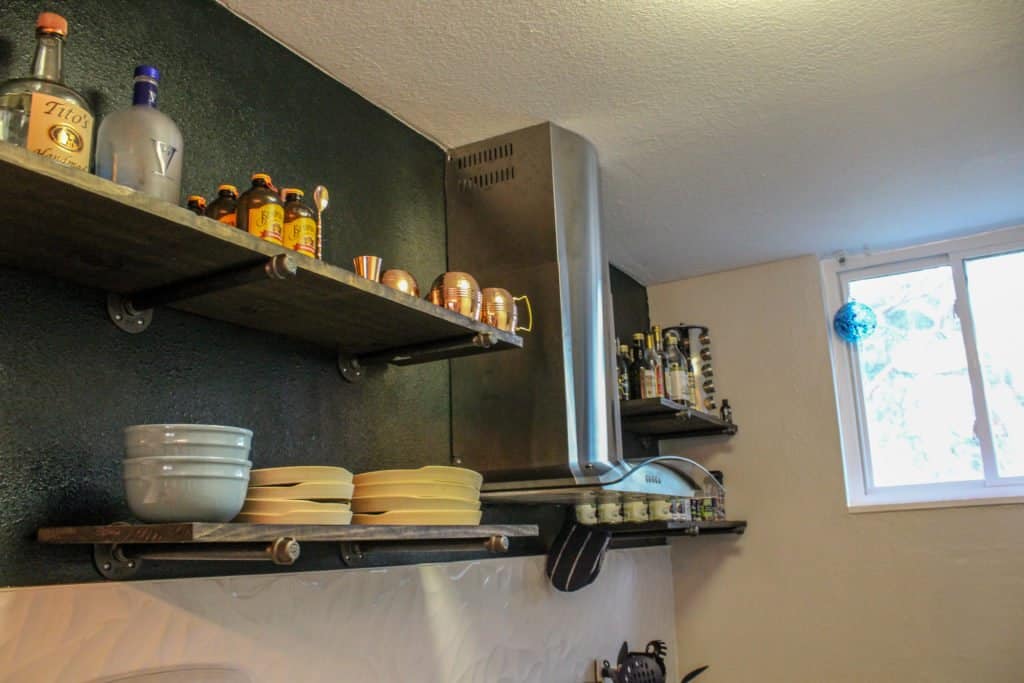 Budget Friendly Kitchen Remodel Scope of Work
The homeowner had put in nice flooring a few years before so changing the layout too much was not possible.  The budget was tight so she also decided to tackle the painting and floating shelves on her own (which turned out great).
Remove wall separating kitchen from living area
Stack the washer/dryer and move the fridge over to the w/d area.
Demo all the cabinets and counters
Patch drywall (which turned into a real challenge)
Install new lower cabinets
New freestanding range hood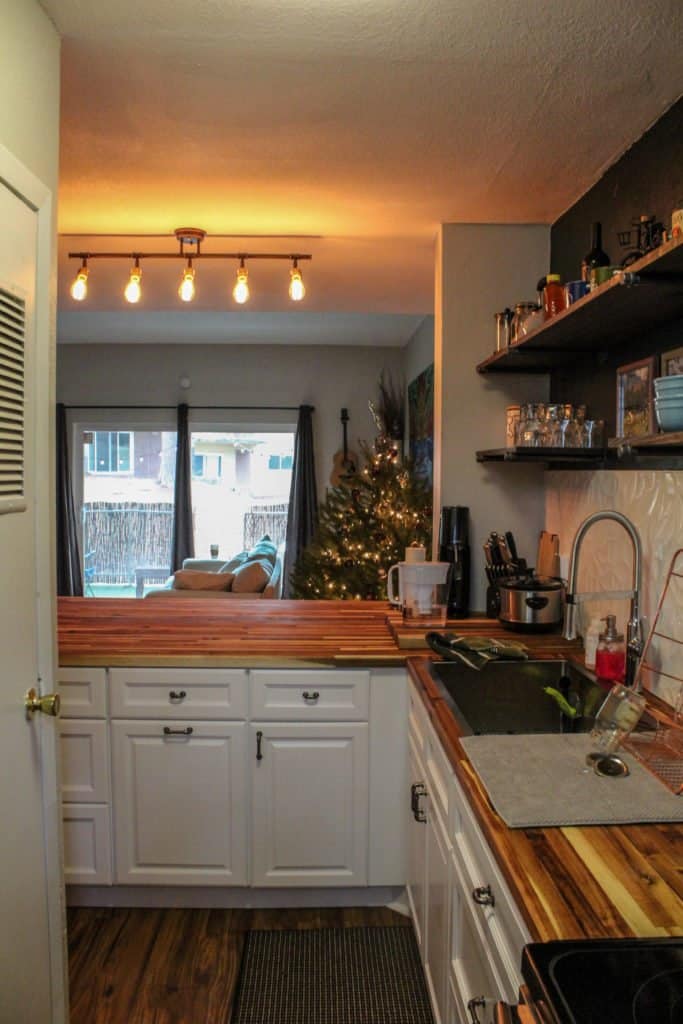 ---
Challenges and Successes
The project took 4 weeks from start to finish, about what was expected. We did have an issue with the drywall that slowed us down a couple of days. After the wall was removed we discovered the ceiling in the kitchen was about an inch lower than the ceiling in the living room. It was also a 1/2 inch lower than the ceiling in the adjacent hallway. Our drywall partner had to work some real magic to get it all to match up but he did a fantastic job.
---
Remodel Cost
The original budget for the project was $17,343. There were two change orders on the project. One for the unexpected drywall issue, which took some extra framing and more drywall being removed.
And a change order request from the customer to install floating shelf brackets (she originally planned to do that herself but thought better of it after the project started). She still cut, stained and installed the shelves herself, just had us install the brackets.
Including the two change orders the project cost was $18,130.00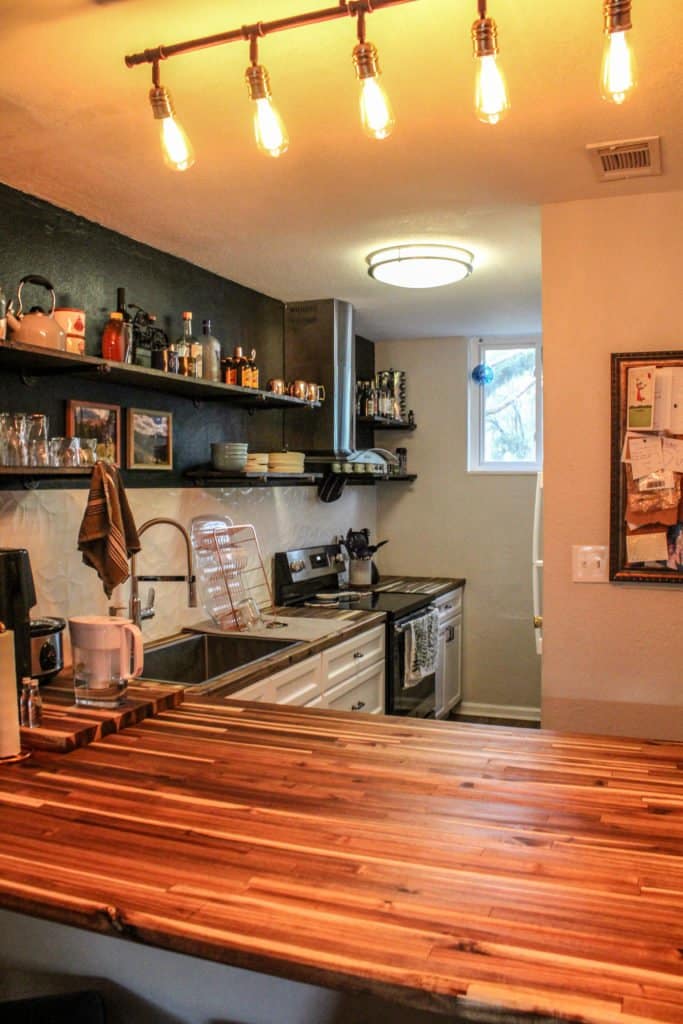 ---
Materials
Fabuwood Hallmark Frost Cabinets. A great value. They only come in one door style and color but its a very high quality cabinets at a great price.
Butcher block countertops from lumber liquidators.We cut the tops to fit on site, sanded them and finished them with mineral oil.
Floating shelf brackets were made from black plumbing pipe from Home Depot
Steam Punk pulls from Top Knobs in Graphite.
---
Before Gallery
Project After Pics
Click pictures to see a larger image.
Thank you for reading! We'd love to be a part of your next remodel. Check out our design services page
Paul McManus
Certified Residential Contractor, CRC1331326