Accessible Bathroom Remodel
Miccosukee Greenway, Tallahassee
New Walk-In, Barrier Free Shower
Added Storage and Counterspace
Aging in Place Features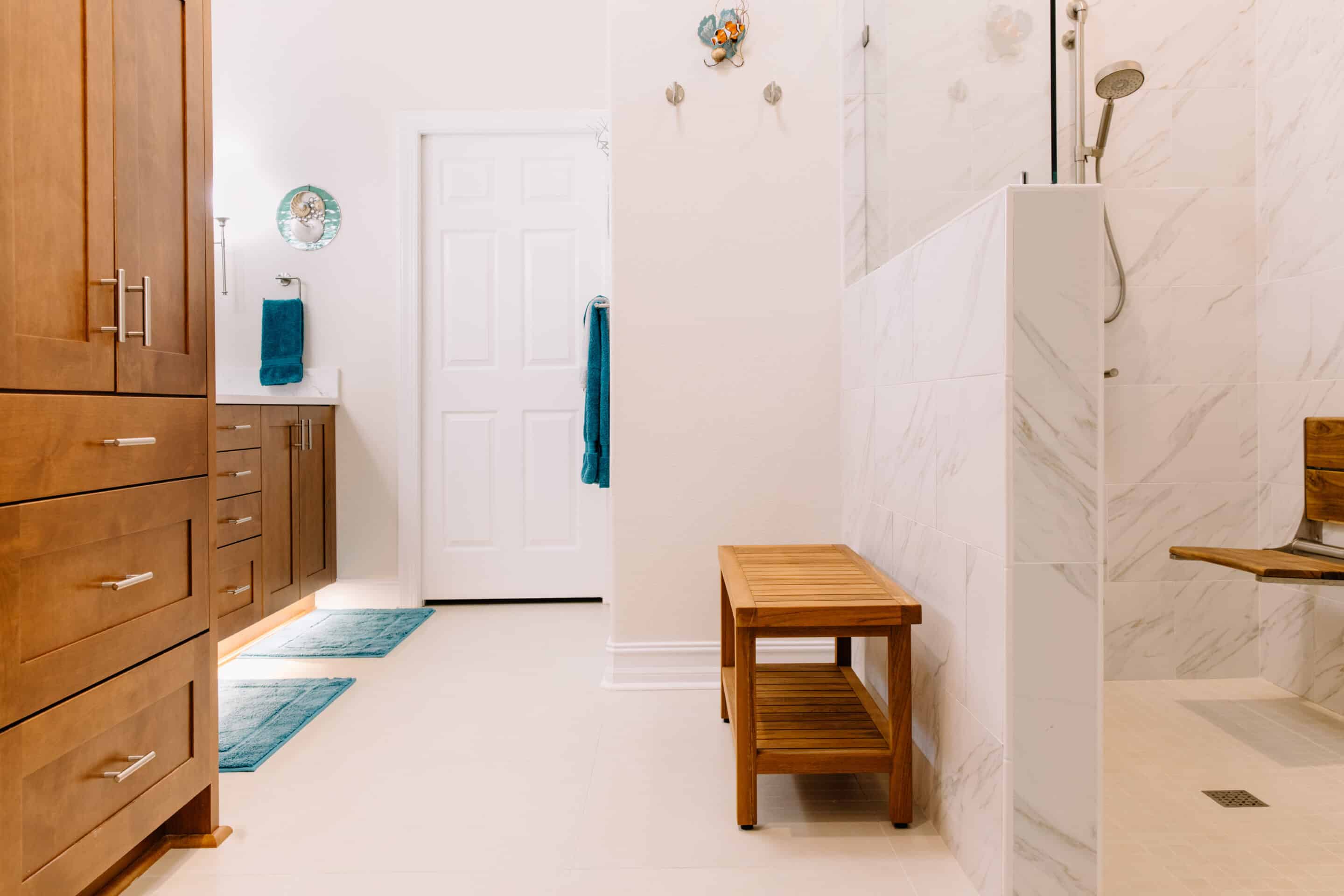 McManus Kitchen and Bath provides a single place where you can work with interior design and construction professionals who can help you create a happy, healthy home. We start each project with a Design and Budget Consult. It will help you clarify your design ideas, understand the remodeling process and create a Good Better Best Budget for your project. Click here to schedule a consult.
Project Overview
As most people reach retirement they begin thinking about how long they can stay in the home they love. One way to ensure your home work for you and people of all ages and abilities is to remodel it with aging in place features, like a barrier free shower, in mind.
In this project we removed a large spa tub that was rarely used and changed the layout of the whole bathroom to add storage and countertops space, a more open fee and a barrier free, walk in shower with a fold down bench and grab bars a that look as good as they function.
Before and After
Drag the slider in the image below to see the transformation!
Before and After Floor Plan
Here are the before and after floor plans side by side so you can see the changes we made.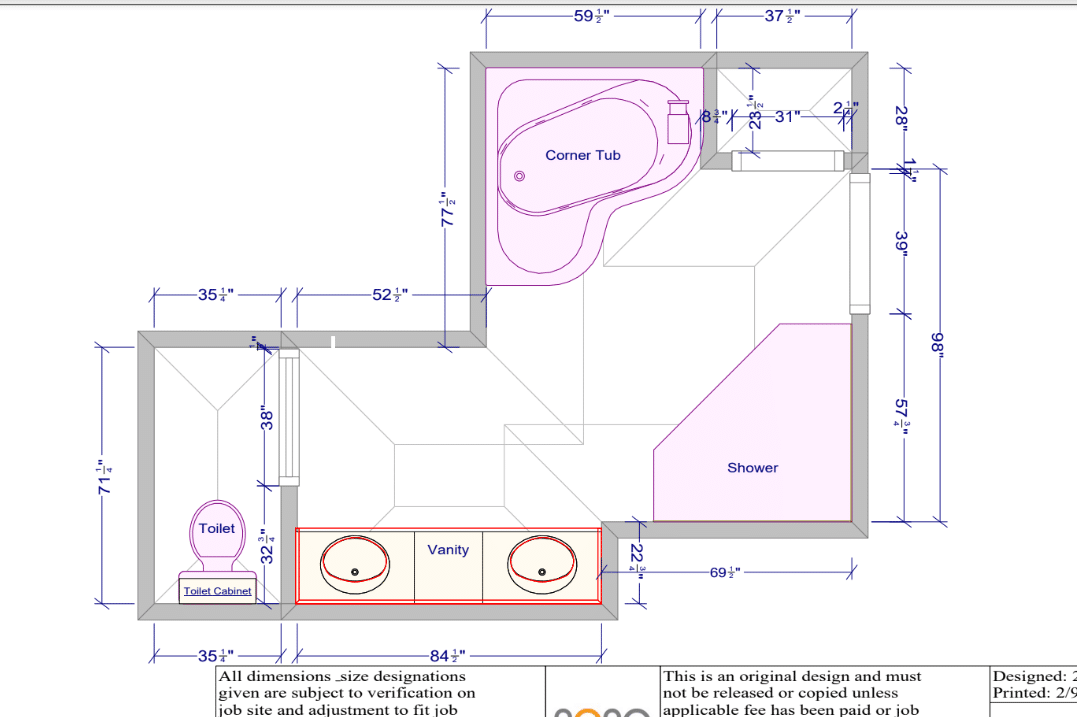 Before with large corner tub & small corner shower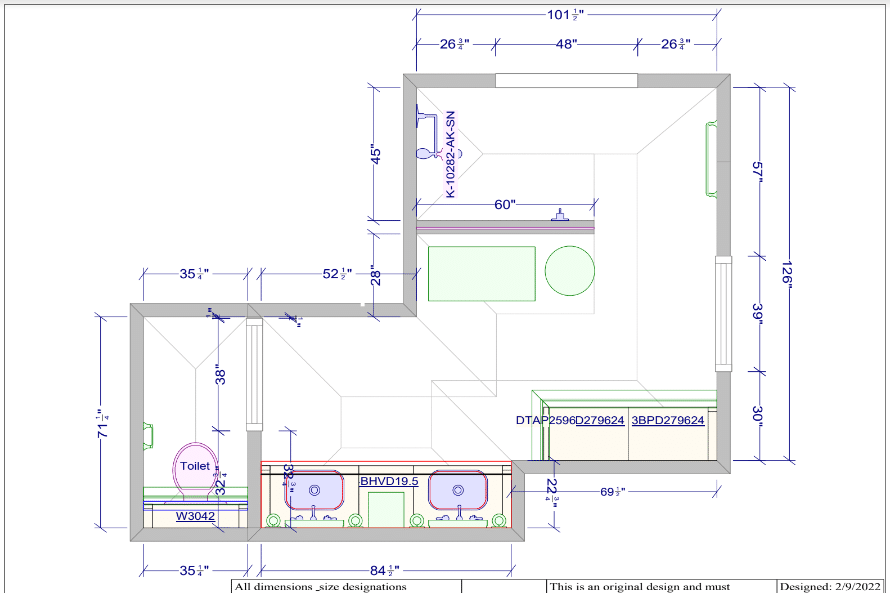 After with barrier free shower and extra storage
Our Favorite Things
Adding universal design or 'aging in place' features to a bathroom is great way to future proof the design and make sure it will be functional for years to come. 
Barrier Free, Walk-In Shower
Removing the large spa tub left the perfect amount of space to add a barrier free shower. The large spacious shower looks great but also has some key aging in place features like decorative grab bars, zero barrier entry and a fold down teak bench.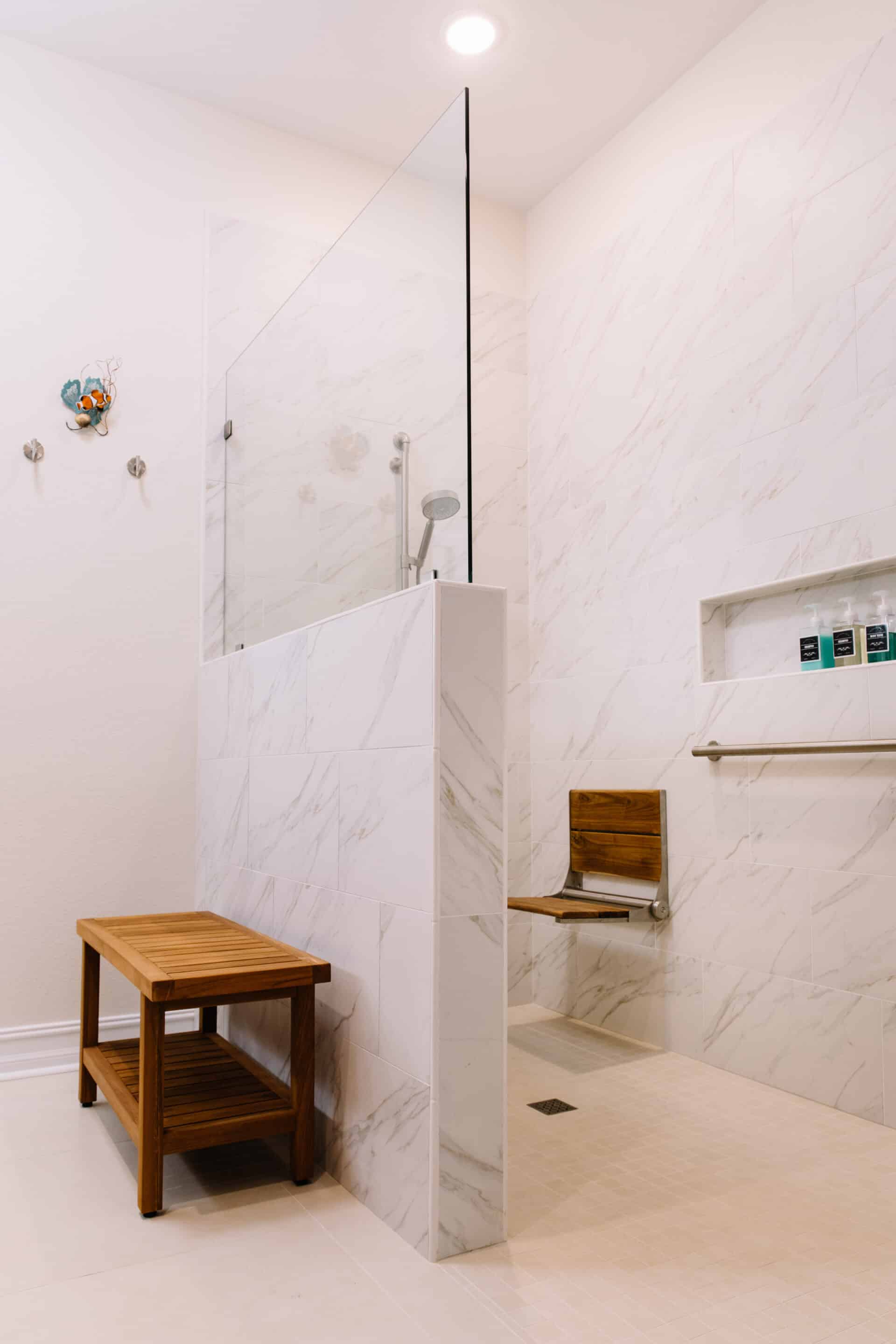 Dual-Sink Vanity
While two sinks in a vanity can limit storage space it is a popular feature that many consider essential in a primary bath. In large vanities like this one it works really well and looks great with the metal framed mirrors and sconce lighting.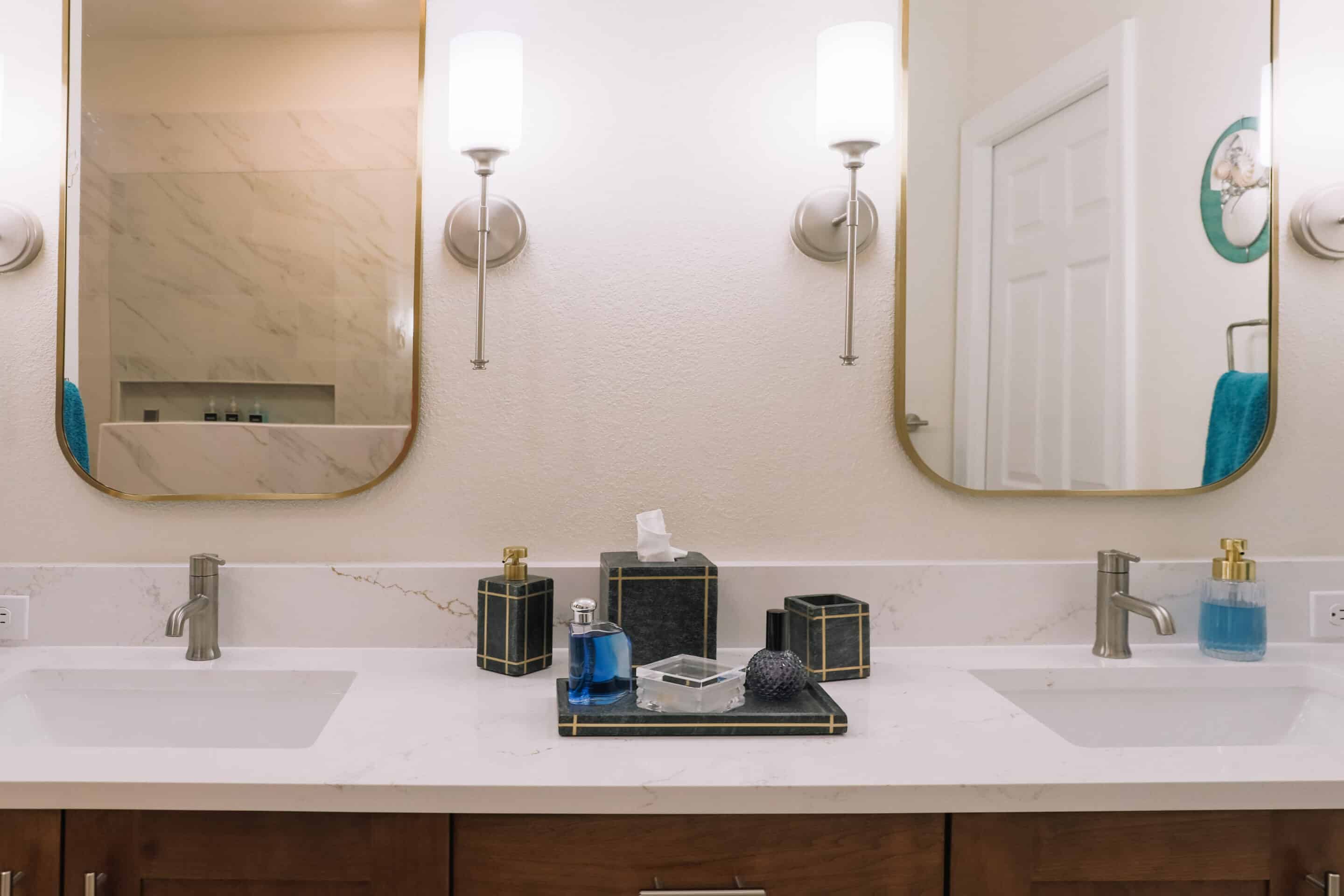 Motion Activated Toekick Lighting
This was a first for us. While we often add toe kick lights to a bath (it makes a great night light) we have never been asked to make it motion sensitive. Now when the homeowner walks into the bath late at night the toe kick light automatically turns on.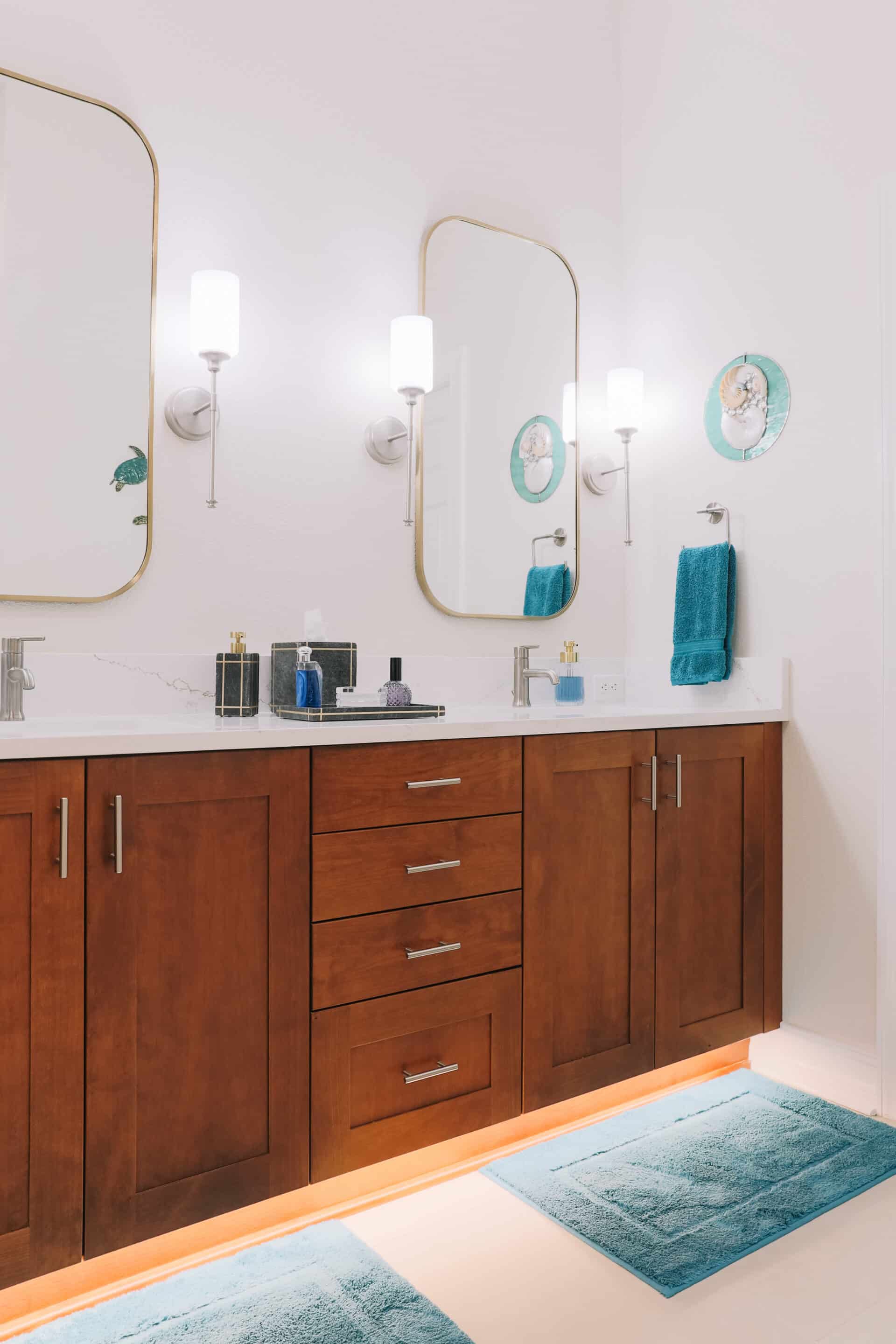 Large Linen Cabinet
Since we moved the shower to where the old spa tub was is left us room to add storage using two large linen cabinet with drawers on the bottom and adjustable shelves up top.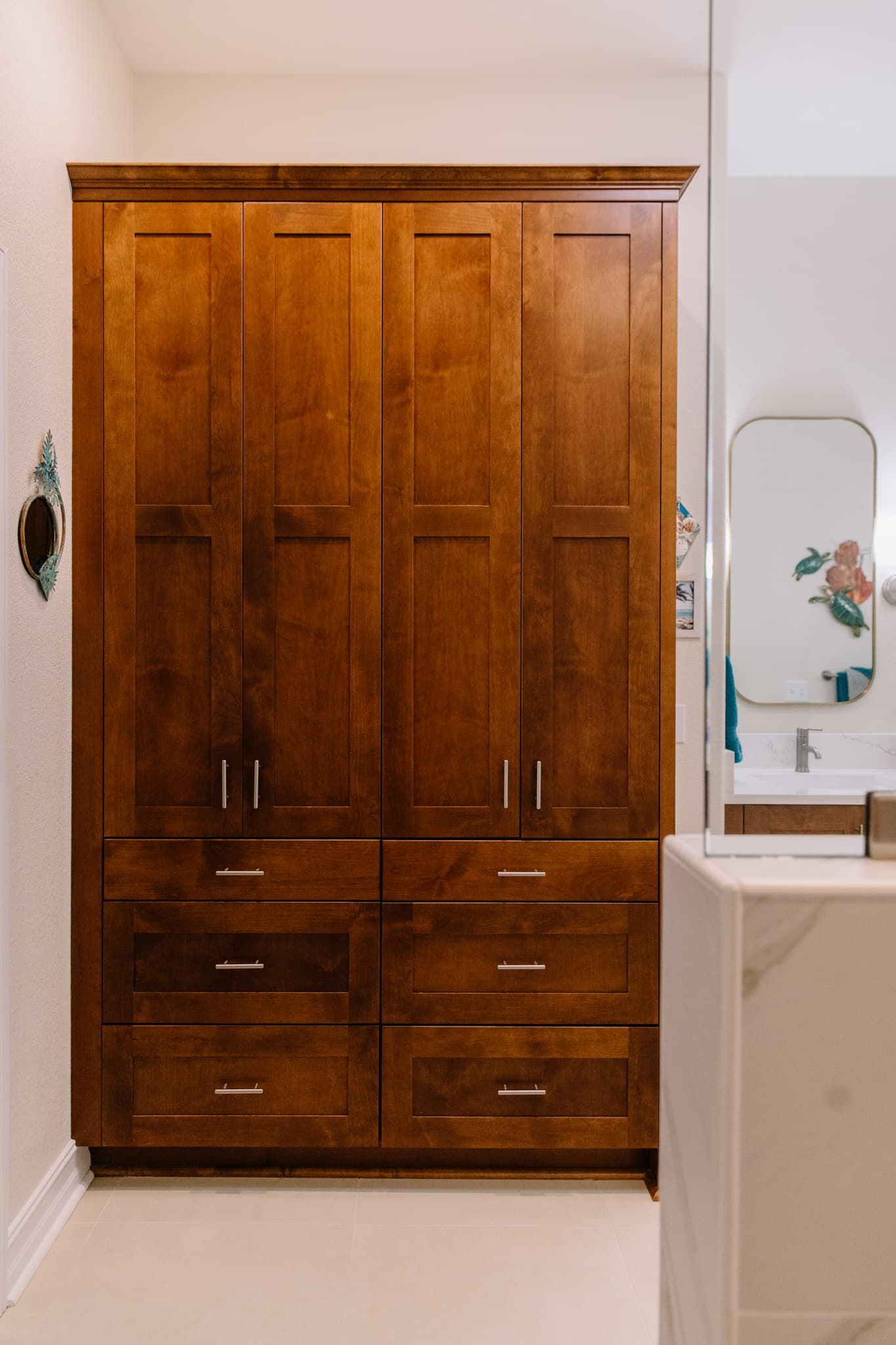 New Flooring
The new tile in this bathroom is a rich creamy 24″ x 24″ tile with very minimal grout lines. This is a far departure to the original tile that was in this space. Further, the shower floor tile is the exact same tile, but arranged in a 2″ x 2″ mosaic to create both a sense of separation and continuity.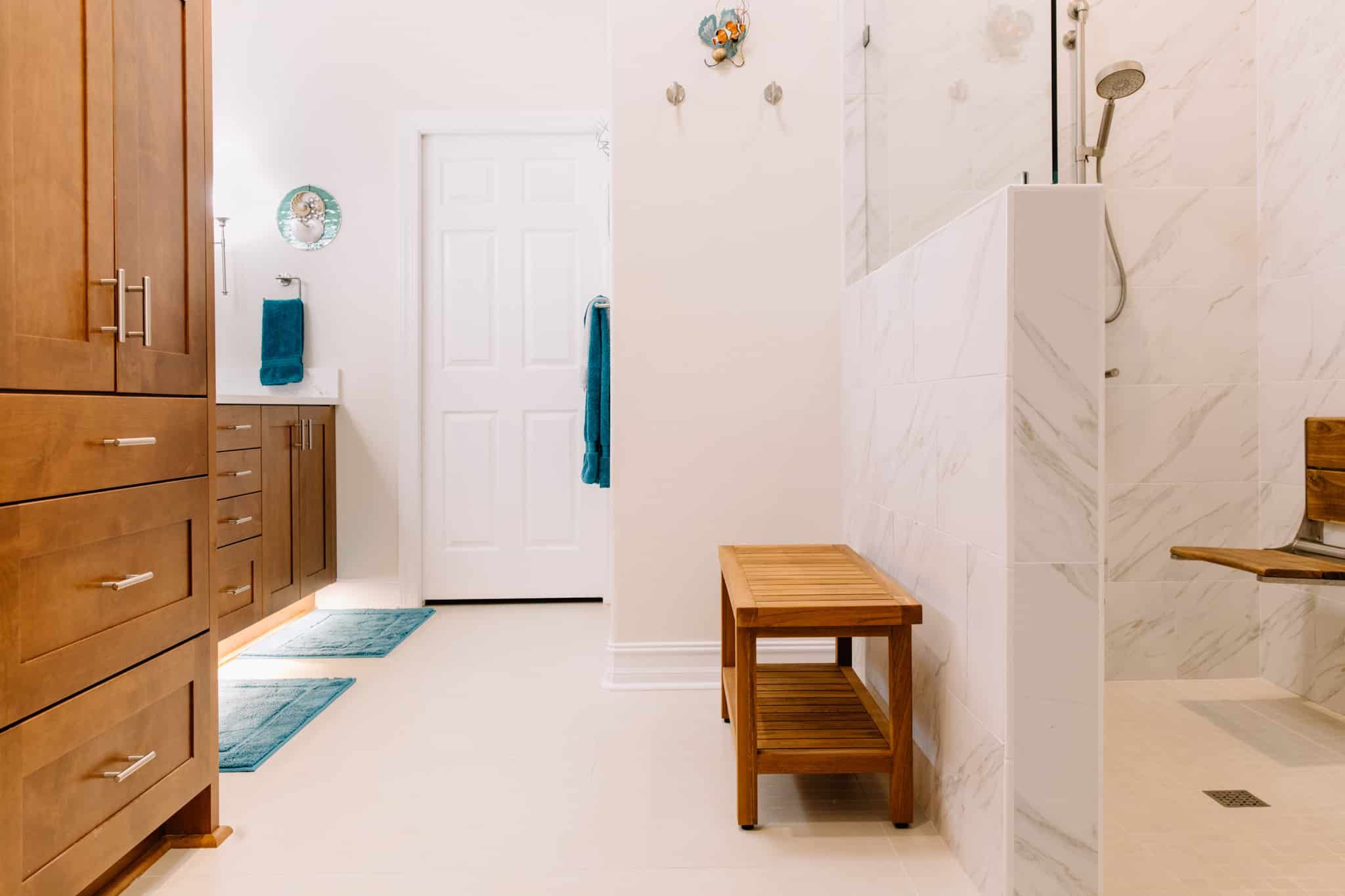 Before Photos
Click the arrows on the sides of the pictures to scroll through!
Design Concepts
Click the arrows on the sides of the pictures to scroll through!
After Photos
Click the arrows on the sides of the pictures to scroll through!
Creating a barrier free shower was an important element of this bathroom as was adding storage. So we removed the spa tub and small linen closet and reconfigured the layout of the bathroom. Linen closets waste a lot of space when compared to linen cabinets so even though we removed the closet we are able to get back even more storage with two large linen cabinets where the old shower used to be.
Timeline, Challenges and Solutions
Project Start
June 13th, 2022
Estimated Completion
August 12th, 2022
Actual Completion
August 23rd, 2022
This project ran right on schedule with minimal issues. The countertops did take a few days longer than expected as did the framing part of the project due to some difficulty framing for the new pocket door. Unfortunately, the manufacturing difficulties that have affected multiple industries in the last few years have greatly affected countertop manufacturers. These issues are slowly getting better, but in the meantime, we always offer to install temporary countertops and sinks for clients that need them. 
The project finished just 5 working days after the original projected completion date.
Installation Labor

54%

54%

Fixtures and Materials

20%

20%

Design and Project Management

11%

11%

Overhead and Profit

11%

11%

Shipping and Sales Tax

4%

4%
Selections
Cabinets
These homeowners went with the Index door style from Bellmont's 1600 line. They chose alder wood and the Bourbon finish.
The cabinet hardware is Richelieu's Contemporary Steel Pull in Brushed Nickel finish.
Counters
The counters for the vanity are Silestone's Ethereal Glow – Polished
Tile
The tile floor in this bathroom is Bedrosians' Metro 2.0 24″ x 24″ tile in Shenandoah
The shower floor tile is Bedrosians' Metro 2.0 in Shenandoah but in a 2″ x 2″ mosaic.
The shower wall tile is Dal Tile's Florentine Cararra 12″ x 24″ tile.
Lighting
The vanity lights are Tracie Classic Sconce from Shades of Light.
Mirrors
The mirrors are Elias Mirrors with Gold trim from Shades of Light.
Trade Partners
We've been developing relationships with quality trade partners for years. We tend to use the same subcontractors because we trust their work and have developed a great working relationship with them. This helps make projects run smoother.