One of my favorite kitchens this year. The homeowners had a very strong color palette in mind as well as some solid idea for the overall plan, a modern farmhouse kitchen. The project evolved some over the course of our design meetings including the addition of the customer transom which, along with the arabesque tile wall, became a focal point of the kitchen.
Modern Farmhouse Kitchen Project Costs
Good Better Best Budget: $57,899
During our original design and budget consult the homeowners were considering keeping the wall between the kitchen and dining room. After some discussion however we decided that removing that wall would make the kitchen feel larger and bring a lot more natural light into the kitchen.
Final Contract Price:  $69,733.18
The final contract price increased about 17% from the original budget mostly due to some add on's by the homeowners. They decided to have use remove a window and install a set of french doors, add a large window the to the dining room and build a custom transom to provide some separation between the kitchen and dining room (a wonderful focal point for the whole project).
Change Orders: $542
There were two change orders on the project. One was a zero cost change to the drywall texture. The other was to relocate an HVAC vent at the homeowners request.
Final Project Costs: $70,275.18
---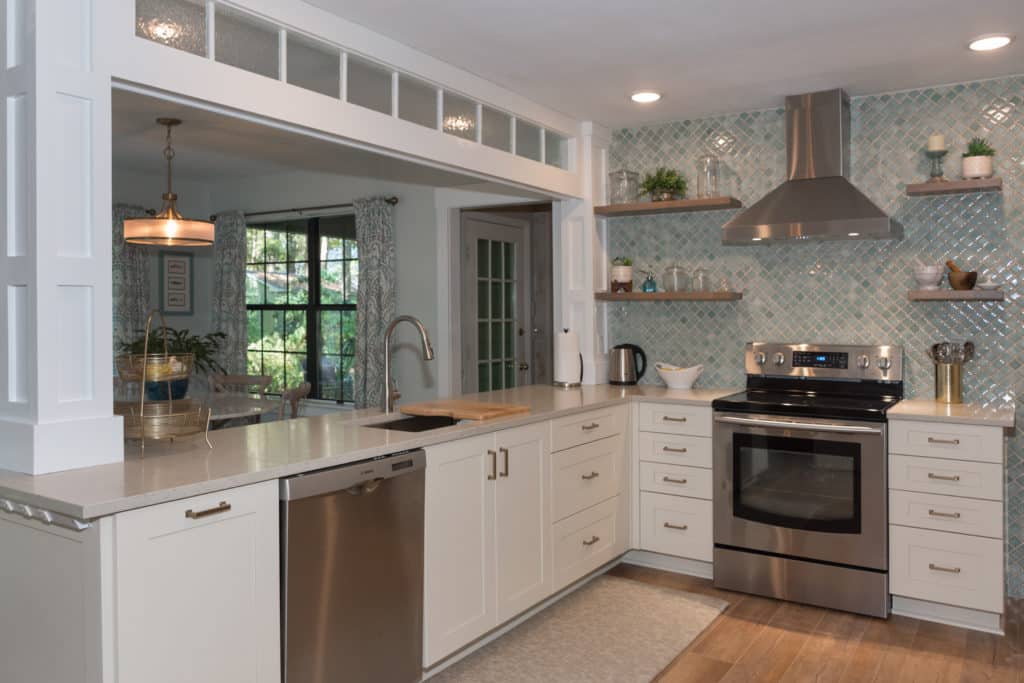 ---
Modern Farmhouse Kitchen Project Details
The original layout of the kitchen was cramped and lacked storage. It was also cut off from the dining room area and was just not a fun kitchen to work in. The homeowner in this case already had some good ideas about how to improve things.
Project Timeline
The design process took about 6 weeks and we were on site about 8 weeks. There were no significant delays in the project.
Project Goals
Open up the kitchen to the dining room
More counter top space
Personalize the kitchen with colors that matched the decor in the rest of the house
Bring more natural light into the kitchen
Challenges
This project was pretty straightforward. Design wise there was some work to be done to blend the kitchen decor to the rest of the house and match some existing furniture but structurally things were not complicated.
Problems
We ran into one small problem after demo. The plumbing for the sink was not what we expected and needed to be reconfigured. This meant removing a little bit of concrete but it did not affect the project cost or the timeline.
Materials
---
Before pictures
---
Design Work
---
During Pictures
---
After Pictures