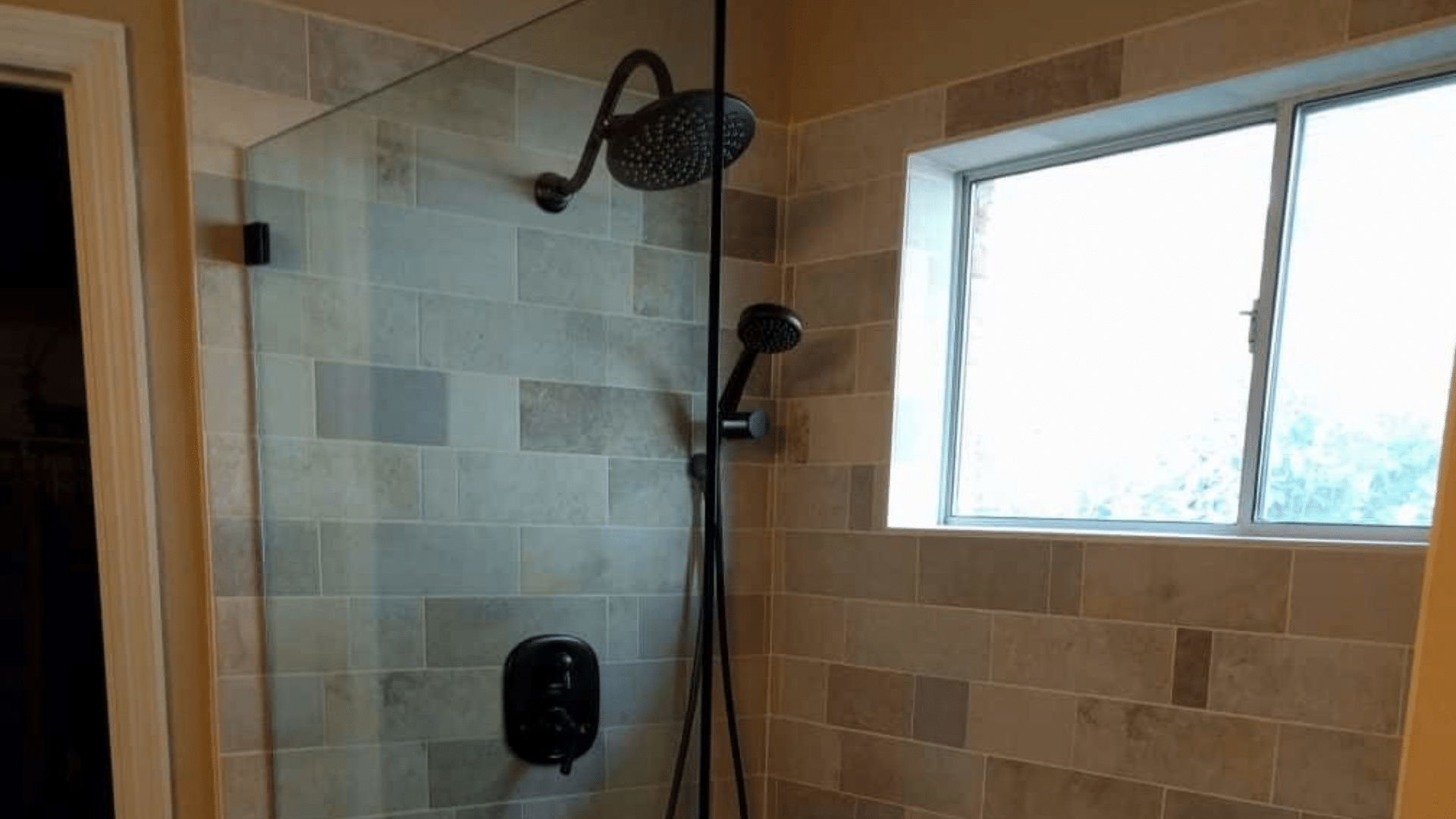 A last minute decision to change the backsplash tile on this kitchen remodel made all the difference. With white glossy cabinet and a white, marble look, countertop there wasn't a lot of color in this kitchen design. The client has originally chose a rather subdued backsplash tile because he was planning on a bold burnt orange paint color.
Toward the end of the project though it became obvious that the the kitchen needed something besides just the paint color to make it pop.  The solution, it turned out, was to install a wonderful blue backsplash tile from Tile Bar called Denim. The fun thing about being a design build contractor is we can make changes quickly when needed without having to consult other designers or showrooms.
---
Project Summary
This kitchen was badly in need of an update. It lacked storage and the cabinets were kind of falling apart. There were a couple of challenges. The size and layout of the kitchen did not allow for a lot of layout options and large window on one wall prevented us from adding cabinets for more storage. The solution was to remove the window and put in a smaller one so that cabinets and a countertop could be installed under the window.
---
Project Costs
Original GBB Budget: $47,036.03
Fixed Price Proposal: $47,076.24
Change Orders: $1357.60 for new backsplash tile
Total Project Cost: $48,433.84
---
Favorite Features:
The backsplash tile is certainly one our favorite things in this kitchen but there are some others. The angled power strip for example. The fit up under the cabinets so we don't have any outlets interrupting the beautiful backsplash. Replacing the window so that cabinets would fit underneath is was probably the best decision in this design. It really made a big difference. The undercabinet lighting is also one of our favorite things in this kitchen and it helped save on ceiling lighting.
---
Project Before Pictures
Scope of Work
Remove garden tub, alcove shower and vanity.
Remove all floor tile
Convert the old shower space into a 3'x3′ nook for storage
Build Walk In Shower in place of old garden tub
Add recessed niche and bench to shower
Tile shower and bathroom floor
Install new, two sink vanity, quartz top and framed mirror
Add recessed lighting, bath fan and new vanity light
Add plug in the vanity cabinet
Install new toilet
The shower is large enough that a door was not needed. We simple installed a large frameless glass splash guard. We also installed a recessed niche and corner bench in the shower.
We installed a new vanity, Shaker style with an Espresso finish, with two sinks and a Quartz counter top. We framed the old mirror with trim that matched the cabinet finish. New vanity lights were installed as well as a new bath fan, new recessed lights and a plug inside the cabinet.
---
Sub Contractors and Suppliers
The Homeowners chose the tile for the walk in shower and bathroom floor from Sellar's Tile in Tallahassee
They Delta faucets and shower fixtures were ordered from build.com
The glass was ordered direct from the factory and installed by McManus Kitchen and Bath
The demo, shower construction, vanity and finish work were done in house by McManus Kitchen and Bath. We also managed the project, met all sub contractors on site each day and ensured a clean, organized job site. We work with the same sub contractors regularly so they are familiar with our work style, quality demands and our emphasis on a clean, organized job site.
---
Project Cost
Total  project cost:  $28,000
The homeowners had a fairly strict budget so some design changes were made early on to lower the cost to fit their budget. They also opted to do the painting themselves which also helped keep the project costs in check. We also kept the original mirror and just added a frame to it so it matched the new vanity.
They did decide to splurge on the shower fixtures. They chose an awesome rain shower head and added a handheld shower as well. They also invested in a quartz counter top which really looks great.
There were a few small change orders on the project… to add some additional lighting and a plug inside the vanity but those costs were relatively minor and the project was completed very close to the original budget.
---
Before and After