McManus Kitchen and Bath is a certified remodeling contractor (lic# CRC1331326) with a full service kitchen and bath showroom and full time design team. We have been remodeling in Tallahassee for more than 15 years and specialize in the gut renovation of kitchens, bathrooms and whole house interior remodeling.   
---
What Kind of Remodeling Contractor Are You Looking For?
Remodeling contractors in Tallahassee all have a different approach to their profession. Some contractors will guide you thru the entire process with a lot of care and attention to detail. This approach typically comes at a higher cost but results in a less stressful project.
Other remodeling contractors in Tallahassee take a leaner approach. They provide the installation service but don't provide much hand holding or direction. This approach works well for some people and typically comes at a lower cost. It can also lead to miscommunication and "nightmare scenarios"
Some remodeling contractors in Tallahassee will give you a fixed price proposal and stick to it. Others prefer time and material contracts.
Time and material contracts can seem like a good approach to the novice but many lawsuits involving remodeling contractors revolve around the miscommunication created by time and material contracts.
What a time and material contract does is shift a lot of the risk to the homeowner. This can work out great if nothing goes awry. If the weather is pefect the entire project, if all material arrive undamaged and on time, if the contractor does not have any dealys or conflicts from other projects or in his personal life etc…
A fixed price proposal shifts the risk back to the contractor. This mean the contract might be more expensive but it creates an assurance that your costs are limited.
Good Remodeling Contractors Make Detailed Plans
The planning process can take anywhere from 2 to 8 weeks depending on the complexity of the project. We use the program 20/20 to design your space, and work with you in our showroom to make material selections. We carry multiple cabinet vendors and have a wide selection of tile, backsplash and flooring to choose from.
About McManus Kitchen and Bath
We are design / build remodeling contractors who specialize in kitchens and bathrooms, as well as whole house remodels.
We are committed to continuing education and staying up to date with changes in technology and best practice that affect the construction industry. It's why we are active members of both the Tallahassee Builders Association and the National Kitchen and Bath Association and regularly attend industry trade shows.

Project Management
Our cloud based project management system, Builder Trend, helps you to stay on top of the day to day progress of the project. You'll have access to the complete project schedule, online payments, and contact information for everyone on the project and more.
Our Build Clean System:
We control dust and maintain an organized job site
Remodeling Services
Bathroom Remodel
About 60 percent of our business consists of gut renovations of bathrooms. One of the more popular bath remodels lately has been to remove a spa tub to make the shower larger. Remodeling for aging in place using universal design principles is also very popular. Occasionally the layout changes are more dramatic, removing a wall or moving plumbing.
For more detailed information about our services and costs: https://mcmanuskitchenandbath.com/bathroom-remodeling-tallahassee/
Kitchen Remodel
About 40 percent of our projects are kitchen remodels. A typical kitchen remodel involves replacing the cabinets, countertops, floor tile backsplash tile and improving the lighting. The most popular countertop material at the moment is Quartz, we're also big fans of wood countertops for their warmth and easy maintenance.
For more detailed information about our services and costs: https://mcmanuskitchenandbath.com/kitchen-remodeling/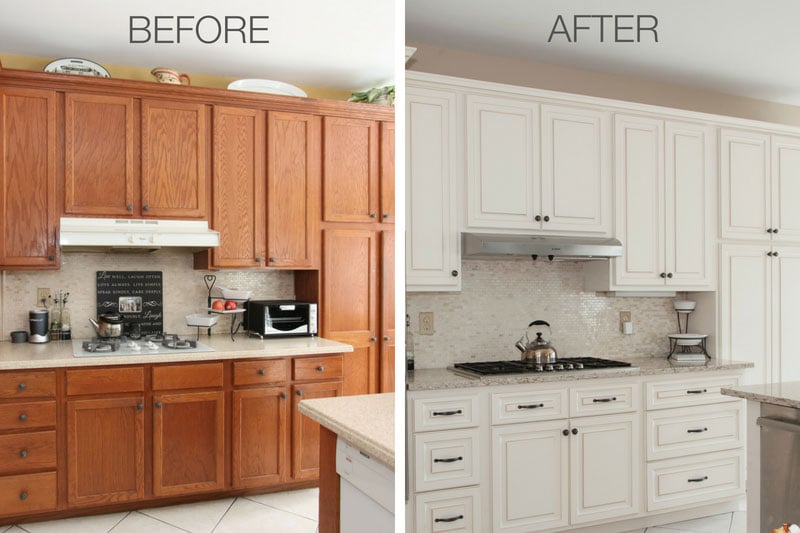 Cabinet Refacing
Refacing begins with our installers removing your old doors, drawer fronts and hinges. We will then install all new doors, hinges, drawer fronts and reface your cabinets exactly to your specifications. All of the new doors and drawer faces are custom-finished by hand by highly trained craftsman. We avoid using laminate veneers. When complete you have a truly custom kitchen that looks and functions great!
For more detailed information regarding our process and costs associated with cabinet refacing: https://mcmanuskitchenandbath.com/kitchen-cabinet-refacing-with-cabinet-cures/
A Multi-Room Remodel
Remodeling even one room can seem like an overwhelming task, so tackling multiple rooms requires careful preparation and budgeting. The good news about doing extensive renovations is that you can save time and money by tackling multiple spaces at the same time. Being able to have labor working on multiple areas of your home at once increases the efficiency of the project and reduces the length of time your project will last.
Some common multi room remodels are a kitchen and laundry/bath renovation or a change to open concept living involving the kitchen and living room. Depending on the types of rooms you choose to remodel and the finishes within, your costs will vary.
Outdoor Kitchen
An outdoor kitchen can become the centerpiece of your outdoor space. There are a few things to consider when designing an outdoor kitchen that will affect the price of your new addition. Depending on the size, features, and equipment you choose, the cost of an outdoor kitchen can vary greatly depending on personal taste.
---
Ready to Get Started?
Schedule a Call to Discuss Your Project