McManus Kitchen and Bath provides a single place where you can work with interior design and construction professionals who can help you create a happy, healthy home. We start each project with a Design and Budget Consult. It will help you clarify your design ideas, understand the remodeling process and create a Good Better Best Budget for your project. Click Here to Schedule a Consult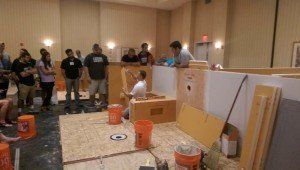 In October we returned to Pensacola for part two of Schluter System's Tile Installation seminar. There were about 50 tile contractors and tile dealers from all over the southeast in attendance. I even made a connection to get wholesale tile from a local distributor!
The two day seminar was packed full of information some of my favorite modules were:
Building Tile Assemblies for Sound Control
By far my favorite module was about using tile and tile underlayment for sound control. I've always been interested in creating soundproof rooms (especially bathrooms, for obvious reasons) and the info we learned here was a great primer.
Building Residential Steam Rooms
We also learned about constructing residential steam rooms and steam showers, something that is becoming more and more popular. There are a lot of issues to consider when building a steam room not the least of which is the increased vapor pressure that can drive moisture into your walls and cause mold. Its important to use a high quality membrane on all the walls and ceiling to prevent this. Condensation is another issue to be aware of, a steam shower needs to have sloped ceiling otherwise hot steam can cool and collect on the ceiling and drip cold water on your… not pleasant!
Universal Design
An finally we spent quite a bit of time on universal design, a topic I'm very familiar with but that has recently become a priority for a lot of consumers who would rather adapt their homes to age in place rather that move to a retirement community. In this module we spent a lot of time discussing the ideal vs the realistic. When you're remodeling an existing space you can't always create the perfect universal design. What's important is to meet as many standards as possible.
Some pictures from the weekend: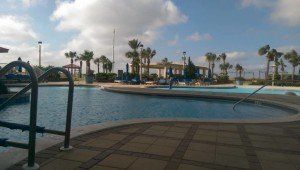 The two day seminar was held at the Gulf Breeze Hilton in Pensacola…not bad!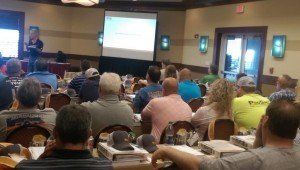 Day 1 was spent in the classroom until after lunch when we started the hands on demonstrations and practice.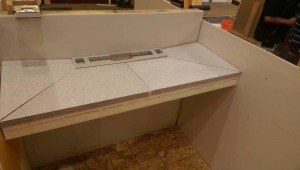 One of my favorite parts on the demo was building a custom sink! Lots of great applications for this!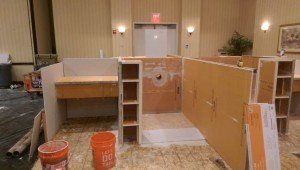 We also got to build 4 different types of showers, some curbless, like this one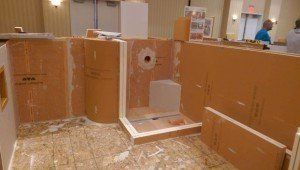 Others with unique features like this curved shelf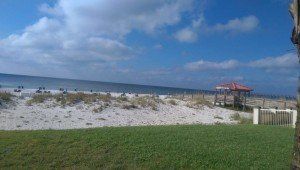 And of course a little bit of time at the beach!
Thanks for reading! We'd love to be a part of your next remodel. Check out our design services page.