McManus Kitchen and Bath provides a single place where you can work with interior design and construction professionals who can help you create a happy, healthy home. We start each project with a Design and Budget Consult. It will help you clarify your design ideas, understand the remodeling process and create a Good Better Best Budget for your project. Click Here to Schedule a Consult
__________________________________________________________________________________________________________________________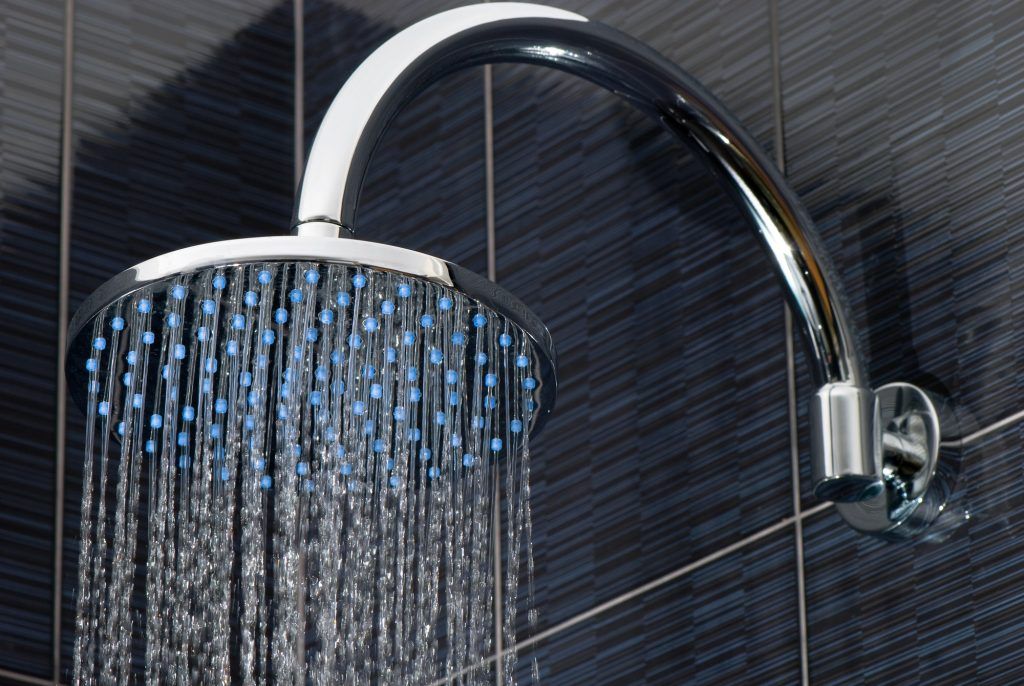 Are you looking to add a little luxury to your bathroom – or wish you didn't have to leave home for a spa experience? There's a shower head for that!
Spa Shower Heads for Every Taste
Like everything other material or fixture for the bathroom, there's a dizzying array of spa shower head choices. Depending on your budget and taste, you can choose from a no-frills wall-mounted one to a lavish shower with multiple jets and sprays.
If your bathroom remodeling vision includes upgrading to a spa-like environment, rain shower heads offer a luxurious alternative to your run-of-the-mill shower head. They're wider, hang directly overhead, and shower you more gently. Nearly every bath product manufacturer offers a rain shower head. Some of our favorites include models from Moen, Kohler, Hans Grohe and Brizo.
---
How to Choose
Most of us don't like to start the day with a ho-hum shower. Installing a spa shower head can be one of the best choices you make. Picking the right one, though, is a bit more complex than you might think. Here are some things to consider as you make your choice.
Are you frustrated in trying to get all the shampoo out of your hair? Look for a model that's recommended for low water pressure.

Will people of varying heights be using the shower? Along with an overhead rain model, an adjustable wall-mounted shower head is a good solution. Newer magnetic handheld models are stylish, easy to use, and offer a more enjoyable shower experience for everyone.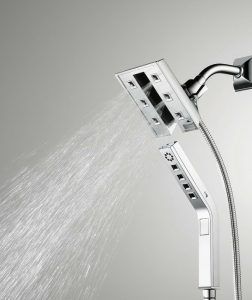 (Above) The Brizo Hydrati 2/1 shower head adds more functionality to your shower and is available in traditional or contemporary styles.
If you have a tighter budget, choose something that works with your existing plumbing. Wall-mounted shower heads have nozzles that adjust from gentle mists to pulsing massage. Moen, for example, offers

a range of two-function rain shower heads

that easily switch between both types of showers.

Do you want something eco-friendly? The average family goes through almost 400 gallons of water

a day

! If you want to contribute to water conservation, take your home's water pressure into account and then look for the

best model that carries the EPA's WaterSense label

.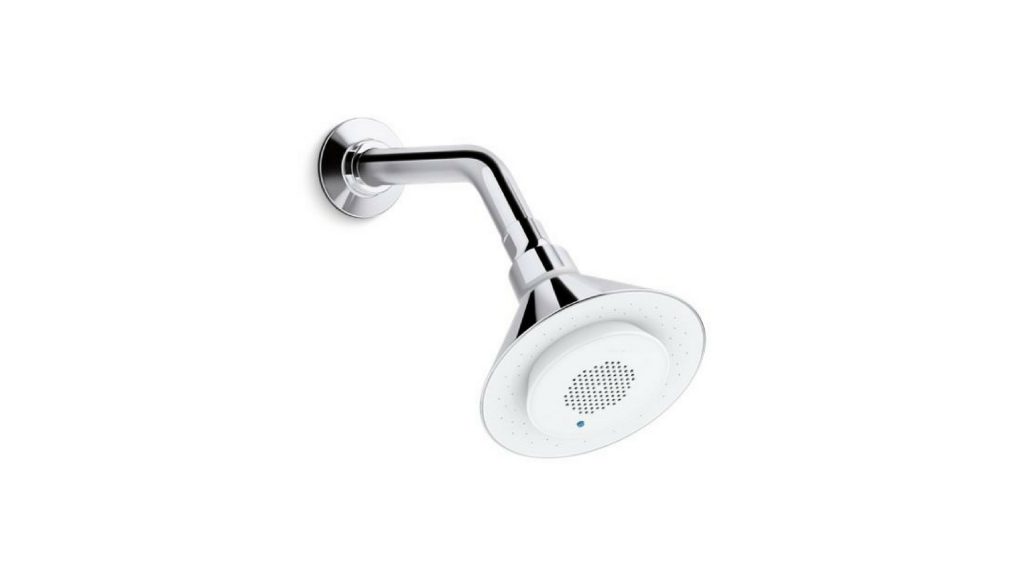 (Above) The Kohler Alteo 2.0 gpm multifunction wall-mounted shower head is just one of the environmentally conscious models the brand offers.
---
Modern Shower Heads
The latest models of shower heads work much differently than the ones you find in older homes, making installing a new one a smart decision.
The modern interior design features individual channels that feed the nozzles, increasing water pressure.

Programmable showers feature digital controls

and high-tech valves for setting water temperature and pressure.

Older shower heads always seem to have several clogged nozzles. Modern ones are made of flexible polymers which help reduce clogging. And newer shower heads deliver greater water pressure which helps to keep the nozzles clear.

One of the best features of a modern shower head is how much it helps conserve water while still delivering a satisfying shower experience. Some heads even offer water flow of two gallons per minute, below government standards.
What Does a Good Spa Shower Head Cost?
The cost of a showerhead is determined by a few factors:
Hole size and consistency

– there is a real art to designing a shower head with the right hole side and pattern.

Quality materials

– brass construction is still the best.

Quality of finish

– this is a difficult thing to judge in person but more expensive fixtures typically have more durable finishes.

Size of the shower head

– An 8-inch rainhead can cost around $350, but a 16" one can cost $1500 or more

Style

– Shower heads with unusual shapes can cost 50% more
In our good, better, best system, we typically allow $350 per showerhead/shower valve combo. So more complex shower systems cost more.
Good would be a single shower head.

Better is a combination of shower head and rail mounted handheld sprayer.

Best includes a rain head and/or one or more body sprays.
No matter which shower head you choose, we always install quality valves with ceramic discs and brass parts. The shower head and trim (the finished piece that is mounted on the shower kit) are more of a personal choice, though our designer will make recommendations based on finish quality and how easily a trim can be changed. For example, Hans Grohe makes it extremely easy to change trim styles.
Which one will work best for you? The one that meets your family's requirements, looks great in your bathroom, and fits your budget!
When comparing two models with similar features, remember that the one with a higher price doesn't always mean it's better made. Our designer can go over your options and help you make the best decision.
Learn More
An invigorating shower gets the day off to a great start! We hope this article has given you a good idea how to choose the right spa shower head for your new bathroom.
Thank you for reading! We'd love to be a part of your next remodel. Check out our design services page