McManus Kitchen and Bath provides a single place where you can work with interior design and construction professionals who can help you create a happy, healthy home. We start each project with a Design and Budget Consult. It will help you clarify your design ideas, understand the remodeling process and create a Good Better Best Budget for your project. Click Here to Schedule a Consult
__________________________________________________________________________________________________________________________
One of our areas of expertise is remodeling laundry rooms to be as efficient, functional and aesthetically pleasing as possible. Here are some laundry room designs to make your laundry room work for you!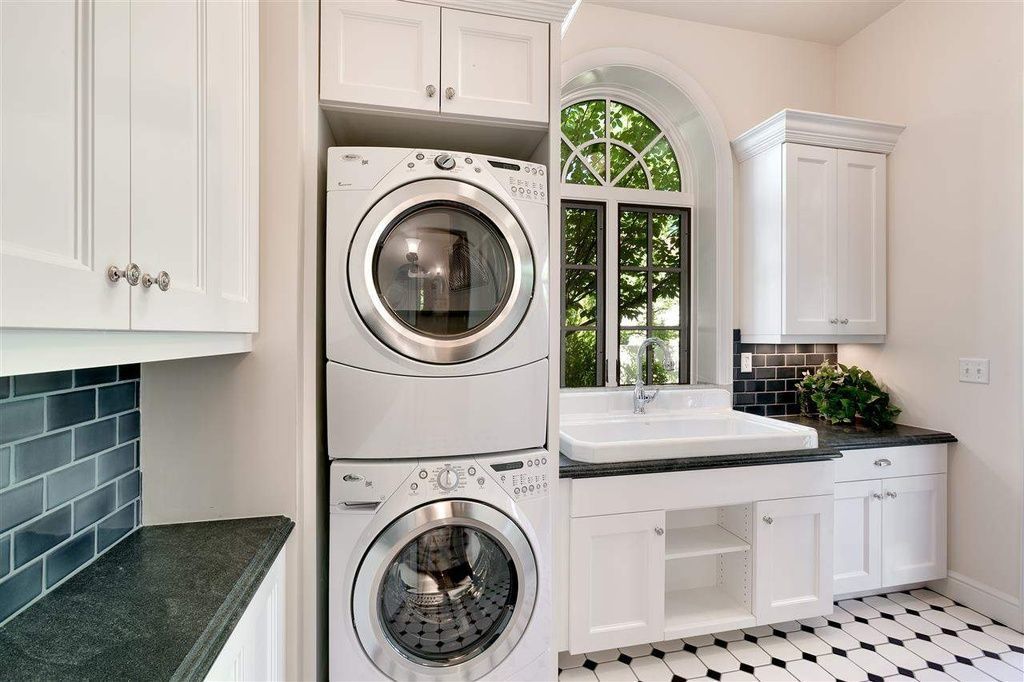 WALL & CABINET STORAGE
A nice feature in this laundry room design is the horizontal drying rack built into the base cabinet. It's both a space saver and looks great!
If your laundry room has limited space, you can utilize the walls to install mounted cabinets and open shelving. This way you'll leave the floor area free of structures that may cause unnecessary clutter. Even adding your shelves to just one side of the wall shall still provide you with a convenient way of storing and organizing your laundry items. Another useful addition is to add a simple rod beneath the cabinets or shelves to provide a place to drip dry clothes. Moreover, taking your cabinets to the ceiling is great for extra storage for lesser used items. Simply keep a step ladder tucked away between appliances for easy access.
If you have room to spare, base cabinets provide storage for cleaning supplies, hampers, drying racks and more! The more space you have, the more efficient you can make your laundry area.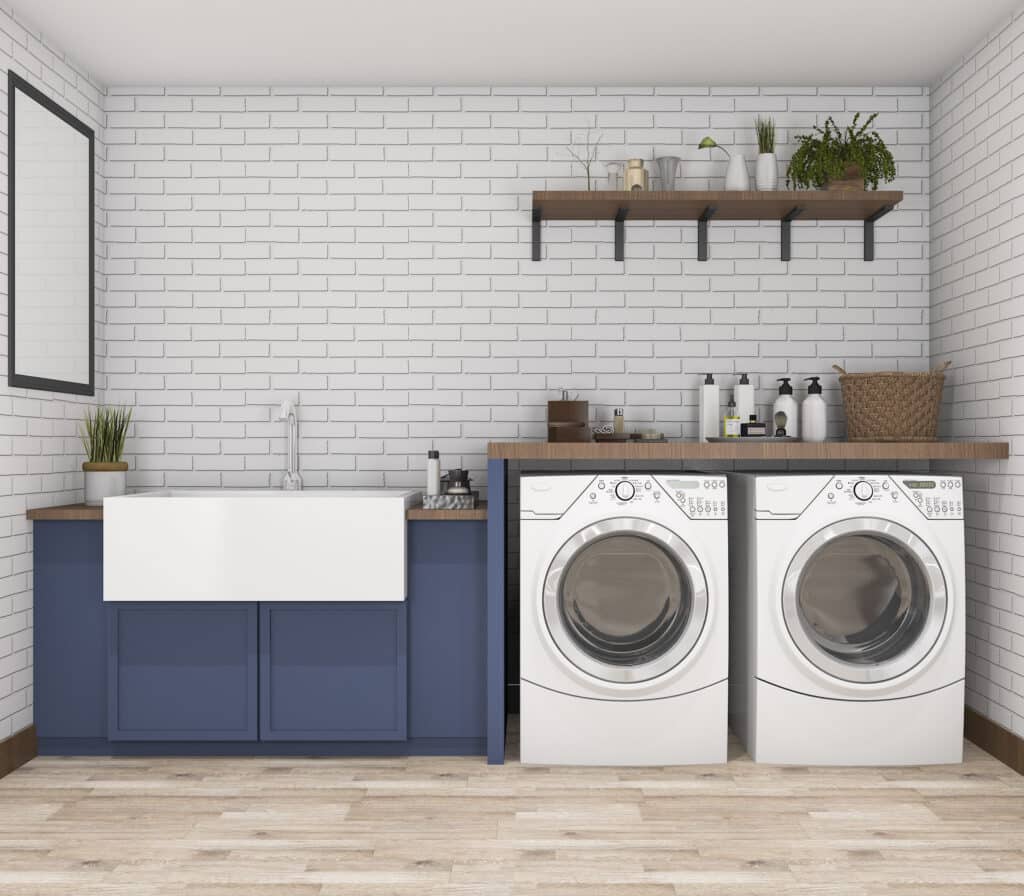 TOP LOADERS VS. FRONT LOADERS
A top loader allows you to feed in clothes into the laundry machine and lift them out without having to bend over. They also tend to stay cleaner and work better over a long period of time.
On the other hand, a front loader consumes less space than its counterpart by allowing for valuable bench space on top. You can save floor space by having stacked front-loading washers and dryers, or you could have a custom countertop fabricated to perfectly fit on top of your washer and dryer that serves as a folding station.
LAUNDRY ROOM SINKS & SHOWERS
From washing delicates or giving small pets a bath, a sink is a great addition to a laundry room. You can get a simple utility sink or opt for a more aesthetically pleasing (but more costly) sink such as the farm style sink pictured above. The laundry faucet can then be installed as a wall-mounted swing tap consisting of an adjustable spout. This design is very practical as you can simply move the faucet out of the way if you want to use the sink, and stretch the spout outwards when adding water into a mop bucket.
Likewise, consider mounting a pullout spray mixer directly onto the tub and not the wall for increased convenience. If a sink isn't enough, we've seen a big increase of people incorporating small showers in their laundry room to bath pets or rinse grass and mud off small children before they come in the house.
LAUNDRY ROOM NEAR THE KITCHEN
Having a laundry room near the kitchen is a great way to keep all the most functional areas of the house in the same place. Kitchen rags and mop heads can be tossed in the washer immediately after use, and extra cleaning supplies are easily accessible.
If there is sufficient space, a table or island can be placed at the center of the room to serve as a spot for folding laundry. An ironing board can also be put next to the table, or tucked inside one of the side cabinets or false drawer fronts to de-clutter the floor and provide more space. Pull-out bins can be added onto the floor plan for holding dirty clothes, powder detergents and items that need to be sent to the dry cleaner.
CLOSET & UPSTAIRS LAUNDRY ROOMS
In this layout style, the laundry center is usually installed within a walk-in closet or large bathroom that forms part of the master bedroom suite. Nowadays, there are new, quieter washers and dryers which make operating these machines less disruptive even if you want to use them at night.
The laundry room can also be installed in the second-floor hallway to provide greater convenience for family members who want to put away their clean clothes easily. However, if you're planning to remodel the laundry area on this upper floor, it's recommended to first check with your local building codes, in order to avoid any problems.
Additionally, the washing machine should ideally be installed over a shower-base containing a floor drain or pan, which will direct water towards the home's plumbing waste lines for disposal.
Moreover, if your floor plan involves working with a pre-established footprint, then there are innovative ways to improve your space and storage capacity within the existing limits. In this regard, your laundry floor can be designed leveraging on the existing racks, baskets, drawers and cabinets in order to come up with a new remodeled look.
THINGS TO NOTE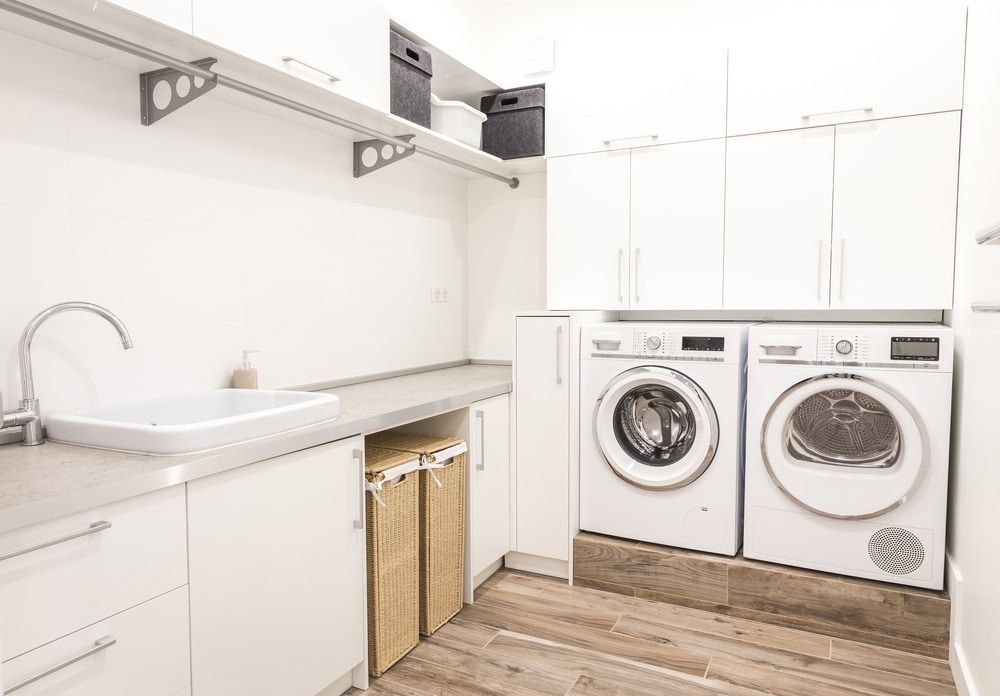 It's important to remember that your washing-machine lines should always be easy to access and hooked up to a preprogrammed shutoff valve for safety purposes.
Furthermore, when designing the laundry area's floor plan ensure that there's sufficient space around the dryer to help in dissipation of heat. Otherwise, temperatures may rise rapidly within the dryer if the surrounding space isn't enough and possibly cause mechanical damages.
To summarize, there are various laundry-room floor design ideas and storage solutions you can choose for your home depending on your specific needs and personal style. However, no matter the layout that you pick, still the best laundry room floor plan should be practical and convenient.
Thank you for reading! We'd love to be a part of your next remodel. Check out our design services page