McManus Kitchen and Bath provides a single place where you can work with interior design and construction professionals who can help you create a happy, healthy home. We start each project with a Design and Budget Consult. It will help you clarify your design ideas, understand the remodeling process and create a Good Better Best Budget for your project. Click Here to Schedule a Consult
---
---
The folks over at Houzz just posted a list of the top bathroom styles trending on their site scroll down to the embedded post to read the full houzz article.
Top 6 Bathroom Styles on Houzz 
We build bathrooms to last a long time and want the style to last as well. So usually these "top style" posts aren't usually helpful for us, but this post from Houzz is generated from the most popular ideabooks so it's more of a reflection of people are asking for than a designers cutting edge style trends.
---
Black and White Contrast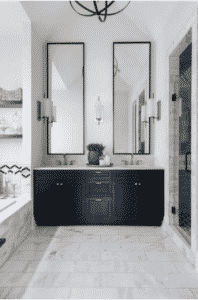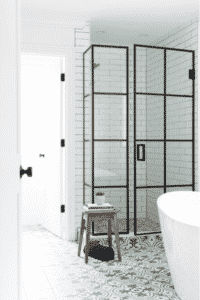 What we Like:
High contrast in design can create really dynamic spaces and make a big statement in an otherwise plain space.
What we Don't Like:
Large portions of white in design shows more dirt and can make keeping the space clean a hassle.
Hex Mania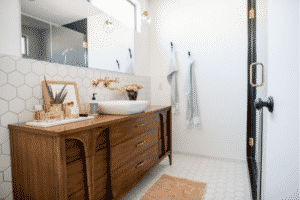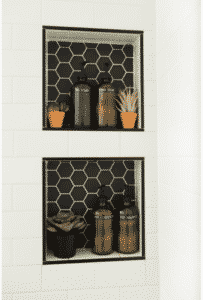 What we Like:
Patterns, especially hexagons, can add a nice texture to tile work. There is a wide variety of size, color, and texture when it comes to hexagon tiles making them very useful for blending into your designs.
What we Don't Like:
Like most most trends the more distinct it is the more likely it will go back out of style at some point. With the explosion of hexagon tile there is a good chance it becoming over used and going out of style. If this happens spaces that were once considered beautiful will quickly turn outdated.
Drift Wood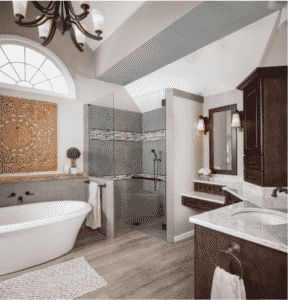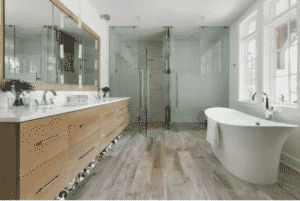 What we Like:
The combination of textures and the use of natural looking material adds to the diversity of spaces. Since cool colors are really in right now this stays on trend while adding something more dynamic to the space. Wood look tile gives you all of the beauty of wood flooring without the upkeep problems of wood flooring in a water heavy space.
What we Don't Like:
What's not to like about wood look tile?
Pure Zen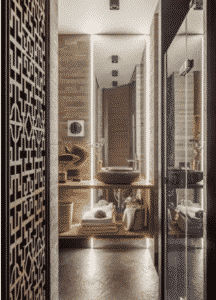 What we Like:
Treating your home like a spa is important to making the space everything you want. That "zen" feeling makes a space relaxing and enjoyable to be in. Asian inspired design also often allows for bold use of color and texture making spaces that are unique and beautiful.
What we Don't Like:
This look can be very expensive to achieve since the devil is in the details. If the right investment isn't made the attempt can come across as a cheap knock off. This is also a trend in design that might not last forever.
White and Wood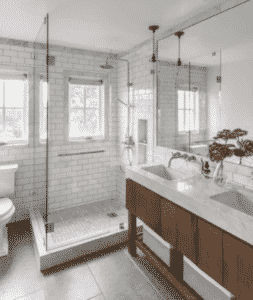 What we Like:
Using wood in the home adds a touch of nature into your home and creates more warmth that has been lacking in more recent trends. The contrast of the two textures and colors creates an inviting and dynamic space.
What we Don't Like:
Similar to what we mentioned earlier, spaces that use large amounts of white show dirt easily.
Dark Accent Walls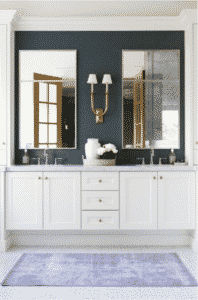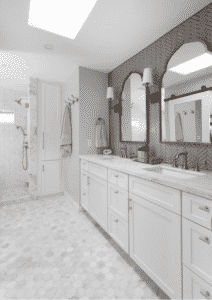 What we Like:
Accent walls give designs a chance to experiment and create bold and beautiful effects. The dark contrast highlights the scale of the space and draws the eye to certain walls.
What we Don't Like:
The dark accent wall can be difficult to pull off in smaller spaces, since the dark highlights the size of the space it can make a small bathroom feel even smaller.
Warm Metallic Accents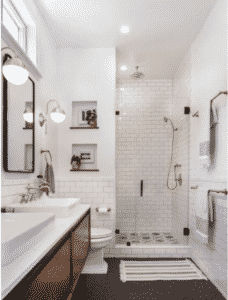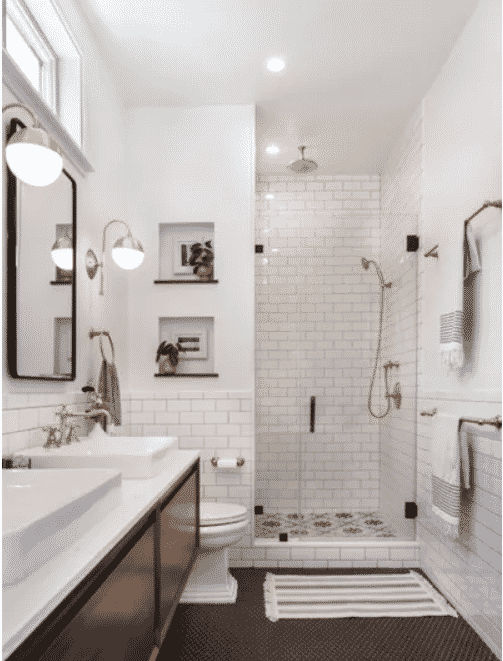 What we Like:
Adding more warmth to the home is always a plus. These accents also create more variety in the space and add contrast without being too bold.
What we Don't Like:
Gold finishes were very popular in the past and quickly became outdated. The rise of them again means they might have the same fate meaning in a few years time these design choices won't seem as trendy and interesting as they will seem garish.
Read the entire article here. 
Thank you for reading! We'd love to be a part of your next remodel. Check out our design services page