The Top Flooring Trends of 2022
Whether you're looking to do a full room remodel or just want to transform your floors, there are a number of options out there. Nowadays, you can have the style and type you want at almost any price point! In this article we will discuss types of flooring, the pros and cons of them, and some of the newest trends assicaited with them. The world of flooring keeps marching on, so check out the top flooring trends of 2022!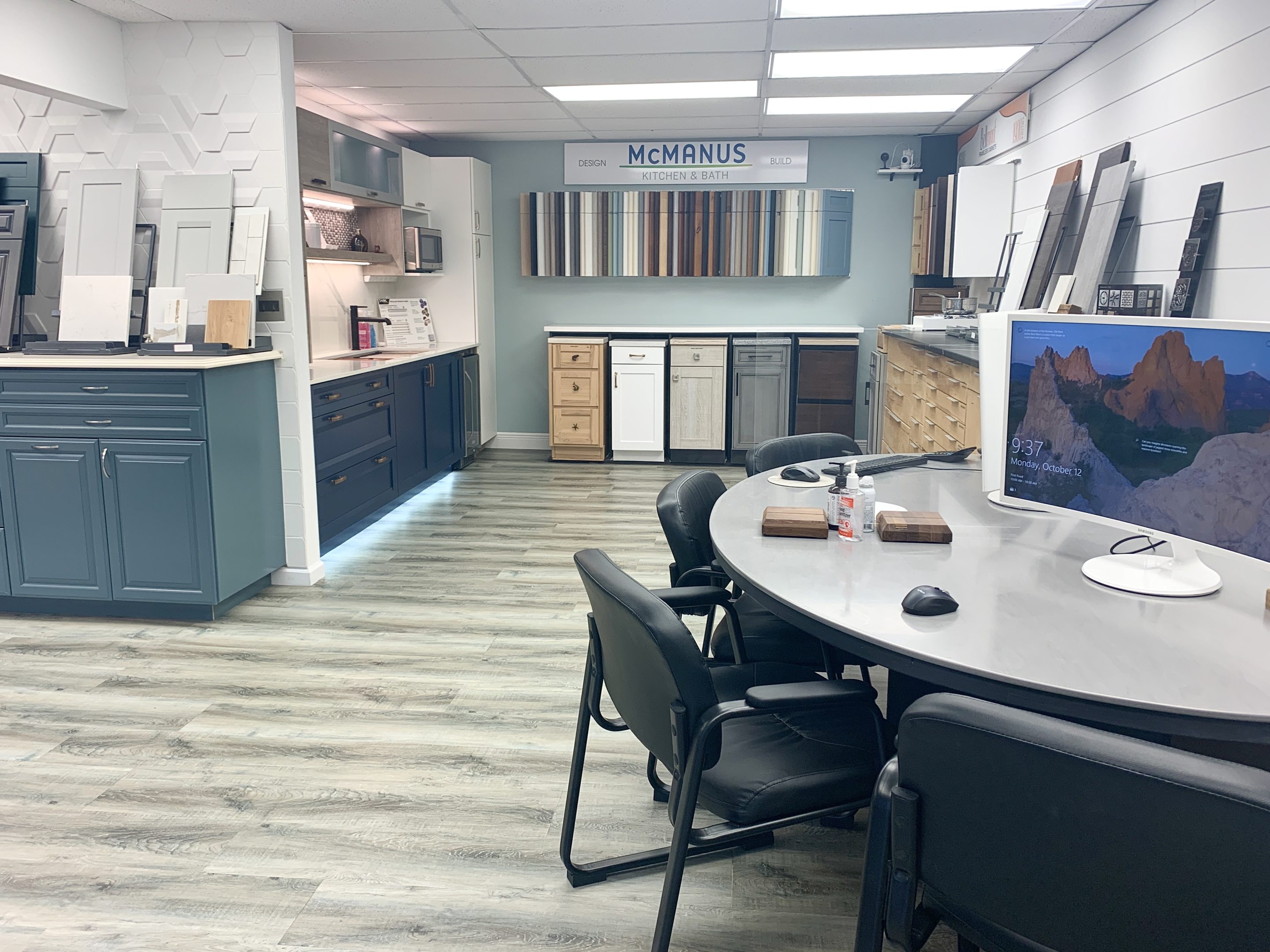 Vinyl flooring is fast becoming a go-to alternative to traditional hardwood. Although it's a synthetic material, it takes on the beauty of hardwood without the high maintenance or worry of water spills. Check out the Luxury Vynil Plank (LVP) in our showroom in the picture above!
Easy to install and maintain

More affordable than other flooring options

Feature beautiful and unique designs

Highly durable

Comfortable to walk on

Waterproof

Comes in all sorts of decorative patterns and finishes
Limited UV resistance

Lower resale value than real wood
Luxury vinyl planks (LVP): Top-quality resilient flooring that gets closer and closer to stone (i.e. tumbled marble), wood plank (i.e. exotic hardwoods), and ceramic tile. The install for LVP can require you to glue on down but "Peel and Stick" options are also available. Check out the LVP in our showroom!
Vinyl sheets: A type of vinyl that you simply unroll from a large roll, and is much cheaper by the square foot than vinyl planks. This type of vinyl needs to be cut to shape and glued down, making the install more difficult that other types of vinyl.
Vinyl tile: A type of vinyl flooring that comes in tile sized pieces (Most commonly 12″x12″). They mimic the aesthetic of traditional tile at a lower price. Vinyl tile can also come in the "Peel and Stick" style, making it an easy install for the DIY homeowner.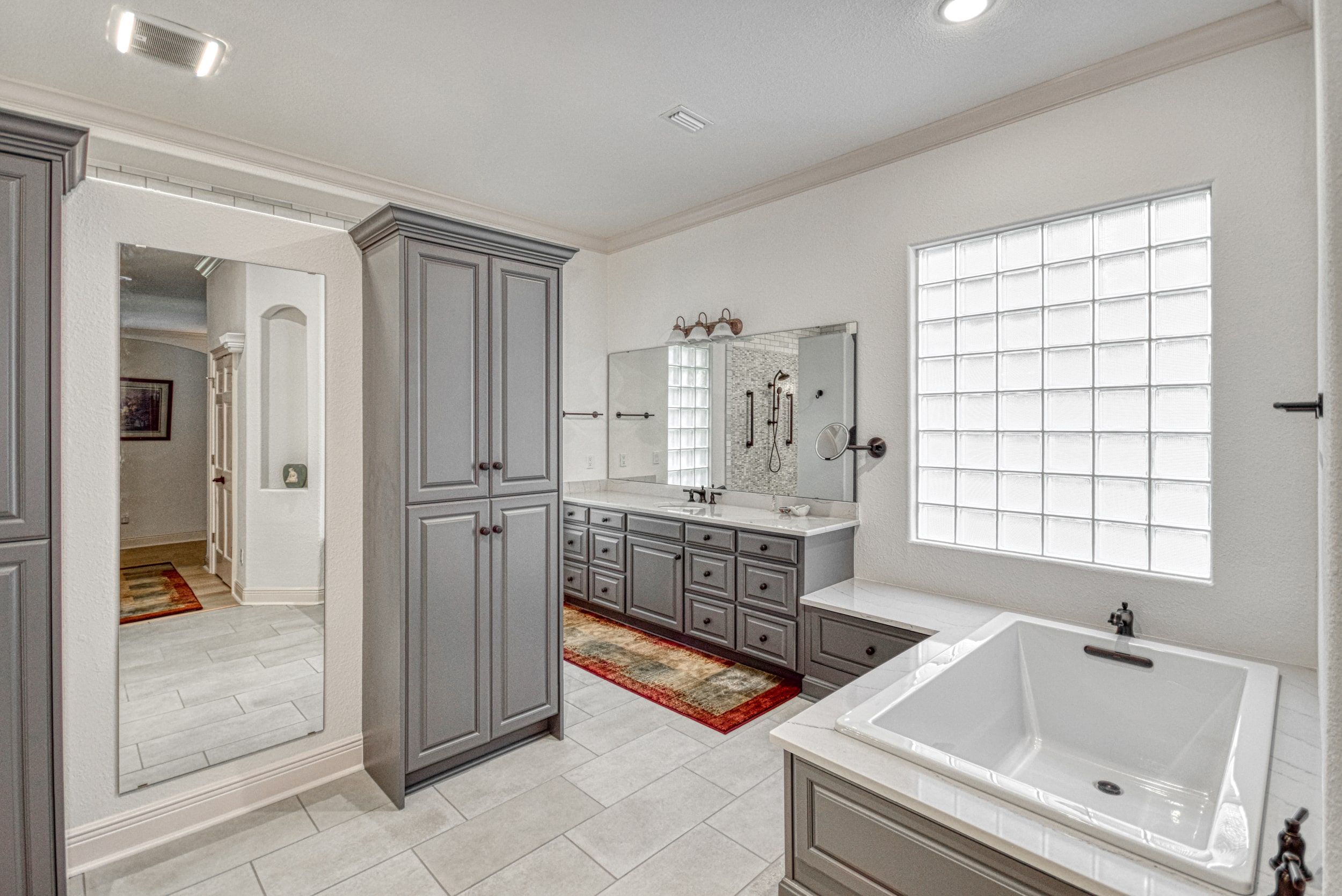 Tile is an elegant and classic style of flooring that appears in all sorts of shapes, sizes and finishes. Check out the picture above to see the tile in a recent client's master bath! If you would like to learn more, check out the full project HERE!
Easy to maintain

Water-resistant

Durable

Affordable

Low-maintenance
Gets cold during the winter

Quite heavy

Hard surface (Not the most comforabtle to stand on)

Grout issues
Wood-look tile: Tile floors that mimic the look of natural wood, including wirebrushed, rustic, and distressed wood. Check out some woodlook tiles from Daltile!
Stone-look tile: Tile that looks like different types of stone, such as marble, limestone, or slate. Check out some stone-look tile from Daltile!
Concrete-look tile: Great for contemporary themed homes, this tile gives off the look of concrete, which is modern and industrial. Check out some concrete-look tile from TileBar!
Designer tile shapes: Hexagon, fan, or arabesque in shape. Check out some shaped tile from TileBar!
Decorative tiles: Lean toward art deco or Moroccan styles. Check out some decorative tiles from Bedrosians!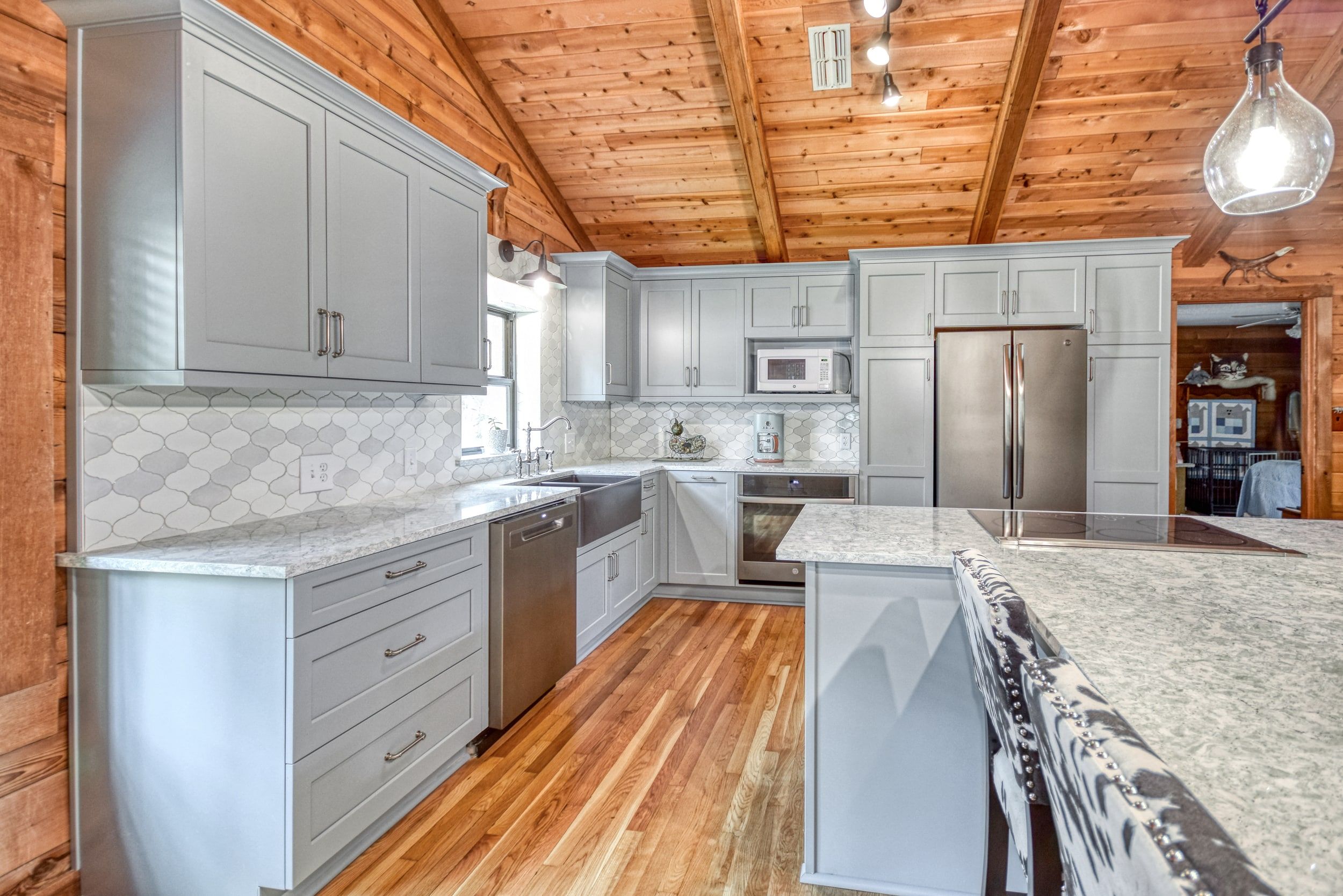 Many homeowners are looking to switch out their carpets for hardwood floors—and for good reason. Hardwood floors offer a timeless look that works well with any style. If you can handle the maintenance of hardwood floors, you'll definitely reap the benefits of choosing such a great flooring option. See the hardwood flooring we added to a recent client's kitchen in the photo above! If you would like to learn more, check out the full project HERE!
Gives off a classic, elegant look

Durable with a little TLC

Comes in a variety of styles

Add value to your home

Can be refinished
More expensive than other flooring options

Scratches and gouges may occur

Vulnerable to moisture and humidity

May creak when you walk on them

Colder than carpet
Fumed wood flooring: A unique process that naturally enhances the color and creates a beautiful, natural-looking floor. Check out some fumed wood flooring from Tesoro Woods!
Bleached and blanched woods: Gives off a softer, white-washed look.
Distressed wood: Captures the look of a worn, antique floor, creating a rustic look.
Geometric patterns: Patterned wood layouts like herringbone, chevron, and honeycomb.
Rigid core bamboo flooring: Bamboo floors that take things a step further with a stone polymer composite (SPC) core, making for extreme durability. Check out some bamboo floors from Tesoro Woods!
Engineered wood: Made of compressed wood, plywood, and fiberboard with a wood veneer. Offers increased water resistance and is more cost-effective than solid hardwood flooring. Check out some engineered wood from Tesoro Woods!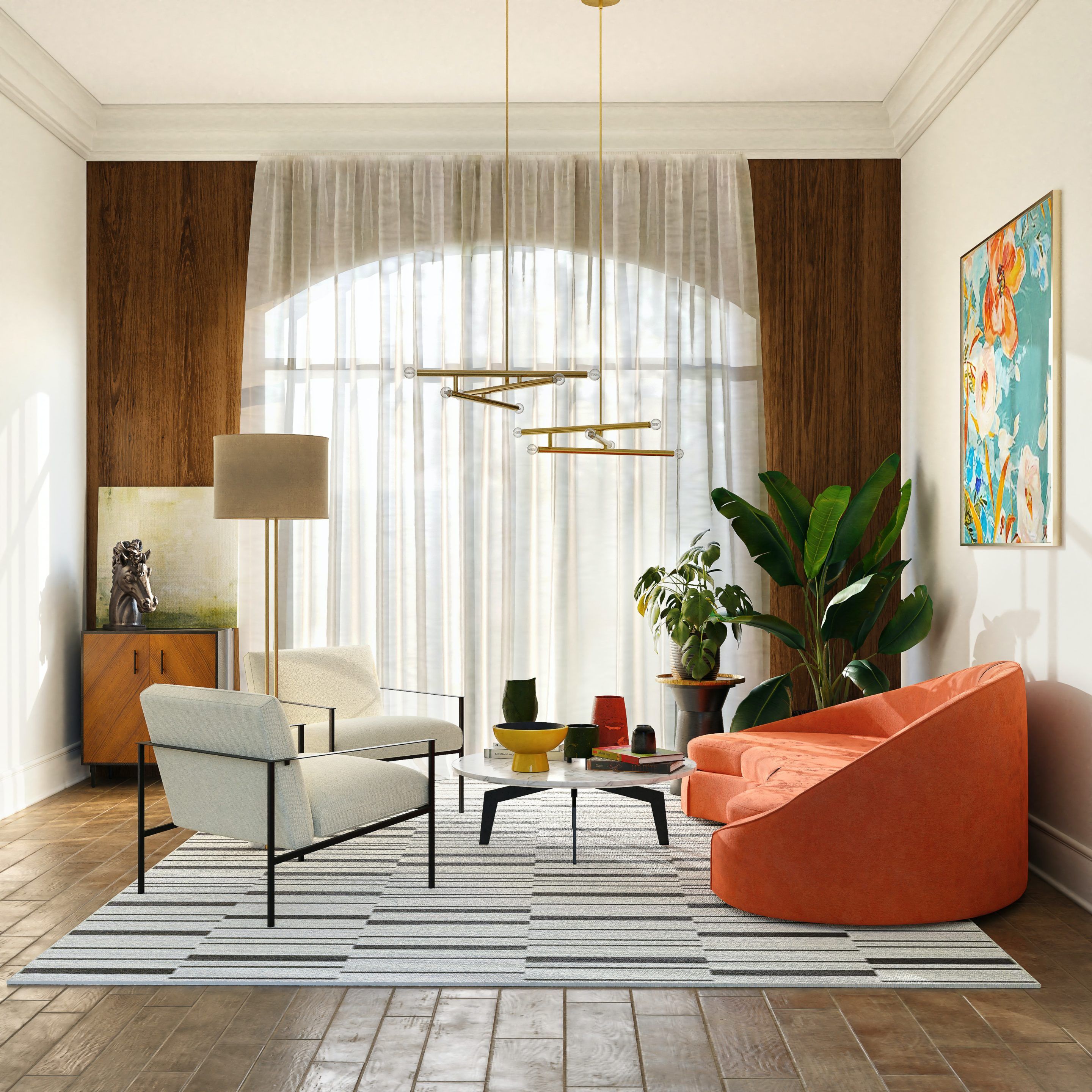 Even though hard floors are taking the lead for 2022's top flooring trends, carpet isn't taking a backseat anytime soon. Carpet continues to provide a warmer, softer feel underfoot, as it remains a popular flooring choice in common living spaces like living rooms and bedrooms.
Adds warmth, color, and comfort to a room

Less expensive than tile or hardwood

Soft on the feet and pleasant to walk on

Lots of color choices are available

Comes in a variety of textures and styles
Holds dust and allergens

Retains moisture

Difficult to clean

Captures stains and odors
Carpet tiles and planks: Install square by square, a great option for small areas or spaces that need more routine maintenance.
High-pile plush carpets: With denser and taller fibers, these fluffy carpets create smoother surface and a very soft feel underfoot.
Area rugs: Great for protecting new floors and bringing the finishing touch to a space.
Geometric patterns: Places focus on primary shapes such as triangles, circles, rectangles, cubes and cylinders.
Waterproof carpet: Made with water-repellant fabrics and feature a tighter weave, which strikes the balance between comfort and easy-to-clean.
Eco-friendly carpet: Made from materials such as recycled water bottles and recycled synthetic fibers.
Transform Your Kitchen or Bathroom With New Flooring!
No matter which flooring option you choose, it's sure to help you realize your vision. But don't do it alone. Trust the professional design team to guide you through the process. From a full-service design center to kitchen and bath remodeling, we can help you get the look you want for your space. Get in touch with us today to schedule a consult.
Ready To Remodel?
McManus Kitchen and Bath is a design and build company specializing in kitchen and bath remodels.