McManus Kitchen and Bath provides a single place where you can work with interior design and construction professionals who can help you create a happy, healthy home. We start each project with a Design and Budget Consult. It will help you clarify your design ideas, understand the remodeling process and create a Good Better Best Budget for your project. Click Here to Schedule a Consult
__________________________________________________________________________________________________________________________
Even if you don't have room in your kitchen for a sub-zero fridge, double-sink, or six-burner stove, you don't have to sacrifice style or function. From scaling down to innovative storage solutions, there are plenty of ways to make the most of the space you do have.
How to Maximize Space in a Small Kitchen
Clever kitchen storage and smart design do wonder for small kitchens. When space is at a premium, try one or more of these 10 space-saving ideas and you and your kitchen will be happily humming along in no time at all.
1. Single-bowl sink. Just about every homeowner loves the idea of a double sink in the kitchen. But choosing a single bowl can save you over a foot of counter space, something that's always at a premium in a small kitchen. You don't have to give up smart styling with a single bowl either. They come in all styles, including the popular farmhouse style.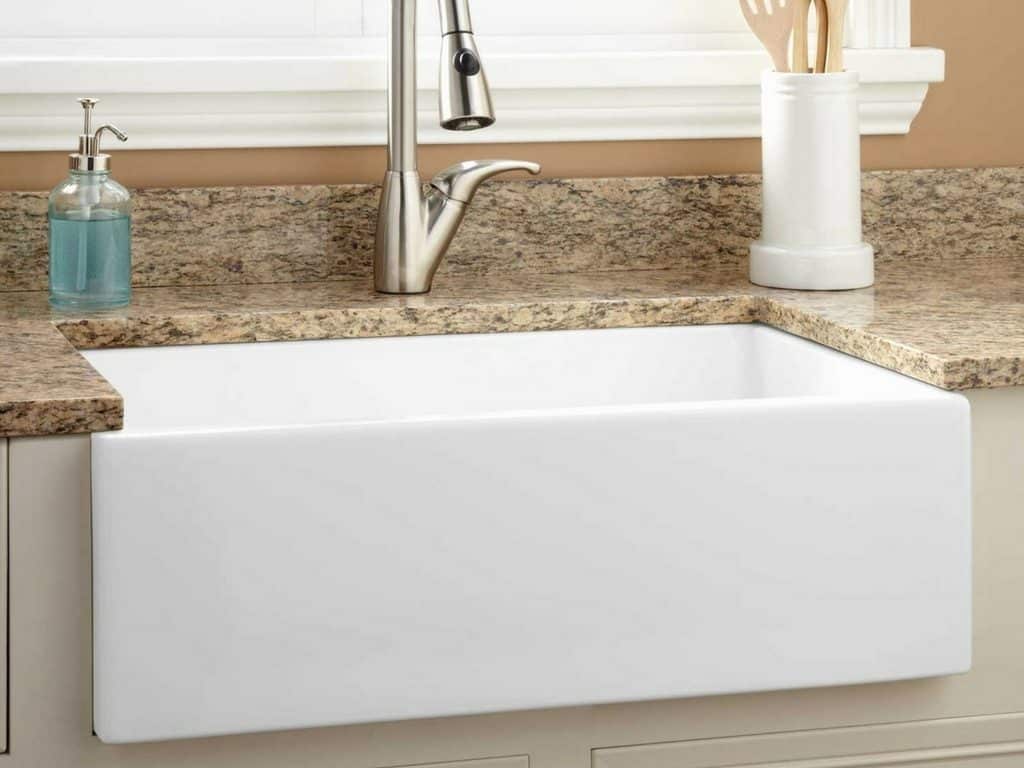 2. Undermount sink. Want to save even more space? Choose a small, single-bowl undermount sink. Because the edges of the sink are concealed, you'll gain even more countertop workspace on the counter on each side of the sink.
3. Opt for pint-size appliances. They're not just for apartment dwellers! As powerful as their bigger counterparts, smaller appliances don't have to sacrifice style. There are several manufacturers including Haier, Danby, and GE who offer smaller versions of ranges that work as hard as bigger ones. And Bosch, Blomberg, and Summit Appliance offer downsized refrigerators. Even dishwashers have gotten in on the act. Kenmore, Frigidaire, and GE all sell 18" inch models that still manage to accommodate up to 8 place settings.
4. Work the walls. Even if all you have is a small blank space, use it mount floor-to-ceiling racks that are perfect for holding dish towels, kitchen tools, pots and pans that you hang on S-hooks, and a magnetic knife bar. Try making the rack a focal point by painting the wall behind it a bold color.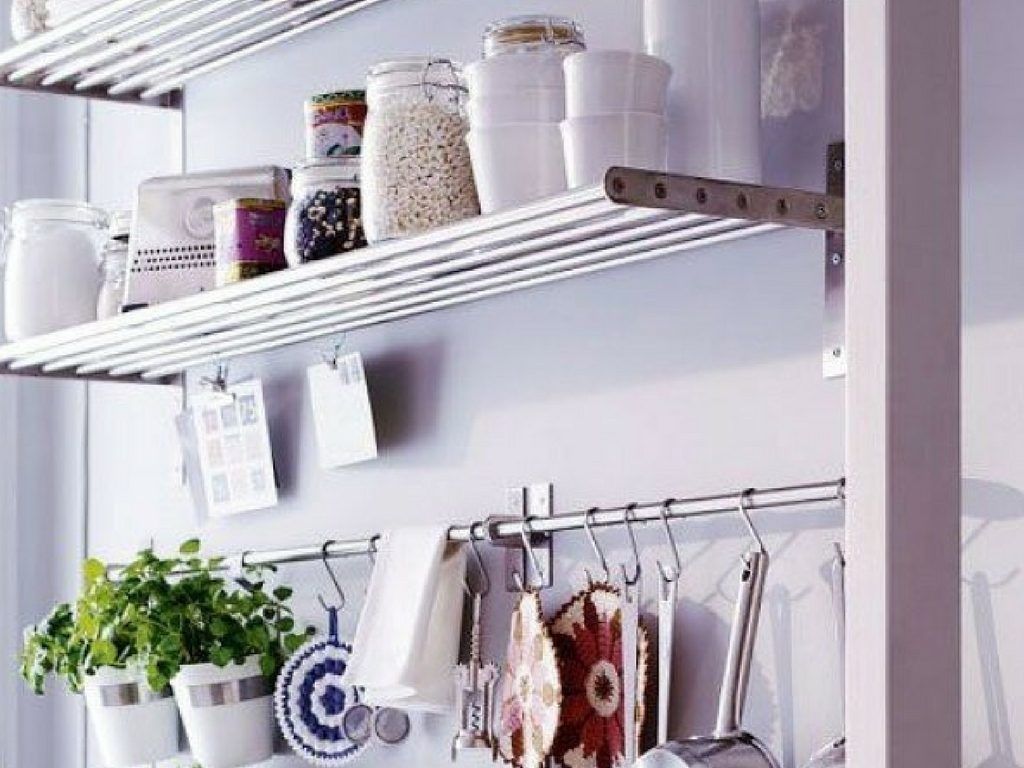 5. Roll with it. A small island or rolling cart opens up the room and puts everything you need in one place. Use the top as extra counter space and add storage for pots and pans, spices, and cooking utensils. Pop a couple stools next to it and share a cup of coffee or glass of wine with friends and family. Tip: Save valuable floor space by customizing the island so that the seating can be slipped underneath when not being used.
6. Find forgotten space. Don't have the room for a proper pantry. Installing a slim pull-out one in a tight space makes everything easily accessible. If you have the space, install another slim pull-out for spices.
7. Keep hardware simple. Not something you normally think about when trying to save space, but in a small kitchen it's easy to keep bumping into big knobs, handles, and pulls. They also get in the way of when open appliances or cabinet doors. Keeping things looking sleek will also make the room appear larger.  
8. Ceiling height cabinets. Don't stop short on the cabinets. Take them all the way to the ceiling and store less-frequently used items in the top cupboards. It's also a great place for storing extra dishes, glassware, linens, and flatware that you only bring out for special occasions or holidays. Ceiling-height cabinets also help visually expand the space.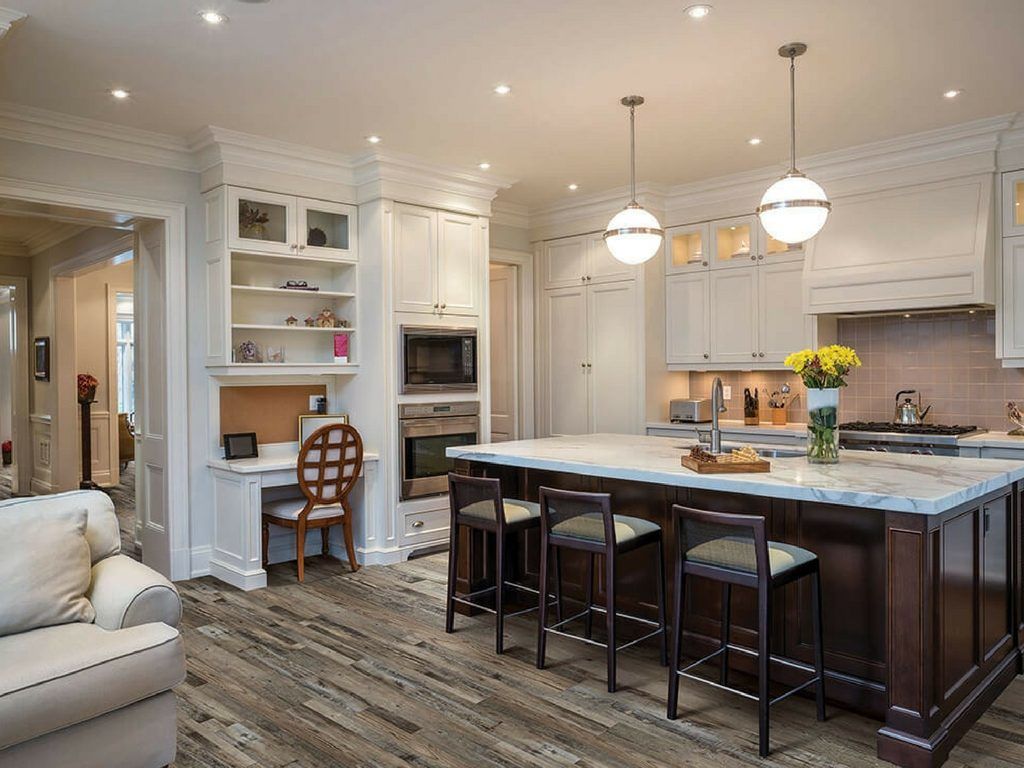 9. Remove the door. If your kitchen is closed in, consider removing the door or replacing it with a pocket door. It helps the rooms feel much bigger!
10. Become a decluttering pro. Except for items you truly value, keep what you use the most and ditch the rest. It doesn't mean you must give up your grandmother's serving pieces, but take a good look at what's on your countertops. If you don't use it each and every day, dispose of it or put it behind closed doors. You'll gain valuable counter space – and a less cluttered rooms feel bigger.
Learn More
Bigger doesn't always mean better! Smart solutions that help you maximize kitchen space offer maximum efficiency and good looks. Why not visit our showroom to see even more clever kitchen storage solutions?
Thank you for reading! We'd love to be a part of your next remodel. Check out our design services page