Design+Build Remodeling Contractor, Tallahassee
Plan, Design and Build… All In One Place !
Kitchen, Bath & Home Remodeling Experts
Full Service Kitchen & Bath Showroom
Serving Tallahassee for 20+ Years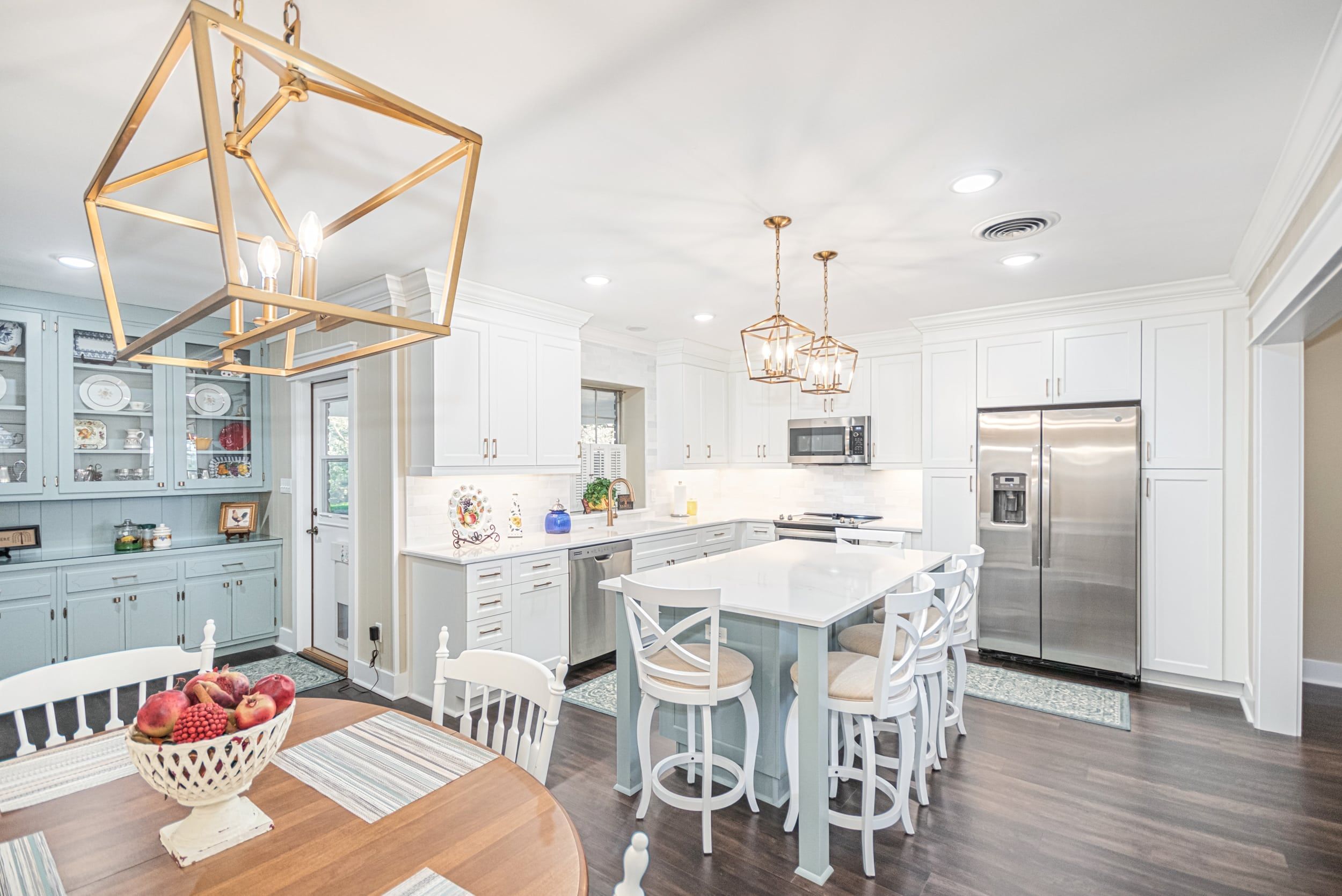 An All In One Remodeling Solution
McManus Kitchen and Bath is the only remodeling contractor in Tallahassee with a full service kitchen and bath showroom. We help homeowners in Tallahassee remodel their homes with an all in one solution that provides planning, design and construction services all in one place for a worry free remodeling experience.
Get Started with a Design and Budget Consult
We start every project with a design and budget consult. It will help you clarify your design ideas and allow us to create a 3D concept and Good Better Best budget for you. We'll review your concept and budget together in our showroom so you can ask questions, make changes and review material options.
Great Design and a Turn Key Experience
Working with a design build remodeling contractor means a turn key experience. Starting with your initial 3D concepts we'll help you explore the possibilites, choose the perfect materials and create a design specific to your needs. Once design is complete we order everything for you and store it until needed. Your dedicated project manager supervises all on site construction and makes sure your home stays clean and safe throughout the project.
What We Do
Our projects range in size from small bathrooms & kitchens to whole home remodels & additions. We use a Good Better Best budget process to dial in the level of service and the material options that suit your needs. If you live out of town but own a home here in Tallahassee we can do estimates remotely.
What We Don't Do
Because of our turn key approach, commitment to qualtiy and high level of service we are usually not the best choice for investment properties and rentals. We work directly with the homeowner, not with builders, property managers or real estate agents. We are not retail showroom. 
What You Can Expect From Us
Expert Design & Material Selection
Work with experienced designers to create your design and select all your materials & fixtures.
Material Ordering and Delivery
We order all your materials in advance and store them in our warehouse until they are needed on site.
Dedicated Project Management
During construction your project manager takes care of everthing so you don't have to. 
A Clean, Safe Jobsite
We use HEPA filters, dust barriers, floor and furniture protection and more to keep your home clean and safe during contruction.  
Great Communication
Your online project portal gives you access to all your project details and makes communication easy.
An Enjoyable Experience
Our turn key, step by step approach simplifies the remodeling process so you can worry less and enjoy the experience. 
Quality Workmanship
We work with the best installers and trade partners in Tallahassee.
5 year Warranty
We back all our work with an industry leading 5 year warranty and follow up process.
Remodeling Project Case Studies
After every project is complete we review a job audit report to summarize how the project went and what could have been improved. Our second core value is a pursuit of excellence and we are always looking for even small ways to make the remodeling experience better.
We do a case study for each project including the challenges that were faced, timeline and cost details etc… and post them to our website. Many clients have told us how helpful these case studies have been for them and we encourage you to check them out for yourself.
Want Some Inspiration In Your Inbox?
Frequently Asked Questions
When Remodeling in Tallahassee
About Estimates, Cost & Timeline
How Long Does It Take To Get An Estimate?
We can usually schedule a your initial consult in Tallahassee within a week of your call.
Our consult process consists of a home visit to get measurements followed by a showroom visit where we review your Good Better Best budget and 3D concept.
We can usually schedule the initial home visit within a week of your call and the showroom visit about a week after that. So you will have a realistic budget and 3D concept for your project within 2 weeks of your initial call to us.
Read more about our design and budget consult here.
How Much Does a Remodel Cost?
These are rough cost ranges for a complete remodel: All new cabinets, counters, backsplash tile, new flooring and lighting. .
The lower end of the range would be for a pull and replace update with nothing moving.
The upper range  would be if you were moving walls, adding or moving plumbing and electric etc...
Bathroom Remodeling
Hall bathroom remodeling costs range between  $25K - $40K+

5 x 9 bath with small vanity and tub/shower:

Other small bathroom remodeling Costs range from $30K – $55K+

5 x 12, two sink vanity, small shower, no tub, no separate toilet room

Larger bathroom remodeling costs range from $55K - $85+

10 x 15, Large shower, separate toilet room, tub separate from shower, 2 sink vanity
Kitchen Remodeling
Small kitchen remodeling costs range from $55K – $85K+

up to 200 sq ft, 30 sq ft of counter, 10-15 cabinets, no island.

Mid sized kitchen remodeling costs range from $65K - 95K+

250-300 sq ft, 45 sq ft of counter, 15-18 cabinets, small island

Large kitchen remodeling costs range from $85K - $150K+

300 sq ft +, 18-25 cabinets, large island, separate buffet, multiple sinks
Whole Home Remodeling
Smaller home Remodeling costs range from $220K – $275K +

1800 - 2200 sq ft
Kitchen Remodel,
Remodel 2 bathrooms
Whole house flooring
Whole house painting

Mid Sized home remodelng  costs range from $275K - $350K+

2500 - 4000 sq ft
Kitchen Remodel
Remodel 2 bathrooms and powder room
Whole house flooring
Whole house painting

Large home remodeling costs range from $350K - $500K+
How Long Does a Remodel Take?
You can break a remodeling project down in to 3 phases: Design, Ordering and Construction. To complete all 3 phases takes 6 to 10 months. A lot of time is spent in design and planning. This is essential for a well run project and something that is often overlooked.
Kitchen Remodeling Timeline
Expect to spend 5 weeks in design (2- 3 design meetings plus time to collect bids)
8-14 weeks to receive materials (lead times are slowly coming down though)
6 - 9 weeks in on site construction
Bathroom Remodeling Timeline
Expect to spend 5 weeks in design (2- 3 design meetings plus time to collect bids)
8-14 weeks to receive materials (lead times are slowly coming down though)
6 - 9 weeks in on site construction
Whole Home Remodeling Timeline
Expect to spend 8 weeks in design (3- 5 design meetings plus time to collect bids)
8-14 weeks to receive materials (lead times are slowly coming down though)
9 - 15 weeks in on site construction
Are you expensive?
I would say you don't hire us for the lowest price, you hire us for the best experience.
Our Good Better Best proposal will outline all the costs associated with your project, including our project management and design fees, so you can make an informed decision.
It's a very detailed and realistic budget that historically and proven to be accurate to within 7% of actual project costs. 
About Design and Materials Selections
Can I Buy My Own Materials?
Most our clients by all their materails from us because the cost is similar to what you'll find elsewhere (even online) and we take care of all the ordering and material storage. 
If you want to purchase your own materials that can be accommodated but there are three important caveats:
We don't warranty materails that we do not provide and
We don't store materials we don't provide
If a delay in the project is caused by a material you are providing there could be additional costs associated with the delay. 
Can I select from other showrooms or just yours?
Most people find everything they need from our showroom but we do use local suppliers as well.
During design if you can't find what you want with us we can visit other showrooms with you or you can visit them on your own and share the selection with us. 
We will purchase the materials for you and store them if needed (if the other showroom will not). 
What kind of training do your designers have?
Some of our designers have graduated from interior design school, others have training and certification speficifc to kitchen and bath design from the NKBA and years of experience.
All of our designer undergo in house training specific to kitchen and bath remodeling and design.
You won't find many designers in Tallahassee who understand the details of construction and design the way ours do.
How does the design process work?
Once you approve your budget we will start the design process. We usually have 2 - 4 design meetings depending on the size of the project and a final meeting to review all the details and present your fixed price proposal.
We try to schedule one design meeting a week to keep things moving but that depends on your availabiltiy and sometimes it takes longer.
The first step in design is what we call a 're-measure'. The designers will visit your home to double check the measurements we took during the initial home visit as well as see you home and discuss your style/design ideas.
After the remeasure you will have your first design meeting. We will have a complete design and some materials options ready for you to review.
The goal of the first meeting is to nail down the details of the layout and scope of work so we can create and send bids to our trade partners.
The next two or three meetings are more focused on materials,fixtures and color/pattern.
Once design is complete and you approve your fixed price proposal we will collect a deposit and order all your materails. We'll store them in our warehouse as they arrive and bring them to site as needed during construction.
About On Site Construction
Do I need to move out during the remodel ?
Probably not. Most of our clients remain in the home during the remodel. We build a detailed project schedule during the design process and discuss ways to minimize the disruption of your daily routine. 
Of course if you do choose to move out or go on a trip for all of part of the project you'll be able to keep up with the project and see progress pictures in our daily logs, which we post 2-3 times day during construction. 
How Do You Keep My Home Clean?
We use HEPA fitlers, air movers and dust barriers around the work area to separate and keep the jobsite clean. Our goal is to make staying in your home during the remodel easy and enjoyable.
How is day to day communication handled?
We use a project management program called BuilderTrend to manage our projects. This provides you an online portal to access all your project information including schedules, payments, daily logs and messages.
Your dedicated project manager is on site every day make sure things run to plan. Each day he will do 3 daily logs, which you will receive as emails, to keep you updated on progress and who to expect in your home each day.
Any time you have questions or feedback you can comment on a daily log or send a message and our whole team will see it and be able to respond quickly. Of course if you are home during the project you will be able to speak with your project manager directly
Do you guarantee your work?
Yes we do. We have a 5 year warranty and follow up process for all our work.
About 6 months after your project is complete we contact you to see if there are any small adjustments or touch ups needed. After that we check in with your annually for the duration of the warranty period.
How long have you been in business ?
The owner, Paul McManus, has been working on homes in Tallahassee for more than 25 years. He started out as a painting contractor and then a handyman. In 2006 he got his contractor license and began doing more extensive remodeling and construction.
In 2015 he opened the McManus Kitchen and Bath Showroom and started specializing in  kitchen and bathroom remodeling.
About the Owner, Paul McManus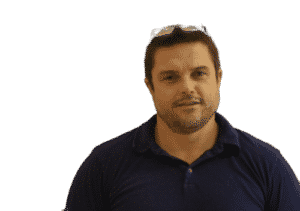 I fell in love with remodeling in college. I was studying architecture at the University of Florida when I took a job as a house painter on the weekends to help pay for school. I realized I loved the hands-on work as much as I enjoyed the design and that put me on a path to become a remodeling contractor. 
I wound up running my own painting company while in school and after school that evolved into a handyman service and would eventually become a remodeling contractor. I attended various trade schools all over the country to gain experience and in 2006 got my residential contractors license.
In 2015 I opened our kitchen and bath showroom and started specializing in kitchens and bathrooms with our current design+build approach.
The showroom and adjacent warehouse has been a game-changer for us. It allows us to display unique products that were previously unavailable in Tallahassee and it has increased our ability to serve our customers significantly. 
On a personal note, I love to travel and have visited more than 38 countries, many of them during my time in the US Peace Corps in Zambia and also during a 4-year stint as an international bike tour guide.
Online Access To Your Project Details
Starting in design you will have access to all your project details through your project portal. Your project calendar outlines what to expect each day and we couple that with daily progress reports which are emailed to you and available in the portal. You can also view payment schedules, subcontractor details, messages and progress pictures.
Everything in the portal can be commented on and our entire team is notified when you do so we can respond to questions and concerns quickly.
Choosing a Remodeling Contractor
Not every contractor is right for every person or every project. What's important when planning a remodel is what you want in a contractor matches what that contractor provides.
If you're not sure what kind of contractor you want or how to evaluate the options we've created a guide to help. You can read it by clicking the button below. I encourage you to ask those 38 questions of every contractor you meet with (even us!).
Tallahassee's Best Remodeling Contractor
We know people are happier when they have a home that is beautiful, organized and easy to care for. But a lot of people put off remodeling their home because the process seems too time consuming and stressful.
McManus Kitchen and Bath is a design build remodeling contractor with a full service showroom. We provide an all in one remodeling solution so you can save time and avoid the hassle associated with the traditional approach to remodeling. Work with us and you'll enjoy the process and the result!