5 Essential Shower Features
Kitchen and Bath Inspiration photos all over the internet are often missing important elements that make the space useable. Designers who don't regularly design kitchens and bathrooms have a habit of sacrificing the fuctional element for things that look good. 
At McManus Kitchen and Bath we design and remodel between 25 and 30 bathrooms every year and we feel that there are a few key features that should appear in any new shower remodel.
1. Conveniently Located Towel Bars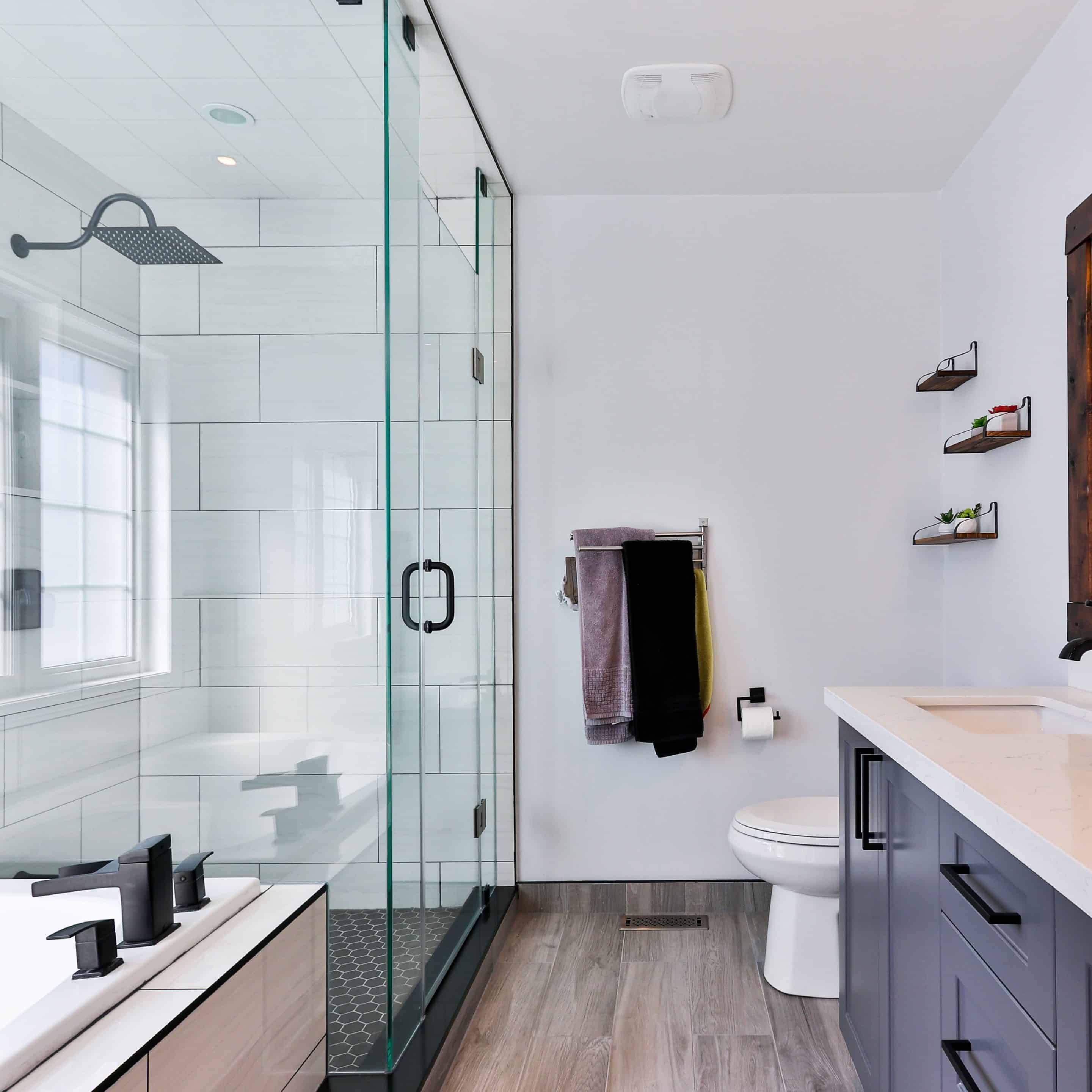 18″ towel bar located just outside the shower for convenient access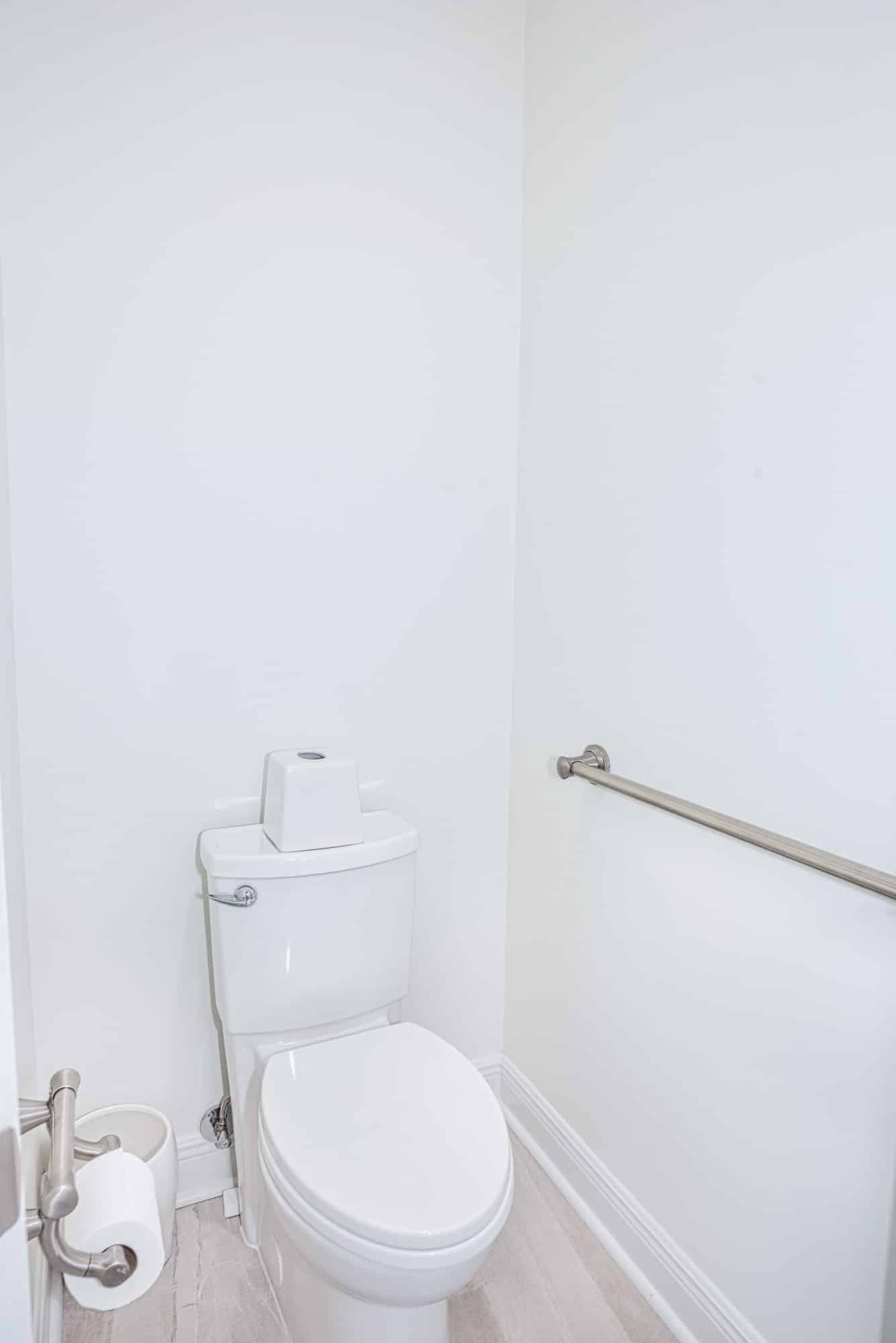 A 30″ towel bar for drying 
While it seems like a no-brainer, you'd be surprised how many bathroom designs do not leave room for towel bars. When it comes to towel storage most people need 3 types:
1. Convenient – hooks or bars that can be reached from the shower,
2. Drying – bars or towel warmers where the towels can be hung to dry and
3. Extra – linen closets or cabinets to store additional towels.
Towel Hooks are great for right outside the shower.. they don't take up much space so they can be added almost anywhere. But towels do not dry well on hooks and will start smelling musty pretty quickly if wet towels are left on them.
Towel bars are best for drying towels (unless you want to invest in a towel warmer).  If you have the room they can also make for conveniet access from the shower as well. For regualr size towels you can use an 18″ towel rack, which will fit a towel folded in half just fine. For oversized towels you'll need a 24″ towel bar. And if you want to dry a towel on a bar without folding it you will need a 30″ bar.
2. Easy To Reach Shower Controls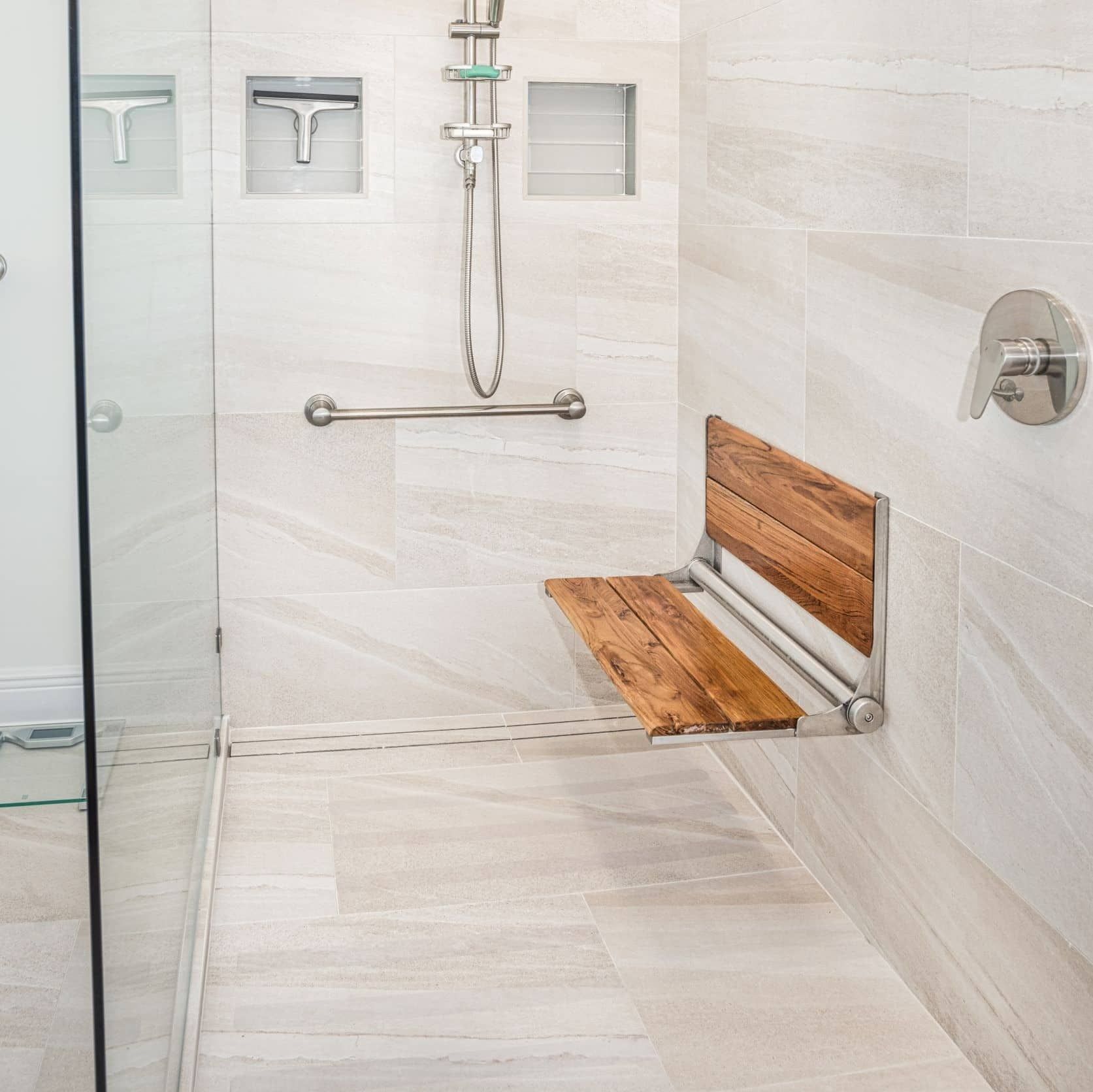 Even though this shower is large, the controls are still easy to access
No one like to get sprayed with cold water when they first turn on the shower. Your shower controls should be reachable from the entrace of the shower. But also, they need to be easily reached while in the shower. This can be a bit of conundrum in large shower with all glass enclosures.
Every shower is a different shape and size, so there is no "one size fits all" spot to place the controls. It has to be thought thru in design. If you want to get really fancy you can invest in digital shower controls with remote control. Rather, by understanding how you can get the most out of your shower experience, the most logical and convenient spot to place your controls becomes clear.
Many people do not consider a handheld shower to be essential but they are very useful for cleaning the shower, washing pets and for cleaning feet, legs and other hard to reach places.
There are few ways to add a handheld to a shower depending on the size of the shower and your needs.
1. Combo showerhead/handhelds are great for smaller shower and showers with tubs.
2. Hydrorails are great for smaller showers where you still want a sepearate handheld and shower head
3. Shower systems are nice for larger showers. They usually have a separage handeheld that can be mounted on an adjustable rail and a separate shower head.
4. You can also mount a handheld to a fixed mount instead of an adjustable rail.
When planning for a handheld showerhead it's important to think about where to mount the drop ear elbow (the plumbing part the hose attaches too). Most hoses for a handheld are 6 ft long so if you want to use the handheld when seated you want to mount the drop ear lower, around 42″ off the floor. 
Another thing to think about is the type of diverter you want to use. A diverter is a lever that allows you to switch between the handheld and the shower head. You can use a two positon of 3 position diverter. A two position divereter would allow to to turn on the shower head or the handheld but not both at the same time. You would need a 3 position diverter to be able to do that. 
Shower benches can be used for support your leg while shaving, provide a place to sit or a place to set soads and washcloths. Larger showers can easily have build in benches that are tiles or topped with stone but in smaller showers you're probably better off with a freestanding bench or wall mounted folding bench. 
Corner benches are useful in small showers, though they are not great for sitting on (there just to small). We really like using freestanding benches, usually made from teak, because they can be moved around as needed and even removed from the shower completely if you need more space.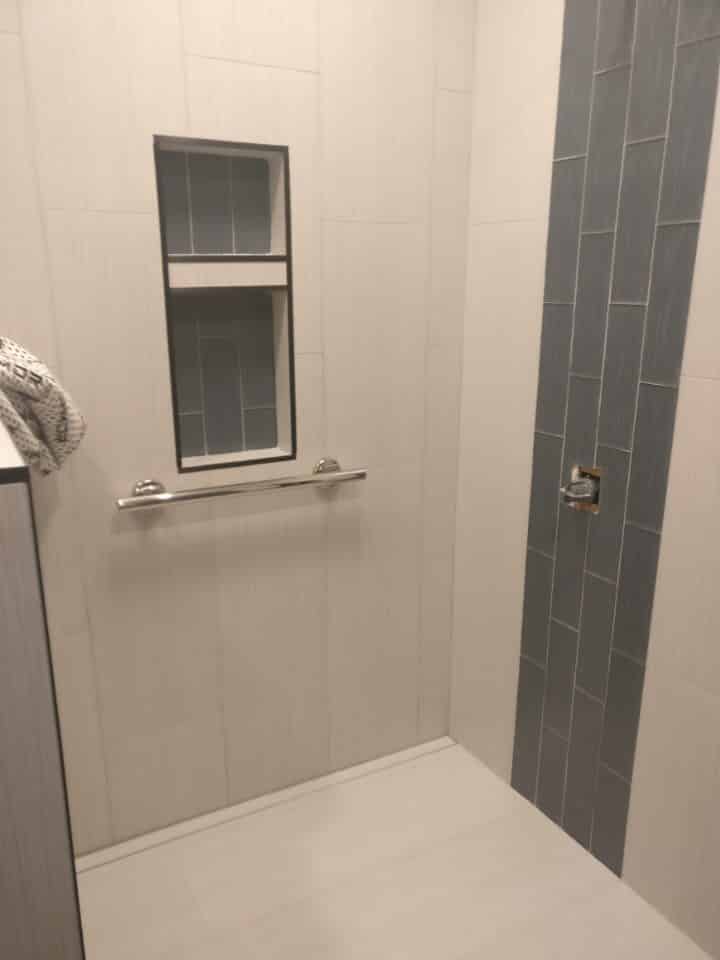 Vertical Niche with Accent Tile and Trim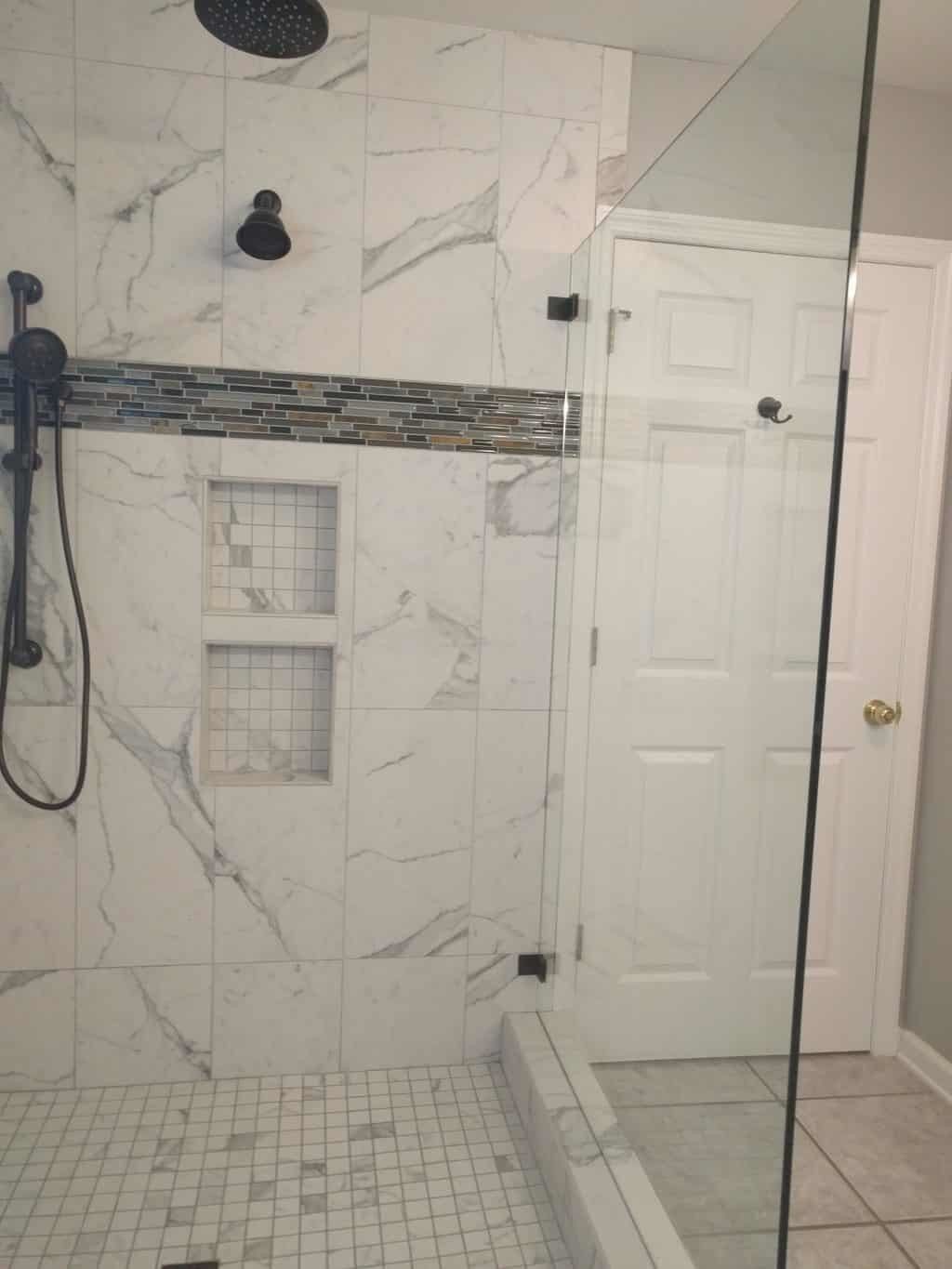 Easily the most requested feature when we design a new shower is the shower niche. They look good and are great for storing shampoo bottles and soaps. The most important thing when installing a niche is the waterproofing and making sure the niche shelves and bottom have a slight slope to drain water.
There are all sorts of options for your niche.
1. Stock Niches come in preset sizes and are designed to fit in between two studs so they can be installed in a shower with out any framing modifications. They have the advantage of being waterproof and the shelves are pre-sloped so there is less tchnical know how needed to install them. The downside is you might not be able to locate your niche exactly where you want, you'll have to find stud bay it fits in. 
2. Custom niches can come in any shape or size you want. We typically prefer to build custom niches on our projects.  
3. Horizontal – a long rectangular niche looks great and provides a lot of storage. Make sure it is tall enought for your tallest bottles. 
4. Vertical niche – add shelves to a vertical niche to create separate space for bottles and soaps. 
5. Multiple Niches – use multiple 12×12 niches to organize the space. 
Another thing to consider is where to place the niche in the shower. You need it close enough to the shower head to be useful but if you are keeping bars of soap in the niche make sure it does not get hit directly with water from the shower or your soaps will get soft. 
Ready To Remodel?
McManus Kitchen and Bath is a design and build company specializing in kitchen and bath remodels