McManus Kitchen and Bath provides a single place where you can work with interior design and construction professionals who can help you create a happy, healthy home. We start each project with a Design and Budget Consult. It will help you clarify your design ideas, understand the remodeling process and create a Good Better Best Budget for your project. Click Here to Schedule a Consult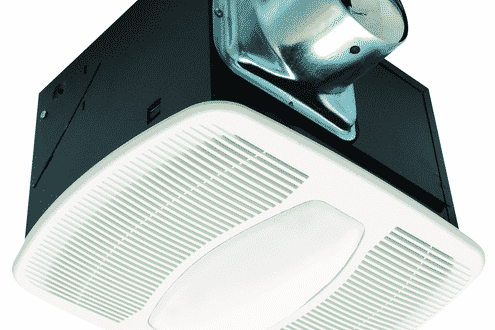 The main function of a bathroom exhaust fan is to clear unwanted contaminates such as moisture and odors from the bathroom. For a lot of people that means that when the mirror starts to fog up, they turn the fan on and as soon as they leave the room they turn the fan off.
Unfortunately that is not utilizing your fan the way it is designed. According to the Home Ventilation Institute (HVI) the exhaust fan should run for at least 20 minutes after the shower has been used. This ensures that the proper amount of ventilation has occurred.
Any easy solution is to install a fan timer switch. Switches can operated based on the humidity level in the home, on movements or simply be set on a timer.
Common Problems with Your Bathroom Exhaust Fan
---
Fan is t0o small (does not move enough cubic feet per minute (CFM).
Many builder install the minimum fan required by code, but is if usually inadequate ventilation for the space
A good rule of thumb is to have 1.1 CFM for every square foot of floor area. If you have tall ceilings, add 20% more CFM.
---
Fan is not used regularly or not enough
You can have the best exhaust fan in the world and it won't do you any good if you don't use it.
Turn fan on before showering
Leave fan on for 20 minutes after showering
Try installing a moisture sensing switch that automatically turns the fan on and off for you.
---
Fan is ducted improperly
To maximize your exhaust fan's performance, match your duct size to the original size of the fan's ducting (do not use a reducer), use the shortest amount of ducting possible, keep the ducting as straight as possible, and if flexible ducting is used, keep it as stretched out as possible to limit the resistance of air flow.
Many older fans used 3" ducting. Newer fans are typically going to have either 4" or 6"ducting. This is important to know because if your fan is set up for 4" ductwork and you try and use the existing 3" duct work, the sound level will increase and the performance level will decrease.
Bath fans must me exhausted to the outside, not the attic
Make sure the proper size duct is used for the fan
Use the shortest run of duct possible with as few elbows as possible
What to look for in a bath fan:
There are two basic functions to start with: air movement measured in Cubic Feet per Minute (CFM) and sound measured in Sones. There are many considerations for CFM, but we are going to stay with the basics for a typical homeowner. The general rule is 1 CFM per square foot of space with standard 8 foot ceilings. So if you have an 8 foot x 10 foot bathroom you would need at least an 80 CFM fan. This would be the minimum ventilation. Depending on your usage, you might consider a slightly larger fan to make sure you have enough power to clear the room.
The second consideration is sound – sones. A rating at or below 1 sone will be very quiet. 1 to 2 sones will still be quiet but anything over 4 sones starts to get loud. The sound rating of a fan will typically influence the cost with quieter fans costing more.
After those considerations it comes down to style and functions. Do you want a light? Do you want a fan that automatically turns on when you enter the room or when the humidity level rises in the room?
CFM Rating
Cubic Feet per Minute. Unit of measure for how much air is exchanged in one minute of time. The higher the CFM the more "powerful" the exhaust fan is.
The higher the number the more CFM (cubic feet per minute) the fan can move.
Plan for 1 CFM for every square foot of floor space
If you bath has a separate toilet room then get two fans
---
Sone Rating
A sone is an internationally recognized unit of loudness. The sones translate laboratory decibel readings into numbers that correspond to the way people sense loudness. Double the sone is double the loudness. In everyday terms, one sone is equivalent to the sound of a quiet running refrigerator in a quiet kitchen. The lower the sone, the quieter the exhaust fan is.
Measure of how noisy the fan is
Shoot for a sone rating of 3.0 or less
Fans can be whisper quite (under 1.5 sones) but many people prefer a slightly louder fan as is affords some privacy.
The quieter the fan the more expensive it will be.
---
Special Features
Heater – a heater, even used in the summer, can help dry the bathroom faster
Nightlight – low voltage night light
moisture sensing switch – automatically turns fan on or off
Motion sensing switch – turn fan on and off based on movement
Thank you for reading! We'd love to be a part of your next remodel. Check out our design services page
---
Paul McManus