McManus Kitchen and Bath provides a single place where you can work with interior design and construction professionals who can help you create a happy, healthy home. We start each project with a Design and Budget Consult. It will help you clarify your design ideas, understand the remodeling process and create a Good Better Best Budget for your project. Click Here to Schedule a Consult
Expansive kitchen or tiny kitchen, no kitchen ever seems to have enough storage space. The trick to solving your storage dilemmas is in making the most of what you've got. From tricking out the cabinets and drawers to utilizing nooks and niches, all it takes it a dash of ingenuity and a pinch of creativity to make effective use of available space.
Everyone loves the idea of having a super organized kitchen and there are hundreds of Pinterest boards to prove it. Bellmont Cabinetry, our primary cabinet line, has lots of great storage solutions for your kitchen. In this post we're going to review 10 of our favorite organizers and organizing solutions.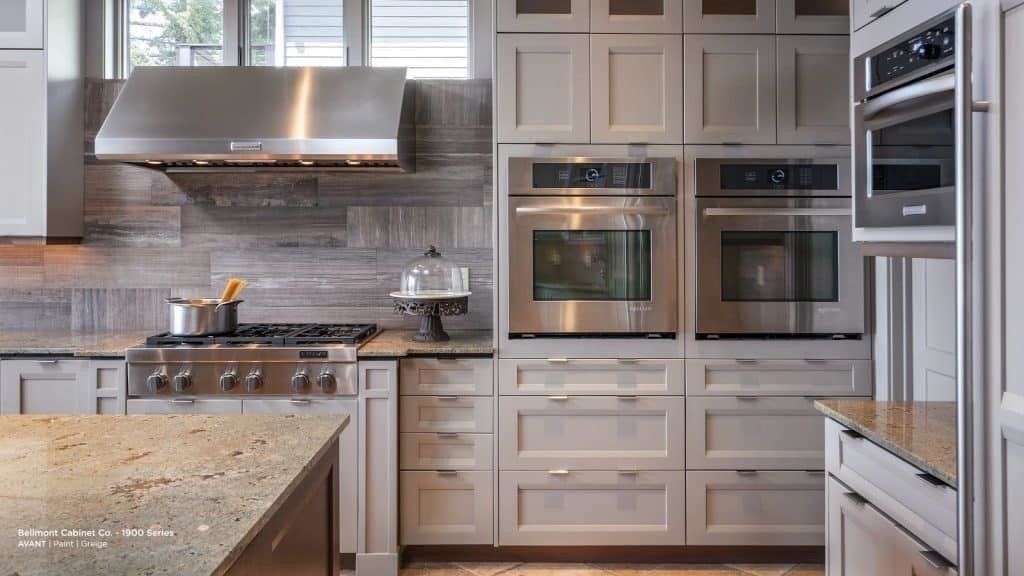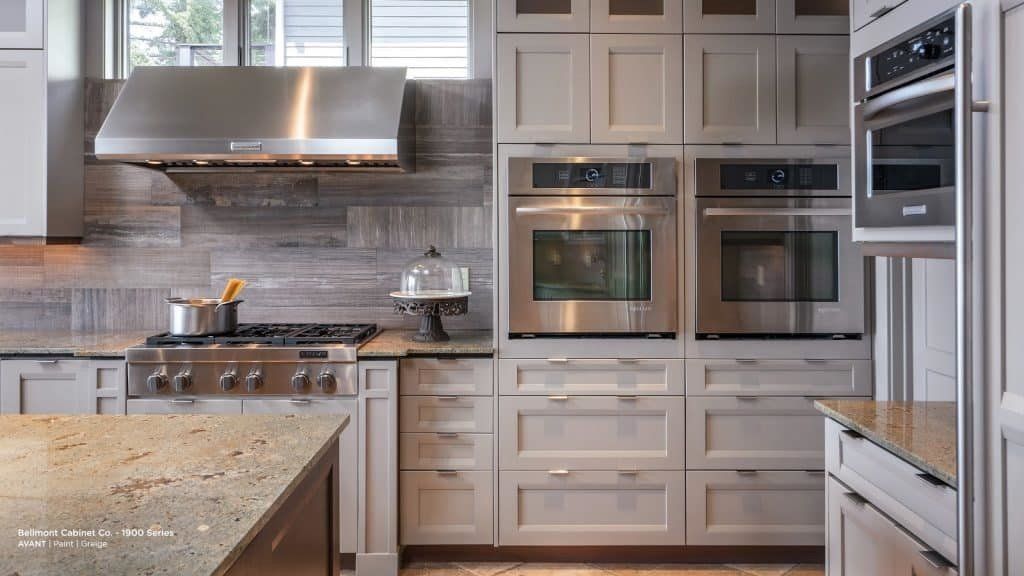 Remodeling? Start with the right cabinets
Before we get to the list of clever kitchen storage solutions I want to take a minute to talk about choosing the right cabinets. We recommend you choose frameless cabinets for your next remodel.
Frameless cabinets, also called full access cabinets, have several benefits over traditional framed cabinets. Frameless cabinets offer more storage space per linear foot of cabinet. In fact, if you build two identical kitchens, one in framed cabinets and one in frameless, the frameless cabinets will have 5 cubic feet more storage!  That's the equivalent of an extra 24 inch wide wall cabinet.
With frameless cabinets, door and drawer openings are wider since there is no frame to get in the way. That means roll-outs and other organizers can be larger as well. If you're planning a kitchen remodel look into installing new frameless cabinets and you'll already be on your way to more efficient storage.
Designing with Frameless cabinets
There are some differences when designing and installing frameless cabinets so be sure to work with a company that is familiar with the differences. In our showroom we carry frameless cabinets from Bellmont, a family owned cabinet company that has been specializing in frameless cabinets for more than a decade. If you'd like to learn more just drop us a line and we'll be happy to schedule a time for your to visit our showroom.
---
10 Clever Kitchen Storage Solutions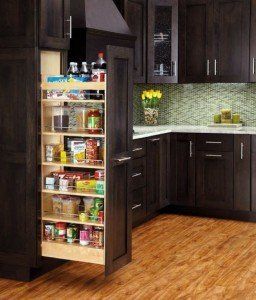 1. Pull Out Pantry Cabinets
Ever had to open two or three cabinets before you found that box of pasta or can of soup you were looking for?
Pullout Pantry Cabinets have one distinct advantage. You can see everything in the cabinet at once. Don't have room for a Tall pantry? You can get a similar cabinet to fit under your countertop.
2. Custom Roll-outs
Are you forever having to get down on your hands and knees to find that missing pan lid way back in the lower cabinets? Bellmont's custom pot and pan storage pull-out is a dream solution.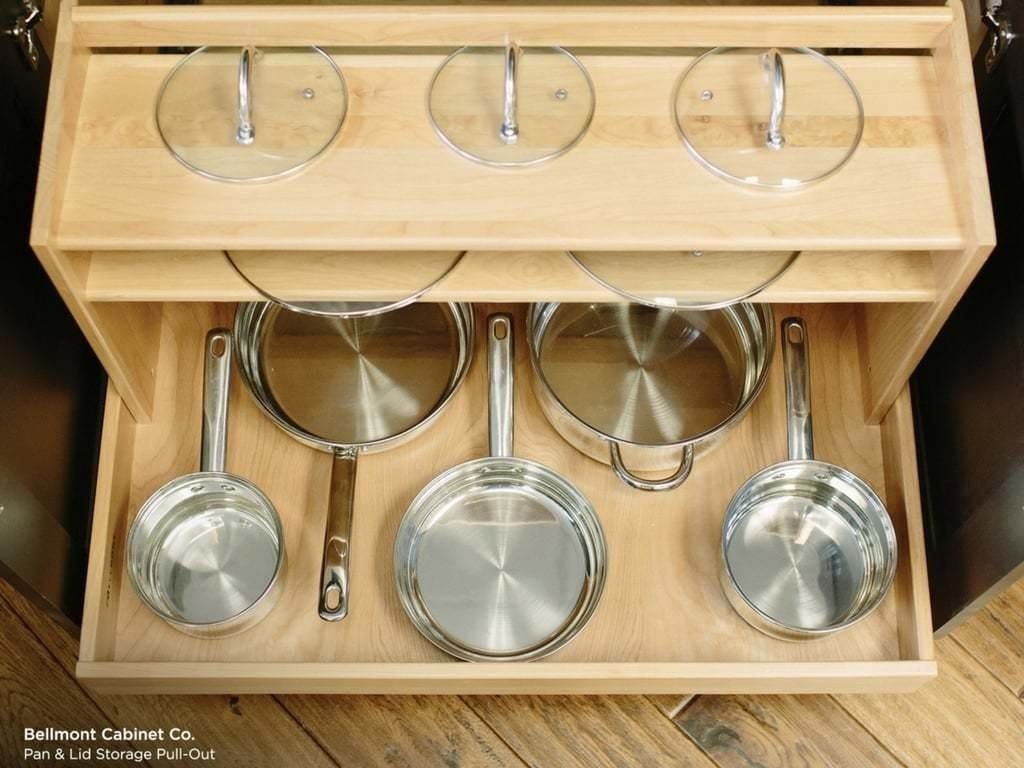 3. Corner Organizers
The loneliest storage space in the kitchen must be the corner cabinet! It's hard-to-reach interior means it's where you'll usually find castaway items that haven't been used in years. A lazy susan makes things easier, but new designs also include swing-outs, blind corner pull out drawers, and diagonal or curved corner cabinets. 
---
---
---
---
4. Under Sink Storage
Perhaps the second worst area in the kitchen to store stuff is under the kitchen sink. Fortunately, Bellmont's under sink caddy is a great place to keep your cleaning supplies. Its designed to fit around your plumbing and can be pullout to to use as a carry all for your cleaning supplies. 
5. Tilt Up doors
Not exactly a storage solution but tilt up doors have a real advantage when it comes to better workflow in the kitchen. You can leave a tilt up door open while you work as it doesn't get in the way like a vertical cabinet door does. 
6. Use Same Sized Containers and Add Labels
Use little chalkboards or printed signs to label each shelf. Have a label maker? Use it to individually label glass containers. For containers in lower pull-out drawers, place the label on the lid. Labels make sure things go back where they belong and help you find things quickly. 
7. Wire baskets
Instead of stacking canned goods upright, use simple wire baskets and lay the cans on their sides. This clever trick easily triples your storage space and makes it easier to see what you're running low on.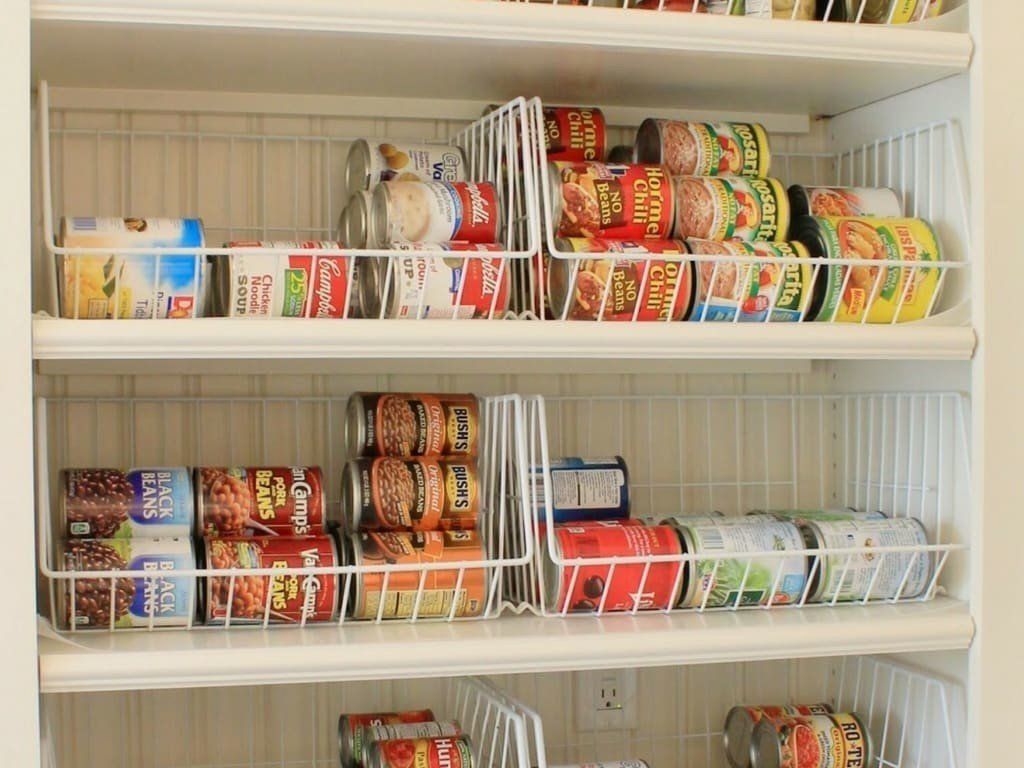 8. Custom Drawer organizers
Not all drawers are created equal. While Bellmont's standard wood dovetail drawers are nice, consider upgrading to their Legra Metal Drawer. Its the creme de la creme of cabinet drawers and comes with all kinds of custom organizing solutions. We have one on display in the showroom. 
---
---
---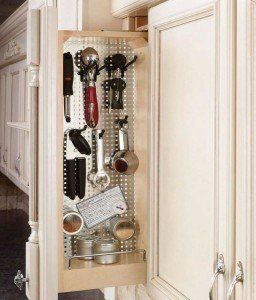 9. Finding Space
Cabinet Filler pullouts and toe kick drawers are only 3″ wide or deep but help capture every available inch of storage space. Use them for spice racks, cookie sheets, or oversized serving pieces. They're perfect next to the cook top. 
10. Pull Down Organizers
Cabinets that go to the ceiling are a great way to add storage but it can be hard to reach. You can improve access to these areas by using a pull-down organizer.
---
Here's a great video from one of our vendors, Richelieu with some more great organizer ideas:
---
Learn More
Kitchen storage plays a functional role, but there's no reason it can't be fun! We'd love to have you come to our showroom to see even more clever kitchen storage solutions. 
Thank you for reading! We'd love to be a part of your next remodel. Check out our design services page
Here's a video from Paul on how to get more out of the storage solutions available for you: