Why Should You Work With A Design Build Remodeler?
Working with a design-build remodeling firm can be more rewarding than traditional project delivery where you're tasked with building your own team of contractors for a remodeling project. That's because when working with a design-build remodeler, all communication is with one company from start to finish. 
This allows for a more collaborative approach to your project, time (and energy) savings, and a seamless design and construction process. Let's take a look at what a design-build firm is and its key benefits in more detail.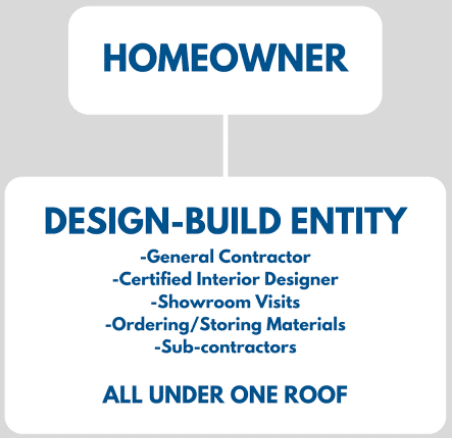 You can think of a design-build firm as a "one-stop-shop" or "turn-key" operation, which means the company is responsible for the design, planning, and construction of a project. So, instead of hiring a design firm to create plans for your home remodel and finding general contractors to carry out those plans, you'll be working with a company that takes care of everything—from initial concept to construction. 
If you need any further clarification about design-build remodelers, check out the website for the Design-Build Institute of America (DBIA). 
Traditional Project Delivey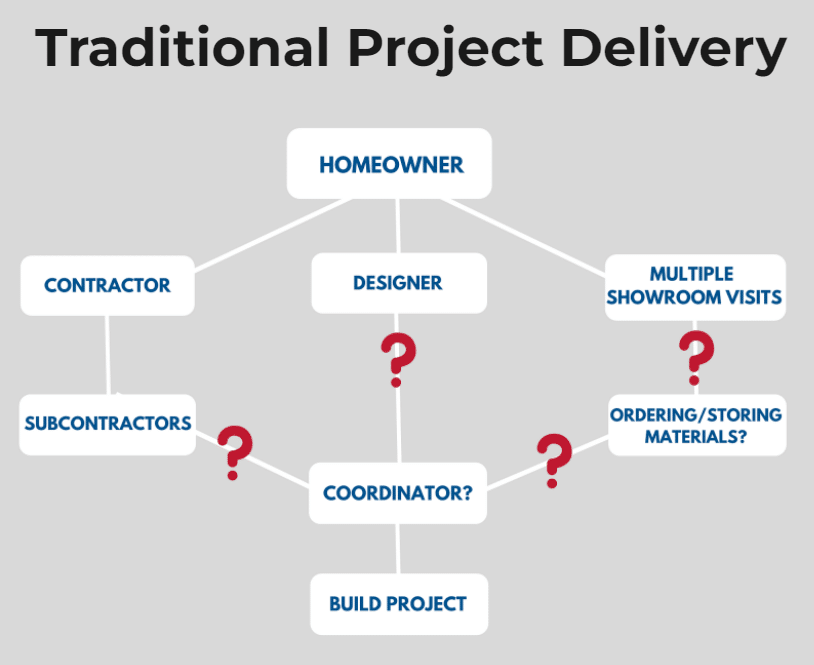 In contrast to the design-build approach, the homeowner is responsible for orchestrating everything with traditional project delivery. That means individually hiring a general contractor, designer, and sub-constactors for every trade. Further, it would entail going to showrooms to find your selections by yourself. At the end of all that the homeowner is responsible for orchestrating the plans to keep all of these different pieces on the same page. This can feel like a full time job and greatly increases the risk of communication breakdown and mistakes.
Top 5 Benefits of Using a Design-Build Firm
1. Help Your Project Move More Quickly
When you work with a design-build firm for your remodeling project, they can help make the process move along more efficiently and seamlessly. With comprehensive plans and knowledge of the key details of your project, design-build companies can create a far more accurate construction timeline than a homeowner could on their own.
When they begin the construction phase of the job, a design-build remodeler will already have everything you ordered. This means your project can start without any delays. They'll help you make selections that will help them meet your schedule. And if something unexpected does happen, a design-build firm worth its salt has the ability to work around delays to get your project finished on time.
2. Reduce Miscommunications Before and During Your Project
Another plus of working with a design-build firm is improved communication. Because you're working with a single entity, they have the opportunity to get to know your project inside and out. This means you can have the confidence that everything you've discussed will come to fruition. That's because you'll discuss every detail of the project from the get go. 
So, you'll be clear on key details such as drawings and renderings, construction costs, and schedules right from the start. Another benefit of this is that you only have one contract to sign! On the other hand, if you were working with a separate designer and builder, you may have to agree to multiple contracts, which can increase confusion and miscommunication. Keeping everything under one roof is a good way to stay informed during your whole project.
Having open and clear communication between you and your contractor is vital to the success of your project. If you want a list of some questions you could ask your contractor, check out our list HERE!
3. Get a Full-Service Experience From Beginning to End
A design-build firm will be solely responsible for your remodeling project from beginning to end. This means they'll be familiar with all aspects of your project. Plus, just working with one company helps you save time, as you'll only need to consult with a single entity to stay up-to-date about your project's progress. 
Having one company to reach out to for questions, concerns, purchase orders, scheduling, and payments is highly convenient. It also lowers the chance of miscommunication and errors. A large remodel can be extremely daunting, so having a professional that really knows what their doing in all aspects of the job is a great way to rest easy during your project.
4. Be Involved as Much or as Little as You Like
When you work with a design-build firm, you'll be able to feel the weight lift from your shoulders. Yet, you can still be involved in the process without having to be solely responsible for managing it. 
You'll be able to work directly with designers, site supervisors, and project managers to see what has been completed, if any issues have arisen, how those issues were resolved, and what's on schedule for the next day of construction. In short, you can have the flexibility to fit the stresses of a remodeling job into any type of schedule.
5. Having Sub Contractors You Can Trust
Design-build firms work closely with professionals and vendors, which allows them to realistically predict how long a project will take and ensure the quality of the work from past experiences.
Being able to schedule everything at the right time helps prevent delays and unexpected setbacks. The result? You can make the most of your time and see project completion within the timeframe you originally set with no compromise in quality.
We think that this might be the most important aspect of design-build firms. The ability to ensure quality work within the agreed time parameters is something crucial, yet often lacking in the remodeling industry. A design-build firms will certainly help this come to fruition.
Work With McManus Kitchen and Bath, Your Local Design-Build Remodeler!
At McManus Kitchen and Bath, we know that every project is unique, many of them with a lot of complex components. That's why we take the time to get to know our clients' projects and take pride in our ability to guide them through it.
As a design-build remodeling firm in Tallahassee, FL, we would love to help you through your next remodeling project. Our dedicated team will be with you every step of the way, so you can enjoy your new space as soon as possible. Ready to get the ball rolling? Schedule a consult today!
Ready To Remodel?
McManus Kitchen and Bath is a design and build company specializing in kitchen and bath remodels.