McManus Kitchen and Bath provides a single place where you can work with interior design and construction professionals who can help you create a happy, healthy home. We start each project with a Design and Budget Consult. It will help you clarify your design ideas, understand the remodeling process and create a Good Better Best Budget for your project. Click Here to Schedule a Consult
__________________________________________________________________________________________________________________________
If you've never remodeled before figuring out how to get started can be confusing and stressful. You might call some contractors to get bids but they won't offer any design help. You could also visit a designer or showroom first but they will not be able to help you sort out construction costs or building code issues.
We believe the best approach is to hire a contractor who also provides design services in house. If that contractor also has a showroom to help you make product selections, even better. This is called design build remodeling.
A design build remodeling company provides all design, product selections and construction services for a range of residential projects. Popular types of projects include: bathroom remodels, kitchen remodeling and whole house updates.
---
Watch a Video Summary of This Post
---
The Traditional Approach
A separate contractor and designer are used and multiple local showrooms are visited to choose materials.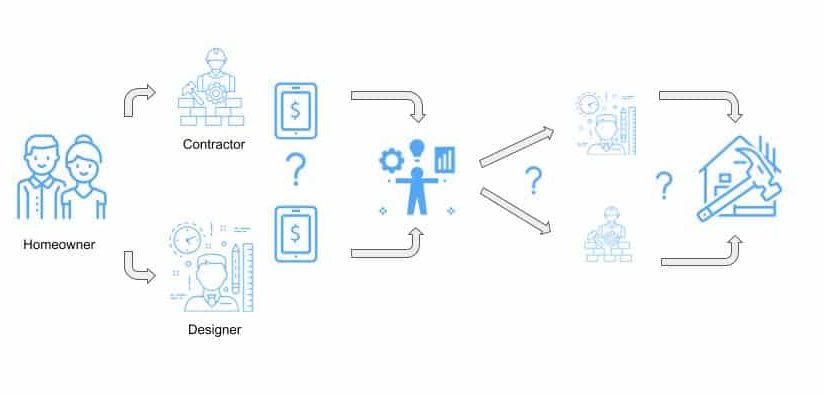 Most contractors are not design build. They prefer to stick to the construction and they will either have designers and showrooms they'll recommend or leave it to you to sort that part out.
This approach has been used for years and years and you certainly can have a successful project this way. However, there are a couple of things to be careful of. If you're going to use a separate designer and contractor it's a smart idea to get these details sorted out in advance to avoid any problems during the project.
Be careful of allowances
Materials often account for 30% or more of the total project cost and it's very common for contractors to "low ball" these allowances to make their bids seem more reasonable. Then they blame the designer or homeowner later when the materials cost are much higher than they quoted.
Who's responsible for mistakes?
Was it the designers fault for not specifying something correctly or the contactors fault for not following the plan? Who pays for the error?
Who's in charge on the jobsite?
Does the contractor run the project or does the designer? Usually it winds up being some combination of the two and becomes a source of a lot of frustration.
Hidden Costs
Since the cost of construction and cost of fixtures and materials are done separately is can be challenging to accurately calculate all the costs of the project. There are also the costs associated with the extra time it takes to plan the project and coordinate between all the parties involved.
Who orders materials?
Material ordering is time consuming and if not done accurately can lead to project delays and costly mistakes. Often the homeowner is left to purchase materials on their own.
---
The Design Build Approach
The contractor has an in house design team and ideally, a showroom so they can take care of all your design, product selection and construction needs.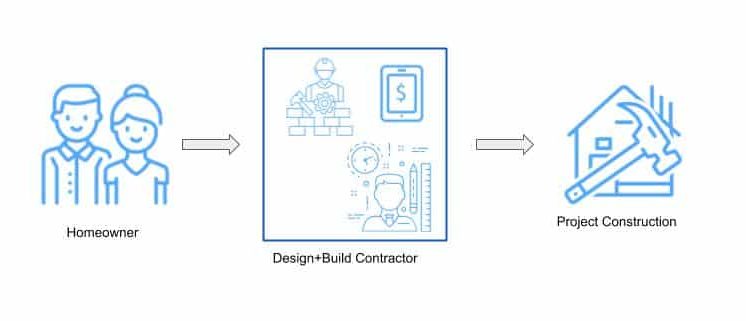 Design+Build Remodeling is combines the design, product selection and construction aspects of the project into one entity. This streamlines the whole process and has several advantages of the traditional approach.
More accurate job costing
A design+build contractor has a much better idea of material and fixture costs so they can produce a more accurate budget from the start. We are partial to our Good Better Best estimates as they provide you with multiple options and has proven accurate to within 3% of actual project costs.
Better Communication
With the design and project management team working together under one roof there is much better communication and follow up. That ultimately means fewer errors which can lead to project delays and cost overruns.
More expertise
Design+Build contractors are not only construction experts but product specialists as well. The will be able to help you chose the exact right products for your project.
---
McManus Kitchen and Bath is a design+build remodeling company with a full service showroom. In fact we are the only certified residential contractor in Tallahassee with a showroom! 
Thank you for reading! We'd love to be a part of your next remodel. Check out our design services page