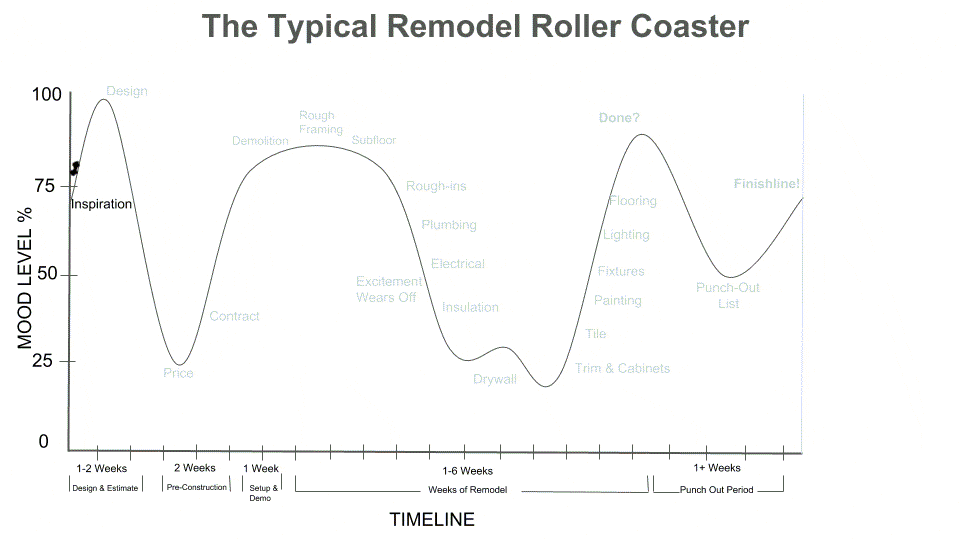 How to Survive (and Even Enjoy) the Emotional Roller Coaster of Remodeling
If you haven't done a significant remodel in your home before, you may be surprised by the emotional ups and downs you will experience. Your home is your haven, a private, sacred place that holds not only your possessions, but your routines, your way of life, and your memories.
Making the decision to change your home is exciting, but there may be anxiety-producing moments as you give up some control of your home to others. You might be caught off-guard by how a remodel's disruptive nature affects you emotionally. 
A Typical Experience Vs the MKB Experience
It's hard to remove all the emotional ups and downs of a remodel. Living in a home undergoing construction natualy comes with some ups and downs.
How dramatic the ride is depends in large part upon how your project team approaches the project, from design and selection all the way through project completion. 
Here is a graphic representation of the difference a good project team can make.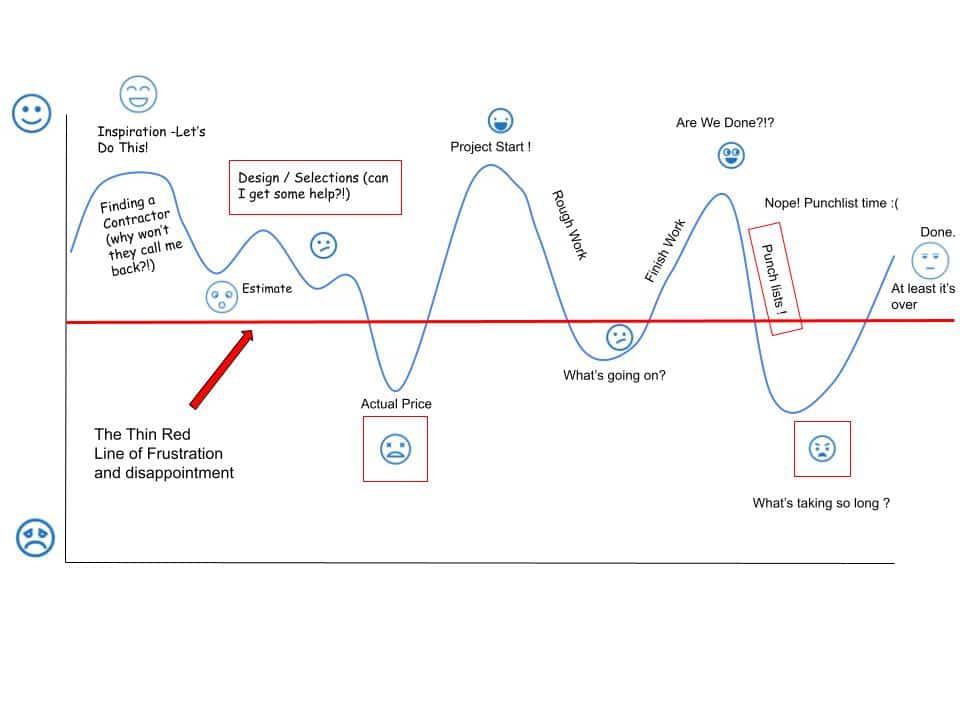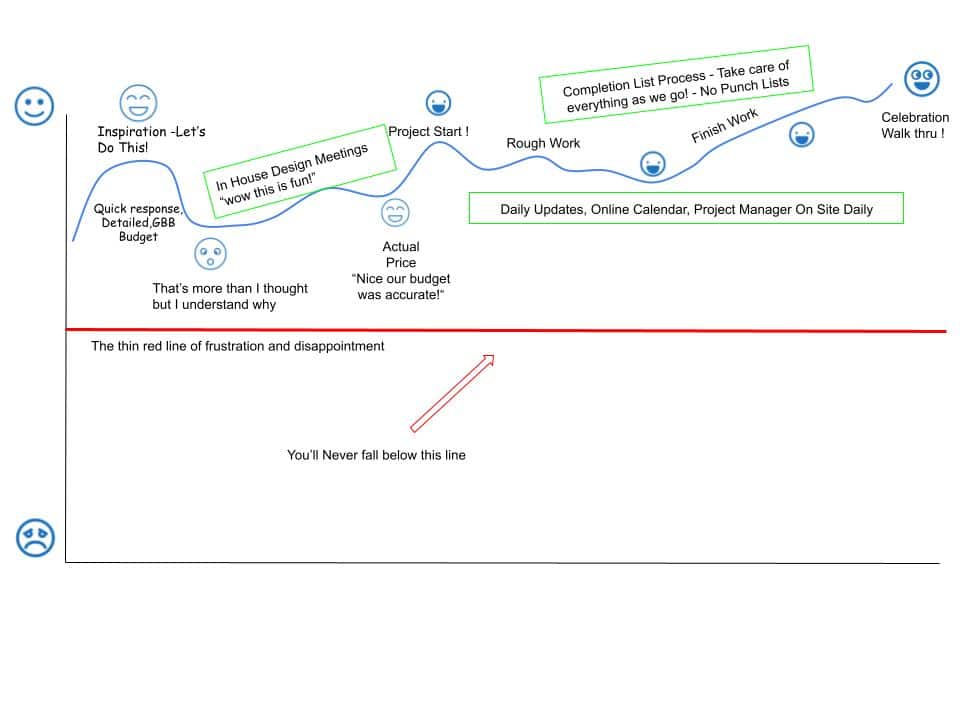 My Friend Referred Me to A Contractor. They Had a Great Experience But I Did Not. Why?
You hear it all the time. A friend asks for a referral and they get one from someone who tells them about how well their project went with so and so.  They call that contractor, hire them and are disappointed with the results.
What happened?
One of the hardest things to do in remodeling is provide a consistent experience across different projects. This is often chalked up to the fact that every project is different and every homeowner is different.
While those differences can present unique challenges they are not the real reason for inconsistent results.
Luck vs Process
The real reason is process. Most contractors don't have the staff, or the systems in place to create a consistent remodeling experience. When things go well its usually more because of luck than because of any careful planning.
When looking to hire a contractor referrals are important but even more important is to make sure the contractor you hire has a process in place to provide consistent results.
The Emotional Roller Coaster of A Typical Remodeling Experience: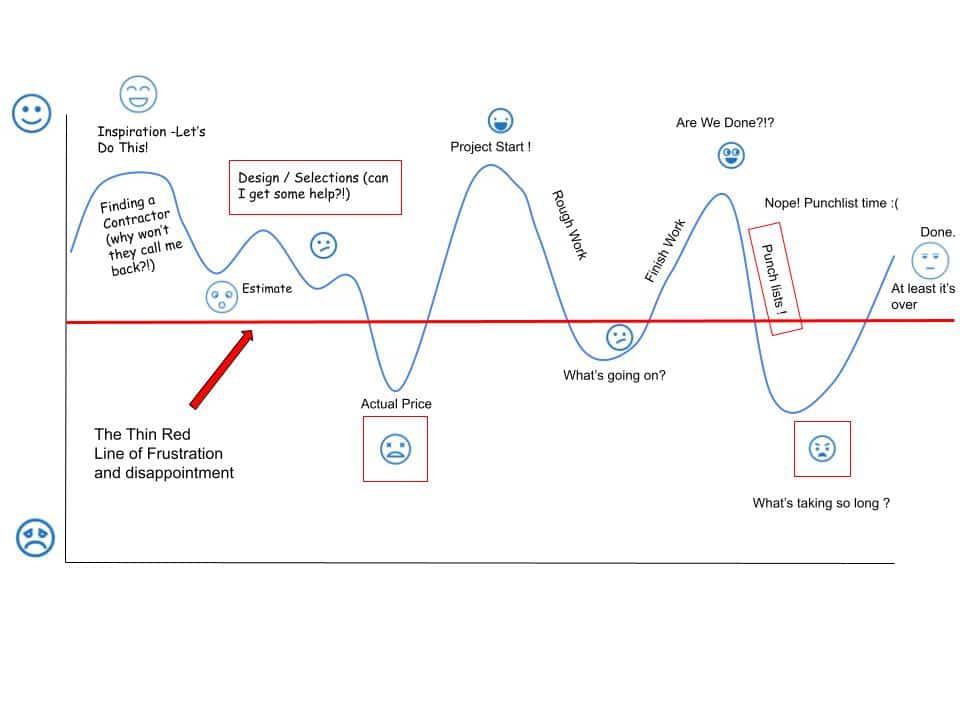 You may have heard stories from your friends that go something like this…
Typical Phase 1: Inspiration and Design (excitement)
This phase is an exciting part of your project. You've been looking at Pinterest, talking about ideas, dreaming about the new space you're finally ready to start creating. You're ready to go!
But you're unsure who to call and who to call first. Do you call designers and then contractors? Do you call contractors first? How do you put an accurate estiamte together without knowing exactly what you want and what materials and fixtures will be used ?
No matter where you start it seems you always need someone elses advice to get the complete picture. 
Typical Phase 2: Finding Contractors, Estimates and Final Price (red flags, confusion, uncertainty)
Its harder than you thought to get people to call you back.

They take weeks to get back to you with a price and

When you get the estimate its hard to understand and your not sure if everything you want is included. 
Traditional remodeling is a fragmented process. Only a few contractors do design work and even fewer have their own showroom.
So for your estimate your contractor gives you a price for the labor and provides 'allowances' for materials. They leave you on your own to shop for materials or they might recommend a designer you can call and pay to help you. 
Their allowances are vague and may or may not be enough to cover the actual cost of materials. This is often considered your 'fault' because you didn't 'stick to the budget'. 
This process has several shortcomings:
Working with separate designer, contractors and various showrooms takes much longer than you thought

Your design and contractor disagree on some things and getting them to communicate is challenging

Your left on your own to coordinate between the designer, the contactors and all the different showrooms.
The final total winds up being much more than the original estimate but you decide to move forward anyway because you've put so much work into this already. 
The contractor tells you to order everything and store it in your house and he'll call you when he has time on his schedule. The design is "done", so you don't hear from the designer again. 
Side Note: Choosing a Contractor
Many contractors and subcontractors do not specialize in remodeling. They focus on new construction, taking remodeling projects every now and then.
When the job starts, they treat your home like a new construction job site because they are used to working in empty houses.
They show up when they want, store tools and equipment where it is most convenient for them, and schedule work to be done when it best suits their schedule, not yours.
This may be okay for a new home under construction, but it is far from ideal when remodeling. It makes the ups and downs of the roller coaster more dramatic and the whole project more frustrating.
Typical Phase 3: Project Start (anticipation and excitement)
When your project finally starts, your excitement returns. Many big decisions are behind you, materials and appliances are being ordered, and people are showing up to your house and getting to work. Your dreams are starting to come true! While the demolition process is loud and disruptive, it's also exciting to see progress being made so quickly and the outdated parts of your house being cleared out.
Typical Phase 4: Mid-Project (tiredness and frustration)
The initial high is wearing off. People are in your house all the time, and it's starting to wear on you. Or even worse, it seems that work has slowed down, and you're having a hard time getting in touch with your contractor. Your home is upside down and it seems like there's no end in sight. Other common frustrations at this point include
unanswered questions. You feel like you have no idea where the project is at or when it will end, especially when weeks go by with little visible progress.

an inaccurate estimate. The estimate you originally received wasn't detailed enough, so there are change orders needed to complete the project. These can be frustrating and expensive.

an unprotected work site. Proper care wasn't taken to protect your home at the start of the project, and you are dealing with dust and construction mess all over the house.
Typical Phase 5: Drywall and Paint (hopeful again)
When drywall and paint are installed, the project finally looks more like a room and less like a construction site! The end is finally in sight, and you're beginning to remember why you wanted to do this project in the first place. As cabinets and fixtures are installed, the room starts coming together and excitement begins to build again. You're relieved at the prospect of having your home back at last!
Typical Phase 6: Punchout (disappointment and weariness)
aka… the absolute worst part of the whole project
But you're actually not as close to the finish line as you thought you were. You can't really enjoy the space yet. Most contractors use a punch-out period, during which the details each installer forgot or didn't have time to do are completed, or little odd jobs are finished. This is a very common project management tool in new construction, but it is definitely not ideal for remodeling. The punch-out period always takes longer than you expect because 
getting installers to come back out for one little thing is difficult.

many subcontractors have to be scheduled to come out again and punch out their portion of the project.

it's expensive for the contractor to bring people back out for such small issues.
The whole thing is disappointing because you're ending your project on an emotional low. And while eventually, you do get to use the space you've dreamed of, it may take a while to fully enjoy it because of the disappointment and weariness caused by that last leg of the journey.
A Better Way: Remodeling With McManus Kitchen and Bath (The MKB Experience)
The MKB Emotional Roller Coaster of Remodeling is a Much Smoother Ride.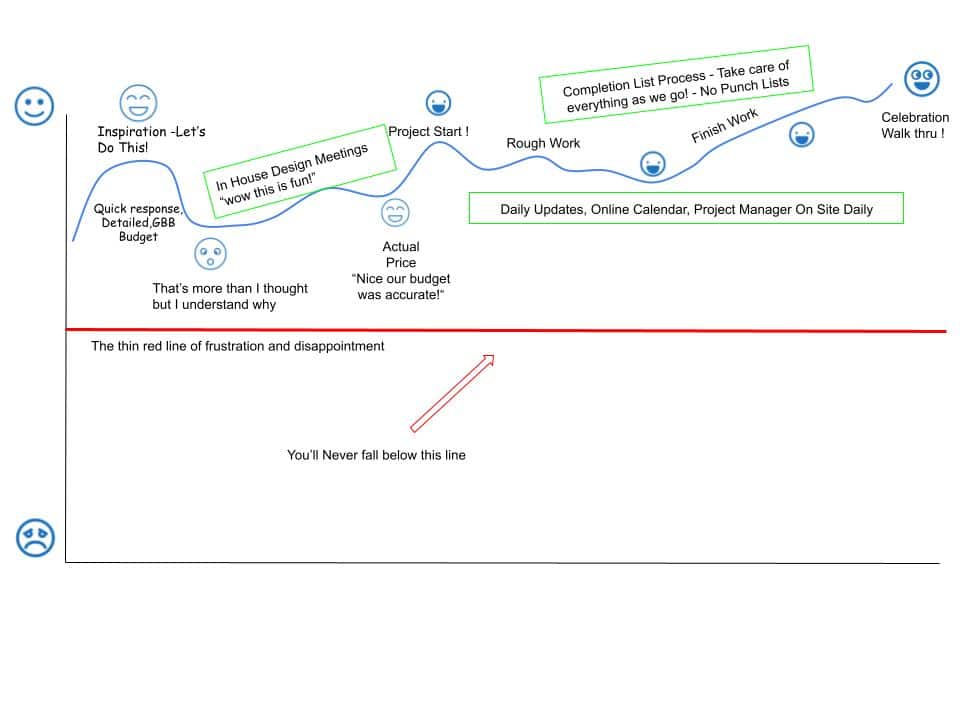 Luckily, there is a much better way! Because remodeling is different from new construction, we developed a new, fresh approach to the whole process. Your remodeling roller coaster ride can be much smoother and more pleasant than what was described above. 
MKB Phase 1: Detailed Scope of Work and Budget (excitement, confidence)
Instead of starting with the design, we begin with a detailed scope of work that outlines the work that needs to be done, and a Good Better Best budget.
We will create the budget together with you on your first visit to our showroom. This approach has several advantages:
Building your line-item budget together takes the mystery out of costs and allows you to ask as many questions as you want. This helps you feel confident in your decisions.

Creating the budget in our showroom allows us to show you products in each category and explain the differences. You can feel sure of your choices and get our expert opinions when you need them.

Starting with your budget instead of the design gives us a better understanding of your needs, and allows us to create a better design for you in Phase 2.
In using this process, you will feel excited about your project getting started, and confident in the fact that your budget is clear and complete.
MKB Phase 2: Design and Selection (enjoyment, excitement)
Now the fun really begins! Once the budget is approved, our design team takes over. They will help you finalize your design and selections over the course of several showroom visits. This is an exciting part of the process when you get to visualize what your finished room will look like and make it your own. 
At the same time, our production team will begin requesting bids from our subcontractors and finalizing the scope of work and materials lists. Everything is clear-cut and straightforward. On your final visit to our showroom, we will present you with
a complete set of plans,

a detailed scope of work,

a list of fixtures and materials, and

a detailed project calendar.
At the end of the design process we order all your materials and store them in our warehouse until the project start date. 
MKB Phase 3: Starting the Project (excitement, anticipation, peace of mind)
About 3 weeks before demolition is scheduled to begin, we will hold a pre-construction meeting at your home.
We will review the scope of work and create our job site set-up and protection plan. This includes topics like the plastic barriers we need to install to keep the rest of your home safe, any furniture that needs to be moved, the best places for us to park, where we will store equipment, and how we will clean up tools at the end of each day.
We know this isn't just a job site. It's your home, and we treat it accordingly. We clean up daily, and we do a professional cleaning at the end of the project. We meet each subcontractor onsite daily to be sure the scope of work is clear.
All of this work on our end results in peace of mind on yours. You are free to watch the construction take place with excitement, knowing that everything is being taken care of and is well in hand. Your dream home is just around the corner!
MKB Phase 4: Mid-Project (weariness)
Remodeling projects take time, and when it's your home being disrupted, it can feel like it's taking even longer. Although we will be on site every day, progress can seem slow as it can take a couple of weeks to get all the rough-in work done.
We help combat the feeling of tiredness and frustration by using a project management process to keep you informed and in the loop.
We create daily logs with pictures of the progress.

We communicate with you, the homeowner, every day to ensure you fully understand the progress of your project.

We give you your own project website where you can view the daily logs, project calendar, payment schedule, and more.
Communication is key in making sure your frustration and weariness of the process are kept to a minimum. 
MKB Phase 5: Finishes and Completion (excitement and happiness)
The end is in sight! Once the drywall is complete, the finish stage begins, and that's when your project comes together. Your excitement and happiness rise again as you see that your space is really almost done.
Instead of a punch-out list, our team uses a Completion List. At the end of each week, we will walk the job site with you and look for any small jobs or issues that might have been overlooked.
Our subcontractors then have five days to complete those jobs, or we will charge them to get the work done ourselves. Completion Lists ensure that when we get to the end of the project, we really are at the end!
There is no protracted punch-out period as you wait for the last few things to be done. You can just begin enjoying your new space.
MKB Phase 6: The Celebration Walk-Through (happiness and relief)
Your project is done! The space you've been imagining for so long is now a reality.
Because of our Completion List process, that awful "are we done yet?" moment doesn't happen for you.
Our final walkthrough takes place instead, and it's a time for us to review the details of your new fixtures with you, to pass along to you any manuals and warranty papers, and for everyone to celebrate the end of the project.
MKB Phase 7: Follow up and Warranty
Our care for you and your home doesn't end here though. We follow up with you after six months to make sure everything is still working properly, and to take care of any small items that may need attending to. 
We provide a 5 year warranty on all our work. 
Surviving and Even Enjoying the Ride
With the McManus Remodeling Experience, you can survive, and even enjoy the roller coaster of remodeling. There are a few ways you can help make the ride even better:
Choose a good team that you trust. Not sure how to select a contractor?

Read this

for great advice. 

Make sure communication is clear from beginning to end. If you have a question, ask it. If you need clarification, follow up. Many problems can be solved with clear, calm communication.

Keep your eyes on the finish line. Remember

why you want to remodel your home

in the first place, and remind yourself that the project will end, and your home will be a wonderful place for you and your family.
If our remodeling process sounds like the best option for you, contact us today. We are here to help! We'd love to work with you to make your dreams for your home into reality.