Factors Affecting Kitchen Cabinet Cost
But what affects kitchen cabinet cost? The answer is more than you think. Its a little hard to explain all the factors in one post but we'll give it our best shot. There are a few factors to consider:
Manufacturing method: Stock vs semi custom vs custom
Build Quality – cabinet box materials and construction
Design Options like drawers, pullouts, organizers etc…
Finish options (paint vs stain vs multi-step finishes and glazes)
Hardware – hinges and slides
Some of these have a bigger impact on cost than others and you may be OK paying for some features that increase cost while others may not be very important to you.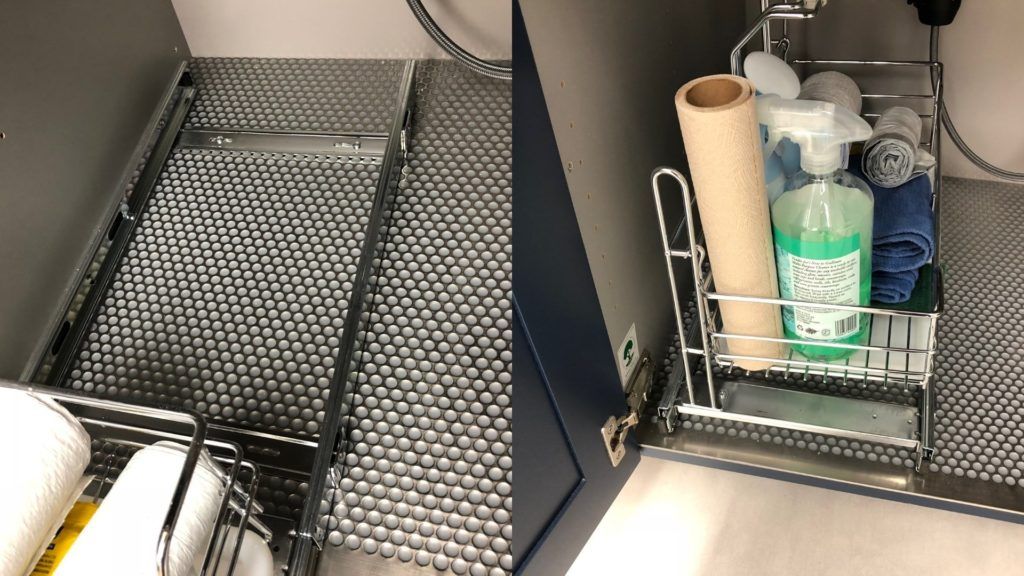 Three Manufacturing Types
How you cabinets are manufactured is one of the first things to look at. Almost all cabinets are produced by machines today. Even custom shops are using CNC routers and milling machines to speed up work and improve consistency. One of the big differences in manufacturing methods is how much quality control is done. Stock cabinets are made in very large quantities and a certain percentage are checked for quality issues. Semi custom cabinets are made on an assembly line but with much more oversight at each step in the process. Custom cabinets have the most oversight and quality control. A second factor affecting cabinet cost are the number of cabinet doors and cabinet boxes available. Stock cabinet companies usually only offer 8 to 12 doors styles and colors and may have limited cabinet box options. Semi custom cabinet manufacturers can offer hundreds of door styles and a lot more cabinet box options. And of course with custom cabinets you can get anything under the sun. Stock cabinets also come in 3″ increments where as semi custom cabinets come in 1/4 inch increments. They can make a big difference if you are trying to maximize storage space.
---

What do I mean by cabinet box options? It's probably easier to give you some examples. We carry a line of cabinets from Fabuwood. They are a stock cabinet company and make a great cabinet with nice hardware that offers a lot of value. However if you want a tall pantry cabinets with drawers on the bottom half they don't offer that. They also don't offer a tall corner cabinet, lift up doors or stacked cabinets. In order to get those options you would have to move to one of our semi custom lines like Bellmont or Dura Supreme.

---
Fabuwood only offers 4 doors styles (3 shaker style and one raised panel) and 5 colors (grey paint, white paint, mid grey stain, dark grey stain, and pecan stain) Those are popular styles for sure but if you want something different like a slab doors or recessed panel door with a applied molding you'd have to move to a semi custom cabinet.
Stock Cabinets
Come in 3″ increments
Only offer 8 – 12 colors and doors styles
Limited cabinet box sizes and options
Semi Custom Cabinet
Come in 1/4 inch increments
Hundreds of colors and door styles
Lots of cabinet box sizes and options
---
Build Quality
We just did an in depth blog post on the difference between particleboard and plywood in cabinet construction where we talk in depth about build quality. When it comes to build quality you want to look at the box construction, the hardware and finish quality. If a cabinet is being installed against a wall and you have a good installer the box construction of most cabinets will suffice. However for free standing cabinets like islands you want to pay more attention.
Cabinet Boxes
Stock cabinets typically come with 1/2 or 5/8 plywood or particle board boxes. Semi custom cabinets will offer 5/8 and 3/4 inch material. Custom cabinet companies usually always use 3/4 inch plywood or particle board. Material choice can be tough. There are both high quality and low quality plywoods just like there are high quality and low quality particleboards. If you are buying from a reputable dealer they should know the difference.

Drawer boxes
Most cabinet companies are offering wooden dovetailed drawer boxes as a standard these days. There are a few who offer cheaper boxes but they are not worth considering. Semi custom and custom cabinet companies will offer drawer box upgrades like furniture grade drawer boxes, which use a higher grade of wood and come finished, and metal drawer boxes like the Legra box from blum. The Legra drawer box (pictures above)  is the cadillac of drawer boxes. There isn't anything better.
Assembly
Stock cabinets are typically put together with glue and staples. Better stock cabinet companies will include some wood joinery and others will use mechanical cam lock systems like ikea cabinets. Semi custom companies will use better assembly methods. They will use wood dowels along with staples and glue to hold the cabinet boxes together. What's most important about cabinet box construction is how the cabinet will hold up in shipping. Cabinets with weaker construction are easier to damage or can get racked out of square during shipping which can make installation a lot more difficult and results in a lower quality final product.
---
Design Options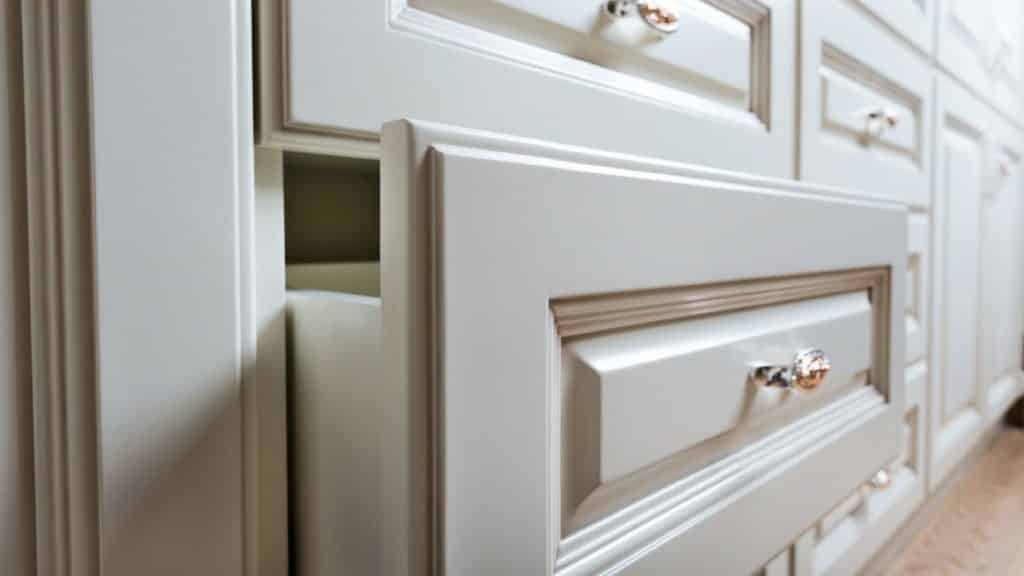 Finish Options
Cabinet finishes can affect the cost of your kitchen cabinets as well. Stains generally cost less than paint. There are also different types of glazes that can add cost. A one step glaze is a hand rubbed finish that adds a distressed look to the cabinet door. There are also multistep glazes that are gorgeous but can add a good bit of expense. Paint is probably the most popular finish today. One thing to be aware of is paint will show scratches and dirt a lot more than a stain will. New to the market are laminate finishes. They are at the lower end of the cost spectrum and are very durable 1mm laminates typically applied to slab doors for a modern look. They are hard to beat when it come to long term wear and ease of cleaning. They come in a wide variety of colors and textures too.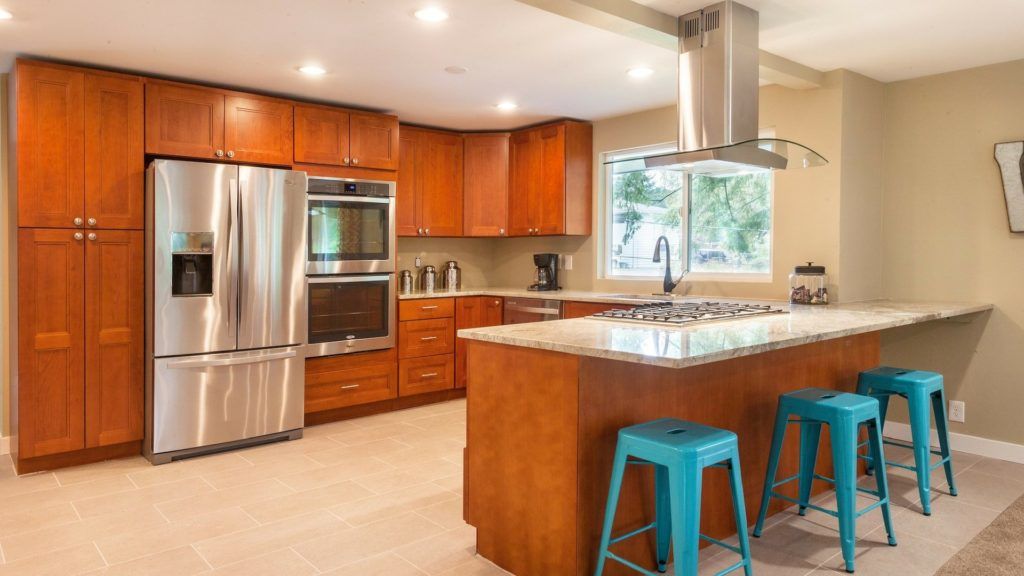 Stock cabinet are perfect for someone who doesn't need a lot of bells and whistles and is not too particular about cabinet door style or color options. Others might really need the custom options available with semi custom cabinets. Making the right cabinet choice is all about deciding which features are most important to you and laying out some design options with those features. It's best to consult a expert at a kitchen showroom so a designer can show you the differences in person. Our Good Better Best budget sheet outlines a lot of these features a well. If you'd like to make an appointment to visit the showroom just give us a call.      
Thank you for reading! We'd love to be a part of your next remodel. Check out our design services page