McManus Kitchen and Bath provides a single place where you can work with interior design and construction professionals who can help you create a happy, healthy home. We start each project with a Design and Budget Consult. It will help you clarify your design ideas, understand the remodeling process and create a Good Better Best Budget for your project. Click Here to Schedule a Consult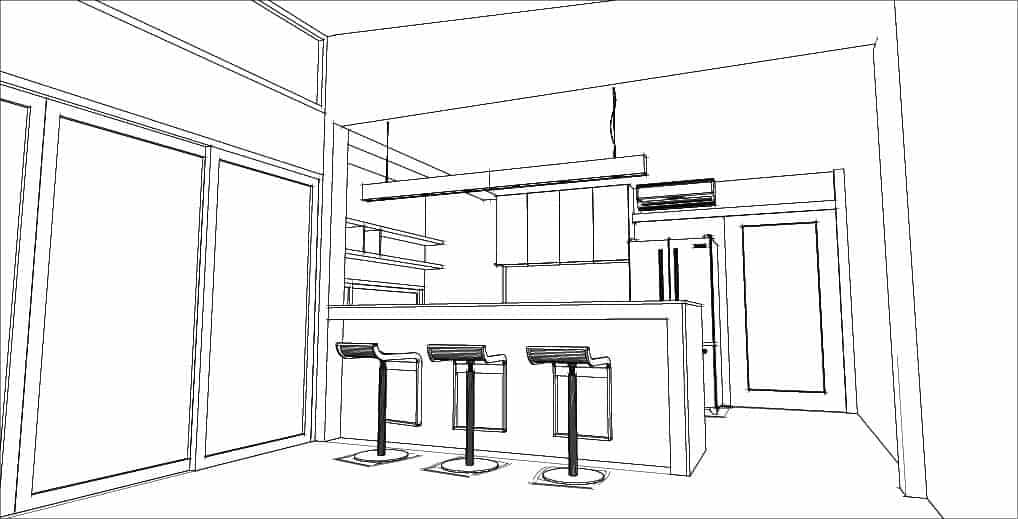 Every designer has their own approach to kitchen design. Our design work starts with a home visit to determine functional items like workflow and lighting. Workflow is the framework from which the rest of the kitchen can be designed. You can use this kitchen design basics guide to understand our thought process and better prepare you for our first design meeting.
---
Start with Why
One of the first questions I will ask is why. Why do you want to remodel your kitchen. Do you just hate the style of the kitchen or are there more serious issues. I'll help you make a list of the things you would like to change about your kitchen. We won't worry too much about budget at this point, we're just making our wish list.
---
Big Picture Stuff
Next we'll start with the "bones" of the room. Where are the windows and doors? How does it relate to other rooms? Where are the heating vents, water supply and electric outlets. These are things that are important to consider as they can be costly to change but if they may also be critical elements to update as part of your remodel.
---
Work Flow 
I like to start with the morning routine. Is breakfast a big affair or is just a cup of coffee and out the door? Do you want / need a coffee station? I next suggest you think about what appliances you use the most. The fridge is an obvious one. But what about the oven and microwave? Also include small appliances like slow cookers and blenders.
Next think about dinner. Does just one person typically cook dinner or are their two or more people helping in the kitchen at once?  Do you want to eat in the kitchen or do you prefer to eat in the dining room.
Finally I like to think about clean up. Do you hand wash many dishes? Do you like to clean up immediately or do things often sit in the sink overnight?
---
Use of the Kitchen
Everyone uses the kitchen to cook, clean and hang out. But for a kitchen design that is unique you need to think about specifics. Do you juice a lot or use a blender every day? Do you prep meals for the entire week or do you cook each day? Do you need a coffee station or a baking center? Don't forget to include special use cases like cooking for holidays or entertaining.
---
Traffic Flow 
How does traffic move through the kitchen. This is governed by the rooms that are adjacent to the kitchen. Do you enter through the garage into the kitchen with the weeks groceries? Is there a guest bath next to the kitchen? etc…
The sink and stove are important areas to be kept out of traffic flow. Everyone wants a kitchen that is more social but it's important to keep children and guests away from work zones where knives are being used and hot surfaces exist.
The national kitchen and bath association has been studying the ergonomics of the kitchen for decades and we almost always follow their guidelines when doing a kitchen layout.
---
Ditch the Triangle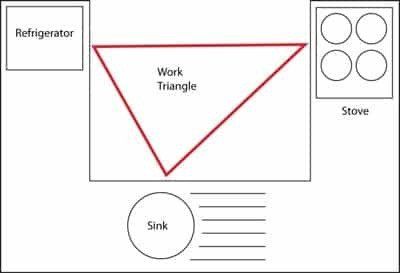 The work triangle used to be the main design element in every kitchen. It's still a good principle but with kitchens getting larger and being used for much more than just cooking the work triangle is not as useful a kitchen design principle as it once was.
These days most designers like to think in terms of work zones and how those zone relate to each other. Most people use the following zones:
Food Prep (chopping, cleaning and mixing)
Cooking (stove, oven, sink and small appliances)
Clean up and storage (trash, dishwasher, sink
Food Storage (fridge, pantry and pantry cabinets)
But you can create as many zones as you like, you'll find that most of them overlap and relate to each other with the kitchen sink being central to most zones.
Since the sink is central to most work zones I like to place that in the design first. Then I like to layout the prep area and cooking area with at least 42 inches of counter for food prep. Once you locate the sink and stove the rest of the appliances kind of fall into place, though placing the fridge is often a challenge.
It's natural to want the fridge close to your other work stations but this can be a mistake. I prefer to place the fridge at the edge of the kitchen and accessible from other rooms. Its true that the fridge is used when cooking but we also need it for drinks and snacks and to put away groceries. keeping it on the edge means it can be accessed for these needs without getting in the way.
---
Lighting
Recessed lights dominate most kitchen lighting plans. But there's nothing wrong with flush mount lights, in fact they offer better general lighting. For people over 40, you need almost twice as much lighting as when you were in your 20's so consider under cabinet lighting and other task lights a necessity.
---
Plan Storage
Planning storage area's will help you choose the correct cabinetry. Drawers cabinets are great because they offer full access to the contents but some items, like baking sheets and cutting boards, are better stored in a door cabinet. Pantry cabinets with pullouts are great way to maximize food storage. Just two 18 inch wide pantry cabinets have the same storage as 6 feet of regular base and wall cabinets.
---
A Note on Cabinet Quality

Choosing quality cabinets is becoming harder and harder these days. Its not that there are not plenty of quality cabinets out there but the cheap cabinets are being made to look better and are harder to recognize. Ikea has mastered the art of making a cheap cabinet look expensive and many many companies have followed suit.

Local cabinet dealers, feeling the pressure from consumers, have also adopted cheap cabinet lines. My rule of thumb is this: If you plan to renovate your kitchen every 5 – 8 years then choose a cheap cabinet. If however you want your kitchen to last 20 years of more then choose quality cabinetry.
---
Choosing Materials
There are more choices in kitchen materials today than ever and many materials that we previouly would think of as "cheap" have been re-engineered to offer great durability and value. New manufacturing methods have made fiberboard and MDF boards more resistant to water than most plywoods for example.
When it comes to materials it pays to do your research as they can have a big impact on your overall budget.
---
Kitchen design is complicated and there's quite a bit more to it than just what's listed above.
We'd love to be a part of your next remodel. Check out our design services page