Kitchen Remodeling: A Step by Step Guide
A kitchen remodel can transform a tired room into the heart of the home. The process can take anywhere from a couple of months to a year or even more, so it's super important to follow the right steps. Our guide covers everything you need to know about a kitchen remodel.
Whether you buy a property as a project or your existing kitchen looks outdated, a kitchen makeover is likely to be high on your list of priorities. That's because modern kitchen designs are larger since they're the center of family life, whereas older homes kitchen's can be cramped and dark, meant solely for cooking. 
That in mind, a kitchen can be one of the most difficult rooms to renovate, especially when designing a multi-functional space that serves as a living, socializing, and dining area and a place to prepare food.
This guide will walk you through the A-Z of a kitchen renovation project, from choosing a design to extending your home, heating, plumbing, electrics, and more.
Decide When Your Kitchen Needs a Makeover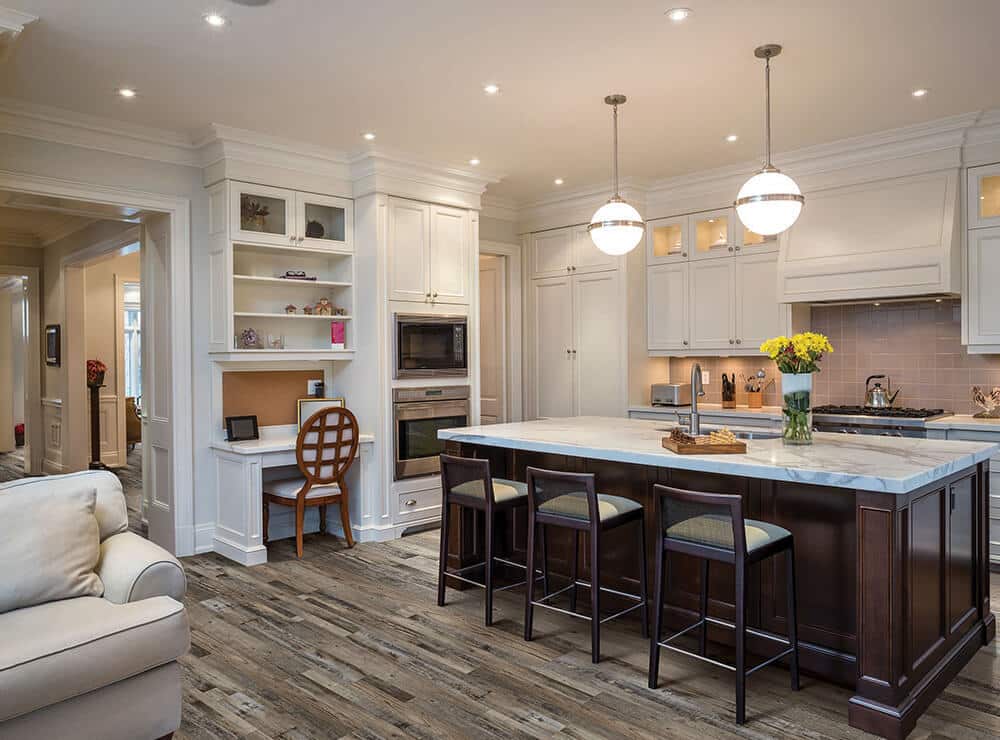 Before embarking on a kitchen renovation, begin by considering what issues you have with your current kitchen. Is it a case of not having enough space to cook efficiently? Is there a lack of storage room for food and dishes? Do you have a shortage of dining areas? Are the appliances outdated or ineffective? Or does the kitchen make you cringe because it's so old and dingy?
Deciding which persistent issues would warrant a kitchen remodel is essential because you'll be able to focus on the issues that really matter to you during the remodel.
Assess Your Wants vs. Needs
Make a list prioritizing the features you want in your new kitchen, ranking them in order of significance. It's useful to distinguish between aspects that you absolutely require and those that you simply desire.
Begin by picturing your ultimate goal, your dream! Collect images and design ideas. Are you planning on replacing your cabinets, countertops, flooring, and appliances? Upgrading to a fancy range hood or adding a second sink? Is it possible to move a wall? Dream large, and then decide what is a must-have vs. what is nice to have.
Get Inspired and Start Planning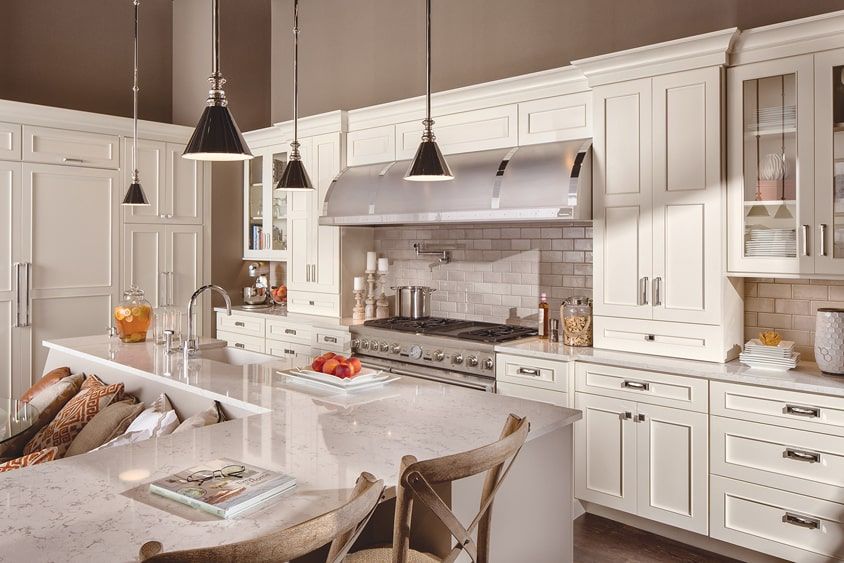 The basis for a successful kitchen makeover is proper planning. Depending on when and how you want to redesign your kitchen, it could take anywhere from a few weeks to over a year.
You may start brainstorming and refine a clear, working plan for your new kitchen if you have a realistic notion of what you need in a new kitchen and a flexible mindset.
Finding the best kitchen remodeling contractor for your project requires some research. Create a list of 3 to 5 local kitchen renovation contractors as the first step. 
Ask around your circle of friends, family members, coworkers, and other acquaintances for recommendations. This is one of the most effective methods for locating a qualified professional. Furthermore, by visiting your friends or relatives in person, you have a better opportunity of getting a firsthand look at their work.
However, When getting estimates, always be sure that you are getting them from contractors that provide a similar service. For example, you might find one contractor that is far cheaper than the rest, but they require you to provide your own materials while the others do not. In this process, it is imperitive to compare apples to apples so you get correct information.
Choose a Contractor and Sign the Contract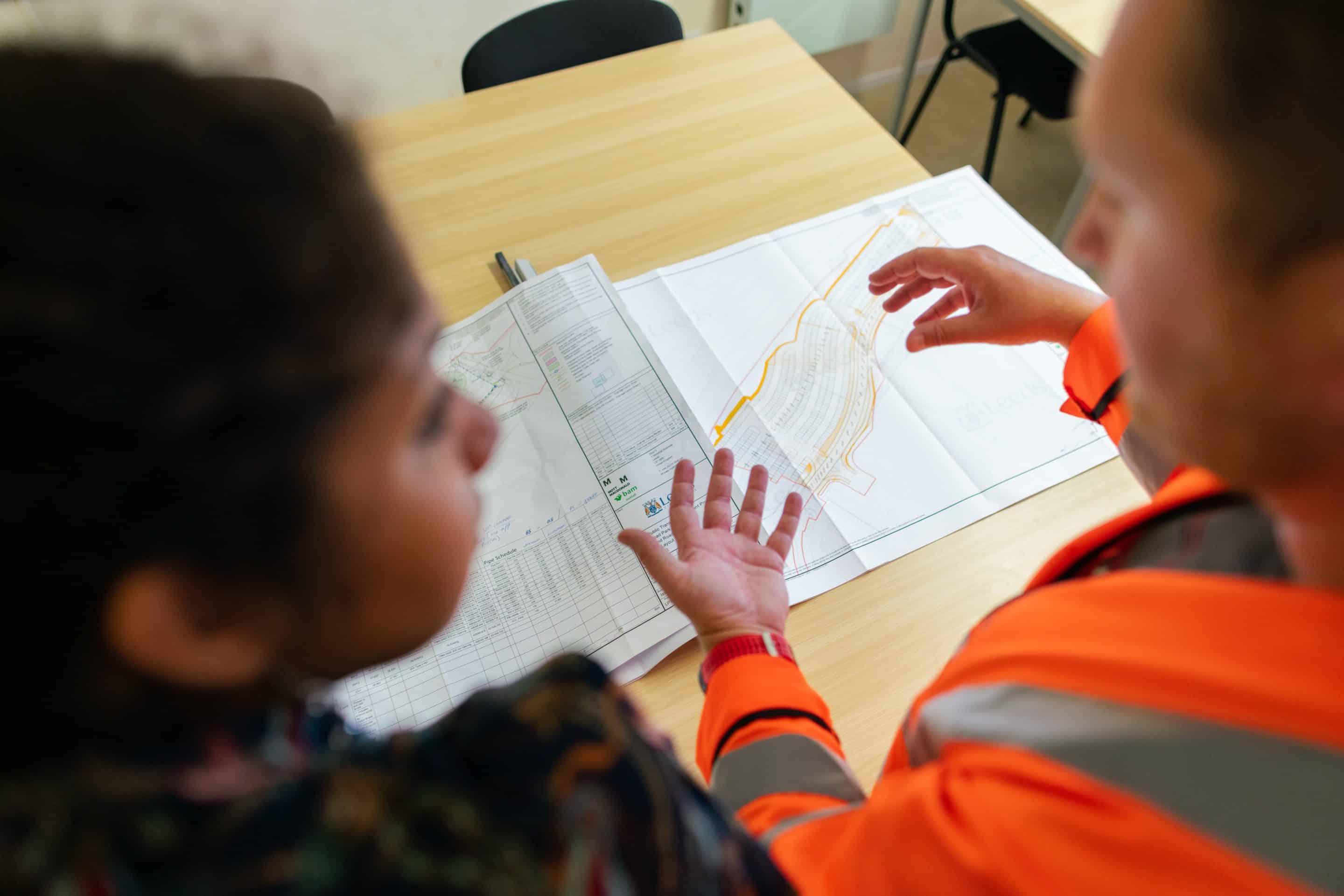 Ask lots of questions and obtain a formal price from each contractor. If you dont know what questions to ask, take a look at our list of questions to ask your contractor HERE. Even if you already have a favorite contractor, get several bids since you'll learn something new from each. Don't be scared to bargain. While you may haggle during the initial visit, be prepared to do most of the negotiating after receiving the quote and before you sign the contract.
It's crucial to spend some time planning out how you want your kitchen to look before you begin. Imagining what you want or need in a kitchen can take anywhere from two to three months. It's crucial to plan ahead! The more vivid your vision, the easier it will be to bring the project to reality. Begin by drawing inspiration from online blogs, magazines, and photo galleries to construct your concept.
Make an Appointment With a Kitchen Designer
A kitchen designer can assist you in translating your ideas and inspiration into a beautiful and efficient kitchen. Your designer will build an initial design based on your preferences, needs, and budget, which you may tweak together until it suits your vision and goals.
However, If you chose to work with a Design-Build remodeling company, such as McManus Kitchen and Bath, your designer would be part of the company you started you project with. Having you contractor, designer, and project manager in one place can make communication easier and seriously improve your quality of life. 
The style and color of your cabinet doors set the tone for your kitchen. It also assists you in making decisions about countertops, flooring, and other aspects of your home. You'll have plenty of time to choose a favorite if you order samples early in the process.
Samples can come in all shapes and sizes. From countertops to cabinets, there is a lot to choose from. Look at our list of some reputable suppliers in the sections below!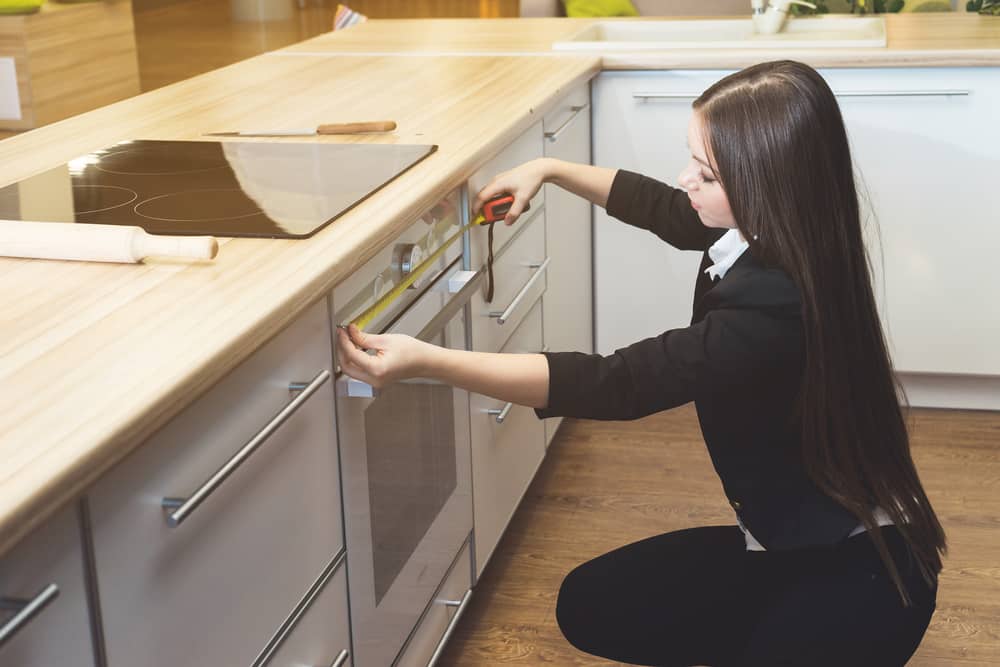 To begin a kitchen design, all you need is a few simple yet important measurements of your space. These measurements are crucial for making sure all the new components of your kitchen will fit, so if you dont feel sure that you will get everything completely correct, we reccomend using a contractor.
Submit an Application for a Building Permit
A construction permit is frequently necessary for structural, plumbing, mechanical, and electrical changes to a home. Permits should be handled by your contractor if you have one. Depending on the complexity of the project and the municipality, this process can take weeks or months, so apply early.
Complete the design of your kitchen cabinets, as well as the schedule plans and contracts. Create your own scope of work, indicating who is in charge of each project component. Set a deadline for the work to be finished. This will assist you in avoiding delays and misunderstandings.
Make certain that your contract specifies exactly what will be done, including dates, progress payments, and the exact supplies that will be used, even down to who will deliver which resources. If you don't have documentation, it's your word versus theirs. 
If the builder's contract is insufficiently detailed, draft your own or supply addendums. Any modification in the project, whether you change your mind about items or want more work, should result in a formal change order that contains the increased work, materials, and cost.
Jobsite Prep and Demolition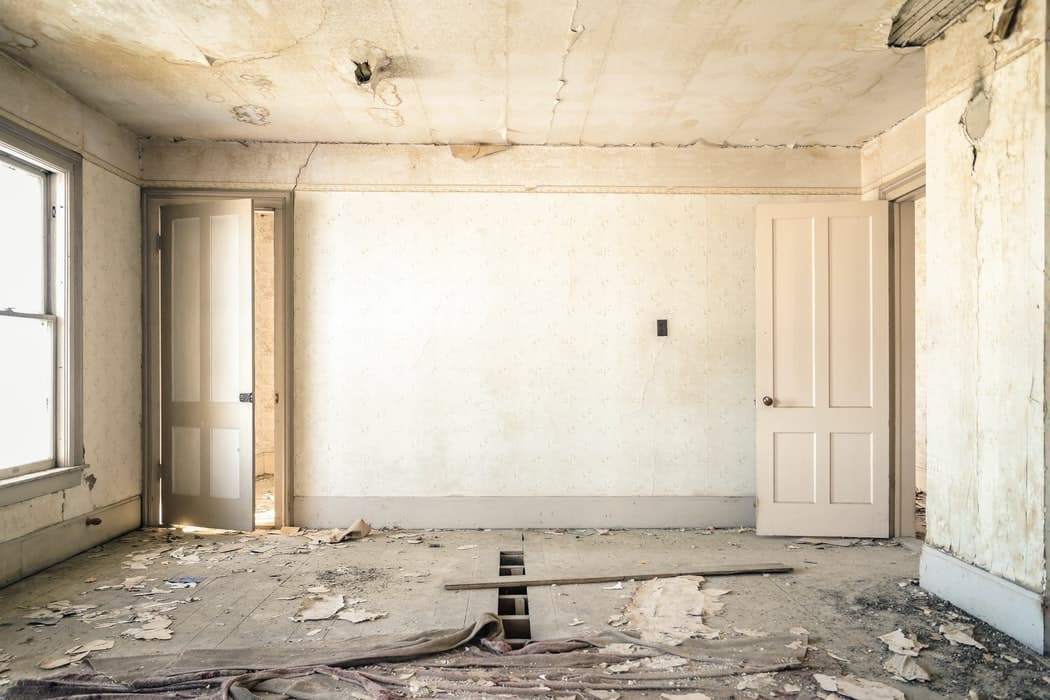 The demolition stage entails knocking down the kitchen and removing everything from it. If you're thinking about employing a contractor at any point during the project, demolition is a good example of why you should. as far as demolition mistakes go, a best case scenario is that you make errors that need to be repaired. However, in the worst case scenario you could risk permenant damage to the home or your health. 
Some pieces of your kitchen, such as cabinets or appliances, may still be functional. If you want to get rid of everything quickly, donating the current elements of your kitchen may be a better alternative than simply throwing them out. If you decide to resell them, you can put the proceeds toward your remodeling fund.
Rough-Ins: Carpentry, Electric, Plumbing and HVAC
Following the demoliton, new or rerouted plumbing pipes, electrical, and HVAC ductwork must be installed. The mechanical rough-in phase is usually completed by licensed plumbers, electricians, and HVAC professionals hired either by the general contractor or by the homeowner.
Treat this step more of a check to see if anything will cause problems in the future. After your kitchen has been completely rebuilt, the last thing you need is a plumbing problem.
The installation and painting of drywall is the next step in the process. This is where your kitchen remodel's design element comes into play. It can take anywhere from one to two weeks to finish drywall. 
After the drywall is up, have some fun choosing a paint color! The theme of your kitchen can be created by the design and color of the walls.
When it comes to painting kitchen walls, people traditionally prefer neutral hues. Neutral colors help to retain a consistent aesthetic, even if other elements such as cabinetry and appliances are changed later.
After that, it's time to put in your new kitchen flooring. The installation of flooring can take anywhere from one to two weeks. Experiment with several styles to find the one that's right for your kitchen. Laminate, tile, and hardwood are some examples of flooring options. Consider who will use the kitchen and how it will be used when choosing the most practical alternative.
Some people choose to add flooring as the last step of the process because they are concerned that the next phases in building would harm the surface.
The disadvantage of placing flooring last is that it will not extend beneath your cabinets and appliances. Flooring that extends beneath these objects can really increase your home's resale value.
Some flooring vendors that we reccomend are:
After the floors have been installed, it's time to put in the kitchen cabinets. When ordering kitchen cabinets, it's important to purchase high-quality items if possible. However, its important to remember that low cost does not always mean low quality. Cabinets that are poorly constructed are more likely to break down within a short period of time. It can take anywhere from one to five days to complete the installation.
Cabinets are an important part of the kitchen's design. When you go into the kitchen, they're one of the first things that catch your eye. Cabinets cost around $4,000 to $12,000 on average, but depending on the type of cabinet you select and the size of your space, you may end up paying less or more.
Some cabinet vendors that we recommend are:
Countertop installation might take anywhere from two to four weeks. Because you'll need exact measurements before ordering, the process takes a little longer than others. When it comes to choosing countertops, there are numerous options to consider.
Granite, marble, and quartz are all popular nowadays. Choose a style that complements the paint color to keep the kitchen looking coherent. If you want to do some research, check out our list of The Hottest Trends of Kitchen Countertops in 2022. Also, keep in mind that installing countertops is a demanding task. It's possible that you'll need to invest some more money to hire a professional to do the installation.
Some countertop vendors that we recommend are: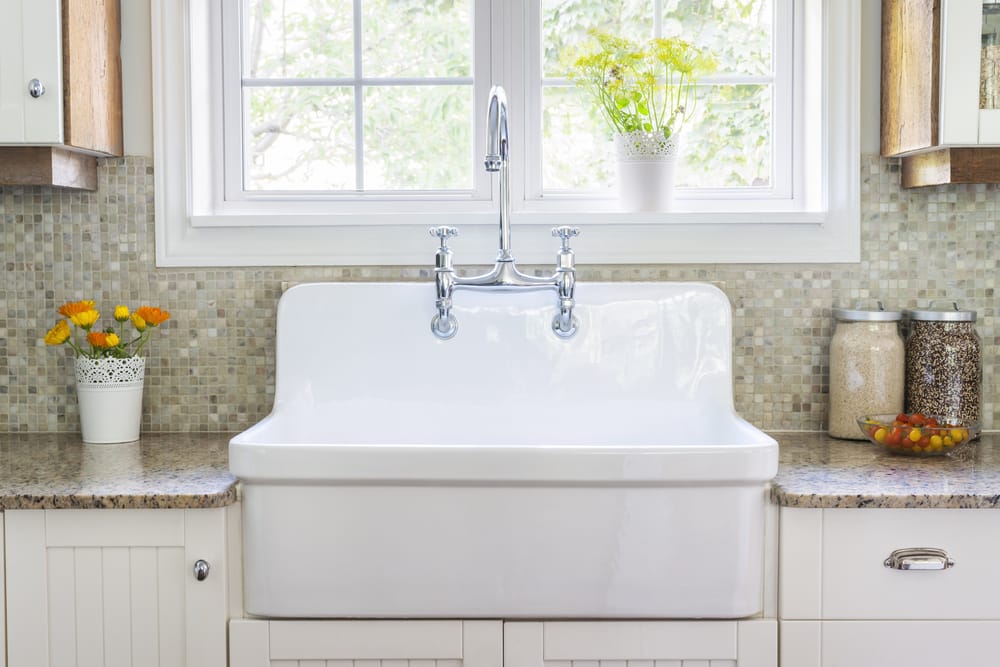 It will typically take one to five days to bring in new appliances. Consider hiring an electrician to assist you with this. Rewiring and setting your appliances up must be done carefully; one mistake could result in appliances that don't operate or will break down soon.
Keep in mind that moving appliances into the kitchen may scratch your fresh flooring. If you're concerned about this, cover the floor with a tarp or a plastic sheet for extra protection.
A great place to browse different appliances is:
Inspection and Completion
Once the remodeling has been completed, it's time to do a final inspection and add some finishing touches.
If you're working with a general contractor, go through the project and make a list of anything that doesn't meet your expectations. Now is the moment to double-check that all of the work has been completed to your satisfaction.
Your permits will need to be finalized at the end of the project, which means that various inspectors will need to visit your kitchen, assess the work, and stamp your permit application as final or complete. 
If you worked with contractors, they will usually arrange for the required inspections, but if you did the work yourself, you will be responsible for contacting the inspectors to complete the permits.
Your kitchen is now complete! Enjoy the extra room and convenience and start cooking your family's favorite meals in your brand new kitchen. You now have a wonderful spot to make memories with your loved ones.
Let Us Help You Start Your Kitchen Remodel!
We hope this step by step guide helped you wrap your head around the kitchen remodeling process. We know remodeling a kitchen can be daunting, so if you have a project that you just aren't sure how to start, please reach out to us HERE. We're always happy to help!
Ready to Remodel?
McManus Kitchen and Bath is a design and build company specializing in kitchen and bath remodels.