McManus Kitchen and Bath provides a single place where you can work with interior design and construction professionals who can help you create a happy, healthy home. We start each project with a Design and Budget Consult. It will help you clarify your design ideas, understand the remodeling process and create a Good Better Best Budget for your project. Click Here to Schedule a Consult
__________________________________________________________________________________________________________________________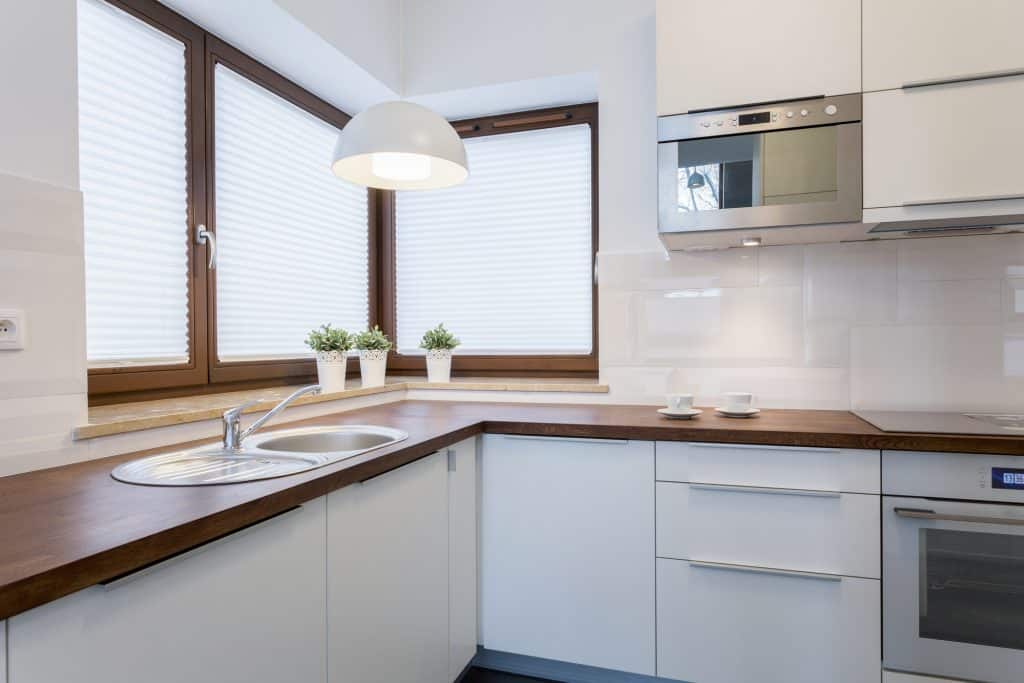 Believe it or not, selecting the perfect countertop for your kitchen remodel can be a fun experience! There are lots of options – in a wide range of styles, colors, and prices. A new laminate countertop, for example, can cost as little as $25 per square foot. Or you could easily spend $75 to $100 dollars a square foot on quartz or granite.
Many homeowners fall in love with a material based on looks alone, but don't overlook how well a certain material:
Resists stains

Handles heat

Repels cuts, abrasions, and impacts
Durability, ease of maintenance, and affordability are all important factors to be taken into consideration. What are the best countertops for kitchens in Tallahassee, FL? Visit our showroom and we'll review the pros and cons of different countertop type. You'll be rewarded with years of service from your countertops!
---
Different Types of Countertops
Countertops are one of the most important selections you make during a kitchen remodel.
Once you get beyond the different brand names, your kitchen countertop options really come down to a handful of materials. Each material performs differently, but there isn't a big difference in material from manufacturer to manufacturer. Be sure to shop with the best deal in mind, and ask yourself these questions before deciding on one:
How will it be used? 

Are you a weekend chef, or do you prep three or more meals a day? Different countertop materials perform better for chopping, in wet areas and for specific tasks like rolling dough. Consider using different materials in different areas of the kitchen. Marble is great for a baking station. Butcher block or wood tops are good for islands or a buffet. Quartz and granite a great in wet areas. How countertops are used can affect your choice.

How much do you want to spend?

Think about how much of your budget you want to invest in countertops. Estimate $

25-$35 a square foot for laminate, $45-$55 for butcher block, $55 to $75 for granite, $75-$85 for quartz, and $100-$125 or Dekton or Neolith.

What's your personal style?

Style is a key factor in selecting the right countertops. For example, traditional kitchens often look best with granite or quartz, while sophisticated or modern rooms often use slate or marble.

Countertop Thickness

:

While the most popular thickness is now 3mm (1.25 inches), a 2mm (.75 inch) thick top looks great in a modern design. On the other side of the spectrum there are wood tops which can be 2" thick or more.

Edge profile.

There are many different edge treatments for a kitchen counter.
---
Countertop Material Choices in Tallahassee 
Once upon a time, homeowners were thrilled to have a small laminate prep area between the sink and the stove. Today, there are hundreds of colors, patterns, and textures available in materials ranging from stained concrete to, yes, the old-standby, laminate. No matter what your budget or lifestyle, there's a material that's certain to be just right for your upcoming remodel.
---
Quartz
Quartz is a man-made stone that consists of 93 percent stone powders and 7 percent resin. It's not a regulated material, so some companies will have higher amounts of resin than others. Beware of cheap quartz with high amounts of resin.
Quality brands: Cambria, Silestone, Caesarstone
Price: $75 to $95 a square foot installed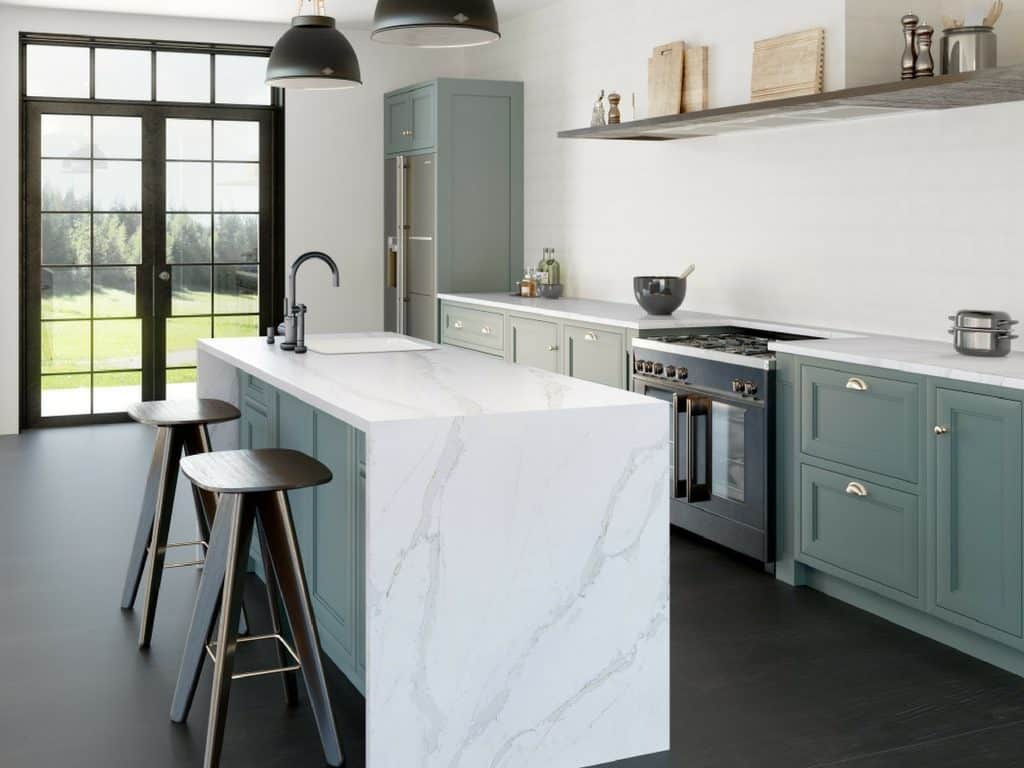 Pros:
Durable, stronger than granite

Maintenance free, no need for sealing regularly like granite

Consistency. Since it's man-made each piece is very similar

Lots of choices in color and style
Cons:
Can't be used outside (UV rays break down the resin)

Will burn if a hot pot is place on it

One of the more expensive options

Can scratch or chip, though it is more durable than granite
---
Sintered Stone
Sintered stone is a type of quartz countertop. The big difference is sintered stone has no resins. It's 100 percent stone. Its manufactured by applying an immense amount of heat a pressure to a mixture of stone powders.
Quality Brands: Dekton or Neolith
Price: $100 – $125 a square foot installed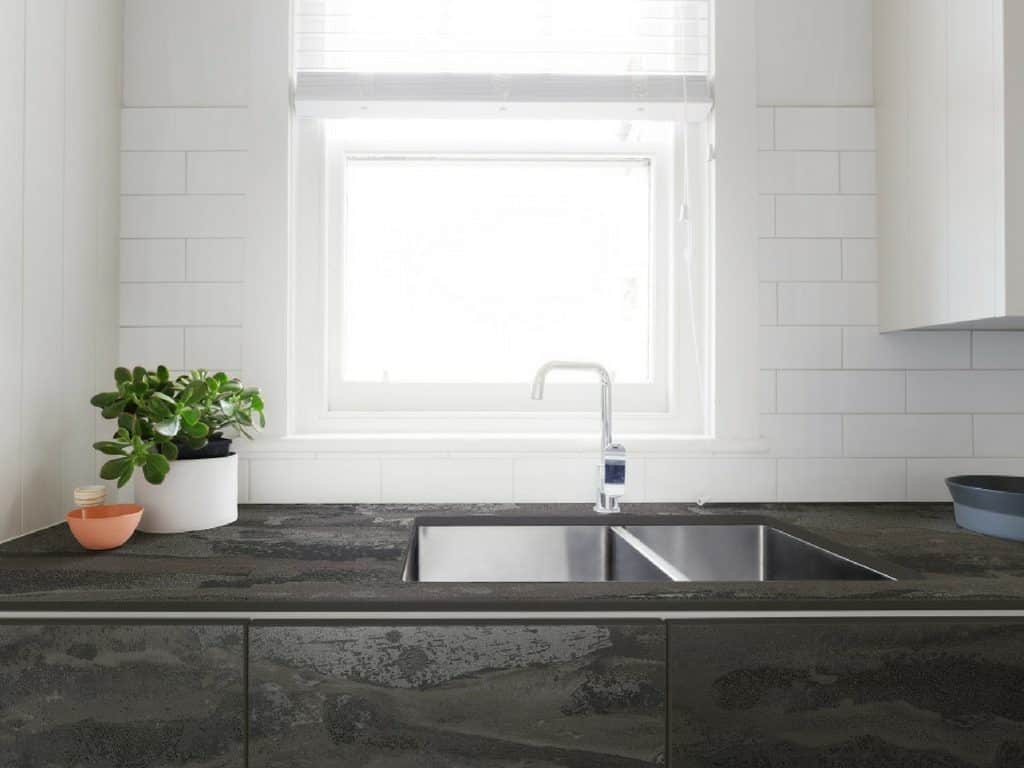 Pros
Very durable

Heat-resistant

Stain proof

Scratch proof

Maintenance free

Consistency in color across different pieces
Cons
Expensive

Thinner than quartz or granite, though edges can be mitred for a thicker look

Fewer color and style options
---
Granite
Granite was once the most popular countertop surface. It's still popular today, though quartz has overtaken it as the favored choice. It is one of the most durable options out there. While it's a bit porous and requires periodic resealing, it withstands heavy workloads and is resistant to chipping. Since all stone is inflexible, granite countertops will chip or crack if struck with enough force, but they have proven to be able to take whatever is thrown at them.
Best Brands: No brands, granite is a natural stone, mined from the earth
Price: $45-$105 a square foot (varies a lot depending on the color choice)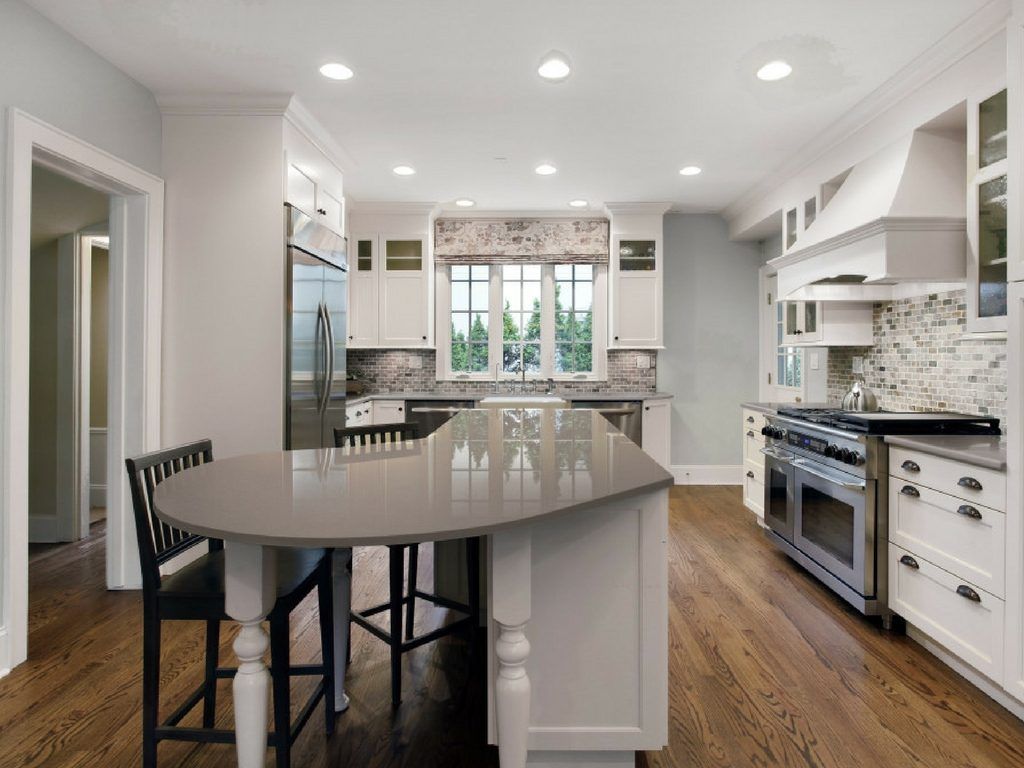 Granite is made from a variety of materials, including quartz, which is responsible for granite's well-known resilience to impact and heat. It comes in a range of beautiful colors including blacks, whites, beiges, greens, and corals. Every piece is unique and comes in a shiny, polished, or soft matte finish. What can you expect to spend? It depends on the color and finish you choose, as well as the stone's origin.
Pros
Beautiful. Nothing compares to natural stone for its depth of color and variety

Durable and heat resistant, though it can chip and scratch

Lots of color and style options
Cons
Chips relatively easily

Need to be sealed and polished yearly

Colors can be inconsistent from piece to piece
Wood
A traditional choice that is making a comeback, wood is both naturally beautiful and highly functional. It's warmer to the touch than quartz or granite and offers a richer look than laminate.
Quality Brands: Craft Art, Cafe Countertops, Southside Woodshop
Price: $55 to $125 a square foot. Price varies greatly depending on quality of wood and finish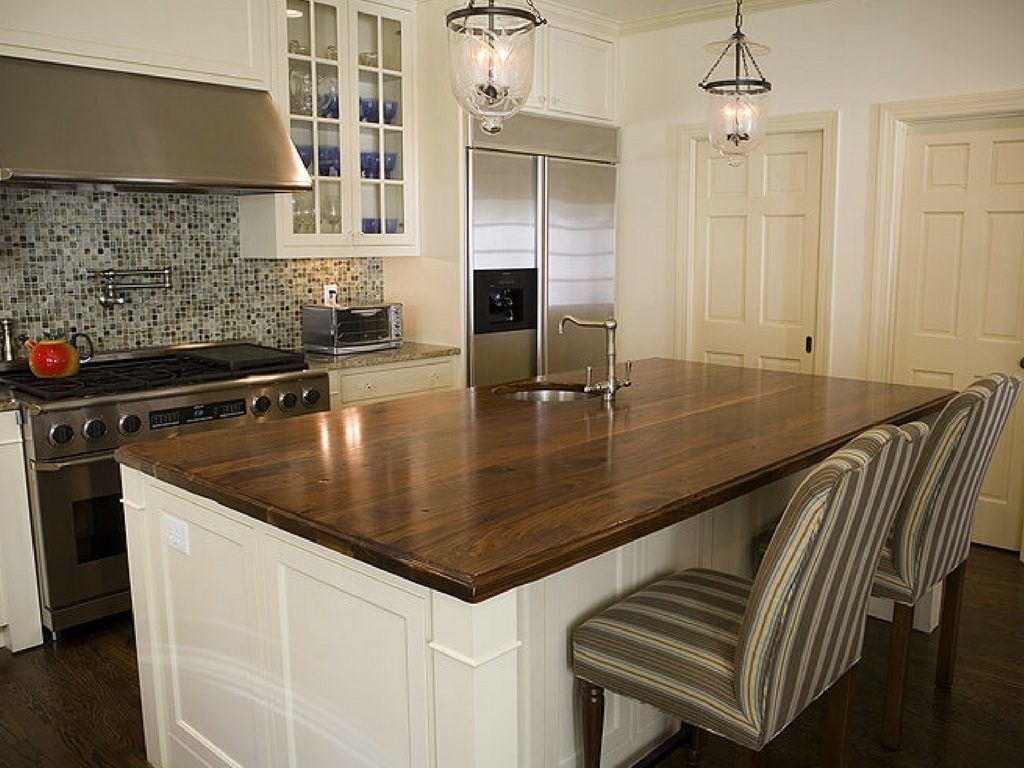 Readily available and sustainable, it comes in a variety of species, colors, and finishes. Wood countertops also have a range of looks, including striped, end-grain cubes, and live edge detailing. It can be less expensive and faster to produce than stone and solid surfaces, and can be touched-up with relative ease.
Butcher block wood countertops are your most economical choice and look fantastic in a farmhouse style kitchen.
Laminate Countertops
Economical laminate has undergone quite a transformation over the last decade. Forget about the laminate you saw in your grandparents' kitchen! Today's laminate has fanciers edges and can be designed to resemble more expensive materials like granite, butcher block, and even stainless steel. The downside to laminate in the kitchen is its low heat tolerance, which requires the use of trivets or potholders on the counters. But to be fair, no countertop manufacturer recommends putting hot pots or pan directly on the counter.
Mixing it up
Which countertop surface is the best? None of them. And all of them.
The countertop material should be matched to its use. Sure, fancy show kitchens look great all decked out in polished marble. But marble is soft, expensive and it stains easily… not the best choice for a family with 3 young ones.
Consider using different counter materials in different places in the kitchen, both as a way to extend your budget, but also to optimize the work area.
Thank you for reading! We'd love to be a part of your next remodel. Check out our design services page