McManus Kitchen and Bath provides a single place where you can work with interior design and construction professionals who can help you create a happy, healthy home. We start each project with a Design and Budget Consult. It will help you clarify your design ideas, understand the remodeling process and create a Good Better Best Budget for your project. Click Here to Schedule a Consult
__________________________________________________________________________________________________________________________
Bigger is not always better. Today everyone wants larger bathrooms, larger kitchens, more storage etc… But larger spaces are not always better and small spaces have a lot of advantages. A small bathroom can be very efficient, easy to clean and if properly designed have plenty of storage. Small spaces require things to be designed well and storage has to be planned carefully.
What is a small bathroom?  If you're talking about a bathroom that has a shower, toilet and vanity you need about 5 feet x 8 feet. You can cram things into a smaller space but that would require making some pretty extreme sacrifices in ergonomics. The majority of hall bathrooms in Tallahassee are about this size.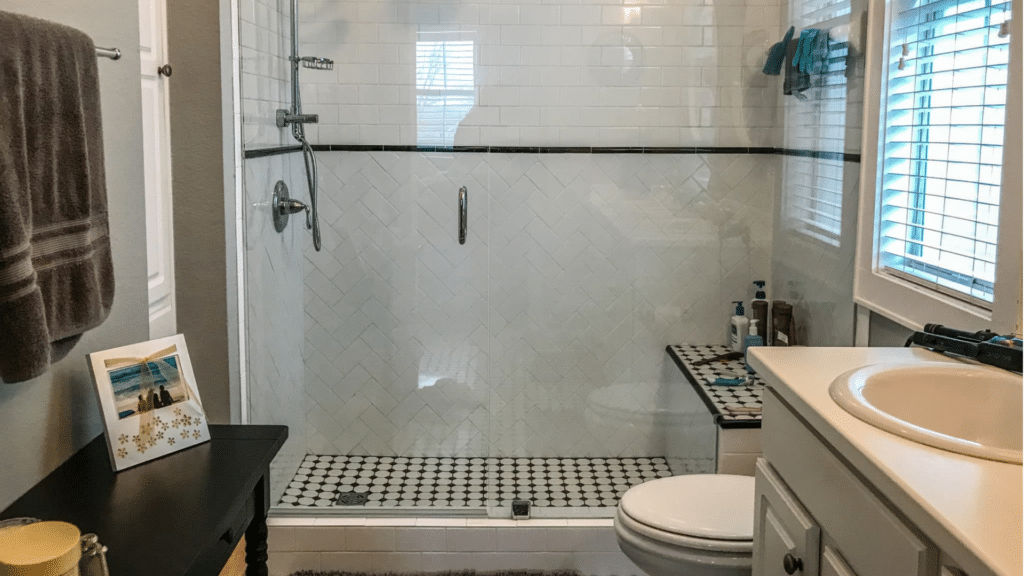 Make a Small Bathroom Feel Larger
There is nothing wrong with a small bathroom if its designed properly and you use it for the way it is designed. Clutter is the enemy of the small bath so step one is to create some storage that will reduce clutter. Then with a little color and design even the smallest bath can feel roomy.
If you're remodeling your bath consider using a wall hung toilet and wall hung vanity. Not only can they make a small space feel larger but also makes cleaning easier. Adding a window makes a big difference, even a small transom window.
Storage In a Small Bathroom
The first step is to think about what you really need to store in the bathroom. Does your extra shampoo need to be there or can it go in the hall closet?  Do you need all your makeup in the bath or does it make more sense to put a makeup vanity in the bedroom? Try to pare down what you need in the bathroom to the essentials.
Toothbrushes and Toothpaste tubes
Dental Floss
Q Tips
Electric Shaver, razors, shaving cream
Soap for every day use
Shampoo for every day use
Towels for every day use
Extra TP
Plunger/Toilet brush
Once you have your essential list you can create storage for those items so that they can be accessed easily but are put away when not in use. If there is space left over then you can add non essentials as well.
Recessed Niches in the Shower
Recessed niche is a great way to add storage without making a shower feel cramped. They also allow you to add contrasting tile which can add depth of field and make the shower feel larger.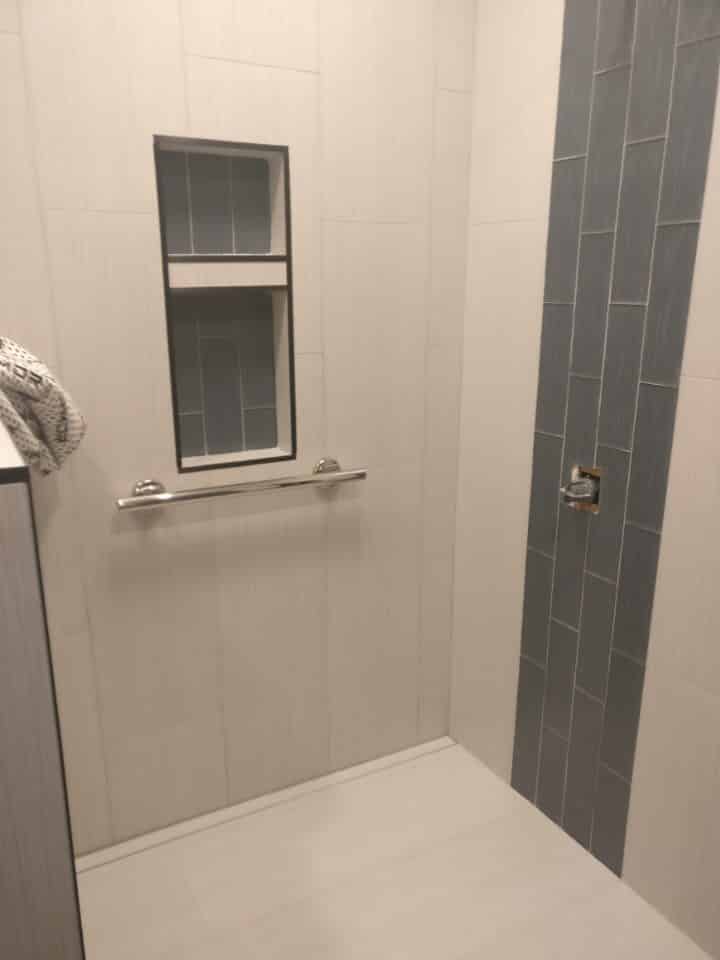 Recessed Medicine Cabinet
Recessed medicine cabinets get a bad rap because older ones are ugly and don't store much. Modern medicine cabinets are more attractive and deeper so they are more useful.
Adding a some storage organizers like these from the container store can more than double their storage.
Add a plug with USB chargers in the medicine cabinet so you can charge your electric toothbrush or shaver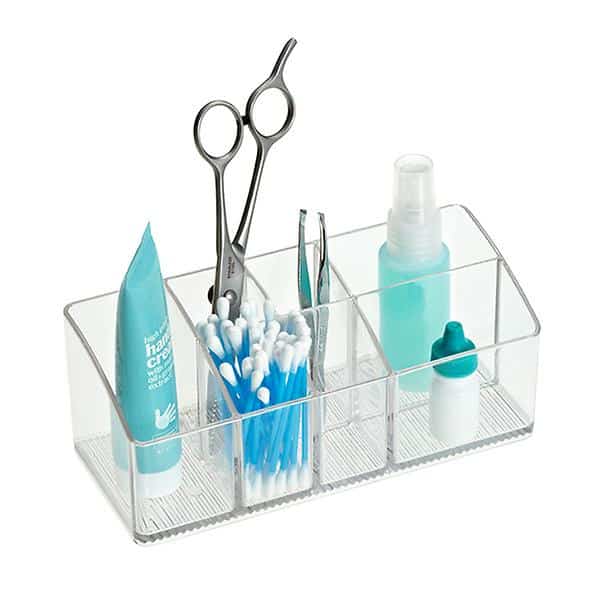 Open Shelves
Think of open shelving as additional counter top space. Position it just above the faucet or over the toilet. When not in use they should be mostly empty, maybe one small decorative item or a scented candle. When you are using the bathroom they become a place to set your Deodorant, makeup, toothbrush etc… to keep them clear of the sink.
High Storage for Towels
You probably should not store extra towels in a small bath. Instead store them in your bedroom or hall closet. Get in the habit of bringing a towel with you to the bathroom each morning. However If you really want to store extra towels in a small bath look up. Add a shelf over a window or doorway for towel storage.
Mid sized towel need a shelf that is at least 12″ deep
Large towels need a 16″ deep shelf
Use a stainless steep or aluminum shelf that's easy to keep clean
Over the Toilet Cabinet
If you are going to add a cabinet over the toilet for storage get one that is only 6 or 9″ deep. That way it wont feel like it's taking up so much space but will still be large enough to store things like TP or tissues. The over the toilet cabinet is also a great place for and extra plug where you can store flat irons and hair dryers.
Custom Cabinet Organizers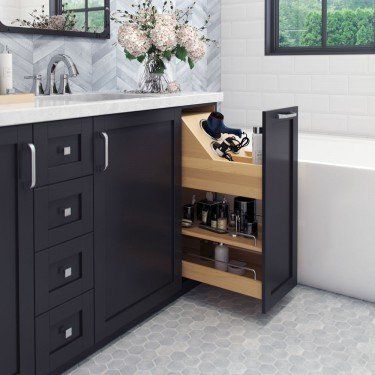 Small bathrooms typically have vanities that are 30″ wide or smaller. That does not leave a lot of space for storage or counter top space. How your sink is plumbed can make a big difference too. Sloppy plumbing can take up more space that necessary. If you're installing a new vanity ask your plumber to make the plumbing as tight as possible.
Custom roll outs to make under sink items more accessible
Organizer that attach the door
Drawer base vanities provide more convenient storage
---
Making a Small Bath Feel Larger
Floating Vanities and Wall Mount Toilets
Getting your toilet and vanity off the floor not only makes cleaning easier but will make the room feel more open. A floating vanity does have a little less storage but I doubt you'll miss it. Wall hung toilets have two advantages: They are easy to clean around and they can be set at any height you like.
Color Contrast
You want the dominant color in a small bath to be light but adding some dark color for contract is a good idea. Try a dark floor with light colored walls. If you have wainscot tile then try a light floor and a darker wall color above the wainscoting.
No Clutter, No Bold Patterns, Only 1 Mirror
We've already talked about how clutter is the enemy of a small bathroom. That goes for cluttered design too. Don't use complex patterns or try to add to many design elements. Keep the design clean and simple. And contrary to popular belief lost of mirrors will only make things worse. Mirrors will reflect the design from the opposite wall and make the room feel cluttered.
Lots of light
If you can add a window then do it. If not then layer different types of lighting to add depth and utility. Generally you want 3 kinds of lighitng: Task lighting (your vanity light), general lighting (overhead lights) and accent lighting (under cabinet lights, toe kick lights and nightlights).
Thank you for reading! We'd love to be a part of your next remodel. Check out our design services page