Small Bathroom Projects with MKB Express Bath
Faster, budget friendly bathroom updates
Durable, seamless shower panels
Low cost cabinets and flooring
Same Great Service
Schedule A Consult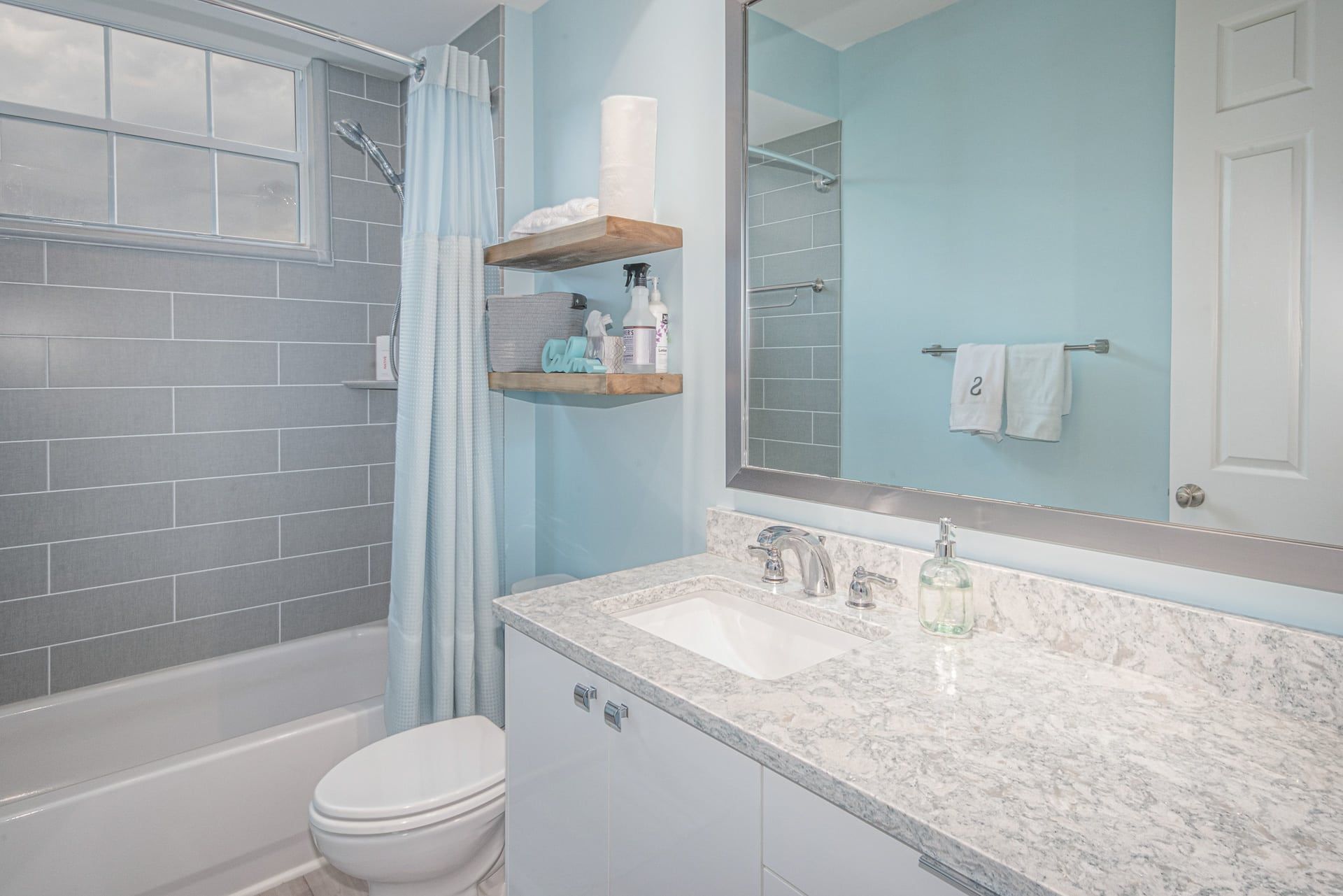 Faster and More Affordable Small Bathroom Projects
As bathroom remodeling costs continue to increase we wanted to provide a way to offer a lower cost option that still looks good, is easy to clean and is made from materials that last.
MKB Express Bath provides a faster, lower cost way to update small bathrooms like hall baths or guest baths. We limit selections and design time to help keep costs down but still provide the great service we are known for.
When to use MKB Express Bath
The MKB Express system is best suited for simple projects with no layout changes. These are generally small bathrooms and showers like in hall bathrooms or small primary baths. These rooms are typically 5 ft x 9 ft with a 30″-36″ vanity.
If you want to move walls, add additional plumbing, or if your bath has a large vanity or multiple sinks MKB Express might not be the best option and we wouldl recommend a custom bath remodel instead.
If you're unsure just give us a call, we'll talk throught the options with you and let you know the best way to move forward.
Limited Options Keep Costs Down
By limiting the design time needed and using specialy contractors for your small bathroom we are able to keep costs down and still provide a great finished product backed by our full warranty.
Instead of having several design meetings we will make all you selections at your intial showroom visit. We'll have a list of options for you to choose from.
Showers are done with laminate panels and 1 piece pans
Flooring is limited to Luxury Vinyl Plank
Cabinet options are limited to our "Good" cabient line.
Corian or stone remnants are used for your countertop
Fewer Options Also Means Starting Faster
This also means we can get started sooner since design is done quickly and lead time on materials is generally only 4-6 weeks.
And Finshing Faster Too
Most bathroom projects can be done in just 3 weeks instead of 6 weeks or more for a custom bathroom remodel.
The MKB Express Difference
We're not fans of most budget bathroom companies. They take short cuts, use lower quality materials and often don't used licensed or expereinced installers. That's why we created MKB Express, to offer an alternative way to update your small bathroom. We will be a little more expensive than those other options but what you get in return is a better result.
We don't cover up problems
We completely remove your existing shower down to the studs and install new waterproofing, plumbing fixtures and panels so you can be confident your new shower will be trouble free.
Experienced and Certified Contractors
Many companies use handmen or inexperienced labor. We're state certified residental contractors and use only licensed plumbers on your project. Lic #CRC1331326
Design Expertise
Though we limit design time to lower costs you are still working with the best bathroom designers in Tallahassee. 
Complete Bath Updates
You're not just limited to updating your shower. We also have vanity, flooring and countertop options so you can update your entire bath.
Start with A Discovery Call and In Home Consult
Give us a call to discuss your project and schedule a home visit.  At your home visit we can review samples, discuss options and provide a rough estimate. Consult fee is $225 for each bathroom.
Visit the Showroom
We'll review your budget and material options. If you approve the budget right away we'll finalize your materials selections at the same meeting.
If you need more time to decide we'll follow up and schedule your design meeting later.
Final Meeting
At the final meeting we review your project calendar, materails selections and fixed price proposal. Small changes can be made to your choices if needed. A 40% deposit is due at this meeting. The rest of your payments will be outlinted in our proposal. 
Professional Install
Unlike other companies that provide budget bath services we use licensed contractors and plumbers on all our projects. You get the great service, quality an d warranty we're known for on our larger projects.