Tall Pantry Cabinet Vs Pantry Closets
Tall pantry cabinets are all the rage in kitchen design, but why?  There are a lot of great reasons to use them instead of building a pantry closet.
More Attractive
Better Organization
They Take Up Less Space
They Provide More Storage
So why do so many builders install pantry closets instead?  One simple reason: cost. A builder can build a pantry closet for a lower cost than a pantry cabinet.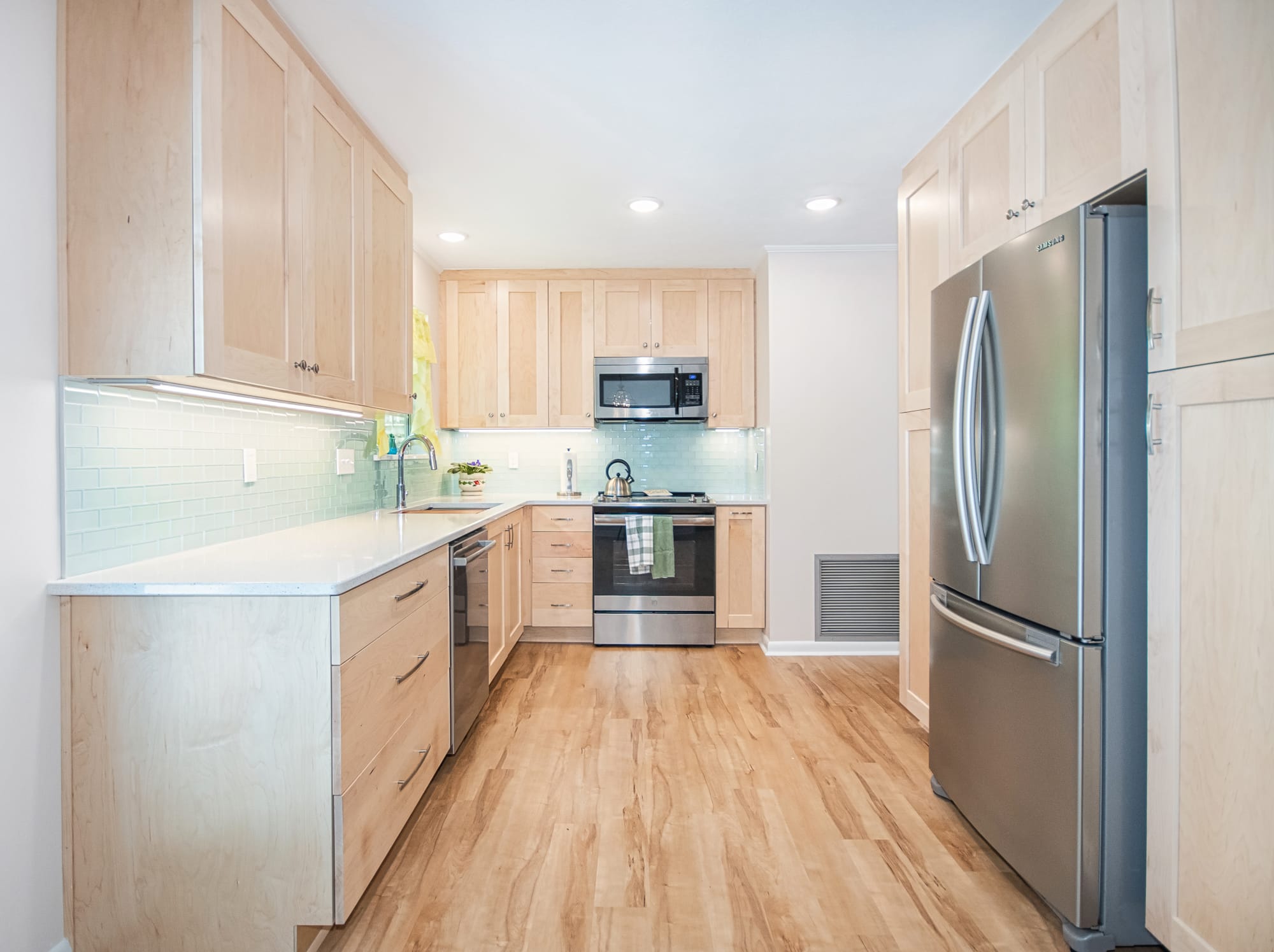 Pantry Cabinet Options
Some lower-cost cabinet companies may offer only one or two options for pantry cabinets. But your mid-level and upper-level cabinets will have dozens of options to customize your storage.
Tall Cabinet with Adjustable Rollouts
Easily our favorite tall cabinet for pantry storage. This cabinet comes with 5 adjustable rollouts that can be easily removed or adjusted without and tools. You can even order extra rollouts if you need more than 5.
Check out the video below:
Simple Utility Cabinet
For broom, vacuum and mop storage. This tall cabinet comes with no shelves so you can store taller items.
While we like the utility cabinet we often will opt for the Tall pantry with adjustable shelves instead. You can remove the shelves for tall storage or add them back in if your storage needs change.
Pantry Cabinet with Adjustable Shelves
While the tall pantry cabinet with Adjustable Rollouts is our go-to for pantry storage, they are expensive and may not fit your budget. In that case, the tall cabinet with adjustable shelves is a good alternative.
The downside is that it's a deep cabinet and items can get lost in the back or be hard to reach. But it's also great for small appliance storage or other large items.
Corner Tall Cabinet
Another cabinet that is unique to Bellmont: the tall corner cabinet. Corners are a challenge to organize efficiently. A tall corner cabinet is a great option.
Pantry Cabinet with Drawers
Another option is to use a tall pantry cabinet with three or four drawers at the bottom and large doors at the top. These are great for storing pots and pans or dishes in the bottom and pantry items in the top half.
An Exception: Walk-In Pantries
If I was building a new home I would design the kitchen to have a walk-in pantry. It's the only closet-style pantry I would say is worth building. I would probably also have a tall pantry cabinet or two for convenient storage but the walk-in pantry is hard to beat if you have room for one and it's designed well.
McManus Kitchen and Bath provides a single place where you can work with interior design and construction professionals who can help you create a happy, healthy home. We start each project with a Design and Budget Consult. It will help you clarify your design ideas, understand the remodeling process and create a Good Better Best Budget for your project. Click Here to Schedule a Consult