McManus Kitchen and Bath provides a single place where you can work with interior design and construction professionals who can help you create a happy, healthy home. We start each project with a Design and Budget Consult. It will help you clarify your design ideas, understand the remodeling process and create a Good Better Best Budget for your project. Click Here to Schedule a Consult
Over the last decade, the demand for barrier-free showers has increased dramatically due in large part to the growing popularity of the aging in place concept and using universal design principles throughout the home. At McManus Kitchen & Bath, we believe that no matter what you call it – aging-in-place, ADA compliant, or universal design – it's really all just good design.
What is Universal Design?
The Aging in place concept was developed as a way to allow people to safely stay in their homes as they aged. We prefer the term universal design, as it embraces the entire family, benefiting everyone who lives in the home, not just those with special accommodations. Put another way: universal design is simply common sense design that accommodates all users and in all stages of their lives.
If you're planning to remodel in Tallahassee, FL, using universal design elements that work for every stage of your life is a smart choice.
Pros and Cons of a Barrier Free Shower
Pros
One of the greatest advantages to installing a barrier free shower is it provides easy access for everyone in the home, including those with limited mobility.

The absence of curbs and corners also make barrier free showers easier to clean, and seamless floor transitions maximize floor space and make smaller bathrooms appear larger.

They look cool. A barrier free shower, especially those with a linear drain create a unique look.

Space Saving. In very small bathrooms you can use a barrier free shower to maximize the size of the shower in a small space.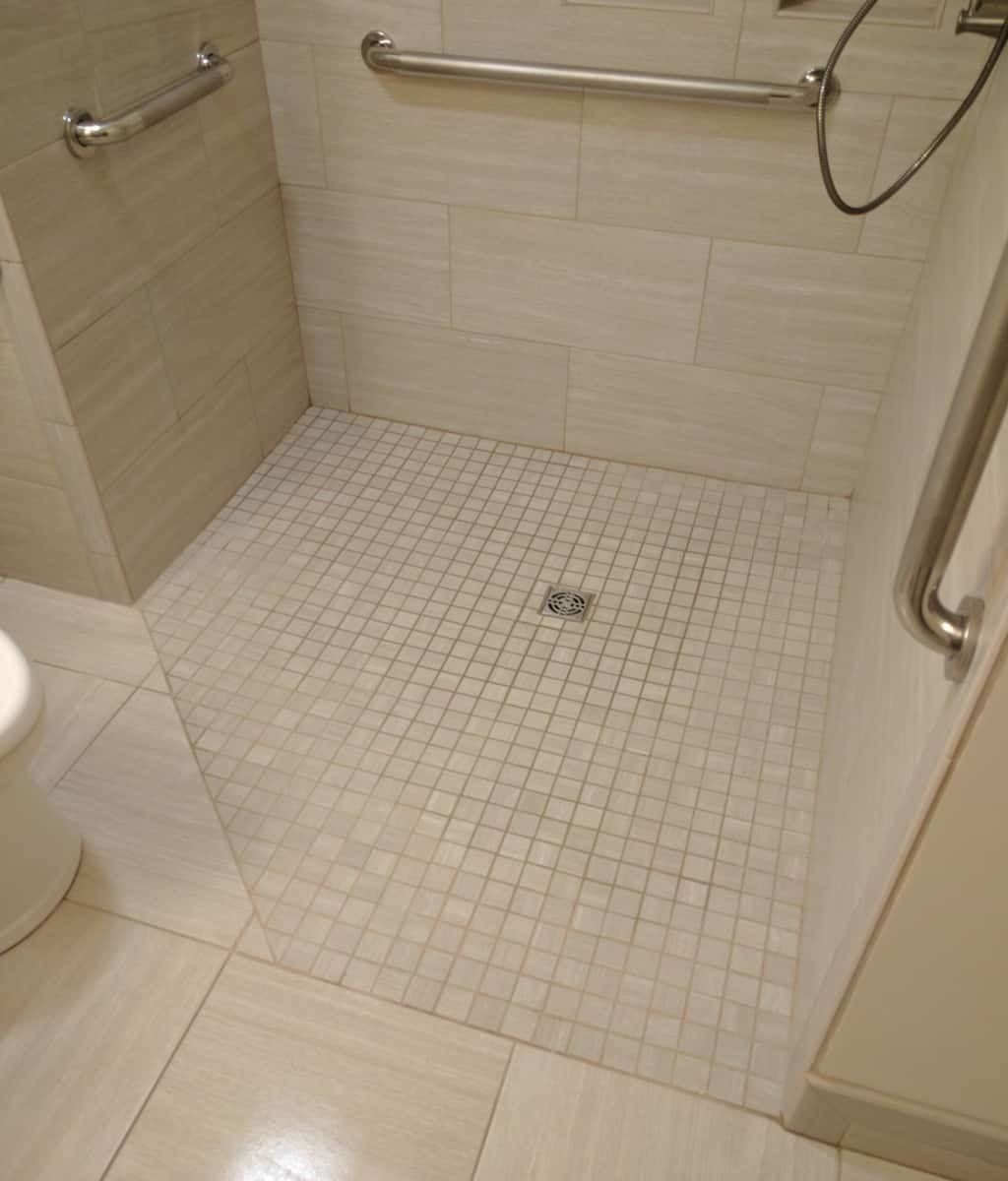 Cons/Challenges
Shower size. Barrier free design is better suited to larger showers

Cost. Creating a barrier free shower may mean altering the subfloor which adds cost to the project

Linear drains need to be cleaned regularly. If you use a linear drain in your barrier free shower you will need to regularly remove the cover plate and clean it.
Beyond Barrier Free Showers
Most people focus on the curbless shower, but there is a wealth of universal design features for the bathroom that offer solutions that stylishly comply with Americans with Disabilities Act requirements.
Wider doors:

universal access requires 32 inches of clear space when the door is open, so a 36-inch door is typically used

Grab bars

: installed near the shower, tub, and toilet, grab bars offer a stable grip that can be reassuring no matter what your age or ability. Some people decide that now is not the time for universal design grab bars. That's a personal choice that we respect, but we do put the blocking in for them in every bathroom remodel we do. That way, they're already in place for future installation.

Handles and faucets

: lever-style handles are easier to use than twist ones and are especially convenient for kids or someone with limited use of their hands.

Shower heads:

handheld showers make a world of difference to your daily routine. These versatile shower heads are easy to use whether you're sitting or standing, and many have pause settings. They're also great for cleaning the shower stall!
Our Approach
At McManus Kitchen & Bath, we use the Schluter system for barrier free showers. The system includes a linear drain and the KERDI line of watertight assembly elements that includes a waterproofing membrane for the shower walls and floor, as well as specialty pieces for inside and outside corners.
The KERDI line offers 2 drainage systems:
The linear drain is ADA compliant and allows for the use of large format tiles that seamlessly transition from the bathroom floor into the shower. It is more aesthetically pleasing, but does require a little more maintenance.

The KERDI-drain is a traditional alternative, but keep in mind that you'll need to install mosaic tile with this style drain.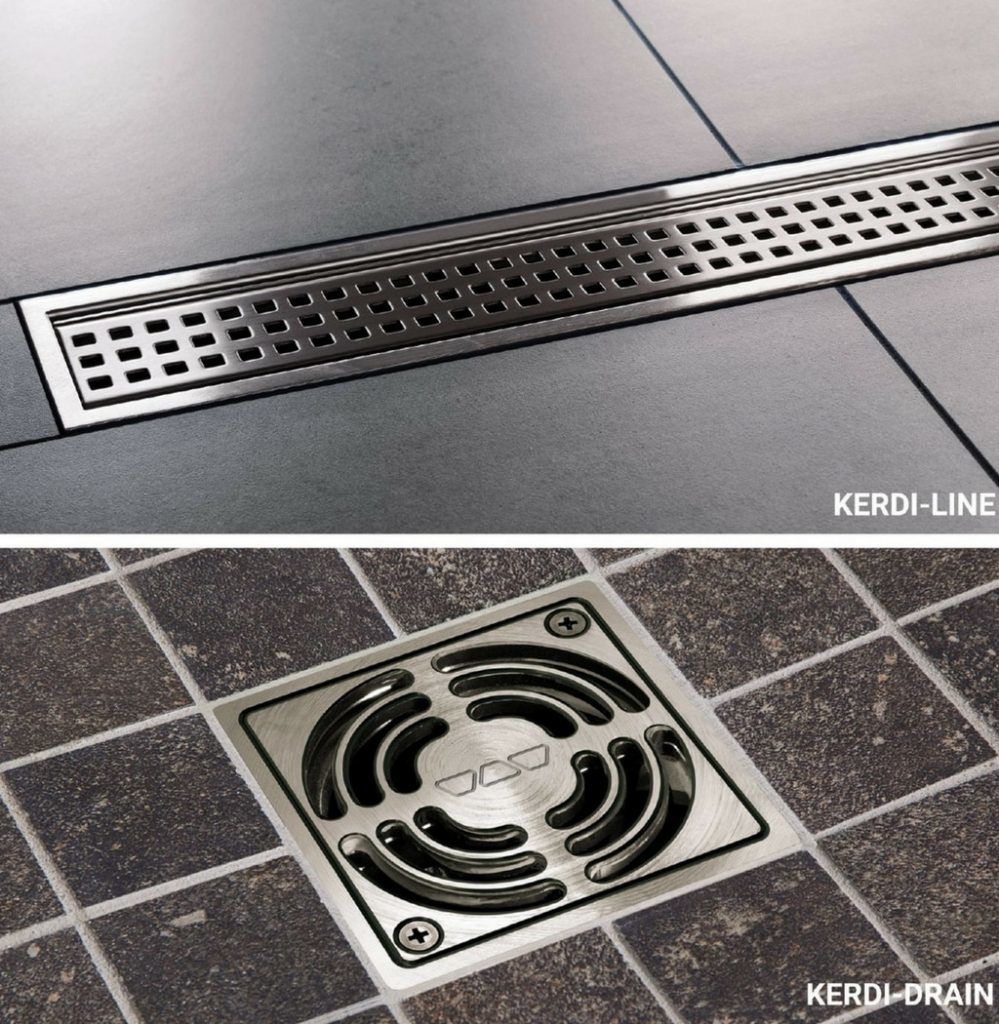 Thank you for reading! We'd love to be a part of your next remodel. Check out our design services page