McManus Kitchen and Bath provides a single place where you can work with interior design and construction professionals who can help you create a happy, healthy home. We start each project with a Design and Budget Consult. It will help you clarify your design ideas, understand the remodeling process and create a Good Better Best Budget for your project. Click Here to Schedule a Consult
__________________________________________________________________________________________________________________________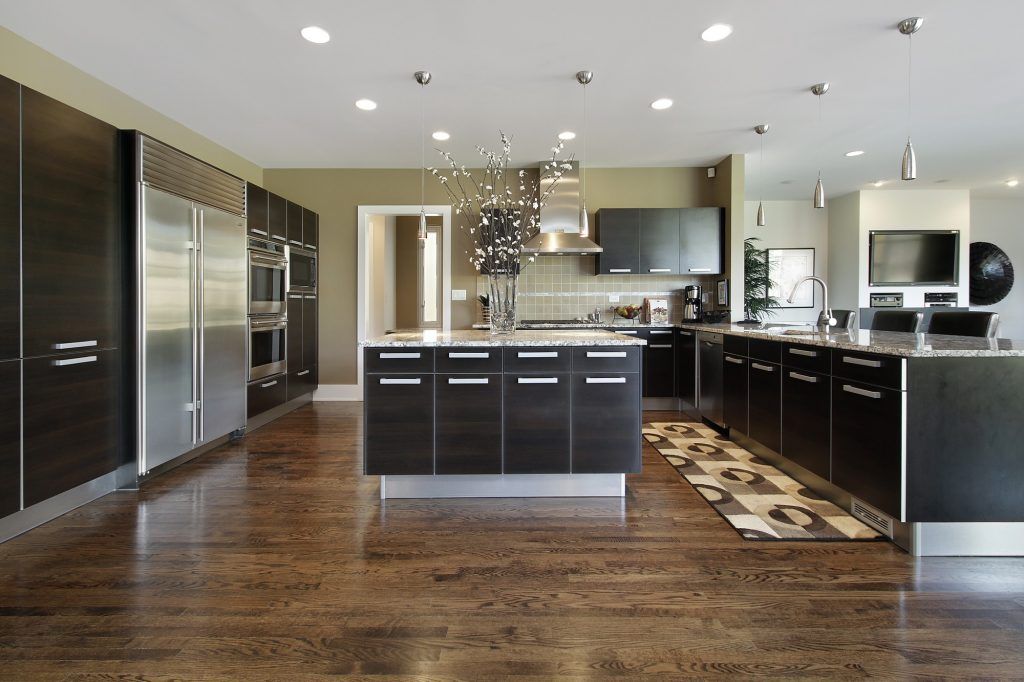 The demand for wood flooring grew in 2017. And with open concept floor plans becoming more common, we are seeing more requests in Tallahassee to have wood floors in the kitchen to create a cohesive look from one room to the next.
But are wood floors in the kitchen a good option? The answer is both yes and no. Wood floors can be used in the kitchen, but may not be the best option for many households.
Hardwood Flooring (Natural Wood Planks)
Natural wood planks are a good option that give you both the look and feel of wood. However, you do have to be careful with them in wet areas and if you have pets. 
Hardwood Pro's
Natural beauty
Can be refinished
lots of color and style options
popular
Hardwood Con's
They don't hold up to water and other spills as adequately as other flooring options.

Another consideration is the high humidity in Florida. Changes in humidity can cause swelling or shrinking of the floors which could cause the planks to warp and buckle or create gaps in the floor.
Scratch easilty
Can be slippery for pets
Good, Better, Best Options for Hardwood Flooring
| | | |
| --- | --- | --- |
| Good | Better | Best |
| Pine and Soft Woods  | Oak and Domestic Hardwoods | Mahogany and Exotic Hardwoods |
| Hardness Rating of 1200 and below | Hardness Rating of 1200 to 2000 | Hardness Rating of 2000 and above |
| $4 to $6 per sq.ft. | $6 to $9 per sq.ft. | $9 to $13 per sq.ft. |
| Usually lighter in color | Variety of color options | more variation in color and grain patterns |
---
Engineered Wood Flooring
Engineered wood is a plank that has a layer of real wood on top of an plywood core. This gives you the option to have the same look of hardwood planks and it is generally easier to install.
Engineered wood flooring varies in thickness of the veneer layer from 1mm to 3mm. The thicker the veneer the more durable the flooring. We recommend a 3mm veneer. 
Engineered wood is less susceptible to water damage and expansion because of the plywood core. It is also not as affected by humidity. 
However, engineered wood also gives you all of the same drawbacks. Because of the real wood layer on top, it can still stain and scratch just as easily as wood flooring. And because that layer is thinner, it can only be refinished once or twice depending on how thick that real wood layer is.
Good, Better, Best Options for Engineered Wood
| | | |
| --- | --- | --- |
| Good | Better | Best |
| 1 mm veneer – $4 per sf | 2 mm veneer | 3 mm veneer |
| $3 to $5 per sq ft | $5 to $7 per sq foot | $7 to $10 per sq ft |
| Can't be refinished, chips easily, lower cost | Good budget option. Can be lightly refinished | More resistant to chipping, can be completely refinished, highest cost |
---
Laminate Wood Flooring
Laminate cannot be refinished like natural or engineered wood. It is more resilient to spills on the surface and easier to clean than natural wood, but it can still swell and warp if moisture gets into the joint lines and doesn't hold up as well over time.
Many options are thin, so the joints loosen and corners start to creak and chip after a while. But there is a wide range of quality options to choose from, and generally, you get what you pay for. Good laminate planks are thicker and have a textured surface to give a feel closer to wood, and also make the surface more resilient to scratches.
Good, Better, Best Options for Laminate Flooring
| | | |
| --- | --- | --- |
| Good | Better | Best |
| $0.75 to $2 per sq.ft. | $2 to $4 per sq.ft. | $4 to $6 per sq.ft. |
| Thin and usually smooth with no texture | Thicker core | Textured thick durable wear layer, longer warranties, pet resistant |
---
Wood Look Tile Flooring
Tile has been the go-to option for kitchen floors, and now they have tons of options with a wood look pattern. Tile is relatively maintenance free and super easy to clean, as it even holds up to most household chemicals. It is moisture resistant and non-porous to help resist stains and allergens.You can use a mop when needed and not have to worry about swelling. Tiles are also durable, resistant to scratching, and hold up better to pets, kids, and life in general.
There are a few drawbacks to tile. You will have grout lines which can take away from the natural wood look, and is more prone to discoloration or staining. Tile is also a very cold and hard surface that makes standing for longer periods of time uncomfortable. The heaviness of tile can be a concern for second floor, off grade, or mobile home installations. It is also tough to remove when it comes time to replace it.
Good, Better, Best Options for Wood-Look Tile Flooring
| | | |
| --- | --- | --- |
| Good | Better | Best |
| $2 to $3 per sq ft | $3 to $5 per sq foot | $5 to $8 per sq ft |
| Simpler patterns and smooth surface | More color and pattern options | Better and more realistic color and selection with wood grain texture |
---
Vinyl Plank Flooring
The vinyl we are talking about here is not the sheet type flooring that comes on a roll. Vinyl planks are a great wood look option that is softer and warmer than tile. It also comes textured to feel more like a natural wood floor, and there are no grout lines for worry about.
This alternative will hold up to more than just water. Vinyl tiles are used in a lot of schools and other commercial buildings because of their resilience to just about everything. Vinyl planks are 100% waterproof and won't warp or buckle no matter how wet they get. They stand up to real life and are a great solution throughout the house.
Good, Better, Best Options for Vinyl Plank Flooring
| | | |
| --- | --- | --- |
| Good | Better | Best |
| 1.5 to 2.5mm thickness | 2.5 to 5mm thickness | 5 to 6.5mm thickness |
| $2 to $3 per sq ft | $3 to $5 per sq foot | $5 to $8 per sq ft |
---
So which flooring option is the best for you kitchen?
This depends on your lifestyle and what is important to you. Hardwood and engineered wood give you the most look and feel, but may not be the best option for a busy lifestyle because it shows wear, and can swell or buckle with moisture. Laminate flooring can be great, but depends on the quality you purchase. Both tile and vinyl are great options that hold up to water, stains, pets, and are the easiest to clean. You can't go wrong either way.
Thank you for reading! We'd love to be a part of your next remodel. Check out our design services page