Design+Build Bathroom Remodeling
Design, Product Selections and Construction Expertise All Under One Roof
3 Steps to Update Your Bathroom
Start with An Accurate Budget
Our Good Better Best budget has been accurate to within 3% over our last 20 projects.
Thoughtful Design and Planning
A series of design meetings, each with a specific goal, ensures every detail is considered prior to construction.
Build Clean, Without Interruption
All materials are ordered in advance to avoid unnecessary delays and we're on site daily to ensure progress and an organized job site.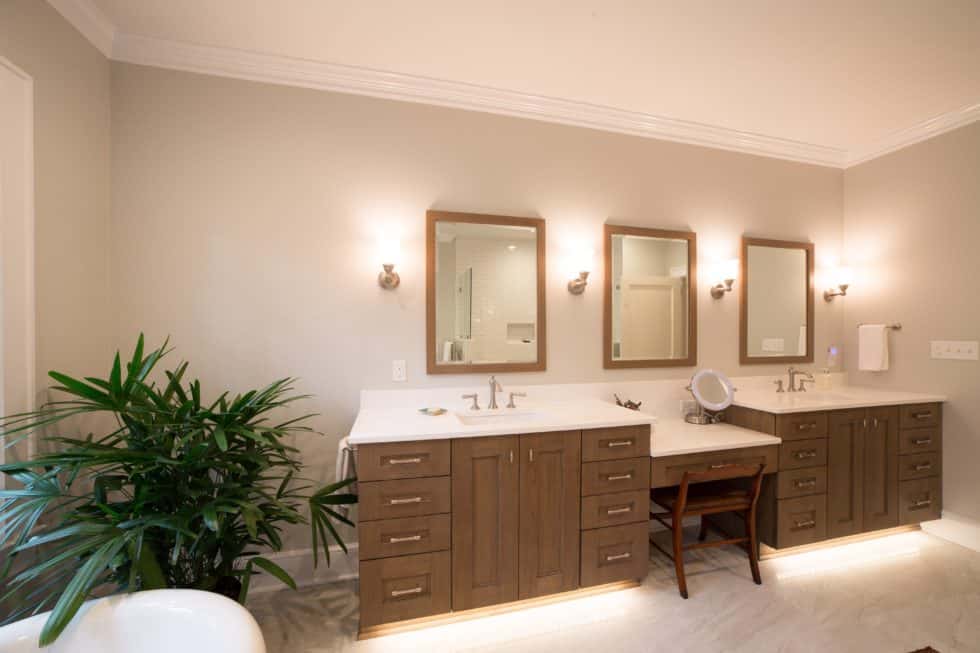 Bathroom Vanity Options
We carry a variety of bathroom vanities to suit every budget and style.
Hardware resources is our go to vendor for high quality All in One Vanities. The color and style option are limited but the it is the best value for furniture vanities up to 72″
Dura Supreme is out go to source for semi custom furniture style vanities. They have a mix and match program that is great for creating a personal cabinet for you bathroom.
Bellmont is our go to for all frameless cabinetry including bath vanities. The 1600 line has a wide variety of doors styles and colors available and is customizable in 1/4 increments
Bellmont's 1900 line offers even more color and door style option including the ability to customize the doors and choose custom colors. 1900 series cabinets can be customized in 1/8 inch increments.
Jay Rambo is our custom cabinet line. If you can dream it Jay Rambo can make it! They also have some very unique glazes and door style options.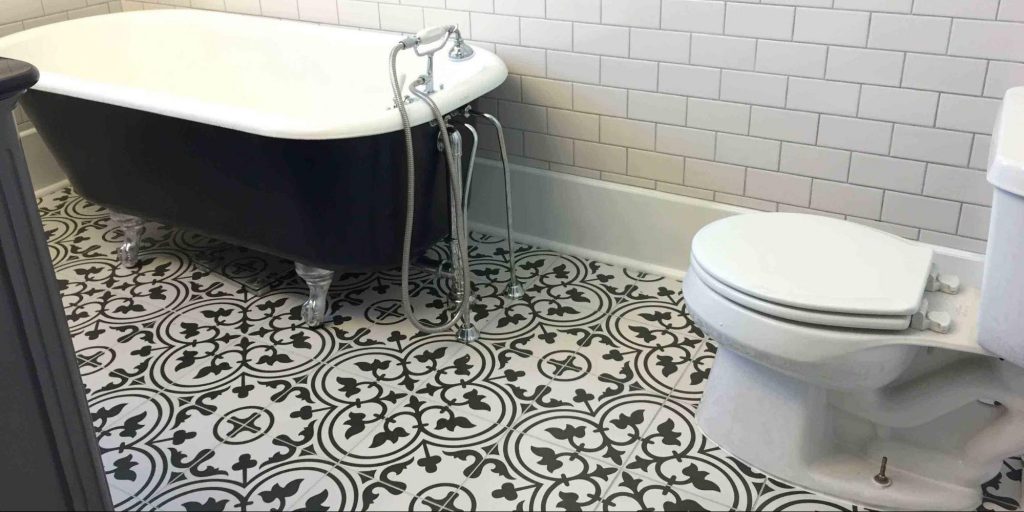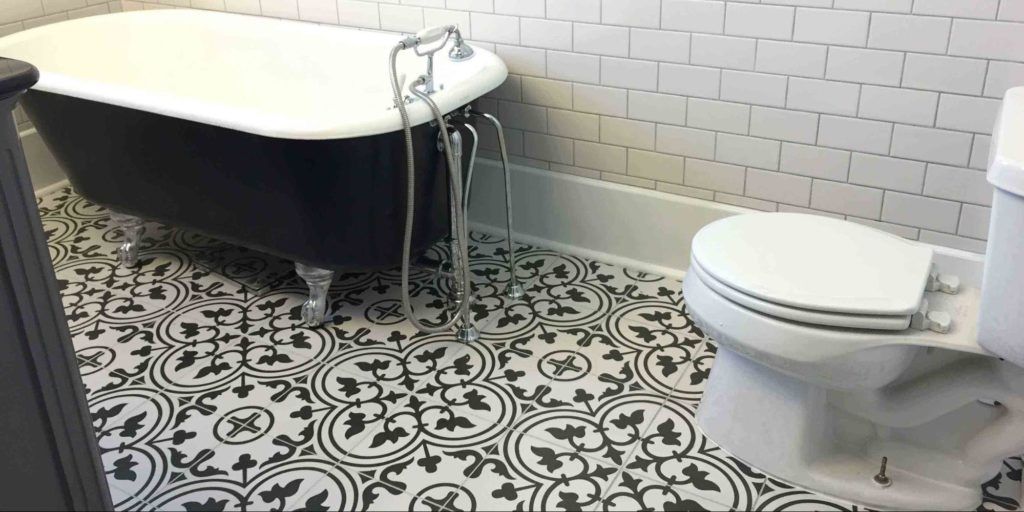 Tile Choices
There are almost too many options when it comes to bathroom tile. In our showroom we've curated a collection of today's most popular tiles along with some classics that work well in every home.
Emser is our go to for most projects. They have a wide ranging selection in our Good, Better and Best categories. We are the only Emser Tile dealer in Tallahassee.
Dal tile is one of the larger tile suppliers in the US and you'll see them offered in most showrooms and even home depot. We carry a small selection of there more unique tiles.
Crossville tile has some really unique tiles that are among our favorites. They also specialize in large porcelain panels.. tiles up to 5 feet x 10 feet!
Shower Construction and Waterproofing
Waterproofing your shower properly is arguablbly the most important aspect of any bathroom remodel. Unfortunately many contractors do not place an emphasis on proper waterproofing which can lead to problems a few years after the project is complete.
Signs of Improper waterproofing:
Hard to Clean Grout
Mold
A shower floor that does not dry quickly
---
The Best Way to Waterproof a Shower
We use schluter systems products on all our showers. Everyone on our team and all out tile installers a Schluter Certified and we are a Schluter Authorized Dealer.
Plumbing Fixtures and Lighting
Plumbing fixtures and lighting is another area where you can be overwhelmed with choices. Our showroom is too small to display a wide variety of fixtures so we partner with online and local vendors.
Plumbing Fixtures
Build.com
Build.com is owned by Fergusson, one of the largest plumbing supply houses in the US. We have a dedicated rep from Build.com and they provide us with discounted pricing and fantastic customer service. The build.com website is very easy to search and the majority of our customers really love it.
Southern Bath and Kitchen (formerly Water Lily) in Thomasville
John and Jody at Southern Bath and Kitchen are very knowledgeable and they have very nice showroom with lots of options on display. They do tend to be on the costlier side but you are paying for real expert advice on your plumbing fixtures.
Lighting
We also rely on build.com for lighting choices, though there selection is pretty conservative from a design standpoint. There are other online vendors we go to for great contemporary or modern styles like lightology
Tallahassee Fan and Lighting here in town also have a good selection of lighting option, though again in our experience they tend to lean towards more conservative options.
Common Bathroom Remodeling Costs
These are some average prices for the gut renovation of different bathrooms. We've included a link below to our comprehensive bathroom remodeling cost guide as well.
A typical hall bath remodel can cost $18,000 to $27,000
A master bath can cost $35,000 to $55,000
A powder room can cost anywhere from $5000 to $15,000
Let's Chat: Schedule a Phone Consult
After short 15 minute phone call we'll be able to tell you the feasibility and rough cost of your project. Then if you like we can schedule a home visit so we can create your Good Better Best budget together.