McManus Kitchen and Bath provides a single place where you can work with interior design and construction professionals who can help you create a happy, healthy home. We start each project with a Design and Budget Consult. It will help you clarify your design ideas, understand the remodeling process and create a Good Better Best Budget for your project. Click Here to Schedule a Consult
Big kitchen or small, an island is a multi-functional component that, from prep area to seating, offers many practical uses. Even small kitchen islands can have a big impact. The trick to making it work is to design the room's layout and the island itself with maximum efficiency in mind. If you're remodeling your kitchen and want to add an island, read on to discover just how easy it can be, regardless of square footage.
In Tallahassee, there are a lot of older homes that don't have pantries, so the additional storage space of an island is appealing to many homeowners. Some wonder, though, if putting an island in a small kitchen will take up more floor space than it's worth.
In most cases, the positives of adding an island outweigh the concerns. The key to success is in defining your overall needs in the design stage and then choosing an island that serves several of them at once:
Create extra counter space.

Use as an eating counter.

Offer additional storage via drawers, cabinets, shelves, and hooks.
No matter which island you ultimately decide on, make sure it's sized correctly and does not interrupt your kitchen workflow.
---
Can I Add an Island to my Small Kitchen?
Maybe. Here are some things to consider:
Will it be in the way?
An island can add much needed storage and counter space but if it is placed between to work areas, like your sink and cooktop, for example, it can create an obstacle you constantly have to walk around in order to prepare a meal.
The NKBA offers standard kitchen space recommendations: For work centers, no leg of the work triangle (the distance between the cooking, prep, and refrigeration areas) should measure less than 48 inches, and should not intersect an island or peninsula by more than 12 inches.
Minimum space requirements
An island needs to have a minimum 36" of space all round it. 42" inches is better and 48" is ideal. The space from an island to your perimeter cabinets shouldn't exceed 60 inches.
Island Seating
For a 36" tall island At least a 12" overhang is required, though with 12" your knees will most likely knock against the back of the cabinet. 14" is better and 16" would allow you to sit with your legs completely under the counter.
If the island is 42 inches tall then 14 inches is an adequate overhang.
---
Island Options for Small Kitchens
So what do you do if your kitchen doesn't quite meet the space requirements for a kitchen island? You get creative!
While the work triangle is the golden rule of kitchen design, depending on your needs, you may find it best to bend the rules a bit. In truth, as long as the island doesn't block a doorway or prevent you from opening appliances or cabinet doors, you can find a way to make any option work.
Galley kitchen: Creating a midpoint prep station for a narrow kitchen makes meal preparation easier, adds a "drop zone" near the refrigerator, and lets one person slice and dice while the other sautés the veggies. We often recommend a "skinny island" for galley kitchens with 18-inch cabinets instead of the standard 24-inch ones.
Chef's kitchen: Rolling islands and carts are great choices for people who do a lot of cooking but want to store the island against a wall or in another space when it's not in use. This type of island offers a ton of available features: pull-out surfaces for chopping or kneading, drop-down leaves, handles that do double duty as towel bars, adjustable shelves, and butcher-block surfaces. A big advantage to a rolling island is that it can be larger than a fixed one. If you need to grab something from the fridge or put a casserole in the oven, you simply push it out of the way.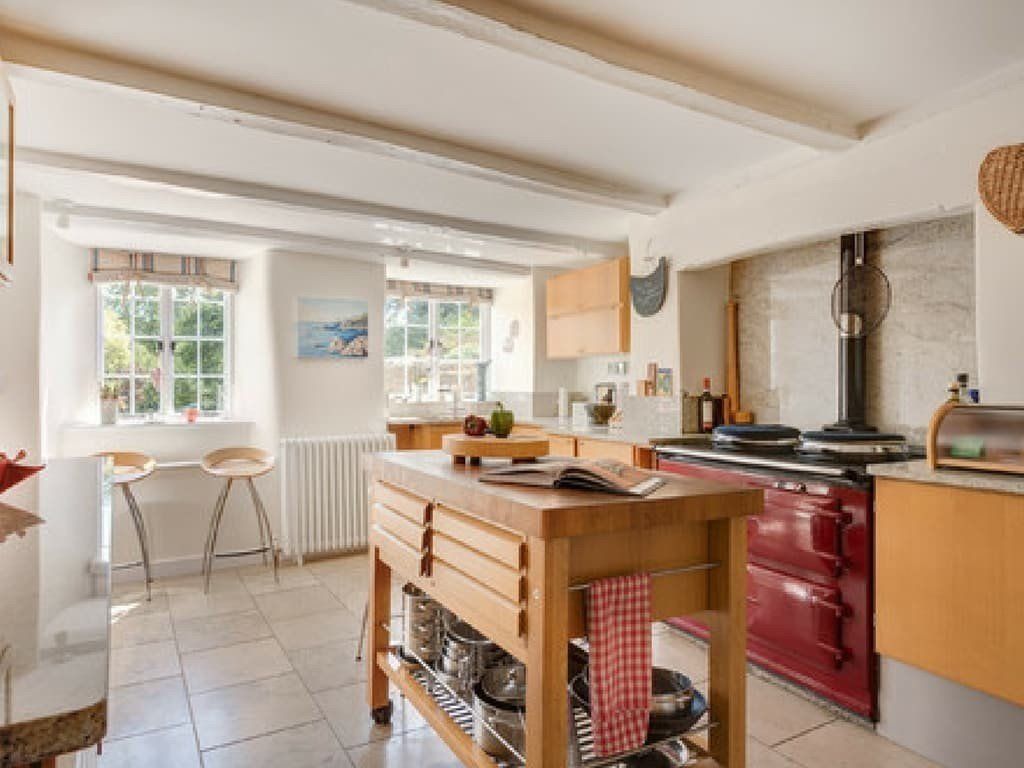 Multi-purpose kitchen: The farm table is the original workhorse of the kitchen and was often used in the center of the kitchen as an island. The table also served and the dining area, it was where homework was done and household meetings were held.
Depending on your preferences, you might want to use a sturdy table, with or without wheels, as an island. With a drawer to hold cookie cutters, shelves for bowls, and a butcher block top, it's the ideal baker's island.
Vintage is often a great way to go; narrow sofa tables and consoles are usually well-constructed. And in a pinch, the table can be used to seat extra guests or serve as a buffet station.
What If it Just Won't Work?
For some smaller kitchens, an island simply won't work with the existing layout. In that case, you might want to consider installing a peninsula which gets you the storage and prep work you need without blocking important pathways.
How Much Will it Cost?
Small-scale islands do not need to be expensive or custom made. There's an incredible variety of off-the-shelf options available for kitchens of any shape or size and for all budgets. You can give one a test drive and see it if it meets your needs before installing it permanently. Or, let our designer show you how different islands will look in your newly remodeled space.
Thank you for reading! We'd love to be a part of your next remodel. Check out our design services page