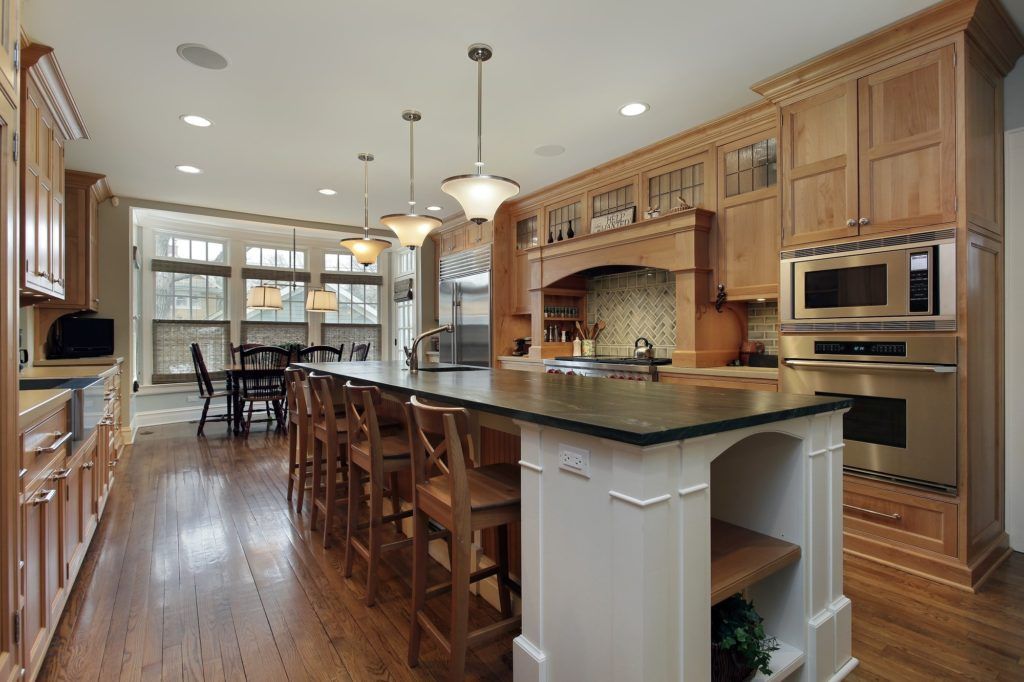 Bottom Line (tldr;): – Both plywood and particle board are suitable for cabinet construction. If cost is no issue then go with a high quality plywood cabinet box. – A 45# particle board can outperform plywood when used properly – Beware of cheap plywoods – many imported cabinets are made from lower quality plywoods B
Kitchen cabinets are the cornerstone of your kitchen decor. Whether you go modern, traditional, or vintage, an important decision is what material will be used to make your cabinets from.
There are about 8 things to consider when looking at cabinets. Four of them have to do with the materials they are made from and the other two 2 have to do with how they are assembled, finished and packaged/shipped.
---
Cabinet Construction 101: What's involved
The cabinet box
The cabinet Doors and drawer fronts
The cabinet drawer box
The hardware (hinges and glides)
The cabinet finish
Cabinet Assembly and Handling
How are the boxes assembled?
How are the finishes applied?
How are the cabinets stored and shipped?
Today I want to talk about cabinet box construction and what to look for when you are shopping for cabinets at different price points. We'll tackle the other parts of the cabinet in later blog posts.
---
Cabinet Box Materials
There are three kinds of materials for cabinet boxes: Solid Wood, Plywood and Particle Board.
Solid Wood
Way back in the day solid wood was the only choice for cabinet box construction. It's not used much today because it is expensive and solid wood tends to warp and twist easily, especially in humid environments. Its really just not a good choice for kitchen cabinet boxes.
Plywood
Plywood is a composite material, similar to particle board, but made differently. Unlike particleboard (made of wood chips / wood pieces), plywood is made of thin sheets of wood glued together to make one sheet. One of the things that impacts the quality of a plywood is the number of layers it is made from.
Plywood is commonly made out of lighter wood, in many cases lighter than  particle board which can make it easier to handle.  Another factor in the quality of plywood is the type of wood used in each layer. Plywood is often more expensive than particle board so to cut costs some companies are using a thin outer layer of higher costs wood and using lower costs softwoods in the interior of the plywood.
You may automatically assume that your plywood would absorb less water than particle board but you would be wrong! Water can actually absorb faster into plywood than particleboard.
Plywood used to be a economical choice, however these days cabinet grade plywood is quite expensive and it looks like recent tariffs will only increase the cost.
Plywood comes in all kinds of varieties, some high quality, some low quality and everything in between
Softwood Plywood – low quality used in lower cost cabinets
Hardwood Plywood – "cabinet grade" use in better cabinets
Tropical Plywood – low quality softwood used in lower cost cabinets
Plywood is graded from A to D with A being the highest grade (free from knots and defects)
It can be very difficult to tell the difference between softwood and hardwood plywood. Price is usually the best indicator.
Particle Board
Particle board has been around since the mid 50's.  It was first made in a factory in Bremen, Germany during the second world war.
The first particle boards were expensive and not very durable. Today's particle boards are formed by using compression and temperature to make a much harder consistency.
Many manufacturers are moving to high quality particleboards in their cabinet construction because the material cuts and shapes more consistently, does not twist or warp like plywood and is a more uniform thickness than plywood.
Like plywood, particleboard comes in several varieties.
15# Particle Board (the density is 15 pounds per cubic foot), typically used in furniture from Ikea, Walmart etc…
45# or industrial grade particle board (has a density of about 45 pounds per cubic foot) uses waterproof glues and resins to bond the particle together.
---
The 24 Hour Water Test
Check out the image below. On the left is a cabinet grade plywood. On the right is Industrial grade (45#) particle board. We place both samples in an inch of water with red food dye for 24 hours.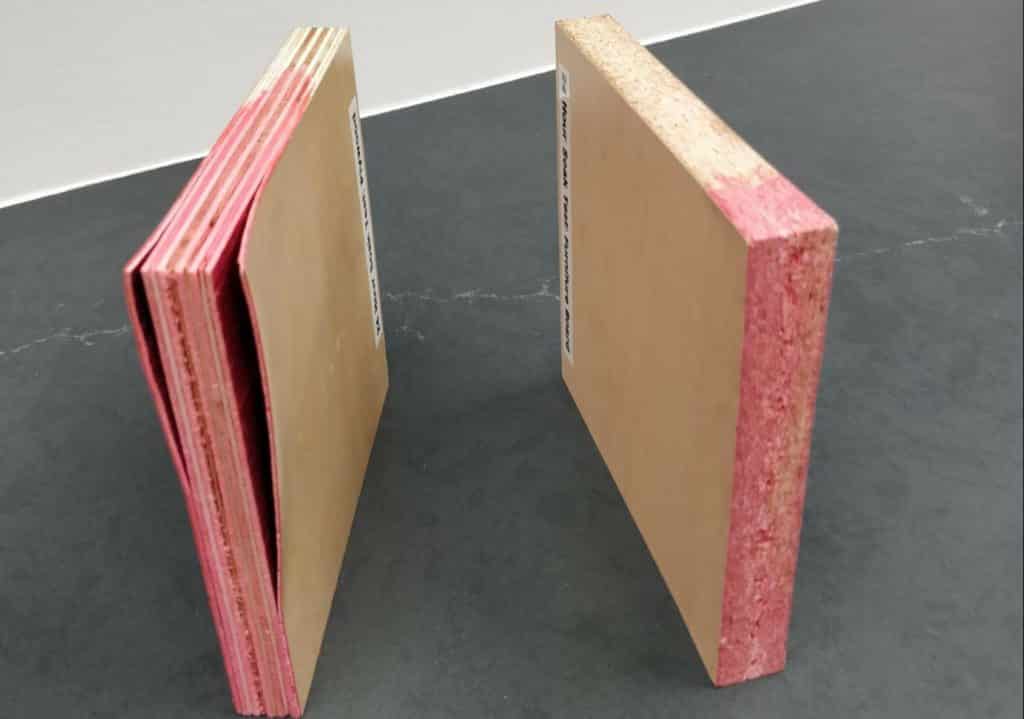 As you can see the plywood has delaminated and the water has wicked far up into the board. The industrial grade particle board has swelled slightly but shows much less damage.
Now, we don't recommend you soak your cabinets in water for 24 hours. If however it does happen, modern particle boards hold up better than plywood.
---
Plywood as a Marketing Tool
Manufacturers know the general public has a bias towards plywood cabinets so they market their cabinets as "all wood". But in order to cut costs low grade plywoods with softwood cores and very  thin finish veneers.
Whether you cabinets are made from particleboard or plywood it's important that the material is the highest quality.
---
Particleboard's Bad Rap
It's important to know that over the years particleboard earned itself a bad reputation because of how older cabinets were turning into mush with when they got wet from leaky plumbing.
Fortunately, particleboard has made quite the comeback since the 1960's and 1970's.There are now more high-end options that can serve to hold up many years and in some cases, particleboard can better support screws, due to its density. Also, high-end MFD can withstand situations that cause plywood to expand and contract.
You could also argue that particle board is the more sustainable option as it utilizes wood more efficiently in its manufacture.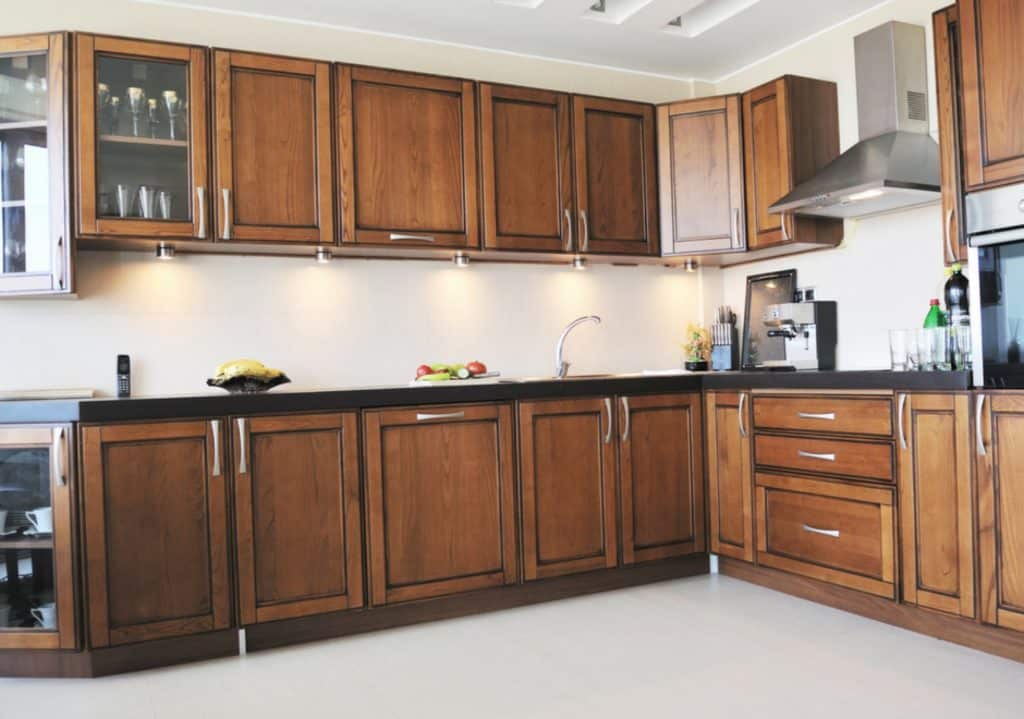 Here are some good reasons to use particleboard:
Cost. The cost of particleboard is dramatically cheaper than plywood and very durable, it makes it a great material to use.
Options. With particleboard, you have many more options for different kitchen styles. It is readily available in much larger sizes such as 5 x 12 foot panels, for example, than plywood. The flexibility in being able to create large sheets means that they can be milled into beadboard panels or wainscot paneling.
Heat & Humidity. High-end, water-resistant particle board can be a great option for high-humidity areas that may warp plywood in unfavorable ways.
Looks. Most of the time (depending on the installation and type of particleboard) you cannot tell the difference from that of plywood, aesthetically speaking.
Things to consider:
Its heavier.  particle board is very dense so it weighs a lot more than plywood. It's a good idea to have two people to handle the cabinets, especially tall cabinets and larger upper.
It is harder to ship. Particle board cabinets can get damaged more easily in shipping and must be handled with care.
Particleboard is more precise and consistent. Its thickness is more uniform than plywood.
Quality matters. Stay away from 15# particleboard and stick to higher quality industrial grades (45#).
The right fasteners should be used. Particle board construction requires a screw with the a coarser thread when attaching boxes together. When attached to a wall a screw with a larger head, such a fast caps powerhead screw, or a regular screw with an added washer.
Plywood
Here are some good reasons to use plywood:
Looks: Plywood provides that natural look and feel of real solid wood with grain, knots, and mineral streaks.
Durability. Plywood is a sturdy material made from wood sheets that are compressed and then covered with a veneer. It's a great material to use in kitchens as well as other areas of the house because it tends to stand up well to wear and tear.
Construction. Plywood can typically hold nails, screws, other fasteners, and even glued joints.
Things to consider:
Plywood can be significantly more expensive than particle board.
Watch out for cheap plywood. Not all plywood is the same and a lot of companies are using inferior grades of plywood in their cabinets just so they can say their cabinets are "all wood".
Plywood can vary a lot from sheet to sheet. Plywood thickness can vary by as much as 1/16 of an inch and each sheet with have different knots, grain and voids.
Plywood can twist and warp in high humidity.
---
A Word on Cabinet Box Construction
Aside from the materials your cabinet box is made from you also want to consider how the box is put together.
Staples vs Dowels or Joinery
Many lower end cabinets are simply stapled together with crown staples, which is a fairly flimsy way to construct a cabinet. Higher quality cabinets will use dowels or wood joinery techniques like dado channels to assemble the cabinet box.
Shelf Depth
You also want to pay attention to the shelf depth and adjustability. Some shelves are only ½ the depth of the cabinet, others are full depth.
Solid Top vs Open top
Some cabinets are solid top, they have a solid ⅝ inch or ¾" solid top. Others are open on top. Solid top cabinets stay square better. Open top cabinets use corner braces or mid-rails to keep the cabinet square but often these come loose during shipping.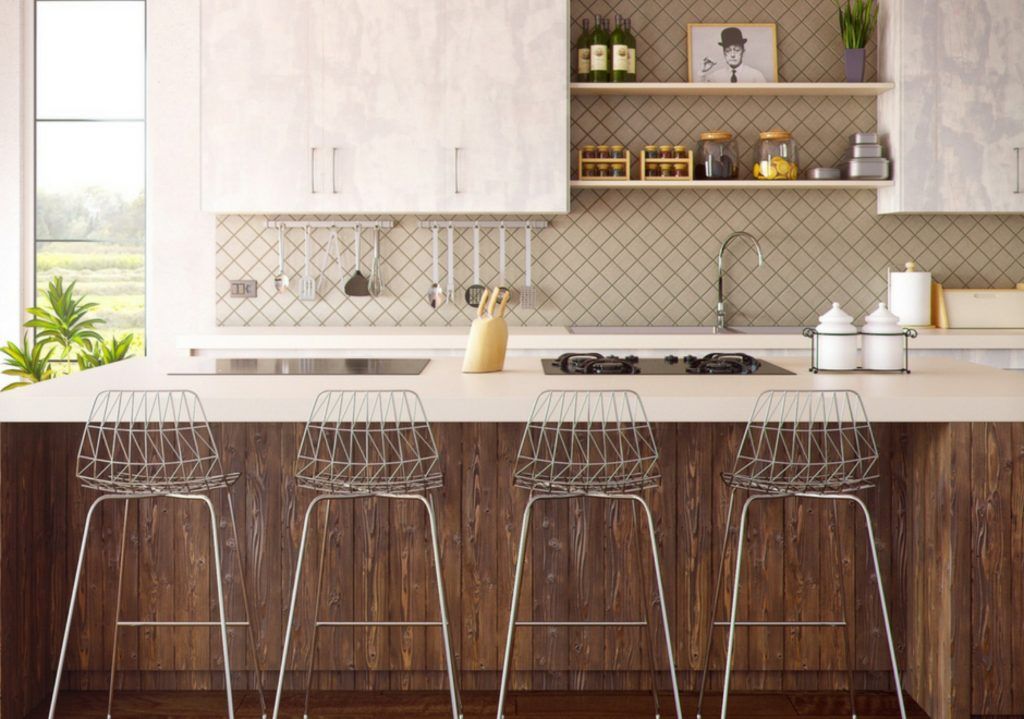 ---
Which Cabinetry Material is Right For Your project?
For the value it offers we think particle board is a great option and we specify it quite a bit. We also think its a more sustainable option and like the consistency of the material.
When we compare particle board cabinets to similarly priced plywood cabinets the plywood used is low quality and thinner than what we recommend for cabinet box construction.
High quality plywood cabinets cost roughly 20% more than cabinets made from high quality particle board.
There is a little bit of specialized knowledge needed when working with particle board cabinets but as long as you use the right fasteners and install methods they are a great option.
---
McManus Kitchen and Bath Cabinets
Our main cabinet lines, Bellmont and Dura Supreme both come with plywood and particle board options. Both companies use 45# industrial grade particleboard and have a limited lifetime warranty.  
Thank you for reading! We'd love to be a part of your next remodel. Check out our design services page