McManus Kitchen and Bath provides a single place where you can work with interior design and construction professionals who can help you create a happy, healthy home. We start each project with a Design and Budget Consult. It will help you clarify your design ideas, understand the remodeling process and create a Good Better Best Budget for your project. Click Here to Schedule a Consult
__________________________________________________________________________________________________________________________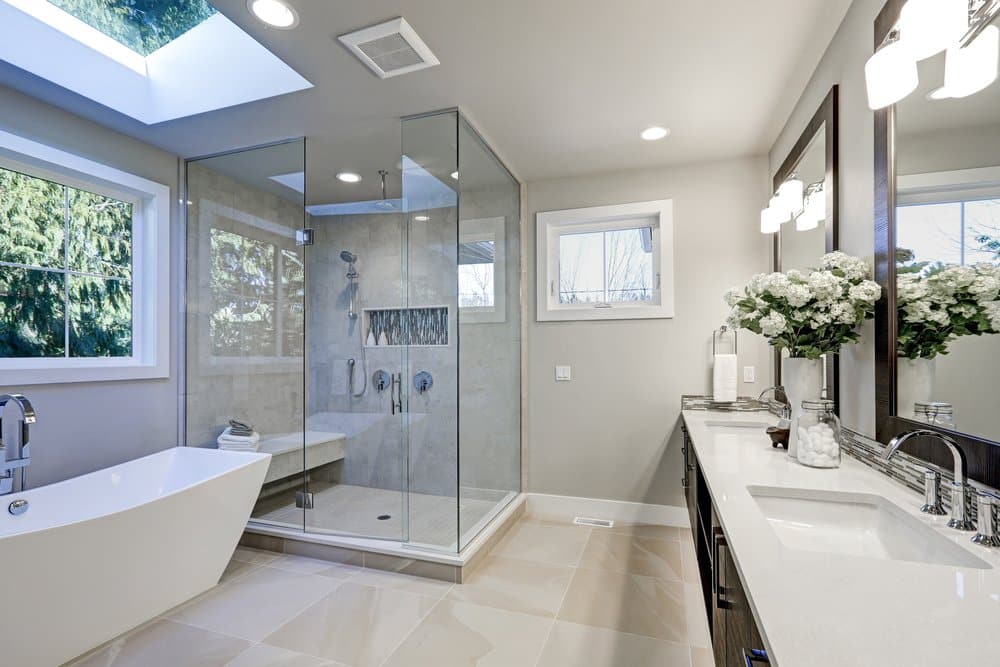 Recessed lighting in the bathroom is very popular and for good reason. It offers a clean low profile appearance that doesn't intrude on your space while brightening the whole room. Recessed lighting does have limitations and it is rarely the only type of lighting you want in your Tallahassee bathroom. In this post we're going to break down the different types of recessed lighting, its uses and drawbacks. 
---
Recessed Lighting Parts
Recessed lights, also called can lights, are made up of two main parts: The housing that fits up into the ceiling cavity and the trim, which is what you see below the ceiling. The bulb you choose decides the light hue and intensity while the trim piece decides the focus and direction of the light. 
Types of Recessed Lighting Trims
Baffle trims set the bulb up into the ceiling and create a cone of light. Different baffles produce a difference width cone of light.
Open trims allow the bulb to be level with the ceiling which doesn't restrict the light and allows for better illumination of a larger area.
Eyeball and gimbal trims extend the bulb down slightly from the ceiling in order to direct the light in a specific direction.
Pinhole trims direct the light through a smaller opening in order to create a more focused beam.
Shower trims include tempered glass and are wet rated for installation directly inside a shower.
---
Uses for Recessed Lighting in the Bathroom 
General lighting
General lighting is used to brighten the whole room. It is what you need to see and maneuver through your space. Recessed lights are need to be placed every 4 feet if used for general lighting. Spacing them further apart will result in shadows throughout the room. Place lights at least 2 feet from walls and cabinets to avoid a spotlight effect on vertical surfaces. 
Task lighting
Recessed lights are not ideal for task lighting around the vanity but can be used in showers or over a tub. Since the light is cast down from the ceiling it can create unwanted shadows when used over a vanity. Sconce lighting or an LED mirror is your best option for task lighting around the vanity.
---
Accent lighting
One of the best parts about recessed lights are all of the options it gives you in directing the light just how you want it. This makes for great accent lighting since you can easily change the direction and intensity of each beam of light where you want it just by choosing the corresponding baffle trim.
You can also have the lights connected to a dimmer switch so that you can create the perfect atmosphere. By connecting them with a smart switch such as Deako, you can change the setting on command. This allows you to get into a nice relaxing bath and then with a few words either dim the lights or turn off some while a few stays on.
---
Recessed Lights When Remodeling…An Alternative
Recessed lights get their name from the fact that the housing of the light is recessed inside your ceiling. When building a new home it's fairly easy to layout these lights and avoid obstructions. When remodeling however we often run into issues where our layout is interrupted by ductwork or framing in the ceiling. 
An alternative to recessed lights… Disk Lights
A great alternative is an LED disk light. These look very similar to recessed lights but they mount in a normal lighting box or even a pancake box making layout much easier. 
---
Thank you for reading! We'd love to be a part of your next remodel. Check out our design services page