McManus Kitchen and Bath provides a single place where you can work with interior design and construction professionals who can help you create a happy, healthy home. We start each project with a Design and Budget Consult. It will help you clarify your design ideas, understand the remodeling process and create a Good Better Best Budget for your project. Click Here to Schedule a Consult
__________________________________________________________________________________________________________________________
RTA Cabinets: Pros and Cons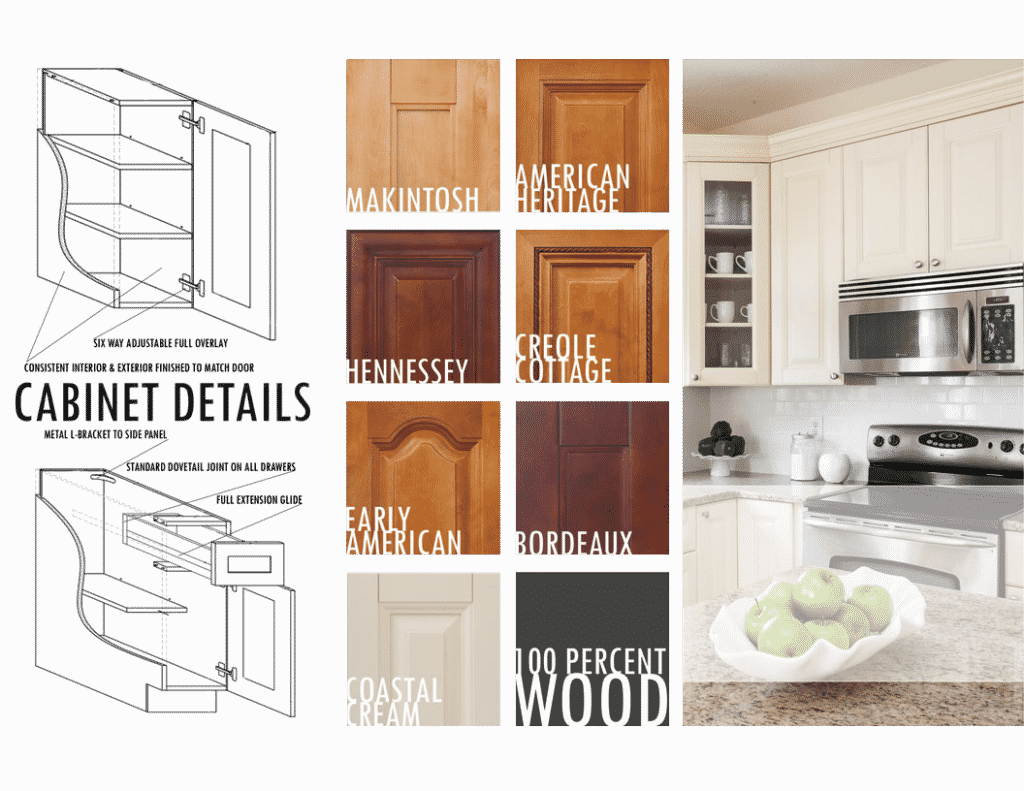 RTA Cabinets (Ready to Assemble) are be heavily promoted online by companies like CliqStudios, The RTA Store, Kitchen Cabinet Kings, Kitchen Cabinet Depot and others. You can also find them at big box stores and in most local cabinet showrooms. So why are they so popular?  One word: cost.
RTA cabinets are mostly made in China and shipped to the US disassembled or flat packed, kind of like Ikea Cabinets. RTA actually stands for Ready to Assemble.
Why are they so cheap?
A large reason many RTA cabinets are so inexpensive is because of something called dumping – a common practice in China where the government heavily subsidizes the manufacturing of products so they can be sold at very low cost in foreign markets. Many Chinese companies are currently being sued by US cabinet manufacturers for the dumping of RTA cabinets on the US market.
But dumping is not the only reason. Some other reasons they are so low costs are:
They use lower cost plywood to construct the cabinet boxes
They use lower cost soft woods to make their doors and drawer fronts
They use lower cost hardware for their drawer glides and hinges.
They have limited door styles, colors and sizes (which reduces inventory costs)
We actually carry a brand of RTA cabinets in our showroom from a company called Fabuwood. We use them occasionally where a low budget is the most important factor to a homeowner. Typically for rental homes or in laundry rooms and guest bathrooms. We searched for many years to find an RTA cabinet company who still offered a quality cabinets and reliable service and Fabuwood has done a great job.
Why are they so Popular with Builders and Retailers?
Because of high profit margins. Even though they costs less than competing brands the profit margins on RTA cabinet is 25% – 30% more than higher quality brands. That's right, they make more on the cheapest cabinets than we do on the better quality ones. Some online retailers and showroom take advantage of this and advertise their RTA brands as similar quality at a lower price (we think this practice is deceptive and would never do it).
Many builders like them because they can buy them direct and they are easy to store since they come flat packed. Unfortunately most builders do not know enough about cabinetry to tell the good ones from the bad. We know some builders in town building million dollar homes and putting these cheap, RTA cabinets in them.
They Look Good, What Makes Them Low Quality?
To the untrained eye (and if you believe the marketing hype) they look like quality cabinets. The websites and sales people use buzz words they know people care about like "all wood construction", "dovetail drawers", "soft close hardware" and "9 step finishing process".
But what they don't tell you is:
the "wood" is low quality 1/2 inch softwood plywood with paper thin veneers
Doors and drawers are made from cheap softwoods like poplar or rubber wood
The soft close hardware are knock off to the more reputable brands
The dovetails joints are loose and ill fitting and held together will lower quality glues
Are there any reputable RTA Brands?
Yes there are some. We like Fabuwood Cabinets because they do a great deal of quality control and have great customer support. We also like Gala Cabinetry which are Italian made and offer more door styles and sizes than many other brands. I'm sure that more companies will start bringing quality RTA cabinets to market in the near future. The concept is a good one, but right now there are a lot of bad RTA cabinets out there.
---
Pro's
RTA cabinets can be a good choice in the right circumstances. We call them our '5 year cabinets' as we believe they have a lifespan of 5 to 8 years. By comparison we call our semi custom brands, like Bellmont, our '15 year cabinets' because we believe they will last 15 to 20 years or more.
Inexpensive
They are by far the lowest cost cabinets on the market.
Short lead time
Since they are flat packed and stored in large warehouses they can be delivered in as little as 3 weeks. Typical semi custom cabinets take 6 to 7 weeks to be delivered.
Easy to store
Since they are boxed and flat packed they are easy to store
Look good for a few years
They do look good in the short term so they may be the right choice in some situations like a rental property.
---
Con's
Limited Sizes
They come 3″ increments (compared to 1/4/ inch increments for higher quality brands).
Limited Colors and Door Styles
They often only come in 6 or seven colors and door styles. (Compared to to hundreds of styles and colors for quality brands). These are usually "on trend' colors that are most popular at the moment.
Limited Options
RTA cabinets do not have a lot of choices when it comes to things like tall pantry cabinets, corner cabinets, organizers or other things that can help a designer really customize a kitchen.
Poor Quality / Short Lifespan
We tell out clients that these cabinets have a 5 to 8 year lifespan. We do not recommend you put expensive counter tops like granite or quartz on them.
The Hidden Cost of Assembly
The initial cabinet cost is low but you have to factor in $25 to $30 for each cabinet to assemble them. For a small kitchen that can add $600 or more.
Lack of Customer Support
Since most RTA cabinet lines are not part of dealer network and are just sold by online vendors it can be difficult to get problems resolved.
How Do I Know If I'm Buying a Quality Cabinet?
The best way is to work with a reputable local cabinet dealer. They can help educate you on all the options so you can make the right choice for your home and your budget.
We think its a bad idea to buy your own cabinets online unless you are just buying one or two cabinets. But if you're buying the cabinets yourself online the best advice is that if it seems to good to be true it probably is. Low cost products are usually low cost for a reason. That does not mean you shouldn't buy them but you should understand the pros and cons before you do.
Thank you for reading! We'd love to be a part of your next remodel. Check out our design services page