McManus Kitchen and Bath provides a single place where you can work with interior design and construction professionals who can help you create a happy, healthy home. We start each project with a Design and Budget Consult. It will help you clarify your design ideas, understand the remodeling process and create a Good Better Best Budget for your project. Click Here to Schedule a Consult
__________________________________________________________________________________________________________________________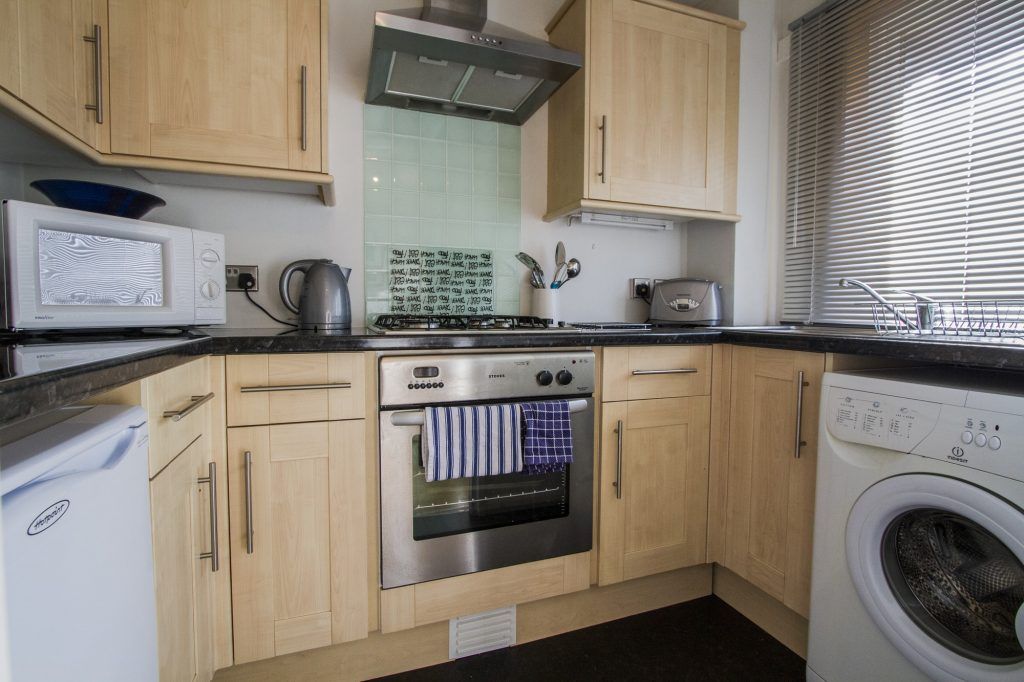 When space is limited, it takes smart and efficient design planning to create a kitchen that is aesthetically pleasing while offering all the functionality every family needs. One of the keys to a successful cabinet design layout for a small kitchen? Think multifunctional.
A Place for Everything
Anyone who lives with a small kitchen knows that organizing one can be a bit of a challenge. But don't let that discourage you from getting the kitchen cabinets you want. Use these ideas to find inspiration for your own small space perfection.
Maximize vertical space

. Think about the room as a whole and take advantage of extra space wherever you find it. If your kitchen has taller ceilings, opt for 42" uppers instead of the standard 36" ones. If there's still additional space, stack another set of smaller cabinets on top of those.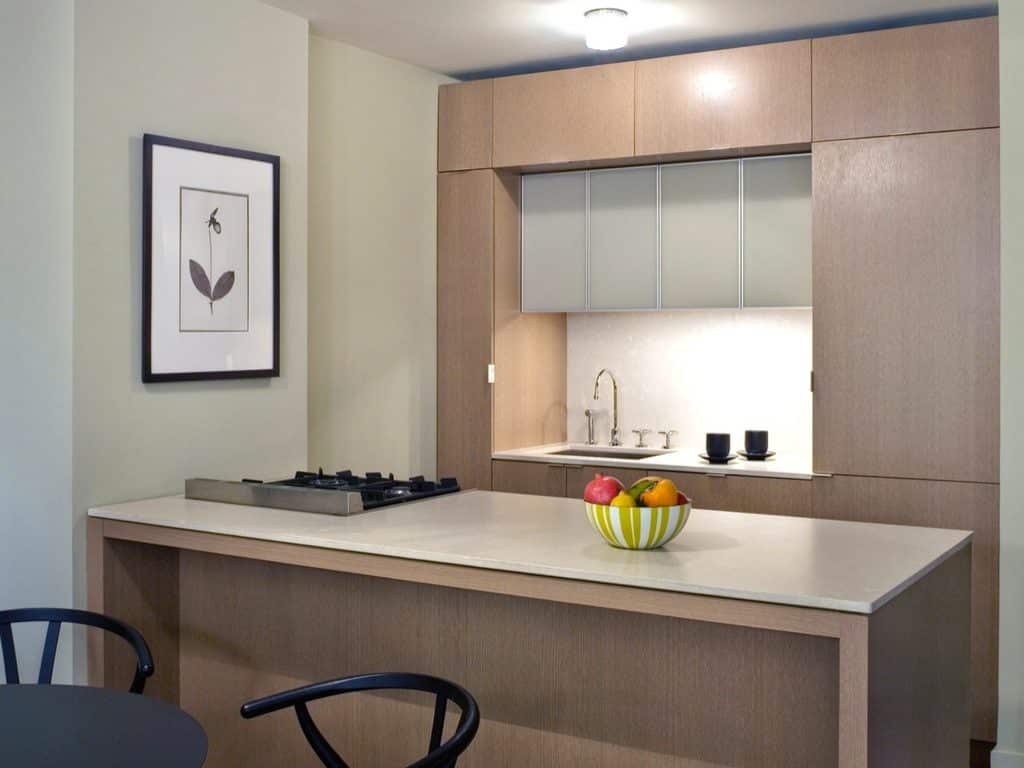 Boost cabinet space

by creating storage within storage. Install drawer dividers that keep utensils, serving pieces, and lids in place. Add roll-out trays in multiple cabinets and at least two shelves in each lower cabinet for maximum storage capacity. Before starting your layout, make a list of everything you need to store and include them in your design. This ensures maximum efficiency.  

Cut the clutter.

Smaller kitchens typically have less counterspace than their larger counterparts, so avoid using them as storage. Before you place an item on the counter, ask yourself "Is there something else that can do double duty for this?" Take advantage of the backsplash area by adding storage for frequently used items like spices, knives, and oils.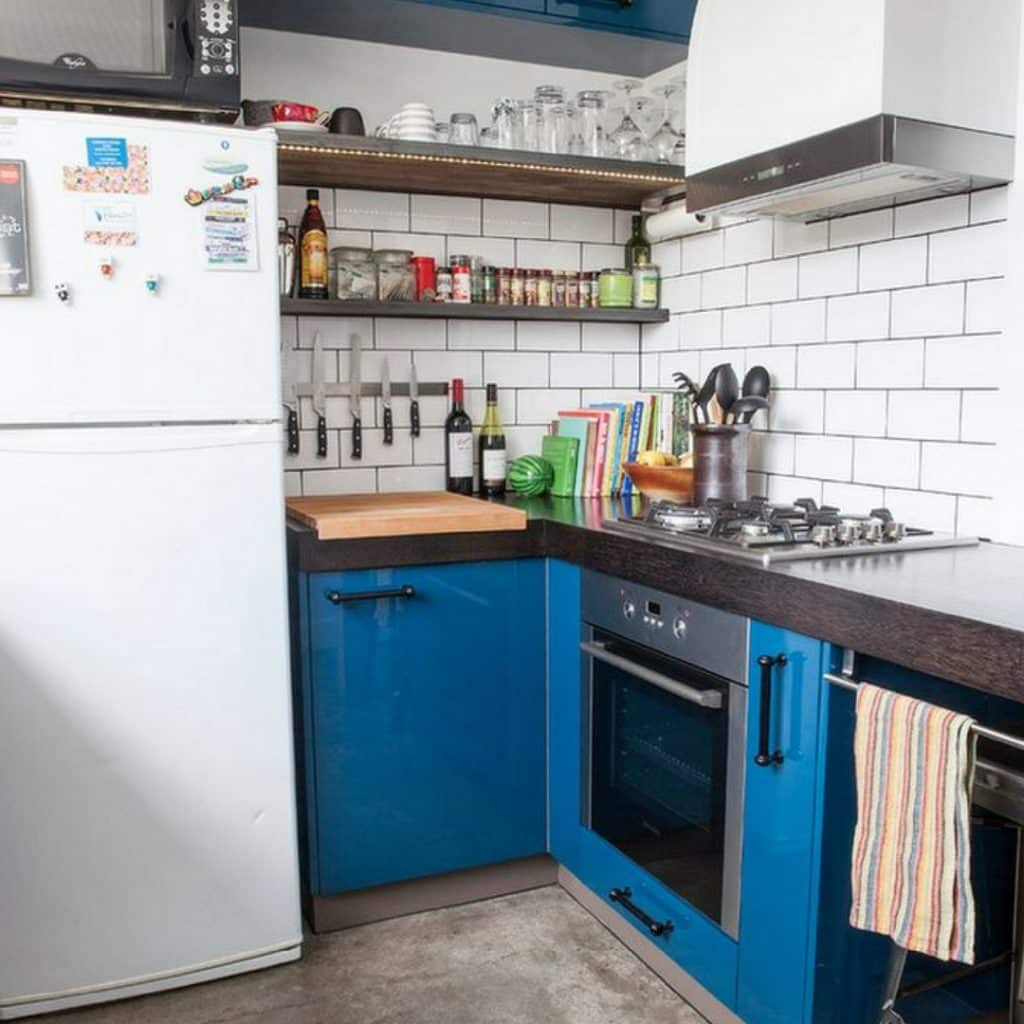 Use more drawers than doors.

Cabinets with doors aren't always the most efficient choice for smaller kitchens. Deep drawers may offer better storage options and solutions and are often easier to organize.

Go light.

A lighter finish cabinetry helps a smaller kitchen appear larger while dark finishes close off the space. White, off-white, or greige, a popular blend of grey and beige, are all excellent choices. If you like the look of rich wood tones, think about using it only on the island cabinets. Another way to lighten the room? Replace several solid doors with glass ones.

Customize.

Install multiple lazy susans in corner cabinets, add a tip-out tray at the sink area, and incorporate pull out features like spice racks and trash cans. Have wall space where cabinets won't fit? Install open shelving that matches the color of your cabinets.
Finally, is there any area just outside the kitchen that can be used? An open floor plan design is perfect for extending cabinetry into an adjoining room. Use taller cabinets as a pantry, for small appliance storage, or to display dishware, glassware, and serving pieces. Or use floor to ceiling cabinets as a room divider.
Pleasing to the Eye
Too much storage or cabinetry in a small kitchen can sometimes overwhelm the eye. Try breaking things up by using different heights of cabinets. This visual trick can give the illusion of furniture instead of wall-to-wall closets. The most important thing to keep in mind is that small doesn't have to mean boring or giving up the storage you need. Talk to our designer about how to make use of every inch in the most efficient and aesthetically pleasing way!
Learn More
Even if your kitchen is small, you can have all the space and storage you want without tearing out walls or adding square footage. A good mix of drawers, divided cabinets, pull-outs, and built-ins will give you all the function you need.
Are you ready to remodel your greater Tallahassee area home's kitchen? We'd love to be a part of your next remodel. Check out our design services page