How to Organize and Adjust Kitchen Drawers 
Are your kitchen drawers driving you crazy? Are you spending more time searching through a cluttered drawer or trying to shut an overcrowded one than enjoying your Tallahassee kitchen?
Because kitchens are the heart of the home, they are often full of people and activity. You want your kitchen to be tidy and easy to use, welcoming and homey. If your kitchen drawers prevent this, it's time to do some organizing and adjust your kitchen drawers. 

Empty, Clean, Adjust, Organize.
All drawers need adjusting eventually. Typically they need a little adjustment right after you put everything away in a new kitchen. The drawers were adjusted when they were empty but sometimes once they are full of stuff they need a small tweak or two.
That's one reason we provide a "6 month tune up" on all our projects where we come out after 6 months of use to fine tune things. But after years of use they sometimes needs adjusting again. 
It's easiest to adjust your drawers when they are empty. And since you're emptying your drawers what not clean and organize them too!
While this might seem like a daunting task it really does not take that long once you get used to the adjustment mechanisms on your drawers. You can even do them one or two at a time and spread the effort our over a couple of days or weekends.
In general, 3-4 hours should be enough to adjust and organize all the drawers in your kitchen.
Step One: Empty Your Kitchen Drawers and Declutter
It's so tempting to start organizing your kitchen drawers by heading to your favorite organization store and loading up your cart. But if you jump to that step first, you will end up buying things you don't need and forgetting things you do. 
Start by pulling everything out of all your drawers. Go through each item and see if there is anything you no longer need or any doubles: two can openers, two identical cheese graters, etc. Anything you declutter is something you do not have to find a place for! 
Put like things together into piles, and think about the most logical place for each type of item. You want to put the tools you need near the place you use them. Make your kitchen convenient for you, even if that means planning to put something in an unconventional location.
While your drawers are empty, take the opportunity to wipe them out and lay shelf paper if needed.
Different Brands and Models Have Different Adjustments. Our favorite glide is the Blum Movento because is has easy 6 way adjustments (its also one of the quietest and smoothest glides on the market). 
Step Two: Make Adjustments
Sometimes after a few months or years of use, drawer fronts move a bit out of alignment. If you notice that some of your drawers seem a little crooked, now is a great time to adjust them, while they are empty and accessible.
One reason some cabinets cost more than others is because of the hardware, especially drawer glides. Cheap cabinets will have cheap glides and they usually have little to adjustment options other than removing the drawer front and resetting it which is too challenging for most homeowners. 
Better cabinets have better hardware with easier adjustments. Our favorite glide, the Blum Movento is adjustable in 6 ways with only a simple screw driver. 
Grab a screwdriver (handheld, not electric), and take the drawer front off by loosening the screws from the inside. Then you can make adjustments to the drawer box, and reattach the front. This article is a great resource, providing all the information you need to adjust your drawers (and cabinet doors, too!). Blum six-way adjustable glides are the best product out there to make your drawers slide perfectly and adjust like a dream. They will make a huge difference in the look of your kitchen!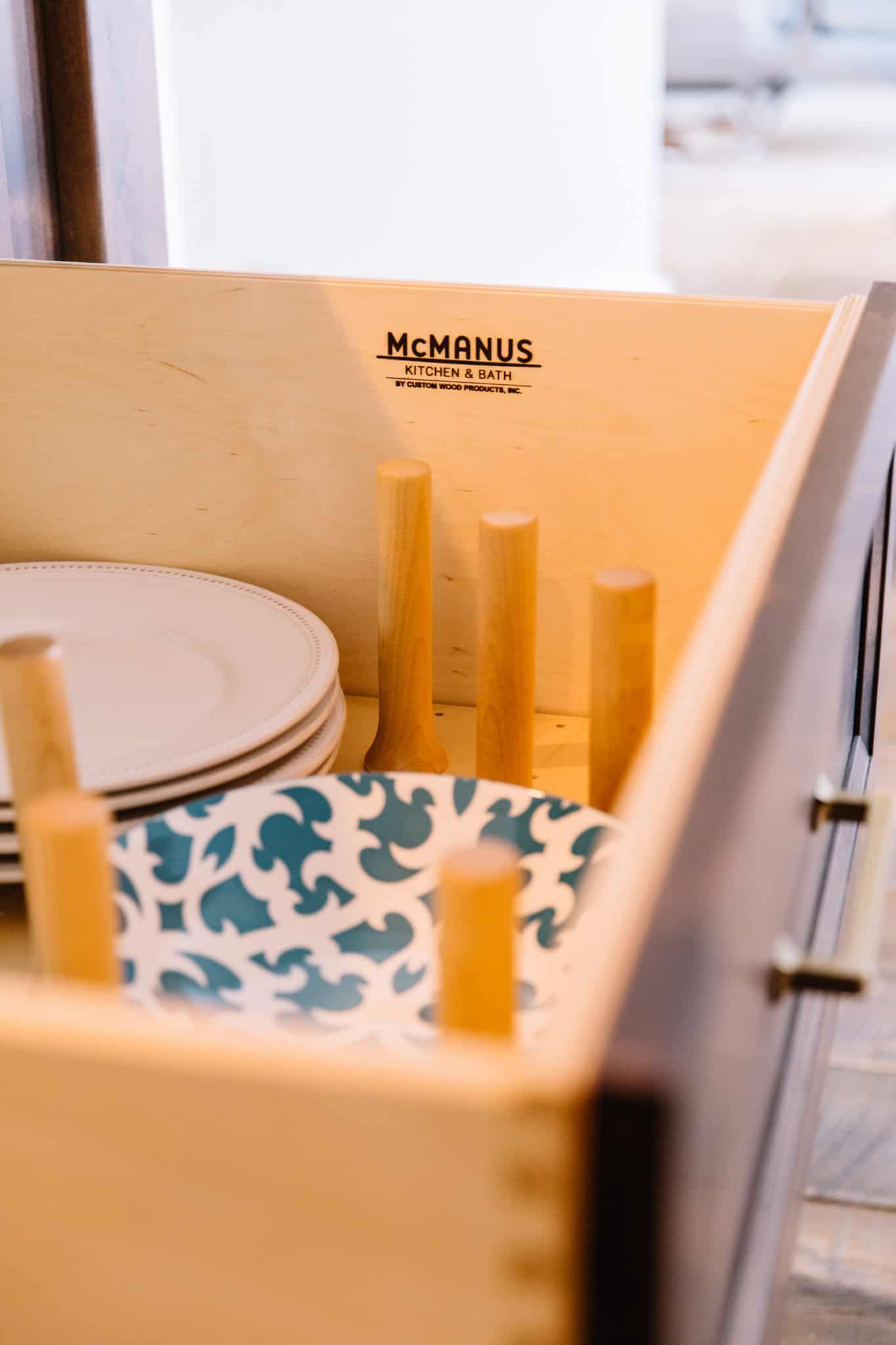 Step Three: Measure Your Drawers
Now that you know how much stuff needs to fit in your drawers, you've decided what type of tool will go in each place, and you've cleaned and adjusted as necessary, it's time to get out your measuring tape. You need to measure each drawer interior that will be using an organizer. Don't forget to measure how deep the drawer is! Walking through this step carefully will ensure that you don't end up making countless trips to the store to return wrong-sized items.
Step Four: Buy Organizers
There are so many types of organizers on the market today that you're bound to be able to find a size, shape, and style to fit your needs. 
Types of Drawer Organizers
Depending on the depth of your drawers and what tools or cookware you will be storing, you will need different types of organizers. Some options include
bins to hold odds and ends, measuring cups, small jars or spices, and individual snacks.

trays that lie flat to organize cutlery and utensils, or office supplies in a "junk" drawer.

baskets for larger items and deeper drawers.

jars for spices, rubberbands, beans, pasta, etc.

dividers for breaking up big areas and assigning different types of items to each.

adjustable drawer organizers, including some that have interlocking, slotted dividers for oddly-shaped drawers.
Think about storing spices in drawers, lying on their side in trays. You can put single-size snacks like chips or granola bars in clear bins and have a snack drawer–something your kids are sure to love. Cutlery and utensils will need silverware trays to separate by type and keep them organized. You can roll up dish towels and put them in baskets in deeper drawers. The organizational options are endless.
Materials
Drawer organizers come in a variety of materials. While some differences are just preference (clear plastic or gray?), other times, you may want to choose your organizer based on durability or aesthetics. For example, bamboo is sturdy and durable, and also beautiful. A bamboo utensil tray will last longer than a plastic one. Some material options are
wood, like bamboo,

clear plastic,

colored plastic,

metal,

cork, and

glass.
Specialty Items
Sometimes, you may need a very specific storage solution. Be assured that you can find almost any type of organizational item you need. For example, consider using
knife docks, instead of countertop knife blocks. Knife docks are generally wooden or cork, and hold knives safely and securely in a drawer, blade-side down. They protect your knives and also your fingers.

wooden pegs on wooden runners, to hold oddly shaped or flat items in place.

diagonal drawer organizers. These are perfect for holding long items like rolling pins.

food storage bag dispensers: plastic or wooden boxes with multiple openings, similar to tissue boxes. You can load them with plastic food storage bags of different sizes, eliminating the need for multiple boxes of those bags in your drawers.
Blum makes an great organizing system call Orga-line. Their divider and racks are very hight quality, easy to clean and fit nicely into standard depth drawers. I especially like their Film dispenser (for aluminum and plastic wraps), their plate holders, and thier utensil dividers. You can see all their options here. 
Step Five: Organize!
And now the fun begins. You've sorted, decluttered, planned, cleaned, adjusted, measured, and shopped. Now you get to start putting everything in its place.
Consider labeling drawers in pantries or within cabinets for easy identification, and to encourage family members to put things back in the right place!

Store large, flat items (think cutting boards, baking sheets) on their edge if your drawers can handle the height. Use pegs to help them stay upright and see how much space you save!

Roll your dishtowels instead of folding them to save space.
Deep drawers are wonderful for storage. They are often used in place of lower cabinets because they are so easy to access and organize. If you're lucky enough to have deep drawers, consider your options to maximize their usefulness.
You can fill them with heavy, unwieldy items like pots and pans.

You can use them to hold plates and bowls. Try using a pegboard with pegs arranged in the proper locations to hold the plates and bowls in neat stacks, so they don't bump into each other when you open and close the drawers.

Mixing bowls are the perfect thing to store in deep drawers. It's so easy to stack them and access them, and they don't take up too much space.
When it comes to organizing, think outside the box. Drawers can be used to store water bottles, tea and coffee supplies, and even appliances. Your kitchen is there to serve you and your family, so think about the ways you use the space, the tools or dishes you use most often, where you typically do different types of food prep, and what items you want closest at hand. Organize your drawers accordingly, even if it seems a little different from the norm.
What's Next?
Organizing your kitchen drawers will go a long way to helping you enjoy working in your kitchen. But what if you just can't make everything fit? If you've decluttered and organized and you still feel like you just don't have enough space, it may be time to consider a kitchen remodel. And now that you've done the work of thinking through what you want and need in terms of drawer storage, you'll be able to communicate those ideas to a kitchen remodeler. At McManus Kitchen and Bath, we'd love to help you realize the kitchen of your dreams. Contact us for a design consult today.