McManus Kitchen and Bath provides a single place where you can work with interior design and construction professionals who can help you create a happy, healthy home. We start each project with a Design and Budget Consult. It will help you clarify your design ideas, understand the remodeling process and create a Good Better Best Budget for your project. Click Here to Schedule a Consult
You don't need a major remodel to improve accessibility in your home. Sure wider doorways and barrier free showers are nice but even the small details light door levers and light switched can have a big impact.
As a Certified Aging in Place Specialist, we take a "whole house" view of planning and building. This means we focus on much more than just major home modifications. We know it is sometimes the small changes that have the most significant impact on the comfort, safety, and ease of access for our clients.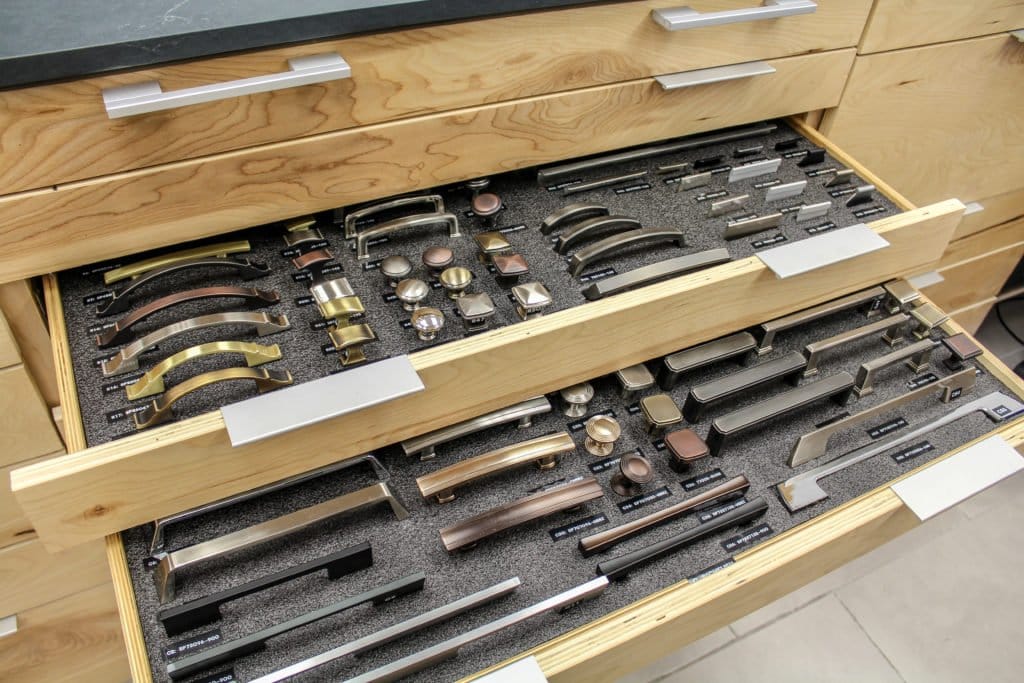 Improve Accessibility By Updating These "Little Things"
Levers Instead of Knobs
As we age, door knobs can become difficult to turn or twist. Lever handles, on the other hand, are always easy to manage, even when carrying packages. They're inexpensive to install and substantially up the convenience level of your home. They come in a variety of shapes and sizes and are suitable for many different door styles.
That goes for cabinet pulls too. D-shaped pulls that are a little deeper make it easier to open doors and drawers compared to knobs or shallow pull. You can even add touch to open mechanisms to open your cabinets at the touch of a button.
Better Switches
Rocker style light switches are easier than the lever style and easy to change. Smart switches can really help. We like Deako smart switches. They install in the same space as a regular light switch and allow you to control your lights at the switch, by phone or by voice assistant like Alexa or Google Home.
Lighting
Most homes have poor lighting. Builders often put in just the minimum lighting required and most homeowners don't think about upgrading it. Good lighting can make a world of difference in how a home looks and performs. Nothing improves safety like a little more light attached to a dimmer switch or motion sensor. Low lighting at night eases the path to a bathroom or kitchen; motion sensors can automatically turn on a lamp when entering a room. They're inexpensive to buy and install.
Bathroom and kitchen faucets also Improve Accessibility
Yes, there are lots of simple solutions here. We like lever, tech, or sensor style faucets instead of turn knobs. And a recent innovation is color sensor technology for water temperature alerts. Water too hot: you'll see a red light warning!
Still climbing stairs but not ready for the "lift."
Consider installing railings on both sides of the staircase. It's a small but beneficial way to reduce falls (and make climbing stairs a lot easier). And don't forget to add extra lighting at the top and bottom of your staircase.

Grab Bars
Let's not forget inexpensive grab bars for your bathroom. Make sure they're solidly anchored to the wall (no suction cups). Decorative bars are readily available and can be disguised as towel racks, soap holders, etc. Want more low-cost bathroom safety suggestions. Here are a few. Cushion sharp bathroom edges with adhesive guards. Reorganize bathroom storage to bring commonly used utensils and supplies within easy reach. And finally, add rubberized cushioned mats to your bathtub and shower.
Adjustable Shower heads
Here's a simple, low-cost solution that's useful when seated or standing in the shower. It can be installed on a sliding bar to move up and down or can be used as a handheld device. The added flexibility is a safer option for people with limited movement. And while we're in the shower, here's a simple safety tip to avoid accidental scalding. Lower the water temperature on your hot water heater to 120 degrees Fahrenheit.
New Door Hinges
Can't widen your doorways? Consider a door with swing-away or swing-clear hinges to provide a larger opening. We have other solutions to create wide doors for increased mobility.
Show them your address
Aging in Place sometimes means medical emergencies, and that's when you want responders to spot your home quickly. We recommend a highly visible street address that provides quick and unambiguous home identification. Make sure the address is well-lit and located close to the street. Often overlooked, this is a critical (and inexpensive) home improvement) that can save lives.
Home Monitoring
Similar to clearly viable address numbers on the outside of your home, home monitoring systems and medical alerts are "dollar-wise" installations that add a considerable measure of safety and peace of mind. Automatic fall detection and activity monitors are just a few of the features offered; we consider this a must-have if you're living alone.
Put some color on the walls!
We've talked about this in prior posts. Using different paint colors for walls, floors, counter edges, and stairs really help with transitions. The cost is low; the benefit is significant.
We enjoy discovering home improvements that are inexpensive but add safety and comfort value to our clients' homes. Aging in Place doesn't have to be expensive, and with thoughtful planning, smart, cost-effective solutions can often rule the day. The above suggestions are just a sample of ideas that we bring to clients when meeting to design and build aging in place improvements.
Thank you for reading! We'd love to be a part of your next remodel. Check out our design services page
Paul McManus
McManus Kitchen and Bath