10 Ways to Make Your Small Bathroom Feel Larger
A bathroom is more than just a room that handles washing and hygiene. It can be a relaxing retreat, giving you a spa-like experience and some quiet moments to be refreshed. But if your bathroom is small and cramped, it can be hard to feel peaceful and relaxed. Luckily, there are some easy changes you can make to your bathroom in order to make it feel more spacious and luxurious.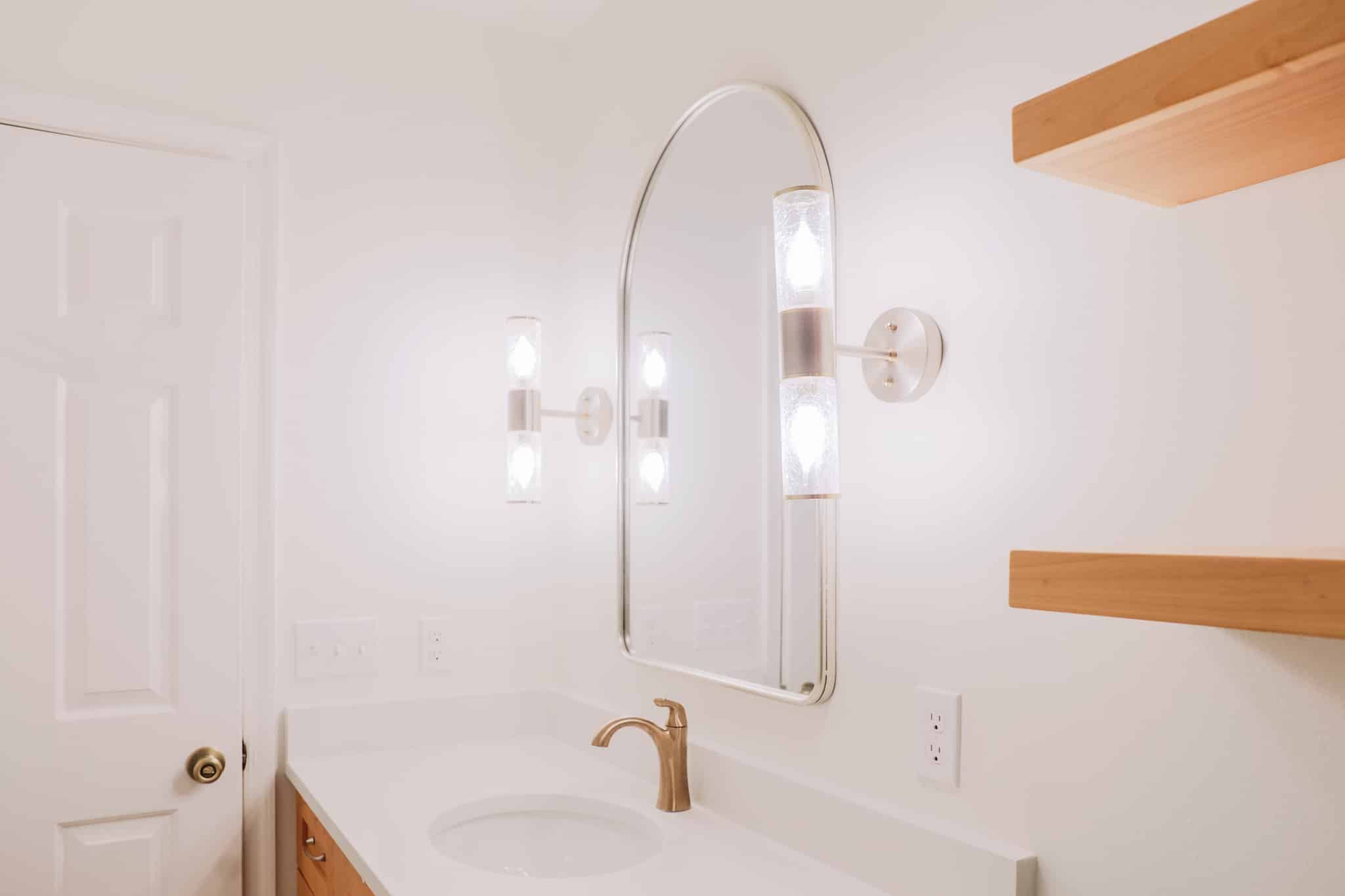 Number 1: Address the Lighting
Regardless of its actual square footage, a dark bathroom will always feel small. Adding ample lighting is an easy and lovely fix that will make your bathroom feel larger instantly. Neglecting appropriate lighting is one of the most common mistakes made during a bathroom remodel. 
If you're lucky enough to have a window or skylight in your bathroom, take advantage of that natural light. Having light in the room that matches the brightness of the light outside makes the bathroom feel spacious, just like the outdoors. 
If you don't have a window, you still have options. It's great to have light from more than one source. You can add sconces on each side of the mirror, and a light overhead. You can also use lamps, wall lights, and lighting strips to add interest. Remember that a small bathroom that has a lot of yellow light can still feel small. It's better to use newer bulbs that give off white light, such as LEDs or halogen bulbs.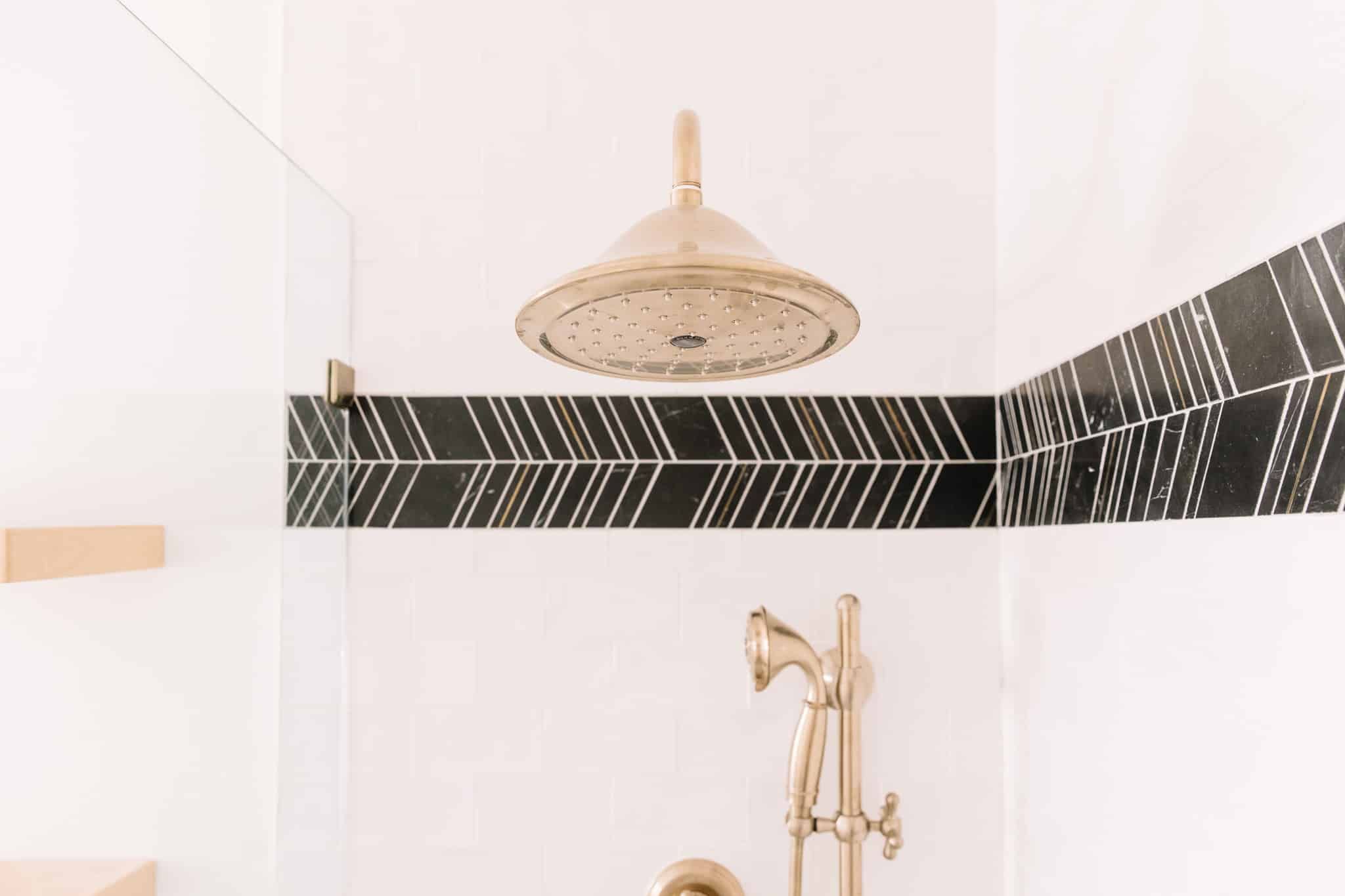 Number 2: Employ Tile Tricks
Install larger tiles to keep grout lines to a minimum, so you see a more unbroken plane. Use the same tile inside the shower that you use on the floor. Tile all the way up to the ceiling to draw your eyes up. If your bathroom is long and narrow, use horizontal floor tiles to visually widen it. Choose monochromatic tiles for the floors, walls, and shower to seamlessly blend all the parts of the bathroom.
Number 3: Use Mirrors
Mirrors give the illusion of space in an otherwise cramped area. Think of them as wall fixtures that are pretending to be windows. They trick your eye into thinking that you're looking into the distance when really you're seeing a reflection. Additionally, mirrors reflect the light in the room, which also gives the illusion of space.
When choosing a mirror, go big. The larger the mirror, the more light it will reflect. Tall mirrors also make ceilings feel higher. You can add interest to your bathroom by choosing a mirror with a frame that contrasts with the wall, bringing in elements of metal or wood, or a pop of color.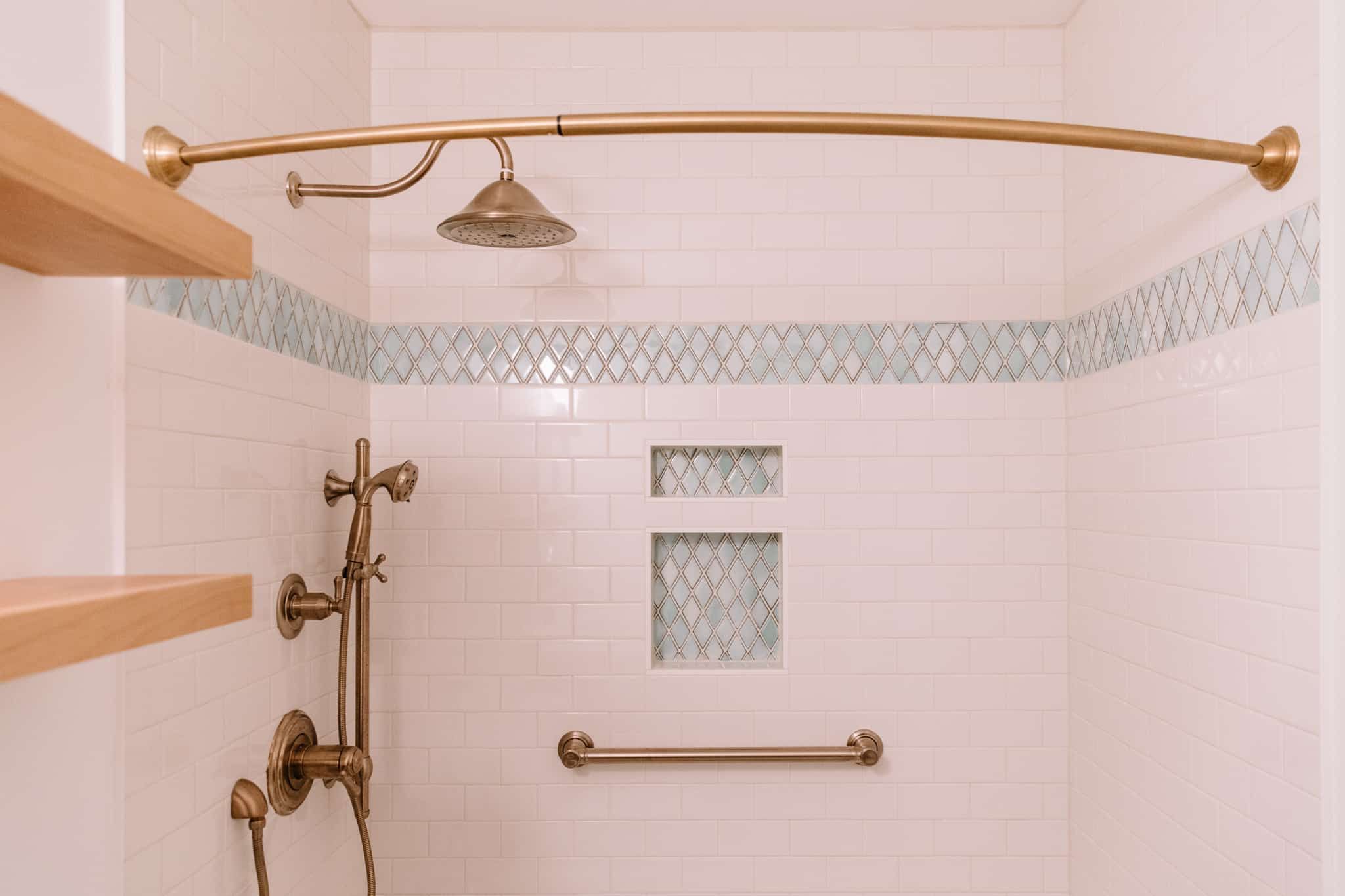 Number 4: White is Your Friend
A white, bright, and airy bathroom will always look bigger than one that employs a lot of color. White reflects the light in the space, and glossy surfaces bounce it around even more. White seamlessly fades into the background, giving the illusion of a spacious bathroom. Keeping things white–the vanity, shower, tile, and paint–creates an unbroken visual plane.
Does an all-white bathroom sound boring? It shouldn't! There are so many shades and textures of white that it is easy to design a beautiful white bathroom that reflects your personal style. Ziellige tiles are an example of a great, on-trend option that keeps the white color scheme but has enough variations to add interest.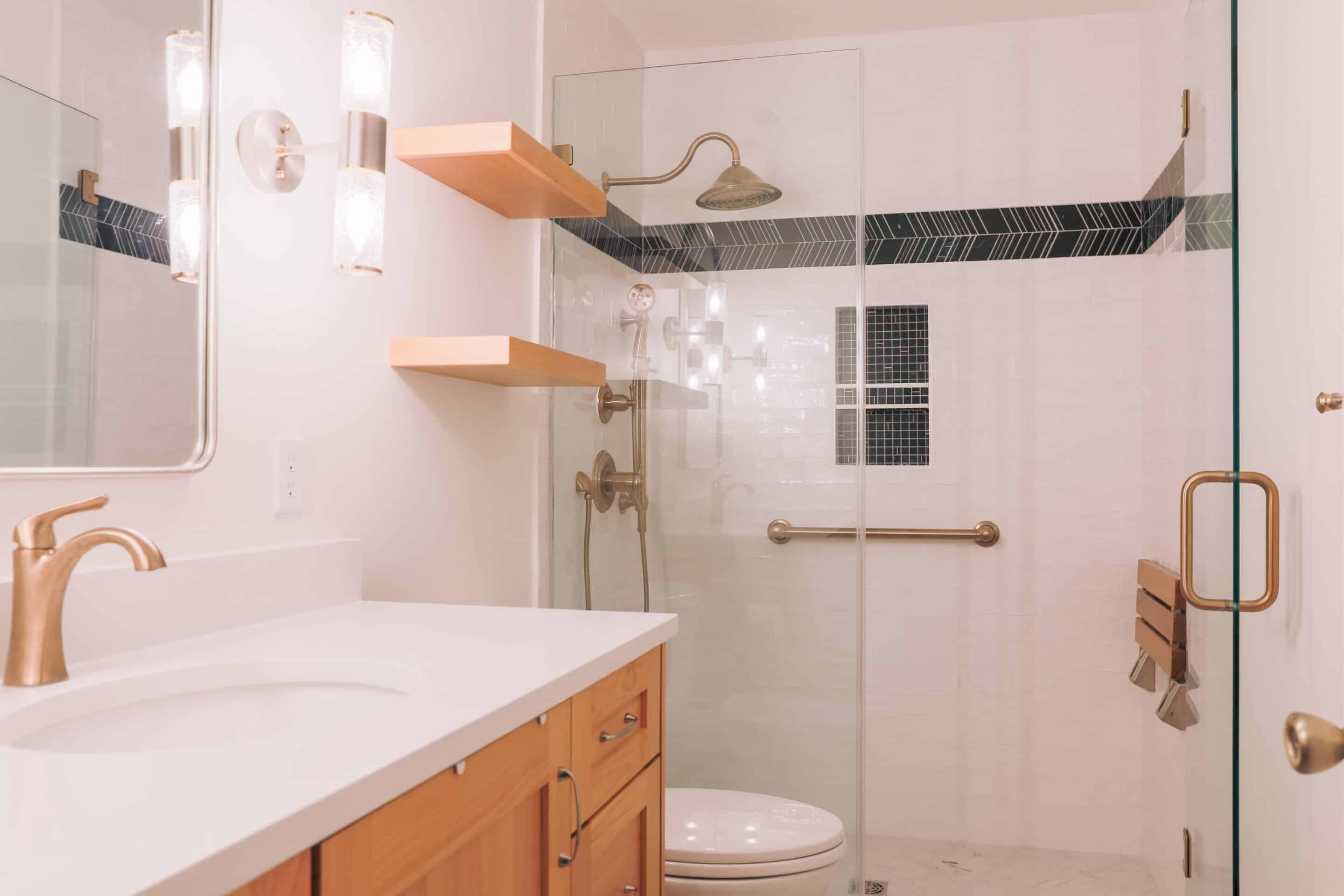 Number 5: Declutter
Remove everything from your countertop except your soap dispenser and a plant or candle. Store toiletries out of sight. If you use multiple small rugs or small pieces of art, replace them with one larger piece. This makes the space seem bigger and less cluttered. You may actually like the look of the space more with nothing on the walls or the floor! Decluttering is free and easy and gives you a hit of instant gratification.
Number 6: Consider a Pedestal Sink
In a small bathroom, a pedestal sink can really open up the space. Because it is tall and thin, it leaves a lot of untouched negative space on either side of the pedestal, which makes the room visually larger. 
The downside to pedestal sinks is the lack of storage, making them ideal for powder rooms and half baths, but not as good for primary bathrooms. You can recoup some of that lost space by installing a mirrored medicine cabinet that is flush with the walls. If you need more storage than a medicine cabinet offers but you like the idea of a pedestal sink, you can find a happy medium! Consider a floating vanity sink. This type of vanity is attached to the wall and does not touch the ground. It's another way of increasing the negative space in the bathroom, making the bathroom seem larger while still giving you a few drawers.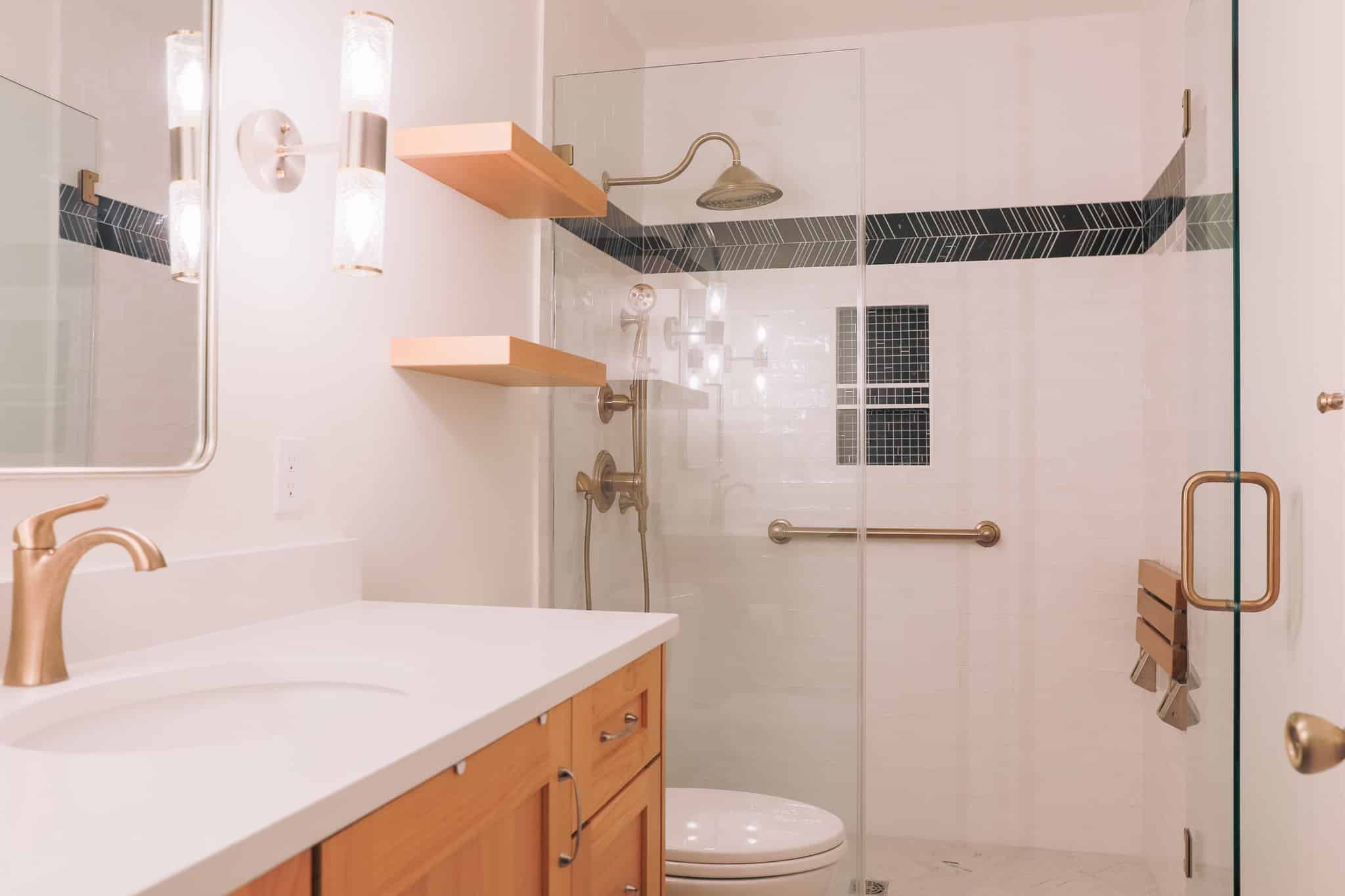 Number 7: Erase Your Shower
Consider exchanging your shower curtain or frosted glass walls for frameless clear glass walls to make your shower disappear. Use a door that pivots instead of one that slides, or forgo the door altogether and use a walk-in shower design. If you can make the shower, the largest feature in the bathroom, fade into the background, you can guarantee a bigger feel to your space.
Number 8: Use Wall Niches
Wall niches are recessed shelves built into your walls, or more commonly, your shower. They are a great alternative to open shelving because, rather than jutting forward, they pull back, creating more space.
Consider adding wall niches between the studs near your vanity to keep items off the counter and reduce visual clutter. Use them in the shower to hold shampoo bottles and more, clearing tub edges and visually pushing the walls back a few inches.
Not only do wall niches provide extra storage without adding to the footprint of the bathroom, but they also add a lot of interest to the bathroom design. You can use a contrasting color for the back wall, or a different style or shape of tile to make the niche into a statement piece in your bathroom. It's a win-win!
Number 9: Bring the Outside In
Put some potted plants in your bathroom to add interest and bring the feeling of the outside into the room. Plants add visual warmth to the room and have the added bonus of absorbing some of the moisture and bacteria in the air. You can even put plants in the shower and enjoy the luxurious, tropical feeling they bring.
Number 10: Remodel Your Bathroom
Sometimes the best fix for a small bathroom is actually making it larger. Ready for an upgrade of your Tallahassee bathroom? Considering a renovation that is a little more involved than hanging a new mirror or adding plants? We'd love to help! Contact us today, tell us about your dream bathroom, and let's discuss how we can help you make it a reality.