5 Popular Kitchen Layouts 
Kitchen remodeling is often about compromise. Because you're working in an existing space and not a creating one from scratch you have to figure out how to optimize what you have. A lot can be done to reinvent a space but different kitchen layouts lend themselves to different opportunities.
With every new kitchen remodel we start with the layout first. This becomes the framework or 'bones' of the kitchen and we add details like storage, organization and material choices onto the layout.
Most likely your kitchen currently has one of these 5 popular kitchen layouts. Each has its own advantages and shortcomings and each can be improved in difference ways. 
Read on to learn about the five popular kitchen layouts, the pros and cons of each, and how best to optimize them for your home.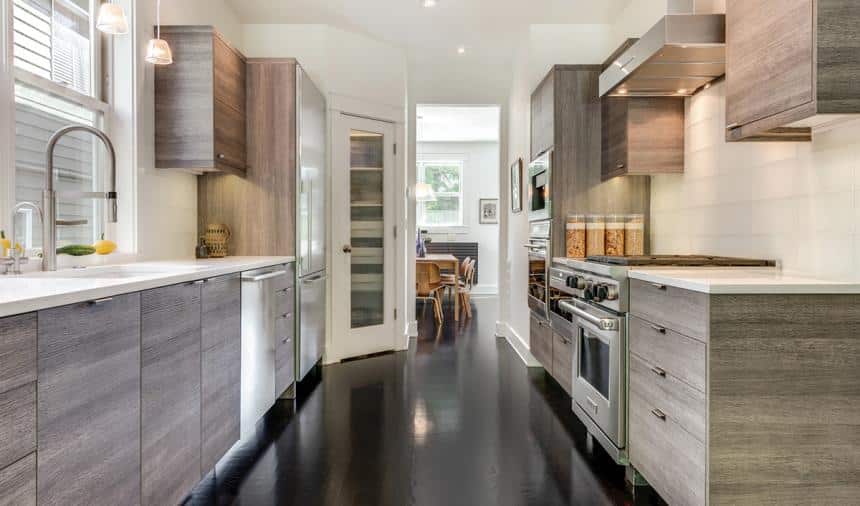 Galley Kitchens
One of the most popular kitchen layouts and one of the most efficient is the galley kitchen.
Named for their similarity to the galley of a ship, galley kitchens are long, narrow kitchens with cabinets and appliances on two sides and a corridor running down the middle. They are great for homes that don't have a lot of room, or are longer than they are wide. Galley kitchens can be charming if planned well.
Pros
Galley kitchens are very cost-effective. Cabinets are in a simple configuration, and countertops are long, straight rectangles. 

They are very space-efficient. Because they contain all the essential kitchen services grouped tightly together, galley kitchens save steps and make for an efficient cooking experience.

Because they are generally cheaper and great for small spaces, galley kitchens are perfect for a mother-in-law suite or a basement apartment.
Cons
Galley kitchens aren't great if you have multiple cooks. It can be hard to move around other people in the kitchen because the corridor is relatively narrow.

If it's too long, the kitchen can feel more like a runway and less like a lovely room.

They are not open to the living space which is a negative for some homebuyers

Galley kitchens in older homes are notoriously narrow, it can be hard to fit larger appliances into a galley kitchen. 

 
How to Optimize a Galley Kitchen
Remove a wall and create an island / peninsula with seating

use deeper or narrower cabinets as needed

Keep sink and range on same wall
Remove a Wall
With this popular kitchen layout you can often remove a wall  to open up the galley to the living area and add seating. The downside is you will lose storage because you will be losing some upper cabinets.
Use Deeper or Narrower Cabinets
While older galley kitchens tend to be too narrow, ones built in the 90's are often too wide. Ideally you want 50″ to 60″ between the countertops in a galley kitchen. Narrower than that can feel cramped and wider than 60″ makes it ineficient, especailly if your sink and cooktop are on oppposite walls.
Use Narrow Base Cabinets
When older homes were first built refriderators were quite small. Today's refriderators are much deeper so if you're galley kitchen is narrow it can cause issues.
Consider installing narrower base cabinets:  21″ deep instead of 24″. This depth is very common in Europe and works well.  
Or Deeper Counters
Similarly, if your galley is too wide consider installing deeper countertops. A kitchen counter can be up to 28″ deep and still be very effective. I personally really like a 28″ deep counter. It makes more room for countertop appliances and plates or bowls when doing prep work. 
Move the Sink and Range to the Same Wall
Having the sink and range on the same wall and the fridge on the opposite wall create the ideal work triangle for a galley kitchen.
Other tips for optimizing a galley kitchen include
using light, white, or high-gloss finishes on cabinets and counters to give a feeling of space and openness.

making your upper cabinets reach all the way to the ceiling to give you the most storage possible.

using a few glass-front cabinets to break up the solid wood feel.

choosing an undermount workstation sink to maximize counterspace. 
Drag the slider to see before / after
U-Shaped Kitchens
U-shaped kitchens have three connected walls of countertops and cabinets that form a U. These kitchens are often seen in older houses, although they are becoming more common in new builds as well. They can be open kitchens, with two connected walls and a breakfast bar or peninsula forming the third wall, or they can be semi-open, with three closed walls (the U) and one wall (across the top of the U) either totally or partially open.
Pros
U-shaped kitchens provide plenty of counter and cabinet space.

Because they can be semi-closed, they can provide separation from the rest of the house: no dirty dishes can be seen from the living room couch!

This design easily accommodates multiple cooks.

It's fairly easy to entertain guests while you cook–there is room for them to sit.

U-shaped kitchens are a good design for all sizes of kitchens.
Cons
This layout can feel cramped if the U is deeper than it is wide. Aim for a wide U to solve this problem.

Again, if the U is deeper than it is wide, this layout will be prone to traffic jams.

The corner cabinets in a U-shaped kitchen can be hard to access and require

specialty cabinets

like cabinets with lazy susans or blind corner cabinets.

If the kitchen is large, it will definitely need a kitchen island to keep it from being awkward.
How to Optimize a U-Shaped Kitchen
With this layout, it's easy to incorporate a great work triangle with equal spaces between the three appliances. Aim for triangle legs between four and nine feet long. Or you can use zones instead, with one side of the U for prepping, one for cooking, and one for clean-up.
Kitchen islands work perfectly with U-shaped kitchens. If you have a large room, use a large, stationary island and enjoy the extra prep space or seating for people to eat breakfast, do homework, or visit with you while you cook. If your kitchen is small, consider a small island on casters.
Other tips for optimizing a U-shaped kitchen include
using

open shelving

on at least one wall, to keep the space from feeling boxy.

laying down a rug if the kitchen is narrow, to keep it from feeling like a dead-end corridor.

removing a wall to open up the kitchen. You can keep the lower cabinets and add a peninsula and seating where the wall used to be.
Get More Tips and Inspiration in Your Inbox
G-Shaped Kitchens
Perhaps my least favorite of the popular kitchen layouts is the G-shaped kitchen. They were very popuar in the late 90's and early 2000's. We usually modify this popular kitchen layout dramatically by moving or removing walls so we can add an island and get rid of the dreaded ' G'.  But there are times when the G-shape does work, like in the picture above. 
G-shaped kitchens are a modification of U-shaped kitchens. Basically, it's three walls of countertops and cabinets, like the U-shaped, with the addition of a peninsula coming off one leg of the U to make a G. This style of kitchen is classified as semi-open: three closed walls and one partially closed wall.
Pros
G-shaped kitchens, like U-shaped, provide three walls of cabinets and countertops–plenty of storage and space.

This layout is perfect for medium-sized kitchens.

The G-shape allows you to have the best of everything in the kitchen: counter space, cabinetry, and connection to the other spaces in your home.

It also allows for more than one cook to work in the space.

Even though it is a semi-open design, a G-shaped kitchen with a large enough peninsula allows for guests to sit. This means it's easy to entertain.
Cons
While this design is perfect for medium-sized kitchens, it does not work well in small kitchens (tends to feel cramped) or large ones (it feels awkward, like the space is not being used well).

G-shaped kitchens have a lot of corners, which means a lot of difficult-to-use corner cabinets. Again, consider using lazy susans or blind corner cabinets to maximize space.

It's a fairly complicated layout that requires a good deal of planning.

Because the G limits access to the kitchen, it can result in a bottleneck or a crowded feeling.
How to Optimize a G-Shaped Kitchen
The best way to modify this kitchen layout is to remove walls and open it up. If that is not possible then optimzing counterpace and storage are key. Most G-shpaed kitchens have raised countertop bars at the peninsula. Dropping that down to counterheight makes the space feel more open and provide more useful counterspace. Remove pantry closets and wall ovens and repalce them with pantry cabients and a slide in range also creates more counterspace. 
Other tips for optimizing a G-shaped kitchen include
making sure you have enough space. Aim for a 10×10 area and an opening of at least 42-48".

using open shelving, especially around a window if you have one, to make the room feel airier.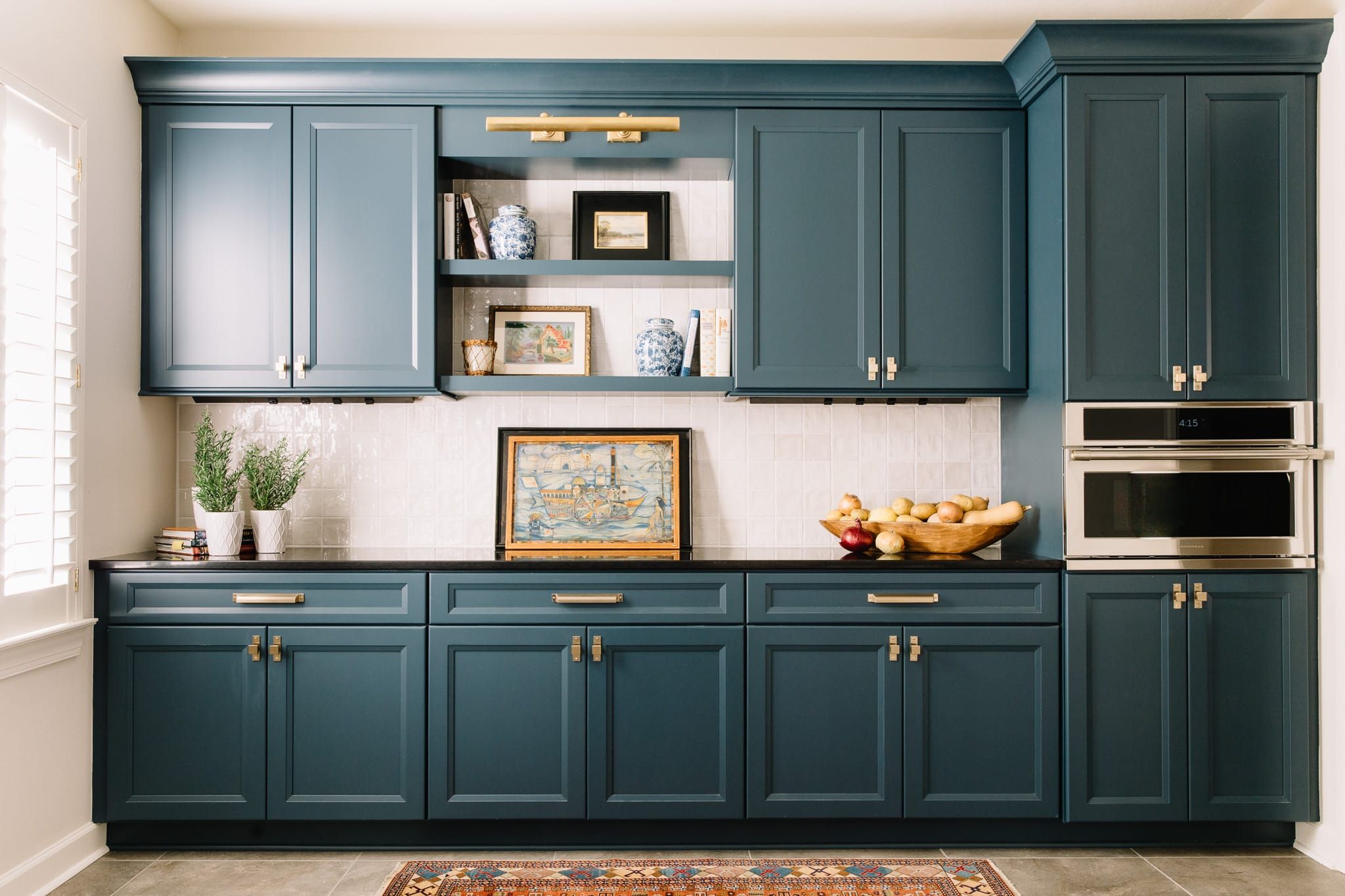 Single-Wall Kitchens
As its name suggests, a single-wall kitchen is where appliances, the sink, the cabinets, and the countertops are all along one wall. This type of layout is common in open-plan homes, studio apartments, smaller homes, and condos.
Pros
Single-wall kitchens are probably the most space-effective.

They also generally cost less than other types of kitchens. This means, if you plan to add a single-wall kitchen to your home, you can often splurge on higher-end flooring or cabinetry.

Like the galley kitchen, a single-wall kitchen is an excellent choice for a mother-in-law suite or basement apartment.

This type of layout can create a great workflow with everything within reach, if the kitchen is being used by one or two people.
Cons
A single-wall kitchen can have a fairly inefficient design, especially if more than two people are trying to use it at once.

This type of kitchen generally has a lower resale value.

Storage and counter space can be severely limited in a single-wall kitchen. 
How to Optimize a Single-Wall Kitchen
With this layout, you can't have much of a work triangle. Think zones instead. Put the sink in front of a window, if you have one, or in the center of the wall, between the stove and fridge. And put the stove and fridge at the ends of the wall, to give yourself more unbroken counter space.
This design is perfect for a kitchen island. You can even put a secondary sink in the island, to give you more of a triangle feel. Put a big island parallel to your single-wall kitchen, or even put your dining room table there.
Other tips for optimizing a single-wall kitchen include
embracing the open design by providing seating for guests nearby.

increasing its value by using premium countertops and cabinets.

using multiple islands, whether mobile or stationary, as space allows.

considering a mix of open and closed shelving to add interest and break up the long line of cabinets.

making sure your island has storage to augment the one wall of cabinets.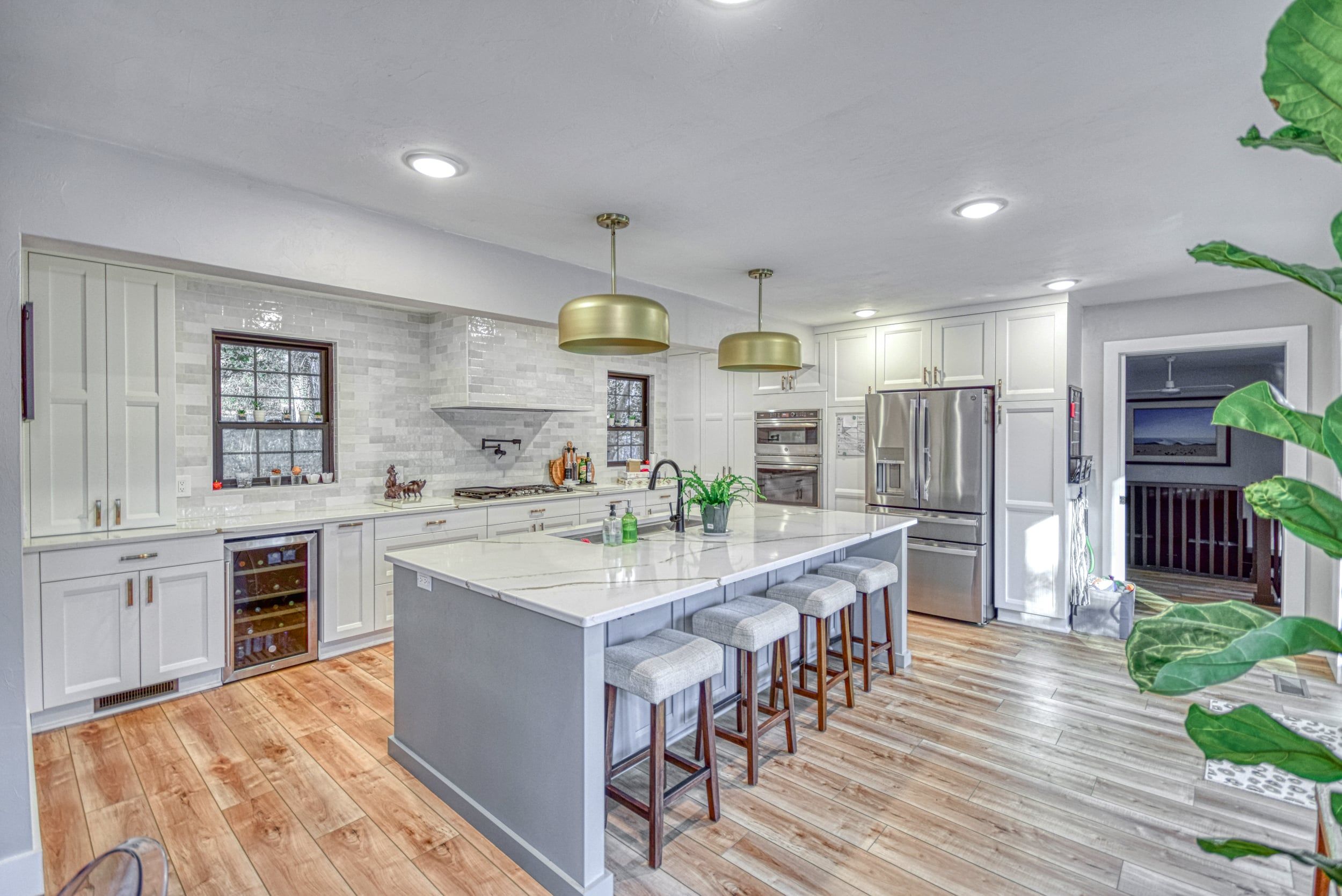 L-Shaped Kitchens
The L-shaped kitchen, with two walls that form an L, is one of the most versatile, popular, and classic kitchen designs. It is an open kitchen with plenty of connectivity to the other parts of the house, while providing more counter and cabinet space than the single-wall kitchen does. 
Pros
L-shaped kitchens provide lots of space, both in terms of food prep space and traffic flow.

Because of this, it's a great design for big families or homes that host multiple cooks.

The L-shaped kitchen is great for open-concept designs.

This design generally has a high resale value. People are drawn to L-shaped kitchens.

Because of how open an L-shaped kitchen is, it often eliminates traffic flow problems.

L-shaped kitchens are open, making them perfect for entertaining.

They are efficient in small areas.
Cons
L-shaped kitchens can be frustrating for only one cook, because of how spread out they can be.

Corner cabinets, again, provide storage challenges.

The bigger the space, the less efficient the L-shaped design can become.

But if it's a small kitchen, the L-shape might not provide adequate storage.
How to Optimize an L-Shaped Kitchen
With an L-shaped kitchen, making a perfect work triangle is a breeze. It's easy to spread out your sink, range, and refrigerator so they are well-spaced and workable. If you prefer, you can also use your L-shaped kitchen to hold separate cooking, prep, and clean-up zones, with part of a counter or island devoted to each. This makes having multiple cooks simple.
Speaking of islands, with an L-shaped kitchen, you can add an island in the middle of the area, and even include your dining table off to one side. This gives you many seating options and space to work. Large islands are often easier to use in L-shaped kitchens because of how open the kitchen design is. It's easy to walk around the island when one side is open to the rest of the room.
Other tips for optimizing an L-shaped kitchen include
making one side of the L longer and skipping the island altogether if you want to keep the space more open.

using a corner sink. This delightful design allows for a literal work triangle if you situate the sink in the corner, the refrigerator down one side of the L, and the range down the other side. It's a great use of space and eliminates problematic corner cabinets.

running one side of the L under a bank of windows, to bring in natural light and give variation to the wall of cabinets.

mirroring the L shape with an L-shaped island, if your kitchen is large enough.